Nagelsmann and Sané appeal for player privacy amid quarantines: "Be gentlemanly about it."
By Peter Vice @ViceytheSS
Facing a group of inquisitive reporters at the Bayern Monday presser, trainer Julian Nagelsmann and attacker Leroy Sané handled their club's public relations challenge in addition to fielding questions about football. 

The vaccinated-and-recovered trainer made clear he didn't care for questions about "private matters" involving his players.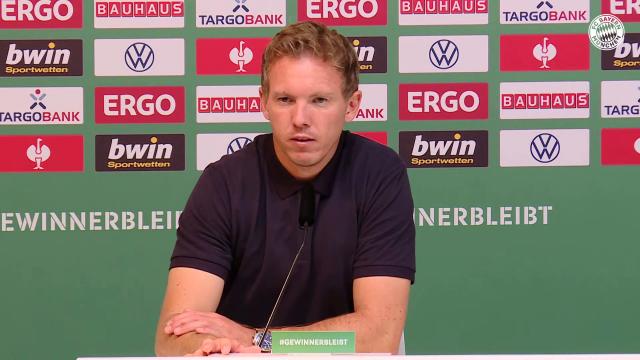 Photo: Bayern München/OneFootball

Julian Nagelsmann gave the full rundown on his reduced squad ahead of Tuesday's clash with Kiev in the Champions' League when speaking to reporters on Monday. When it came to the rumors of Bayern deliberately sending unvaccinated players on unpaid leave, the topic hung in the air like the invisible elephant in the room.


"The team will not break because of this," Nagelsmann said whilst operating on the fringes of the topic of the absentees, "In the end, we will be there for each other, because we are one team. That holds true even if we don't share the same opinion [on the subject of vaccination]."

Asked about some of leaked information about Bayern withholding player salaries in an effort to get more of its professionals vaccinated, Nagelsmann called himself "very dissatisfied" with the revelations.

"Of course, I'm not surprised," the young trainer noted, "but certain topics are private matters. Who has corona and why, who has to pay a fine, who's getting paid. These are private matters. No doubt, they have something to do with Bayern München. But we don't go blabbing about with player had dinner with whom."

"There are just too many things out there in the open," he continued, "This has always been the case. It's a question of whether you want to pursue it because you always have or if you want to be gentlemanly about it. It would be nice if things were kept under wraps a bit more."

"I'm not pleased that these internal matters have been divulged," Nagelsmann also said, "There's often no benefit to them being discussed. I'm aware that dealing with 'disruptive' noise is part of being at Bayern. The question is always how much you should have to tolerate it."


Attacker Leroy Sané echoed Nagelsmann's pleas, saying that the team "merely wanted to focus on the upcoming match".

Asked about friend Serge Gnabry, the German national team winger said that he had spoken to his colleague about the topic once. Other than that, Sané only wished to express that the team missed their players.

"I want them to be in the squad, to be on the pitch with us," Sané said, "These are important players who can help us."



More about FC Bayern