Dortmund's goal machine: Erling Haaland
By Ben Sully @SullyBen
This is the first article in a new series titled 'Bundesliga's Brightest Talents' that will look at the most exciting under-23 players that ply their trade in the Bundesliga.

With Der Klassiker taking place at the weekend, it only seems fitting to begin the series with a player who could take centre stage on Saturday, and the player question is a certain Erling Haaland.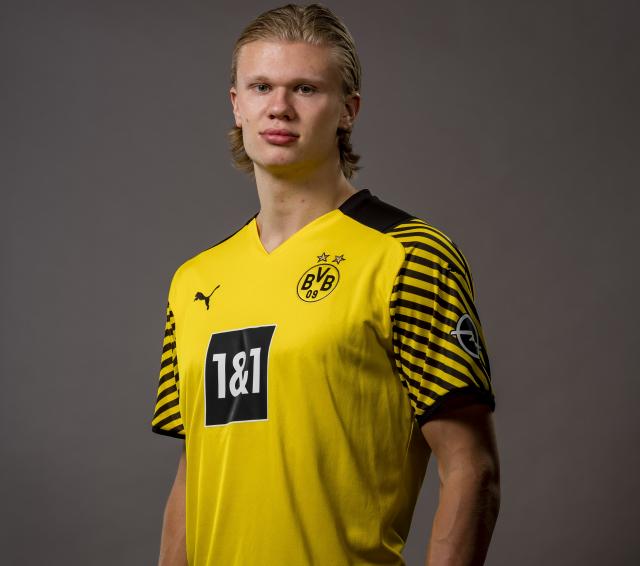 | | |
| --- | --- |
| Erling Haaland. | Photo: Borussia Dortmund |
The Norway international may already be a global star, but in all of the media speculation that constantly surrounds the forward, it is easy to forget that he is only 21. At still such a young age, it is quite frightening to think that he will continue to improve and he is potentially still years away from reaching the peak of his powers.


The signs were ominous from the very beginning of his senior career, with the young prospect scoring 12 league goals for Molde in 2018. However, it was the beginning of the 2018-19 season, where Haaland caught the eye of Europe's elite clubs, scoring 16 goals in 14 league games for Red Bull Salzburg, earning him a transfer to Borussia Dortmund at just 19 years old. Although, he may have changed clubs there was certainly no change in the end result, as he endeared himself to the Dortmund faithful with 13 goals in 15 Bundesliga encounters.

Despite falling short of Robert Lewandowski's daunting 41 tally last season, the Norwegian continued to find the net with ease, scoring 27 times in 28 matches, and what made that feat even more impressive is that only two of those goals came from the penalty spot.

Unfortunately for both Borussia Dortmund and Haaland, the Norway international has been hampered by injuries this season. Although that doesn't seem to have affected his confidence in front of goal, managing to grab ten goals in just seven league appearances.

Every single goal the Norwegian scores seems to generate another transfer rumor, and though the belief is he is likely to leave at the end of the season, Haaland has already proven whatever shirt he wears the goals keep coming in their droves.

However, what may be more frightening for opposition players is that Haaland continues to improve and his development doesn't just involve scoring goals. This season he has attempted to create goals as well as score them, demonstrated by the four assists to his name – he only managed 6 in the whole of the last Bundesliga campaign. Impressively three of those assists came in the season opener against Eintracht Frankfurt, with Haaland also netting twice in that fixture.


Although such statistics may be impressive, his game is not based on just goals and assists. He also boasts superb off the ball movement that creates chances for himself and those around him. Then you consider the fact he has pace to burn, allowing him to run in behind on counter-attacks, while he works well with his back to goal suggesting he could easily fit into different systems and formations.

Already at 21 years old, Haaland has an exceptional all-round game, however, there as always is room to improve. One of those areas for development is his dribbling ability, although the signs in recent seasons suggest that this is a facet of his game that is already being worked upon. In the second half of the 2019-20 season, his dribbling percentage was 44.4%, and that improved dramatically last season increasing to 65.1%.

There is also room for development in his passing game, and this is brilliantly demonstrated with a comparison to Robert Lewandowski, who is a great example of the complete centre forward. Haaland is comfortable in his short passing, but he only completed 99 and 17 medium and long-range passes respectively in the Bundesliga last term. In comparison, Lewandowski completed 170 medium-range passes, while making 46 long-range passes last season. Of course, mitigating factors such as their respective team's style of play must be noted, but there is a sense that the Norwegian lacks confidence in his passing ability compared to his supreme belief in his shooting. Undoubtedly, this area of his game will improve over time and will only add to an already extraordinary talent, who seems to be a transfer target for almost every big club in Europe.

Despite there being room for improvement, Haaland is unquestionably one of the most exciting players in Europe right now and seems destined for greatness. Dortmund will be pleased to have their star man back after an injury layoff and if he does leave at the end of the season, BVB will hope he does so after guiding his team to a major trophy.

Whatever this season brings, there is no question that Haaland will go on to be one of the greatest players of his generation, and like Lewandowski in recent weeks, the man from Norway will be the forefront of many Ballon D'or debates in years to come.



More about Erling Haaland
More about Dortmund