Streich elated for Bundesliga's return:
"It's Friday night and I'm about to watch Gladbach-Bayern!"
By Peter Vice @ViceytheSS
Despite three new confirmed COVID cases within his team, SC Freiburg trainer Christian Streich remained all smiles at his Friday presser. 

Despite all of the COVID chaos, the 56-year-old declared himself gleeful at the return of the Bundesliga in general.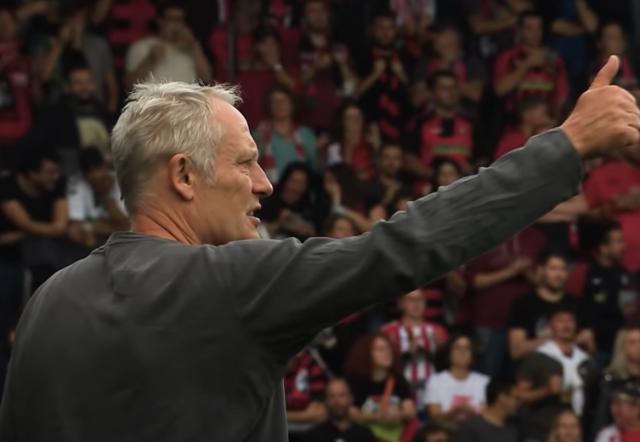 The three Freiburg players afflicted by the novel coronavirus ahead of Bundesliga matchday 18 have not yet been confirmed. The club's long-time trainer didn't name specific names any his Friday press conference. Instead, Christian Streich wished to talk about how excited he was at the return of German league football.




"As strange as it sound, I'm really excited about the weekend now," Streich noted, "I don't really no why exactly. I've watched probably 30,000 games, but it's Friday night and I'm about to watch Gladbach vs. Bayern."

Ever the tactical-fiend, Streich spoke about how intriguing he found the matchup.

"I'm looking forward to seeing how Bayern handles the absences," he continued, "because I already have a hunch how they'll do it."

On the topic of COVID in general, Streich spoke on how Freiburg was handling the latest wave with an enhanced Hygiene and distance concept. There are no more communal meals. Players shower at home rather than in the locker room. Masks, distancing, and indoor ventilation measures have all been tightened.

Freiburg footballer Jonathan Schmid, who had difficulty recovering from a bout with COVID after contracting it unvaccinated earlier in the year, was certainly on Streich's mind. The Breisgauer trainer nevertheless expressed confidence that his vaccinated (and boosted) group of players and staff could avoid a severe course of the illness.




"One just has to accept it as it is," Streich said, "those [football teams] who have fewer cases will be more successful in the near term. The crucial thing is that as many people remain healthy as possible so that the health system can handle those who must fight it."

"You have to keep the game [league football] going because so much is riding on it," he continued, "We all have to live with this pandemic. It's unpleasant and not always fair."

With respect to his opponents on the weekend, Streich seemed similarly focused and enthusiastic.

"With 16 points, Bielefeld are back in the thick of it," he conceded, "That gives them a tremendous energy. We have to approach this game with a calm state of mind and a positive attitude."



More about the match
More about the teams
More about Jonathan Schmid