Bundesliga Fan Scene:
The Matchday 29 Primer
By Peter Vice @ViceytheSS
Heading into the second weekend of full stadiums across Germany, our "Weekend Spectator Report" feature gets a new name.

With German football back in its full glory, there's no longer any need to refer to "plans for fans". All clubs once again "plan" on packing their stadiums to the brim.

Welcome to the new "Bulinews primer"!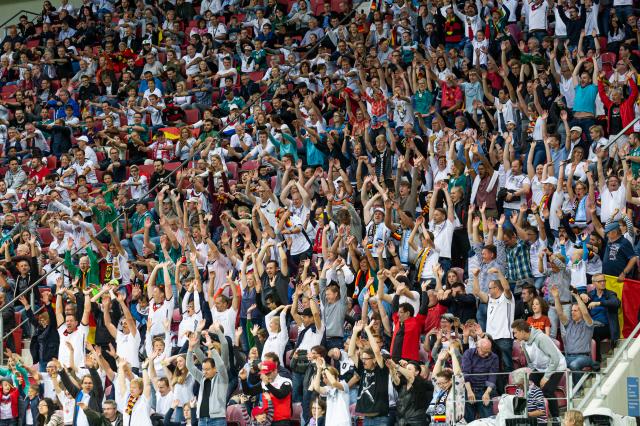 Photo: Steffen Prößdorf, CC BY-SA 4.0

As we enter our second full weekend of full stadiums across the German Bundesrepublik, two fixtures (Köln and Hertha) are already sold out. Naturally, those perhaps interested in attending those Bundesliga matches can still get tickets via the secondary exchanges. The remaining seven games (yes, even Bayern) still have tickets available.




Everyone in Germany eagerly awaits another great weekend of top flight German football. Last weekend's festivities--superb though they were--did take place among some rather frigid weather conditions. A little light early April snow dusted pitches in some cases. This weekend's temperatures look to be slightly warmer. It still appears as if full spring-time football in Germany will have to wait a tad longer.


---


Borussia Dortmund (at) VfB Stuttgart

Planned capacity = 60,449 (full house)

A large gathering of enthusiastic Swabians will be expecting nothing but the best from their team, particularly after the emotionally charged victory over Augsburg in the last home fixture. What an absolutely fabulous show of spirit from the VfB faithful last time around! Great banners and choreo in all the Tribune!




There are still a few seats available for club members via the website. Non-members can still snatch up passes on the secondary exchanges. Looking very much forward to this one!


Am Freitag heißt es "Flagge zeigen"!⚪🔴
Zum Spiel #VfBBVB verteilt die Mercedes-Benz Bank wieder Flaggen in der #MercedesBenzArena. 🏟
Kurzum: Weiß-rotes Fahnenmeer. Volle Hütte. Flutlicht-Spiel. Bei wem kribbelt es auch schon? 😍#VfB | #dranbleiben | #drinbleiben

[Anzeige] pic.twitter.com/IRbwHr3VaX

— VfB Stuttgart (@VfB) April 6, 2022
---


FC Augsburg (at) FC Bayern München

Planned capacity = 75,000 (full house)

After Dortmund got their turn last weekend, the German giants get a chance to raise the "Daoheim" for the first packed house in at the Allianz in over two years. Incidentally, the last time Bayern played before a full crowd was against Augsburg on the 25th matchday of the 2019/20 campaign; otherwise known as the final weekend before lockdown.

Quite the colorful affair that was. The FCB commemorated its 120th anniversary with streamers, confetti, and special classic throwback kits. There's sure to be some great choreo planned by the Bayern ultras on Saturday. Members and season ticket holders have most of the passes, but the secondary exchanges will remain active until hours before kickoff.


---


Arminia Bielefeld (at) VfL Wolfsburg

Planned capacity = 30,000 (full house)

Ahem. One can always check out Germany's green company team pretty much anytime you'd like. There's always space in the Volkswagen Arena. This fixture is no exception. In truth, this club should consider paying you to come out and see Florian Kohfeldt's underperforming stars. The writer remains convinced the VfL ultras won't mind that joke.

Since substitution errors happen to be a big topic in the Bundesliga these days, it's worth bringing up a story from earlier in the season showcasing the famous Wolfsburg sense of humor. After Mark van Bommel's substitution error got the VfL thrown out of the Pokal, the club offered a special "buy five tickets, get the sixth one free" special just to poke fun at itself.

Brilliant stuff.


Heimspiel gegen Bielefeld: Der Verkauf für das Duell mit Arminia startet am Montag ab 9.45 Uhr. 🏟️

ℹ️➡️ https://t.co/vvCy6Dicix#VfLWolfsburg #WOBDSC pic.twitter.com/XVdloPKATH

— VfL Wolfsburg (@VfL_Wolfsburg) March 27, 2022
---


FSV Mainz 05 (at) 1. FC Köln

Planned capacity = 50,000 (full house) (sold out)

No surprise to see the RheinEnergieStadion already sold out. The Kölner supporters stand behind their club no matter what. The fact that Steffen Baumgart's charges are having great difficulty scoring goals at the moment doesn't matter. Will they score here? Sigh. Anthony Modeste is back, but now Sebastian Andersson is out. Uh-oh.

Hopefully it won't be a midfield slog. These two clubs--"the carnival city rivals"--actually do have a reputation for tense, grueling, and physical affairs. There may be more action in the "Kölner Keller" (the Bundesliga's VAR nerve-center) this weekend than on the cathedral city pitch. Incidentally, the club's new sporting director gets his to watch his first home match this weekend.


🎙 Jetzt beginnt die #effzeh-Pressekonferenz zur Vorstellung unseres neuen Geschäftsführers Sport Christian #Keller – gemeinsam mit FC-Präsident Werner Wolf und Vizepräsident Eckhard Sauren. 🔴⚪

⏰ 13 Uhr pic.twitter.com/C2ykawDPdL

— 1. FC Köln (@fckoeln) April 4, 2022


Er....a warm welcome to the "other Kölner Keller".


---


Borussia Mönchengladbach (at) SpVgg Greuther Fürth

Planned capacity = 16,626 (full house)

Not too many opportunities to watch "Frankish football" in the German top flight left. Fürth are headed down. Nürnberg are lagging in their quest to get back up. One can always come out to the Ronhof for three more home fixtures, This match might even sell out as some 13,000 passes are already gone.

The Kleeblatt boosters shall sing their team back down.


Der Stadionbesuch am Samstag beim #Kleeblatt-Heimspiel gegen @borussia ist wieder ohne Beschränkungen möglich!

Knapp 13.000 Tickets sind schon weg.
ℹ️👇#kleeblatt #SGFBMG https://t.co/cVjf5yzePX

— SPVGG GREUTHER FÜRTH (@kleeblattfuerth) April 5, 2022


That'll be fun.


---


FC Union Berlin (at) Hertha BSC 

Planned capacity = 74,649 (full house) (sold out)

The columnist can scarcely believe it himself. The "Oly" is apparently sold-out already for the big Berliner Stadtderby. This remains one of those things that needs to be seen to be confirmed. There can be no doubt to reports that some 12,000 Eisern Union fans have purchased tickets for the visit to Charlottenburg. One will feel every last one of them.

Did 62,649 other individuals shell out good money to come see Hertha? We'll see. Hopefully so. Sixty thousand plus belting out "Nur nach Hause" counts as one of the best things in Bundesliga football. If Felix Magath's "alte Dame" falters, maybe Mark Fotheringham can take over again next week.


Berlin lebt 🔵⚪️! Am Samstag endlich wieder in einem vollen @Oly_Berlin. 😍 Alles für den Derbysieg!#BSCFCU #ThrowbackThursday #GemeinsamHertha #HaHoHe pic.twitter.com/tYXThh3gbu

— Hertha BSC (@HerthaBSC) April 7, 2022
---


Bayer 04 Leverkusen (at) VfL Bochum 

Planned capacity = 27,599 (full house)

Smile, Bochum fans! All of you are now on "candid camera"! Yes, this is the first home match back for the 1848ers since the abandoned match. Somewhat strange to learn that the club claims to have identified the perpetrator who throw the infamous plastic beer beer mug at linesman Christian Gittelmann partially via "DNA evidence".

It's football "Gattaca Style" over on the Castropher Straße. Fingerprints. Hair strands. Skin follicles. Advanced facial recognition software.

Oh right. There's also a football match.


---


SC Freiburg (at) Eintracht Frankfurt 

Planned capacity = 51,500 (full house)

Three consecutive home fixtures for the SGE. If you missed out on this Thursday evening's Europa League tie against Barça, you missed out on this:


Den Eintracht Frankfurt Walzer tanzen wir… 🎶#SGEuropa #SGEFCB pic.twitter.com/2CXtRuXdjj

— Eintracht Frankfurt (@Eintracht) April 7, 2022


What an incredible display from the Adler supporters in the country's commercial capital! The stands were rocking and rolling throughout. Will there be anyone with a voice left to get up for a third home match in eight short days?

The club website (for which one must register) still has a few thousand passes left.


---


TSG 1899 Hoffenheim (at) RB Leipzig 

Planned capacity = 47,069 (full house)

A pretty decent turnout for the Atalanta Bergamo tie on Thursday night in the Red Bull Arena. The crowd of some 36,000 made themselves heard, though it still wasn't anything compared to Frankfurt.


Die Fans feiern nach der heißen Schlussphase #RBLATA pic.twitter.com/VQjkApmJZy

— RBlive! (@rb_live) April 7, 2022


Plenty of seats available for the match Germans refer to as "El Plastico".


---
Thanks so much for reading!
You can occasionally catch Peter on twitter, @ViceytheSS.
Twitter DMs are open for football conversations, corrections, and (if you truly insist) general abuse. 
All columns debut on Bulinews before appearing on Peter's website later in the week.
Related stories