Magath declares both Stark and Plattenhardt fit, makes appeals to Boyata and Hertha fans
By Peter Weis @PeterVicey
Hertha BSC trainer Felix Magath had some good news to report on the injury front during his Good Friday presser. 

The capital city's "alte Dame" faces a string of three matches against relegation rivals in the coming weeks. 

Ahead of this crucial stretch, Magath imparted special messages to both his squad captain and the club's fan base.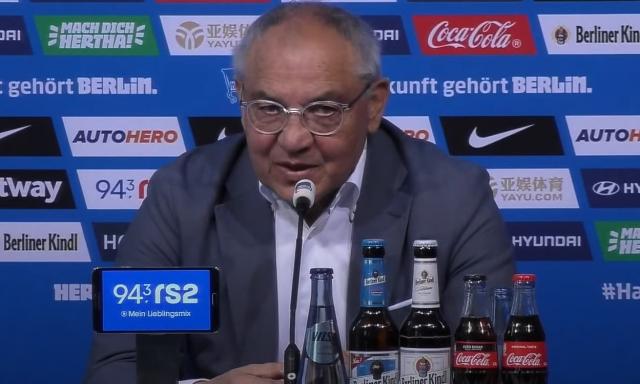 After returning to the Bundesliga sidelines for the first time in nearly a decade, Felix Magath has yet to taste victory in person at his new assignment. Hertha BSC managed win what was technically the first match of his coaching regime, yet Magath was left to savor the success at home alone in COVID quarantine.


Since that win, Hertha have dropped away at Leverkusen and at home to cross-town rivals 1. FC Union Berlin in last weekend's "city derby". The capital city's Charlotenburgers pay Augsburg a visit this weekend. After that, Stuttgart and Bielefeld are on the docket.

"We initially played against three very good teams," Magath noted at his Good Friday presser, "Now there are opponents at eye-level and no more excuses."

Magath had some good news to impart with respect to squad injuries. Since garnering three assists in Hertha's win over Hoffenheim, set-piece specialist Marvin Plattenhardt had to hit out the next two fixtures with muscular issues.

Magath declared the 30-year-old once again fit for Saturday's fixture.

"We scored three goals against Hoffenheim with his free kicks," Magath noted, "So obviously, he's an essential factor."


Plattenhardt's absence, coupled with that of Fredrik Andre Bjørkan and Dong-Jun Lee, forced Magath to deploy youth squad player Julian Eitschberger at left-back last weekend. Additionally, Linus Gechter had to deputize for the injured Niklas Stark at the sweeper position. The results spoke for themselves.

Magath will get Bjorkan and Stark back this weekend. Lee remains out. Magath remarked that Stark's very encouraging training week gave the whole team a boost.

The Hertha trainer found himself unwillingly thrust into the headlines yesterday when he noted that his team had no natural leader.

Magath commented that Kevin Prince Boateng's persistent injury woes left the Charlottenburg native unable to fulfill the role envisioned for him when Fredi Bobic brought the 35-year-old home last summer on a free.

Magath walked his comments back a little during his final pre-match presser.

"First and foremost, our captain [Dedryck Boyata] is called upon," Magath noted when discussing leadership, "Boyata is an excellent player who plays in a crucial position. He sometimes feels a bit too shy for a captain, but I hope he knows that he is needed now."

Boyata was among the veteran Hertha players who caught some flak last this week for heading directly into the tunnel following the defeat to Union.

While the veterans immediately went into the locker room, the squad's young talent were left to face the angry fan block alone. Feeling intimidated, youngsters like Gechter, Marcel Lotka, and Maximilian Mittelstädt surrendered their match jerseys to the demanding Hertha Kurve.

Speaking on the incident, Magath said that he had left the topic unspoken of during team meetings. In an effort to boost morale among his troops, Magath gathered all the players together for a joint meal and communal viewing of the Athletico Madrid-Manchester City match on Wednesday night.

After watching the strong show of support from Eintracht Frankfurt supporters in Barcelona last night, Magath made a specific appeal to Hertha supporters.

"You saw how important the fans are," Magath stated, "In our situation we need the support. There's no point in leveling accusations against the players. Without support, it will be very difficult."



More about the match
More about the teams