Witsel: Bayern wanted to sign me
Borussia Dortmund star Axel Witsel has revealed that Bayern München tried to sign him while he played in China.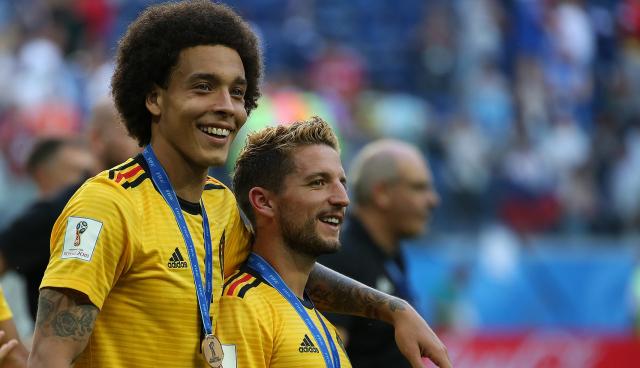 | | |
| --- | --- |
| Axel Witsel (left) with Dries Mertens. | Photo: Кирилл Венедиктов/Soccer.ru/CC-by-SA 3.0 |
In the summer, Axel Witsel decided to leave Chinese side Tianjin Quanjian to join Borussia Dortmund.

Apparently, a move to the Bundesliga was already in question for Wisel about a year and a half ago.

According to Witsel, the former Bayern München coach Carlo Ancelotti wanted to sign him back then, but Tianjin Quanjian didn't want to let him go - and the midfielder wasn't interested in a move himself at the time.

"At that time, I had played in China for half a year. Mr. Ancelotti asked Fabio Cannavaro, my coach at the time, about a transfer and revealed his interest," Witsel told Sport Bild and added:

"Fabio relatively quickly made it clear to him that he didn't want to let me go. That was the end of the topic."

"For me, a transfer wasn't in question at the time - even if Bayern are a big club," Witsel said.

It has been rumored that Schalke were interested in Witsel back in 2011, but the 29-year-old claims Dortmund's local rivals didn't show any concrete interest in him.

"I've heard of that too. But I can tell you: there was no contact," he said.