Rogel on World Cup chances:
"I need to collect minutes and do my thing."
By Peter Vice @ViceytheSS
Hertha BSC's towering Uruguayan defender Agustin Rogel finally made his Bundesliga debut over the weekend. 

After a whirlwind couple of week that also saw him finally made his debut for his country's senior national team, the 24-year-old commented on his future hopes for club and country.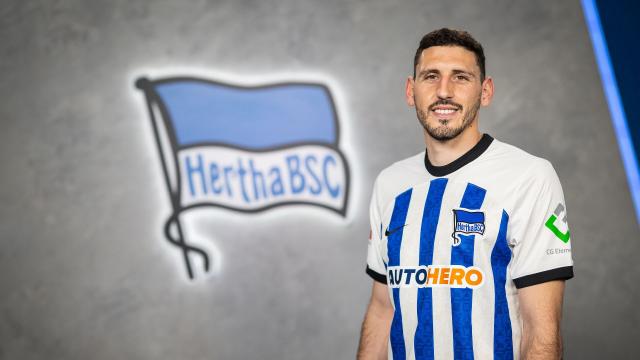 Central defender Agustin Rogel found himself benefitting from a pair of injuries over the last week. During Uruguay's friendly against the Iranian national football team on September 23rd, center back Ronald Araujo succumbed to injury in the 5th minute. On stepped Hertha BSC's summer acquisition to represent his country at senior level for the first time.




This past Sunday in Berlin, Hertha CB Filip Uremovic couldn't continue in the second half of the Bundesliga tie against Hoffenheim. So it was that Rogel came onto the pitch to log his very first minutes for his new German club. Hertha trainer Sandro Schwarz praised Rogel afterwards for his performance, noting that the 24-year-old had done very well in the direct duels and short-passing game.

For football fans, Rogel remains a most interesting player. The one-time Uruguayan youth star's career has followed an unconventional path. After failed stints in Russia and France, he moved back to his native continent to play for Estudiantes de La Plata in Argentina. A return to Europe was certainly not foreseen until Hertha sporting CEO Fredi Bobic jumped at the chance to acquire him this summer.

Injuries along the back-line might have accorded Rogel a chance to appear for Hertha earlier, but head-coach Schwarz has noted that he needed some time to get adjusted to the training load associated with a Bundesliga club. Schwarz has also said that he considered Rogel to be the type of defender who might thrive better in a back-three system.

In any event, it now looks as if Rogel is likely to get more playing time. The towering center-halve looked very strong in the second-half against Hoffenheim, immediately melding in with the pace of the Bundesliga game. Uremovic's ankle injury may turn out to be serious, meaning that Schwarz has a very strong contender to take over the role.

"The intensity here is very high because of the quality of the players and the teams," Rogel himself said when reflecting on his Bundesliga debut, "I tried to enjoy it. I tried to keep it focused and simply. The important thing for me was to keep a clean-sheet in the second half, and we managed to do that."




When it came to his prospects for club and country over the next few weeks, Rogel acknowledged that those were strictly intertwined. Hope for representing Uruguay at the World Cup exists, but could absolutely not be taken for granted.

"I'll always have hope," he noted in his post-match comments, "But for that, I need to collect minutes and do my thing well at Hertha."



More about Agustín Rogel