Dardai talks tactics and commitment to Hertha youth at introductory presser
By Peter Weis @PeterVicey
At his introductory presser on Monday, newly re-instated Hertha trainer Pal Dardai strongly suggested that he wished to return to the Hertha youth academy after the current season concludes. 

The 47-year-old also fielded numerous questions about the state of the team and discussed some of his early tactical thoughts. The new gaffer appears to hope to stabilize the team with an anchoring ten.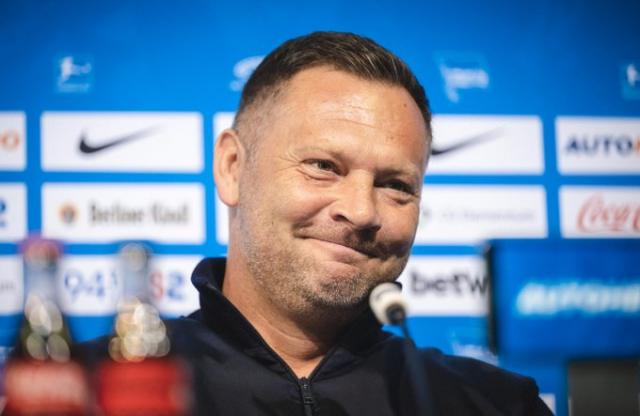 Shortly after the 2021/22 German Bundesliga campaign began, then Hertha trainer Pal Dardai made headlines after matchday three by declaring that he would prefer to step back from the senior team and return to his roots at the club's youth academy. At a presser on Monday confirming his third appointment as the head-coach of the Hertha "A-squad", Dardai confirmed that he was indeed very close to fulfilling this wish.


"The plan was to return to the academy in the summer," Dardai said at the presser, "That was my wish. Then the call came that they wanted to talk to me. It took a little longer, but I said yes."

Naturally, members of the assembled press corps wished to know if that plan remained in place after the current season concludes. Dardai's latest contact to run the senior team only runs through the next six fixtures. The 47-year-old was more noncommittal in answering this query.

"In football, it's always the next pass that counts," Dardai answered, "What comes after that no one can say. If the 'A team' is relegated, then it's curtains for me. Either the 'A team' remains in the league with me or they don't. For now, my plans remain in place. Also for now, only the results count."

Dardai did emphasize his commitment to the Hertha youth. The former long-time Hertha player and gaffer expressed the desire to continue working with the young-up-and-comers no matter what happens.

"I've dedicated half my life to building a great youth department here," Dardai said, "I want to get back to the place where young talents no longer wish to leave the club. I want it so that the youth players find the professional team sexy and want to play football there. Presently, too many talented players wish to leave Hertha and that's not okay.


Dardai went so far as to drop the name of o e player he already planned to promote to the professionals. While it remains uncertain as to whether 17-year-old striker Ibrahim Maza will play anytime soon, Dardai confirmed that the Hertha U19 attacker would make his bench squad. Maza made Sandro Schwarz's matchday squad for the round 26 encounter with Freiburg, going unused off the bench.

"Ibo Maza, for example, is a young player," Dardai noted, "I have worked with him. I kicked his ass enough that he moves more and gets better. And look where he is now. He will definitely be with me. I'm not afraid to throw in youth players in an important situation."

When it came to how to fix the current Hertha tactical set-up, Dardai indicated that he'd rather run a constellation with a single-ten; something quite different from Schwarz's 3-5-2. The problem, as Dardai nevertheless confirmed, is the the squad is "thinly stacked" at that position. Dardai noted that he would have conversations with veteran leader Kevin-Prince Boateng.

"It's simply the performance that decides," Dardai said of Boateng, "He played well against Schalke, but I can't make promises to anyone now. Prince as a trained ten? He could have solved the task earlier, when he was still 22. But I think it's different today."

Dardai did reveal that he was thinking about potentially deploying Marco Richter at the ten position. The German youth international "can play there in a pinch" Dardai said. Above all, Dardai stressed that he wanted "honest answers" and "zero inhibitions" from his team. He also made it a point to bring up his relationship with the youth system again.

"I already have a few ideas," Dardai said, "but I have to talk with the team and bring them in. I'm also helping the club because the kids here are important to me. My son [Marton] is also here."

One potential youngster Dardai could rely upon as a ten is 20-year-old Derry Scherhant. The Berlin-native scored his first Bundesliga goal off the bench in Hertha's 4-1 victory over Borussia Mönchengladbach on matchday 20. Dardai was famously in the stands on that day watching his son Marton also score his maiden top-flight goal.



Related stories