Bundesliga Tactics Talk: Round 34
By Peter Weis @PeterVicey
The final edition of "Tactics Talk" arrives!

A wild final matchday in the 2022/23 German Bundesliga wrapped a most unconventional and immensely entertaining season. For the first time in 23 years, the league title came down to goal differential. In a most uncommon occurrence, not a single match was without merit in the races for Europe and the quest to avoid relegation.

A round so replete with meaning obviously necessitated proper treatment of all nine fixtures. The result is by far the largest installment of the three-year-history (and fourth overall) of this feature's existence on Bulinews. Not one result escapes full analysis year.

We conclude matters with a bang this week. Bayern, Stuttgart, Leverkusen, and Schalke receive draw ups in our final chapter. The "focus" section, naturally, belongs to the infamous Dortmund-Mainz match.

There is history to chronicle and lessons to be drawn.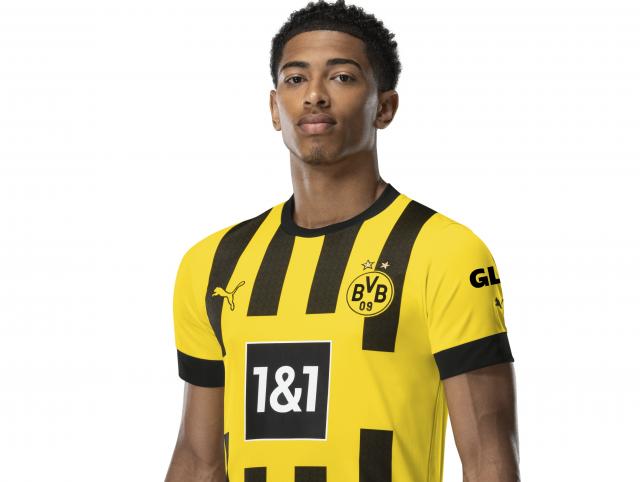 Bundesliga Tactical Banter: Round 34
A typical "Wolfsburger Wobble"

Germany's green company team missed out on European qualification in a manner quite emblematic of their season. Niko Kovac's crew couldn't finish off their chances against a vastly inferior side that accorded them more than ample opportunity to do so. The German Wolves squared off against an already relegated Hertha side. Berliner trainer Pal Dardai made seven changes to his squad. Youngsters Pascal Klemens and Tjark Ernst made their Bundesliga debuts. Developmental prospects Tony Rölke, Derry Scherhant, and Ibrahim Maza were among those logging minutes off the bench,


Still, after an dazzling early goal involving Yannick Gerhardt and Jakub Kaminski, the Lower Saxon hosts couldn't close the game out against Hertha's experimental assemblage. Kovac practically invited inconsistency by keeping the same XI from last week's loss against Freiburg on the pitch, yet requiring that they function in the 4-1-4-1 utilized at the turn of the calendar year. Some joy on the left from the hosts. In the final analysis, however, they ended up making debutant keeper Ernst look like a superstar with chances that weren't nearly compelling enough. A result that felt deserved.

Post-match reactions from Gerhardt and newly promoted sporting CEO Marcel Schäfer summed things up appropriately. A roster of this caliber should have done much better this year. Too much illogical tinkering from Kovac this year when it wasn't needed and too much of a laissez-faire attitude towards personnel choices when it really mattered. The failure to qualify for Europe can, in large part, be traced back to the coach. We saw this sort of stuff from Kovac during his Frankfurt and Bayern days as well. A steadier hand - not seen since the Oliver Glasner days - might be required here.

Augsburg's typical "lucky escape"

Those of us who predicted that the Fuggerstädter's season would conclude with an away loss at Gladbach saw our prognostication come true. Enrico Maaßen's FCA were nevertheless still able to secure their 13th consecutive season of top-flight football thanks to the fact that Stuttgart couldn't get a second goal past Hoffenheim. Any team that survives the Bundesliga on 34 points must count themselves lucky. When the team gravitated over to the traveling supporters in the Borussia Park "guest Kurve" after safety was confirmed, there wasn't a hint of accomplishment in anyone's faces.

Speaking to the press after the 0-2 loss, Augsburg captain Jeffery Gouweleeuw admitted that he and his colleagues had played a "terrible game". The skipper was correct on so many levels. Gladbach pummeled them xG wise by a 3:1 ratio. Trainer Maaßen tried out a totally impractical and malfuntional 4-2-2-2 with Arne Maier and Arne Engels working as (presumably) inverted wingers. After the foals tore this apart for the opening goal in the 3rd minute, cameras got Maaßen comically trying to hand out tactical notes with separate instructions.

Back-three, back-four, back-six. Nothing worked. The visitors found no defensive stability and appeared genuinely lost searching for a way forward. BMG trainer Daniel Farke's 3-3-2-2 was, in itself, well-devised. The ease with which Jonas Hofmann, Marcus Thuram, and Lars Stindl were able to combine around Maaßen's various messes still laid bare how out of his depth the FCA trainer was. Interestingly enough, both these clubs confirmed separation from their head-coaches on the final matchday last season. Though that didn't happen this year, pink slips might yet be in the mail.

Farke is rumored to be done. As we were discussing a short while back, it's probably time for Maaßen to pack up too. The young gun from the BVB II ranks concluded the season with his head barely above water. As the 2022/23 campaign drew to a close, it became increasingly apparent that the 39-year-old posed no coherent footballing thesis for his squad. Moreover, the disciplinary problems in the Bavarian Swabian ranks reared their ugly head again. This time it was Robert Gumny's turn (the direct replacement for Felix Uduokhai) to get sent off on a straight red.


Time for a fresh start in Gladbach, Augsburg, and Wolfsburg.

Union's typical "grind out"

Good old "Eisern Union" are through to the Champions' League after eking out a 1-0 victory over visiting SV Werder Bremen at the Stadion An der Altern Försterei. It doesn't get much more "typical Union" than that. Those of us scouting this tie entertained little notion that we would witness a goal from open play. Union fashioned a little danger off corners in the opening 45. That was all. What action we did behold during the second half, expertly enough, came from whipped in crosses booted by wingbacks Christopher Trimmel and Jerome Roussillon.

With Robin Knoche and Aïssa Laïdouni back in the starting XI, the Köpenickers were certainly a great deal more stable than last week. Stability notwithstanding, something special would be required with a UCL berth on the line. Sheraldo Becker, Sven Michel, and eventual goal-scorer Rani Khedira all did their bit on the 81st-minute tally that proved the game winner. Nothing much more was needed. A simple win would have been sufficient. The goal-differential gap meant that the capital city side didn't need to sweat over what was happening in Frankfurt.

Bremen's Niclas Füllkrug was presented with one of two 2022/23 Kicker Magazine "Torjägerkanone" plaques handed out on the day after the match concluded. The new German national team striker, asked about what it felt like to take the prize with the fewest goals a leading-goalscorer has ever notched in Bundesliga history, "trotted" out the famous German metaphor about the horse that conserves its energy whilst trotting though the equestrian obstacle course. A good horse, as Germans are fond of saying, barely clears each hurdle before focusing on the next challenge.

Fitting. One could say the same thing about Union.

The "Spiegel Specials": Round 34
Bayern-Köln (1:1, 2:1)

Yes, we have to cover this first. The "match that won the title". Kind of. Sort of. Not really. It was more of a case of another team scuffing up their own chance to hoist the Meisterschale this year. We'll get to "how the title was lost" in the tactical focus section - covering the Dortmund match - below. Thomas Tuchel's FCB very nearly faltered themselves in the late-going. Almost exactly like last week, the Bavarians summarily failed to build upon an early 1-0 lead. It nearly got away from them again until Tuchel threw the kitchen sink at the opposition.

Tuchel's opening hand resembled a 4-1-4-1 very much in the Borussia Dortmund mold. For a short time it appeared as if Thomas Müller and Ryan Gravenberch were meant to be working a split-stagger. Closer examination led one to the conclusion that Müller was simply being Müller by hanging tighter to the wingers in an effort to spark faster cycles. This tactic worked in that it helped set up the opening goal. Müller led a superb counter in the 8th. With some help from Leroy Sané, Kingsley Coman was able to net the 1-0.

Lineup—FC Bayern München—Match 34 (4-1-4-1)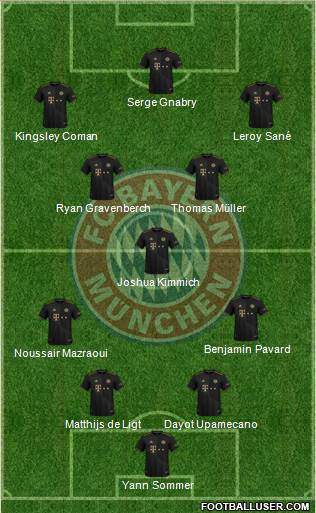 A few things to note here.

The "Ballkünstler" argument

Those only tangentially acquainted with the German language can easily figure out that "Ballkünstler" can be easily translated as "a ball artist". The current Bayern roster possesses far too many of these players. Improper squad balance counts as at least one solid argument in the case for firing the board's personnel executive Hasan Salihamidzic. The now former top sporting boss built this team around such players. The problems associated with with became apparent rather early this season.

The preponderance of "trick specialists" also explains why Tuchel opted to bench both Joao Cancelo (after an incredibly impressive match last week) and Jamal Musiala (after a subpar one). Something more calm and durable was needed this time. Hence, Noussair Mazraoui was shifted over to the left to make room for Benjamin Pavard on the right while Dayot Upamecano returned to the XI. Not having many options for calmer presences on the top two axis, Tuchel had to reorganize his defense.

The outside the box "nibbling"

Bayern's basic play lies prone to suddenly falling stale without much warning. This week, it happened even earlier than last time. Instead of thirty solid minutes from the record champions, we beheld perhaps twenty at best. As pertains to the second half, an ultra brief flurry on the disallowed goal just after the restart rapidly gave way to more self-wrenched attack builds that would ultimately yield a way back into the match for Köln. Tuchel has, at the very least, figured out that once his team begins running out of ideas just outside the area, it's time to switch players to different sides.

The first tactical shift

Tuchel often waits curiously long to re-order his outfield whenever the stale "nibbling" creeps in. This may have something to do with the fact that his predecessor frequently placed large demand on his play with blatantly overly-contemporary tactics. In any event, the FCB trainer took his time again here. Cancelo first came on for Müller in the 62nd. So re-ordering commenced. Finally, when Choupo and Leon Goretzka entered on behalf of Gravenberch and Coman in the 72nd, a different constellation crystalized.

Lineup—FC Bayern München—73rd minute (3-4-3)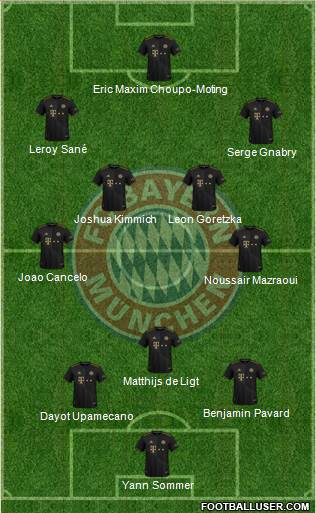 Sané and Gnabry moved to different slants, as did Mazraoui. At this juncture, Köln were actually looking the much better team. Yann Sommer certainly had to earn his paycheck with a big save on Davie Selke at the hour mark. Ellyes Skhiri also came close to equalizing. On the Bayern attacking end, Choupo showed signs of rust on a chance in the 77th. The team's de-facto lead-striker shot when he should have passed. The NRW hosts did manage to pull back the equalizer from the spot in the 81st courtesy of a handball penalty.

Tuchel had to employ further changes. To the gaffer's credit, he made the unorthodox decision to take Goretzka off after having just brought the German national team midfielder on. Mathys Tel took Goretzka's place. Musiala relieved Mazraoui. Having been deprived of the famous "final matchday 2-3-5" in the last round of the 2021/22 campaign, Tuchel's closing play took us back to the halcyon delight of May 23rd, 2021. Hit us with it, Thomas:

Lineup—FC Bayern München—85th minute (2-3-5)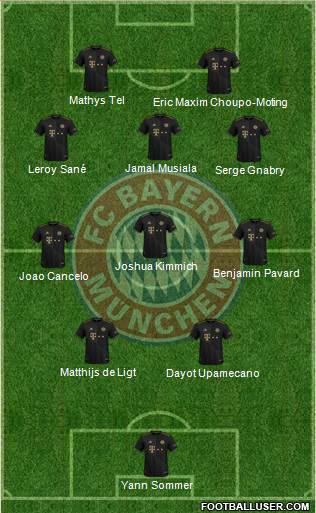 JAVOLL!! Everyone loves a 2-3-5 on the season's final matchday! Musiala - with two top axis players and two encroaching wingers ahead of him - received the perfect chance to finish. The youngster bucked a prolonged form slump that's took hold of him following the World Cup and refused to let go with his first goal since matchday 22 and just his third tally of the new calendar year. It proved a very intelligent one as well. Musiala deftly used Tel, Choupo, Gnabry, and Sané as screen players to get past Effzeh keeper Marvin Schwäbe.

A technical masterpiece from a player shaken to his core by confidence issues ended up gifting Bayern the title. Without Musiala's goal, we wouldn't be discussing Bayern's 11th consecutive title at all. Dortmund had one hand firmly planted on the Meisterschale. Die Schwarzgelben didn't even need to win against Mainz if Bayern-Köln had finished a 1-1 draw. Out of nowhere, Musiala rekindled the trademark magic that had lain dormant in him for a very long time. The right tactics helped. A 20-year-old still did more than anyone else to help the FCB capture the crown.

Prognosis: A rough administrative aftermath

Shortly after the full-time whistle, reports began surfacing that Oliver Kahn and Salihamidzic were both due to be sacked. The timing of the quickly confirmed rumors left zero doubt that the decision had been arrived at well before kickoff. It's difficult to even start discussing this tectonic managerial shift without first employing some dark humor. The Bayern higher-ups obviously held out little hope that they could take the title on this day. In the mind of the board, a "zero-trophy-year" constituted the perfect opportunity to announce the change.

Slightly hilarious when one stops to think about it. The German giants improbably claimed the championship anyway. Now the FCB board looks almost as stupid as Kahn and Salihamidzic themselves when they fired Julian Nagelsmann in the midst of a successful season. Even if (as one can reasonably expect) Tuchel does a much better job next year, the new Bayern brass won't be able to entirely shake the fact that the comeback took place under Kahn and Salihamidzic's preferred trainer.

Truth be told, this move really makes the FCB board appear especially cruel and heartless. Not to suggest that this wasn't already the perception most German football lovers had of the club, but Kahn and Salihamidzic were generally regarded as more amenable personality types that - after patiently waiting their turns in the administrative ladder - were expected to rid Bayern of the callousness associated with the managerial regime of Uli Hoeneß and Karl-Heinz Rummenigge.

Now that Rummenigge is on his way back and we can all most assuredly say that Hoeneß will never go away, Bundesliga enthusiasts maintain a more pissy attitude towards this club than ever before. A decade-plus of Bayern dominance, believe it or not, remains tolerable so long as the club itself shed the evil and sinister feel of the type of arrogance associated with the two former top dogs. After all, as a fan-owned 50+1 club, Germans were always more than pleased to watch Bayern keep Leipzig away and succeed on a UCL-level.

Whew. So many of us simply wished that the mighty Bavarians could take a few setbacks in style. When - under Hoeneß - the team won three of six potential titles between 2005 and 2012 (even competing on an Europa League level during the 2007/08 campaign), Hoeneß stayed in place throughout the inconsistent years. It makes one angry to know that a jackass like Hoeneß received the benefit of the doubt while a pair of nicer guys had to go away when the club never even relinquished its hold on the title.

Damn this club.

Damn it to hell.

Stuttgart-Hoffenheim (2:2, 1:1)

A pair of draws for two teams that did the "coaching trade" thing this year. Sebastian Hoeneß and Pellegrino Matarazzo each played against the clubs they most recently coached in the season finale. Nothing really at stake for Hoffenheim following the effective clinch of safety last week. Sebastian Hoeneß' Swabians, on the other hand, had everything to play for in front of a sold-out hometown crowd. A win would have led to safety. Could they push Augsburg into the relegation playoff place when the Fuggerstädter were begging for it? 

Nope. The fireworks from the end of last season couldn't be replicated. No jubilant pitch invasion from the hometown support this time. Hoeneß' matchday XI failed despite numerous upgrades. Kostas Mavropanos and Borna Sosa were once again available to start. Last week's hero Chris Führich also played from the beginning. Overall first-half play remained too cautious. Josha Vagnoman ventured forward a few times while the rest remained back. Serhou Guirassy rarely got himself into promising shooting positions.

The BaWü hosts really only shifted up a gear offensively after the hour mark. Silas, Führich, as well as substitutes Tiago Tomas and Enzo Millot fired some warning shots. We nevertheless didn't witness an appropriately urgent tactical shift from the VfB trainer until well after Ihlas Bebou scored the opener for the Sinsheimers. Hoeneß earns plaudits for the re-format that commenced after Tanguy Coulibaly and Luca Pfeiffer entered in the 78th/79th. This worked rather well:

Lineup—VfB Stuttgart—80th minute (3-4-3)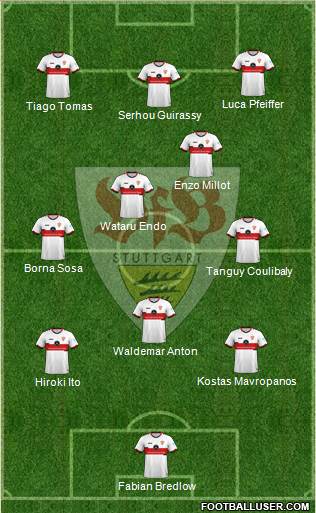 Skipper Wataru Endo always maintains the ability to pull the strings effectively when working with another actor on a split-stagger. Endo supplied the ball that enabled Tomas to equalize. Millot made good use of his space. Sosa benefitted from a tightly grouped together top axis immensely. Endo and the Croatian wingback nearly helped Tomas pull out a winner during a late flurry in second half injury time. Something like this honestly needed to be deployed sooner. We're talking relegation playoffs thanks to the fact that it wasn't.

Prognosis: A difficult forthcoming challenge

This section had to be held until we discovered who the next opponent of the Württembergers would be. Yikes. Even before we could surely say Stuttgart came out the unequivocal losers from Sunday's mayhem in the 2. Bundesliga, prospects weren't all that good. One must not forget that the VfB were actually the last top-tier side to lose the relegation playoff, falling to 1. FC Union Berlin after the 2018/19 campaign.

That Stuttgart side spotted much better anchors such as Benjamin Pavard, a still in-form Gonzalo Castro, Christian Gentner, and even (at the tail end of his career) Mario Gomez. Holger Badstuber, Ozan Kabak, and Dennis Aogo were back to help stabilize the defense. Hoeneß possesses quality at the back, but will it be enough to stop the team that led the 2. Bundesliga with 70 league goals this year?

Uh-oh. Whereas a playoff against 1. FC Heidenheim counted as sure class preservation, the HSV counts as one seriously ravenous beast. Defensive errors from the likes of Mavropanos, slightly hurt keeper Fabian Bredlow, and (don't even get the columnist started) Dan-Axel Zagadou seem visible on a not-too-distant horizon. Oops, oops. A bad role of the dice for the Swabians. Keep the money off them this time.

Frankfurt-Freiburg (1:1, 2:1)

SC Freiburg fell just short of the final Champions' League place with their away loss at Frankfurt. To be fair, Christian Streich's Breisgauer faced the longer odds than direct competitors 1. FC Union Berlin. It never appeared all that likely that they could overtake. All the same, most of us found ourselves certainly rooting for the Badeners once the team-sheets were released. Streich stuck with young guns Noah Weißhaupt and Kenneth Schmidt in the same constellation as last week. Another eminently likable youngster, Yannik Keitel, deputized for the suspended Nicolas Höfler.

Unfortunately, neither Schmidt, Weißhaupt, or Keitel turned in especially good performances. SCF cycles up the left (via Schmidt and Weißhaupt) never kept a clean feel about them. Keitel remained on the pitch far too long. The 23-year-old's inability to press properly enabled Eintracht to slowly build up confidence in the long ball game. One cannot afford Randal Kolo Muani the chance to rack up confident touches in the manner Freiburg did and hope to win the match. As Streich himself put it afterwards, the quality gap eventually manifested.

Prognosis: A satisfying set of European teams

Two consecutive years of Europa League football hardly counts as a step backward for Streich and company. Departing keeper Mark Flekken revealed in his post match interview that the team will be flying to Ibiza for two nights to celebrate another successful campaign. One rather hopes that Streich won't be tagging along as the man most Germans regard as a "national treasure" runs a serious risk of succumbing to a heart attack amid all that partying.

Autumn Champions' League nights at the Europa Park Stadion would have counted as quite the treat next year. In the final analysis, however, the UEL remains a better and more viable alternative for this club. Moreover, one can rarely have one's cake and eat it as well. The sight of Rani Khedira shooting Union in the Champions' League and the prospect of some fabulous nights under the lights at the Olympiastadion next year touches the German football soul in a special way too.

Freiburg and Union both stand poised to complete highly interesting summer transfer windows with the additional profits their table finishes provide. Anticipated future revenues from next season shall also help two highly competent managerial regimes continue the recent trend of making some excellent targeted signings. Eintracht's 7th-placed-finish (the SGE can actually still qualify for the Europa League via the Pokal) also lends Markus Krösche a much needed hand in his massive summer rebuilding task.

A good group this one.

Generally positive news for German football.

The "Burning Questions: Round 34
How did Bochum succeed?

A straightforward enough answer here: By virtue of the fact that Leverkusen were reduced to ten-men before ten minutes were out. Bayer attacker Amine Adli can have few complaints about his early sending off. Bundesliga lovers possess almost no complaints about having Bochum remain in the league next year. The VfL's 3-0 victory over the visiting Werkself itself proved loads of fun. Philipp Förster furnished an amazing finish on the opening goal. Takuma "Jaguar" Asano recorded both a goal and an assist for the first time in his Bundesliga career.

Asano and Förster were joined by a highly deserving Kevin Stöger, who capped off the 3-0 to seal a near perfect day in the Revierstadt. Excellent celebration scenes involving three players German football addicts always remain happy to watch succeed. The scenes afterwards on the Castroper Straße and around the city were similarly priceless. We'll still have to note that B04 trainer Xabi Alonso rendered things a tad too easy for the hosts with a poor tactical re-format following Adli's red. Oops. This isn't how it's supposed to be done.

Lineup—Leverkusen—9th minute (4-2-2-1)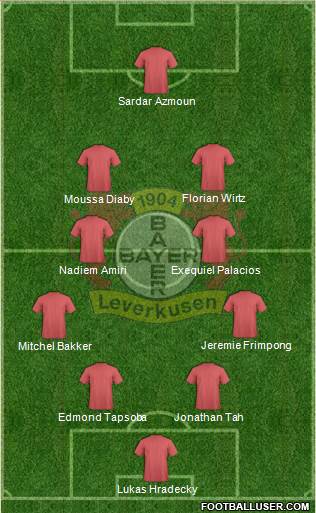 Either Exequiel Palacios or Nadiem Amiri needed to work above the other on a vertical axis pairing. Xabi's choice of constellation - while logically enough designed to keep die Werskelf alive on the counter - accorded the hosts far too much space in the center. The counter-centric nature of the formation also marooned center-halves Jonathan Tah and Edmond Tapsoba. Xabi also waited until the 78th to pull the trigger on his first change and only used two of the five substitutions available to him.

A European place remained on the line for Leverkusen. Despite this, the squad's speedsters displayed no urgency forward even after Bochum let them have virtually all of the ball in the second half. The lone chance of the second 45 belonged to Jeremie Frimpong. Florian Wirtz got bogged down significantly and made some very poor passing decisions. No real flow to the Werkself game on this day after nearly a full week's recovery time and no shortage of gaps left open by an inferior side.

Bochum got handed this one.

How did Schalke not?

We move over to the club taken over by former VfL trainer Thomas Reis. Almost no one expected Schalke to pull off a miracle against Leipzig. It came as little surprise to watch Marco Rose's RB take the favorites for automatic relegation entering the day apart. In this particular case, an early pattern simply kept repeating. Schalke forward with risk on the charge. Leipzig back with thunderous rolling counterattacks. Rinse and repeat over the course of six goals.

The columnist declares himself impressed with what Reis achieved since taking over this hopeless club last October. The fact that die Königsblauen didn't finish last is in itself a small miracle. An amazing set of results in the new calendar year. The 2-2 draw with Dortmund on matchday 24 won't soon be forgotten. A genuine shame that we won't be watching the big "Revierderby" next season just when it appeared that the fixture would become entertaining and competitive again.

The final stand of die Knappen had some heroic accents to it. Starters Marius Bülter, Rodrigo Zalazar, Dominick Drexler, and Marcin Kaminski all turned in wonderful moments. Reis upped the ante fairly early in this one by sending Tobias Mohr on for Zalazar in the 56th. Drexler moved out to Zalazar's place on the right-wing. Danny Latzka fell back to work as a solo-six. It never really stood much of a chance of standing up to the Leipzig counter, but counted as a clever and creative play nonetheless.

Lineup—FC Schalke 04—57th minute (4-1-4-1)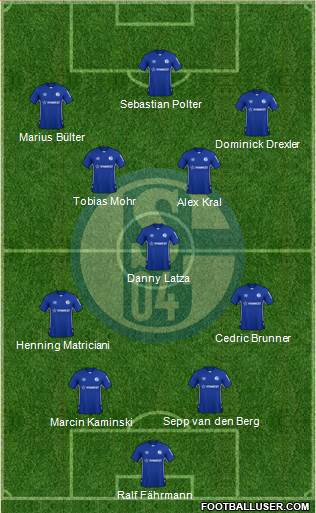 Mohr and Latza ultimately fell apart. Cedric Brunner - working off the axial chain with fullback partner Henning Matriciani - succumbed to poor track-back defending. Returning keeper Ralf Fährmann prevented the final scoreline from having a disastrous feel about it. Matters might have ended up much worse. It felt fitting that some valiant flair existed on all corners of the S04 pitch during the final stages; as fitting as having it confirmed that this squad wasn't cut out for the top flight.

It remains far too early to augur Schalke's fate back down in the "Unterhaus". Chief exec. Peter Knäbel - working closely with then sporting director Rouven Schröder - rebuilt this team completely ahead of the 2021/22 campaign. That's how they were able to secure promotion back to the top flight so quickly. As it turns out, it's also why - unlike Bremen - they went straight back down. Knäbel's strategy this time shall prove interesting. A full-scale rebuild seems unlikely, but we'll just have to wait and see.

Weekly Tactical Focus: How the title was lost

Alles klar. Here we go. Not necessarily the note most of us wanted to end on. It will go down in history as one of the Bundesliga's biggest "chokes" ever. Dortmund fans will not find themselves consoled by the fact that their team played reasonably well on this final matchday any more than they were consoled by Niklas Süle's late equalizer. The 2-2 meant nothing apart from the fact that for the first time in 23 years, the Bundesliga title was decided on goal-differential. That fact likely merely serves to rub salt in a still fresh wound.

Man, does this one ever hurt big time. For BVB supporters, it probably hurts much more than that lost 2013 Champions' League Final. Even if Schalke fans retain some Schadenfreude about how their bitter rivals blew it, there's likely to be plenty of empathy in Gelsenkirchen as the S04 base recalls May 19th 2001; the year of the "Vier-minuten Meister". This one wasn't anywhere near as randomly cruel, but Dortmund lovers currently trying to figure out where all the pieces of their shattered hearts lie don't give a damn what's fluky and what isn't.

Edin Terzic's BVB fought their way out of sixth place at the winter break to ascend all the way to the Bundesliga summit with just one round remaining. Infinitely sad to see such a story arrive at such a terminus. There will be talk about one or another opportunity being missed. Much to the collective chagrin of Germans, the damn refereeing decision from the Bochum match will likely crop back up as well. Then there's the late Jude Bellingham injury. No, the English phenom didn't even see time off the bench here. The result might have been different had he been able to contribute.

Those eager to find out what Dortmund needs from Bellingham now (and indeed why a player who didn't log a single minute in this match received the cover photo) should immediately scroll down to the concluding paragraphs. This weekend's loss charts a clear path for Sebastian Kehl and the BVB administrative team. The result stings. The resulting lesson may sting even more. Alas, there's something that Kehl and company must now take care of sooner rather than later. This weekend's result demands it.

Ahem.

Full-time xG:

xG Dortmund--2.82, xG Mainz--1.60

No, it's not fair. Neither is life.

Note that the missed penalty counts for 0.75 xG.

Lineup—Borussia Dortmund—Match 34 (4-1-4-1)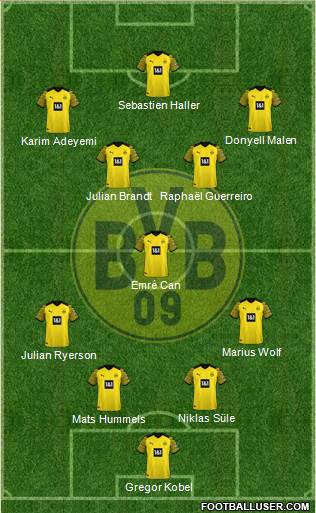 Hang in there, BVB fans. We'll get through it. Terzic's best XI (absent Bellingham) and his ordinarily impeccably successful tactical constellation. Sebastien Haller's missed penalty shall surely downgrade the lead-striker's grade once the papers roll off the press on Monday morning. This writer will actually be surprised if anyone besides Haller receives bad marks. Though actors such as Donyell Malen and Karim Adeyemi could have been more influential, no one really played all that badly.

There's sure to be some talk of all the long lofted balls into the box that ended up in Mainz back-up keeper Finn Dahmen's arms. Personally, the writer feels as if the FSV net-minder simply turned in a great performance in his final game in a Mainzer tricot. Furthermore, what the hell else were the Westphalians supposed to do? As we shall see below, Bo Svensson went for the "Catenaccio" approach in the second half. Playing through the Pfälzer proved next to impossible.

Lineup—FSV Mainz 05—Match 34 (3-4-3)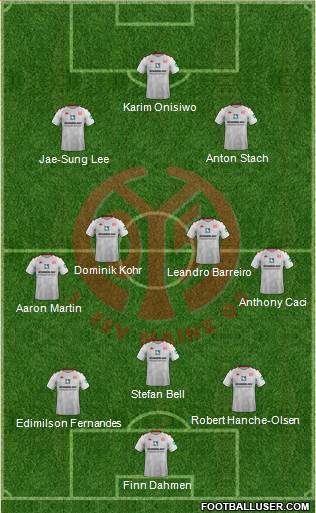 Note the absence of Ludovic Ajorque. Karim Onisiwo actually led the FSV line in the last two matches. Svensson fielded a strong team with his preferred midfield partnership of Dominik Kohr and Leandro Barreiro finally reunited, Anthony Caci smartly deployed on on the right opposite Aaron Martin for the first time this season, and Anton Stach well-drilled on his occasionally more advanced role as a direct support attacker. An extremely tough XI to face.

Hang in there, BVB fans.

We'll get through this.

Match Flow: 1st to 15th minute

Catious bow-arcs from the league-leaders through the 1st until Can and Wolf finally cycled up the right. Mainz maintained numbers to block Wolf's ultimate cross. Can tracked back excellently to squelch out an Oniwiso counter at the beginning of the 2nd. The Signal Iduna crowd cheered Can loudly. Things appeared off to a solid start. Mainz repelled a long vertical intended for Adeyemi before the 2nd was out. Can then again handled the defending on an FSV rightward charge.

After Süle, Guerreiro, and Wolf couldn't find their way through on the BVB again in the 3rd, Can and Hummels cleared their lines well on an attempted Mainz counter. Guerreiro and Brandt barnstormed the box in the same manner they did last week at the beginning of the 4th. Brandt let fly with an effort that Stefan Bell had to clear out for a throw. The first Dortmund chance came off the toss. Wolf immediately located Malen, who span around on the turn and dragged a shot from about 16 meters out just past the right post.

Dahmen launched the ball long to start to 5th. Brandt unfortunately lost the ball after a fine header from Can. Mainz broke into the box as a result for the first time thanks to a series of wins. A header from the advanced Stach regrettably found no takers. Gregor Kobel took his first goal-kick. A few possession changes later, Andreas Hanche-Olsen took on the ball. Mainz's Norwegian defender executed an impressive carry in the 6th before Guerreiro broke up the play. Onisiwo then turned the ball back over off a long throw.

Kohr put the brakes on a Malen led counter, also doing well to remain with Can and Guerreiro when the BVB duo won the second balls. Hummels eventually stepped forward to affect play. The resurgent German footballing legend hit Haller in the box with one of his brilliant incisive passes. Haller won a 7th-minute corner from the play. Süle went for the acrobatic first-time finish at the far end of Brandt's service from the right flag. Dahmen had the far post covered. Caci, Barreiro, and Stach tried up their right in the 8th. Hummels and Süle stood tall.

Malen briefly required treatment. Dortmund bow-arced the rest of the minute away. The next breakthrough came in the 9th via a Guerreiro diagonal aimed at Haller. Dahmen arrived first. A Mainz leftward counter involving Lee had some promise to it before a criss-crossing Julian Ryerson forced the South Korean to retreat. Bell and Edimilson Fernandes passed around a bit, eventually opting to play back to keeper Dahmen to begin the 10th. Hummels won the aerial duel against Onisiwo after Dahmen launched downfield.

The 10th-minute BVB back recycle remained mired in arcs until we reached the 11th. A mistake, always a risk during such sequences, occurred. Barreiro pounced on an errant pass from Hummels and nearly reached Onisiwo. The ever-alert Can ran the FSV striker down, earning more applause in the process. Can endeavored to set release Brandt on the break. Brandt worked a ball forward to Adeyemi. Caci executed a perfect tackle and Stach followed it up with a courageous run up the right. Stach switched to Aaron. Fernandes tagged along. Can again provided the stop.

Lee and Hummels traded wins in the 12th. Hummels unlocked Adeyemi up the BVB left with an excellent pass. Kohr hacked the German winger down with a 50-50 match official Marco Fritz deemed illegal. Dortmund showed no interest in opening up the playbook yet. Hummels went directly back on the 13th-minute free-kick. Süle, Can, Malen Guerreiro, and Adeyemi kept the ball in their own ranks with quality touches. Brandt eventually moved up on the half left. A wicked cross from Brandt took a wicked deflection off Fernandes. Dahmen somehow adjusted to collect.

The Pfälzer marched up the field with purpose and conviction in the 14th. Kohr and Barreiro did particular well. Caci arrived on the trail and crossed just pass the waiting Onisiwo. Stach kept the play alive after Ryerson's half clearance. Stach remained on the ball after earning a throw that initially ended with a miscue between Caci and Onisiwo. Fernandes tried a shot from the deep ranks after Stach saw an effort blocked. Fernandes' effort deflected off Can and out for a corner.

The opening goal would result from the set piece. Fernandes took the 15th-minute service himself from the left flag. A wonderfully top-spun effort seemed telegraphed straight at the near post. Hanche-Olsen motored up to meet it, marked entirely too loosely by Haller and Can. Hanche-Olsen powered home with a beautiful diving header. The Signal Iduna crowd (the columnist swears) let out a collective huff. Difficult to describe such a sound. Only a Signal Iduna.

1-0 to the guests.

Match Flow: 15th to 24th minute

A critical space of time here. We've much to discuss. So much of the result came down to this eight-minute span. A clearly shellshocked BVB had a little trouble shaking it up a gear in the 16th. The defensive ranks mostly passed among themselves. Brandt, Malen, and Wolf only dared venture forward briefly before retreating. Movement and ideas got more intrepid in the 17th. Malen shook off a few markers on a cycle back and tried to reach Guerreiro just inside the right of the penalty area. Guerreiro hit the deck in a direct duel with Kohr.

Play initially continued before the VAR team radioed in an alert to referee Fritz. The match official finally whistled down an uncontested Mainz counter. There was contact. Fritz awarded the penalty after spending the 18th in the review area. Haller strode to the spot. A ghastly and ghoulish gasp emanated from the Signal Iduna crowd as the BVB striker went for a weak tap towards his right. Dahmen guessed correctly and finger tipped the half-height effort over to Fernandes, who quickly cleared. A massive missed opportunity.

Primed with confidence, Dahmen rose high to collect a Hummels "quarterback" ball intended for Guerreiro in the 20th. Mainz turned the ball over quickly, but Can and Ryerson couldn't manage to work the ball back in. Martin and Fernandes cleared balls into the box. A highly controversial scene took place in the 21st. Fernandes pressed high to run a Mainz drive. Can stripped the FSV defender of the ball and worked a quick-strike counter together with Guerreiro on a give-and-go.

Guerreiro had good positioning to receive the return ball in box once Wolf pushed forward. Aaron took the Portuguese international out with a shoulder check challenge. All observers waited for VAR to intervene once more. It didn't. The 21st elapsed with Mainz still in possession of the ball. Play continued as an Aaron led attack petered out in the 22nd. Still, there was no intervention as Dortmund built up their next attack via Süle and Wolf. Evidently, the VAR team in the Kölner Keller went "hands off".

The Westphalians clearly lost some focus when it became apparent that they weren't going to get the second penalty. Brandt and Malen failed to break through in the 23rd. Kohr ran a counter. Wolf and Can were fortunately back in time to close ranks on Lee as the South Korean attempted to punch through. Martin collected the loose ball and played back to Dahmen. The Mainz attack went up the right via Caci in the 24th. The French wingback reached his counterpart Martin with an excellent switch. Lee joined in.

Lee took a couple of intelligent touches before bending in a cross for Onisiwo. The Austrian striker, loosely marked by Can and Hummels, headed a ball across the face of goal that left Kobel with very little chance. Dortmund's keeper could only manage to fingertip the shot so that it looked uncommonly pretty kissing in off the inside of the right post. Yikes. We had already beheld a "collective sigh" and a "collective gasp". What transpired next could accurately be described as the sound of over 70,000 BVB supporters slapping their foreheads in frustration.

Match Flow: 24th minute to half-time

Not the easiest thing in the world to shake off a shock 0-2 deficit and a potential penalty call that could have broken one's way. Dortmund nevertheless needed to take a deep breath here and remind themselves that there remained plenty of time to turn things around. Keep calm. Mind the counters. Have faith that a way through exists. The 25th-minute build exhibited enough of these traits. Can, Guerreiro, and Süle worked the ball around well. Ryerson finally sent in a useful diagonal that Bell did well to block.

Barreiro endeavored to run counter in the 26th. When the Luxembourg international gave the ball away with a heavy touch, a deep-dropping Haller initiated a decent sequence. Wolf, Süle, Hummels, Ryerson, and Brandt got touches in before Malen's final low cross scurried past a trailing Haller. Caci cleared after another give-and-go involving Guerreiro and Malen in the same minute. Several possession changes on the BVB left in the 27th took place. Süle eventually emerged victorious and went on a long carry.

Gurreiro and Malen got involved. Malen's cross for Adeyemi was nevertheless too long. The German winger - to his credit - ran it down and nearly beat Hanche-Olsen to the ball. The Scandinavian still took control and Mainz initiated charges down both flanks in the 28th. Ball wins from Caci and Aaron helped keep the FSV in possession even if the rushes didn't penetrate far. Dortmund wouldn't wrest the ball back until the beginning of the 29th. Adeyemi, Süle, Malen, and Wolf drag-drop touched until Ryerson wax free on the left.

Dahmen ended up collecting Ryerson's soft cross. Wolf did well to re-collect after a hasty punt from the Mainz net-minder. Wolf lost out to a tight-pressing Kohr on his first duel, but won the ball back after forced a foul out of Kohr on the second effort. We got a BVB free-kick at the half-hour mark. Terzic decided that the 30th was as a good a time as any to open up the playbook. A short take freed up Guerreiro for a cross. Dahmen could only flap at it. Hummels got a chance to cross off the rebound. Hummels' cross took a deflection and ended up missing Haller.

Frantic BVB recycles through the end of the 30th and most of the 31st. Dortmund tried to hit Ryerson on the left again, but the Norwegian fullback lost out to Caci. The French fullback nearly hit counterpart Martin again with a fine switch. Aaron couldn't pull the ball down, however, and Wolf recovered. Wolf delivered his own quality switch for Malen out of position on the BVB left. Hanche-Olsen toed out for a throw. Malen, Adeyemi, Hummels, Süle, and Wolf all got touches in off the toss.

Guerreiro saw a shot blocked at the beginning of the 32nd. Süle tried to loft the rebound into the box. Dahmen made the collect look easy. Wolf saw another cross blocked before the minute was out. A quick Stack-led counter at the beginning of the 33rd was stymied by Hummels. Ryerson, Guerreiro, and Wolf eventually worked the ball back out to Wolf with Süle supplying the last touch. Can strode up to serve as the extra man. He too saw a shot blocked. Wolf couldn't hold onto the ricochet.

Can still managed to pry the ball away from the FSV back-rank bow-arc in the 34th. Süle reached Brandt in the box on the half-left with a delicate chip. Brandt barely missed out on what would have been a brilliant first-time finish in stride. The German national team attacker just didn't get the cleanest of touches and Dahmen had time to react. Dahmen smothered the ball before an onrushing Haller could get to it. Lee and Aaron ran the next FSV charge up their left in the 35th. Onisiwo won a corner off Süle.

The set-piece proved nearly as dangerous as the one that produced the opening goal. Barreiro took it short to Lee, who in turn skirted past Malen and squared for Kohr directly inside the area. Kohr's strike was repelled by Süle, but the danger remained as Bell swerved around on a dribble outside the area. Dortmund eventually snuffed it out. The next BVB sortie ran through Adeyemi on the left. Fernandes stopped Adeyemi and there was a short treatment break after what was still ruled a legal challenge in the 36th.

Adeyemi - attended to partially by none other than the sidelined Jude Bellingham - initially looked like he could continue. Dortmund punted the ball back to Mainz in a fair play action once we resumed in the 37th. A diagonal aimed by Caci in Lee's direction went out for a goal kick. Kobel couldn't restart the match immediately as Adeyemi needed some further attention. Wolf was the next to fall after a legal challenge from Barreiro in the 38th. Any flow the match had was completely broken as Wolf remained down holding his ankle through the 39th.

Shortly after open play got going again in the 40th, Marco Reus checked in for the stricken Adeyemi. Wolf proved capable of continuing. Malen dug out a throw-in on the right. Guerreiro clipped Martin in a challenge off the toss. Fritz produced the first yellow of the match. Mainz punched through on their left in the 41st. Süle headed Lee's cross into the box out adroitly. Reus regrettably couldn't run much of a counter. Some head tennis from both sides until a Kohr foul on Haller brought play back to a halt.

Can and Wolf lost the ball on a bad cycle in the 42nd. Onisiwo pushed past the flailing Wolf and tore up the FSV left. A genuinely scary-good chip-in for the waiting Lee in the box. Hummels separated the South Korean from the ball with some of his own scary-good defending. A significantly better BVB passing sequence in the 43rd involving Süle, Malen, and Can got Guerreiro free in some space just outside the area right. Guerreiro curled in an artistic effort that, while it cleared the crossbar by a good meter, still had some nice aesthetics to it.

Onisiwo and Lee put in some more good work down the FSV left in the 44th. Hummels eventually ended up clearing a Martin cross and the counter was on through Reus central again. Reus sliced through the Mainzer ranks better this time. Reus put Brandt through one step ahead of Hanche-Olsen. Brandt went for a cheeky little low snapshot that Dahmen had to be at his best to hold on the dive. Unfortunately, Brandt didn't appear to notice that Haller was open for a cutback. A slow-roll build from the hosts ate up the 45th.

Wolf, Can, and Guerreiro got bogged down on the BVB right at 45+1. Hummels went forward to affect and forced another save out of Dahmen with a deflected shot at 45+2. This time Dahmen couldn't hold. The result was a corner. Brandt hit Süle with a nice quick service. Süle's header caromed off Bell's back. Dahmen collected another Guerreiro lofter at 45+3. Dortmund encountered some truly rotten luck at 45+4. Ryerson sent in a useful cross for Malen after some nice work from Wolf, Süle, and Brandt.

Malen's header from an acute angle grazed the post and ended up resting in the side netting. Now the Signal Iduna crowd was most assuredly in the mood for a collective groan. How on earth could this be? Just about everything that could have gone wrong in the opening 45 did so. No whistles from the audience, but the home team still shuffled towards the tunnel without any cheers to accompany them. One could here a pin drop in a stadium packed to the brim with 80,000 plus.

Half-time xG:

xG Dortmund--1.65, xG Mainz--0.57

Ach.

Match Flow: 46th to 63rd minute

Terzic's decision to sub Youssoufa Moukoko on for Wolf to begin the second half obviously heralded some tactical changes. For a time, there existed a hope that the young German phenom could replicate some of his heroism from earlier in the season. It wasn't to be on this day. In point of fact, the title-aspirants didn't really get rolling until further personnel changes after the hour-mark. Terzic's new constellation, in all fairness, had some nice ideas inherent within it.

Lineup—Borussia Dortmund—46th minute (4-2-4)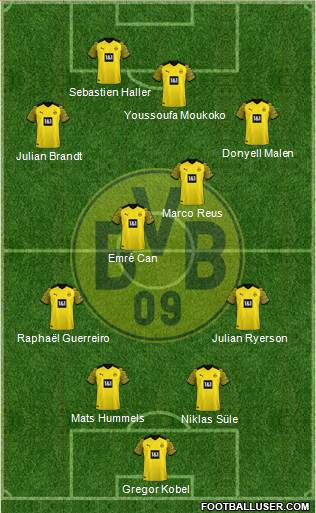 Guerreiro slid back to the left-back position while Ryerson moved right. Can and Reus (hitherto a straight arrow swap for Adeyemi) worked a well-conceived midfield split stagger with Brandt out on Adeyemi's spot on the left. Matters didn't exactly work out with Moukoko in the service striker role. Moukoko would improve as the match rolled on and he received a more clearly-defined assignment. Not a lot of blame to apportion Dortmund overall; certainly not when they were facing this.

Lineup—FSV Mainz 05—46th minute (3-6-1)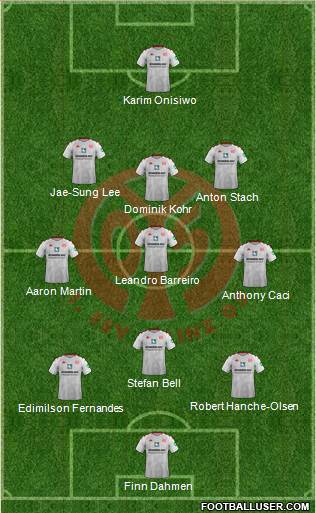 The aforementioned "Danish Catenaccio". It was mean, brutish, and ugly. Svensson clamped it down fully. Even if a win did nothing for his side, the Mainzer trainer toed the correct line. At no point in any season is one team under any obligation to another. The objective must always be to win no matter what. Period. Sympathy and empathy can come after the full-time whistle, not before. Small wonder that Dortmund could only manage ranged crosses against this.

Guerreiro immediately found himself stymied on the left in the 46th. The Pfälzer guests knew what was coming. Onisiwo ran a fierce counter down his team's right, doing especially well to hold the pesky marking Can off him. Süle barely managed to touch a first-rate cross from Onisiwo away from Lee. It took some time for Dortmund to work their way back up via Can and Guerriero on the left in the 47th. Ryerson took down a quality switch from his fullback partner down, but his own cross found no takers.

Bell led another quick counter before the minute was out. Kobel had to intervene this time to save a Lee shot off another Onisiwo cross at the beginning of the 48th. Ryerson struggled mightily to clear the rebound. Dortmund were playing with fire. Once Süle, Can, and Guerreiro were finally able to calm things down again, Malen quickly drew a foul from Martin on the move up the BVB right. Guerreiro's 49th-minute free-kick was headed out by Fernandes. Süle couldn't bring the ball under control just outside the box.

Luckily for Süle, Can was on hand to cut off the Mainz counter once he lost the ball. An awkwardly plodding Dortmund charge up the left. The sequence ended with Guerreiro's cross missing Moukoko. Reus had to pump the brakes on an Onisiwo sprinting counter this time. The BVB captain dispatched Onisiwo expertly. Mainz, with the benefit of a calmer build, cycled right in the 51st. Hummels cleared his lines. Brandt messed up the ensuing counter with a wayward pass for Malen.

After a throw-in and a quick BVB free-kick after a foul from Barreiro, Mainz were threatening on the counter again. Reus and Malen were too loose with their touches in the 52nd. Onisiwo cranked it up again. This time Stach would be the final target after Kohr and Lee speedily maneuvered up the pitch. Stach could have capped the match right then and there as he was totally unmarked in the box. Lee squandered a beautiful chance with an unfocused pass.

Guerreiro and Can worked the next Dortmund sortie leftward in the 53rd. Brandt could only hit Guerreiro's cross straight at Dahmen. The BVB attacker was likely offside anyway. Malen - beginning to look very leggy - then miffed up the next sequence in the 54th, sending a square in the box behind Haller and in front of Brandt. Can and Süle briefly kept the play alive before Ryerson lost the ball. Malen ended up losing sight of a decent Guerreiro diagonal in the 55th. Malen continued to beg for the hook.

With as many as eight FSV actors diamond-guarding the box, Dortmund couldn't get the ball out of their third ranks in the 56th and 57th. Ryerson, Guerreiro, and Ryerson all crossed in to no avail. Dahmen finally collected a Brandt cross near the end of the 57th and sent his side on a quick counter. Matters got really dangerous for the BVB on this one. Onisiwo cut through free on the right straight past the over-committed BVB defensive ranks. The FSV striker put in an effort that Kobel could only deflect off the post.

Guerreiro raced back the other way and earned a corner off a square ball in the 58th. Though nothing much came out of Guerreiro's quick service, Fernandes couldn't clear beyond the BVB second ranks. Guerreiro received the ball once again, skillfully drawing coverage before initiating a clever bow-arc across to Moukoko to start the 59th. The fresh legged Moukoko lightly lifted a delicate chip towards Hummels in the center. Hummels only just missed with his header. Haller - sliding in at the far post - had Dahmen beaten, but failed to get the right contact to straddle it home.

Reus found himself stymied after Can won him a header off Dahmen's subsequent goal kick. Onisiwo too met his match in the form of Hummels after Lee attempted to put his man through on the opposite end. Onisiwo got another crack at it before the 60th was out. Hummels again cleared away. Can ended up being rescued by Martin in the 61st. After a bad midfield ball loss, the FSV Spanish wingback couldn't punish Can's mistake. Aaron's cross into the box proved too problematic for Lee.

Guerreiro led the charge up the BVB left again in the 62nd. Brandt somehow still got a cross in despite a double ball loss to Stach and Barreiro. The latter Mainz actor recovered in time to block the cross, ultimately spilling the ball back to Can. A scuffed Can effort ended up serving as a near perfect pass for Malen, had the BVB Dutchman been onside that is. The whistle enabled Terzic to get two subs he had been readying on the sidelines in. Giovanni Reyna and Julien Duranville checked in for Malen and Brandt to freshen up the flanks.

The double substitution took care of the 63rd.

Match Flow: 63rd to 69th minute

BVB fans will hardly be consoled by this, but the introduction of Reyna and Duranville marked the beginning of a full-fledged assault from their team. The two youngsters interjected remarkable pace and creativity into their team's play. It took just six minutes for a goal to emerge from it. Reyna wasted no time in making his presence felt. The American opened matters up immediately with two long switches from the left. Hummels and Süle made a hash of the first one. Duranville did much better with the second. Bell could only slice his 64th-minute clearance out for a corner.

Can and Moukoko got touches in off Guerreiro's quick service from the left flag. The box simply remained simply too crowded for anyone to take the ball down. Can collected from the back ranks and worked the ball back over to Duranville. Reyna received the ball on the opposite flank when Hummel's again missed the right touch on Duranville's cross. The counter appeared to be on yet again when Gio's cross was blocked. Onisiwo was nevertheless too enervated to fashion anything out of a 4-vs-3 breakaway in the 65th. Süle had time to slide-tackle away perfectly.

Duranville and Moukoko both got opportunities to work fresh crosses in before the 65th minute was out. Reus hit the turf on Duranville's whip-in from the right. The BVB skipper made no attempts to play for a penalty. Moukoko's second effort was touched by Dahmen directly onto Süle's chest. The BVB defender wasn't quite prepared for it, however, and could make nothing of it. Referee Fritz whistled Haller down for an offensive foul before anything else could develop. Marcus Ingvartsen took his time checking in for Lee from the sidelines in order to help his team kill off the 66th.

In the 67th, it was Reyna and Guerreiro again working an excellent cycle combo on the left. Reyna kept the ball on his foot as he cut inside the box and played another one-two with Haller before shuffling out wide right for Moukoko. Reyna's fellow youngster smashed an effort across the face of goal. He honestly should have either cut back for Haller or passed to the free-standing Reus. It the end, the scene was quickly forgotten when Reyna and Guerreiro combined again in the 67th.

Dahmen fisted away Guerreiro's cross only as far as Süle. Hummels unfortunately had another poor encore in timing his header to meet Süle's diagonal. Reyna and Guerreiro worked their way back up one more time in the 68th. On this occasion, Guerreiro's cross missed the in-crashing Moukoko. Just when it appeared nothing was going to result from this spurt, Reyna cut inside following still another combo with Guerreiro in the 69th. This time Guerreiro trailed the American directly.

Reyna weaved his way past three before slickly servicing Guerreiro back central. The Portuguese international actually slipped and didn't get the most convincing shot off. No bother. An extra bounce threw Dahmen off and ball found the back of the net via the left inside post. The Signal Iduna crowd wasn't quite ready to rise just yet. After all, Bayern were still leading Köln over in the cathedral city. A draw wouldn't be enough so long as Bayern were leading; something that the Dortmund faithful would have to reckon with at the end of the day as well.

Match Flow: 69th to 80th minute

Die Schwarzgelben kept after it. Duranville sent another lovely cross in from the right shortly after play resumed in the 70th. Dahmen beat Haller to the service, but Reyna was back at work switching shortly after Can worked the ball back to him. Duranville received Reyna's full switch and quickly drew a foul from Aaron on the right side. The free-kick was delayed whilst Fritz dealt with a grousing Fernandes and decided to book Aaron's teammate for dissent.

Süle initially failed to connect with Guerreiro's 72nd minute service. Some head tennis meant that it took Bell two tries to clear. Ryerson - with excellent focus - boxed out Ingvartsen on an attempted counter, then led his team back up the pitch. Ryerson drew as many defenders as he could before switching for Can. Haller headed Can's cross back over too Reus, who went for the spectacular with a full bicycle overhead kick. Reus incredibly connected with power, but the 73rd-minute effort went over.

Reyna had a rare mortal moment with a ball loss on the left in the 74th. Hummels stopped the counter and handled the recycle. Reyna got the ball back and kept his footing before hitting another long switch for Ryerson. Reus was the recipient of the final cross again, heading Ryerson's cross slightly over. Unrelenting pressure from the Westphalians kept a seemingly endless series of crosses sailing into the Mainz penalty area. Süle first had to clear a pair of simple FSV charges involving Kohr in the 75th. Then die Borussen were back again.

A quick counter executed by Guerreiro, Reyna, and Can in the 76th appeared to fizzle out. Can kept it live with a unflinching ground ball over to Duranville. Haller had himself back in position to meet Duranville's cross with his head, but just couldn't get enough power behind it. Dahmen collected and held. More crosses from Reyna and Ryerson in the 77th. Everyone in white was back helping to ensure that nothing materialized. Reyna got the next chance to head a Duranville cross home in the 78th. Dahmen saw this one too all the way and held.

At long last, Onisiwo peeled off a decent run for the guests in the 79th. Can panicked a tad and cut the FSV striker down with a foul. Some brief arguments with Fritz didn't result in a booking. The ref maintained his cool. Meanwhile, Aymen Barkok checked in for Stach from Svensson's touchline. Terzic would be employing his final roll of the dice as well. Anthony Modeste relieved Ryerson in a flagrant attempt to throw as many strikers forward as possible. We entered the 80th.

Match Flow: 80th minute to 89th minute

Aaron Martin's 80th-minute was guided away by Kobel for a corner. It was precisely at this time that news filtered through the stadium that Köln had drawn level with Bayern at the RheinEnergie Stadion. Now the crowd was in it. A Bayern draw meant that Dortmund didn't even need to win. Hummels, potentially reinvigorated himself by the news, forcefully cleared the 81st-service away from Ingvartsen. The hosts marched quickly up the pitch and we got the first look at the final constellation.

Lineup—Borussia Dortmund—80th minute (3-5-2)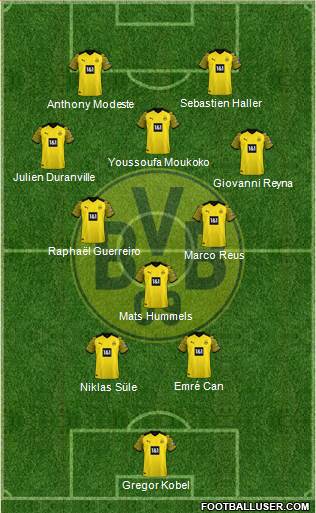 Duranville and Reyna clearly switched sides. Guerreiro moved back into midfield. Hummels assumed the full "quarterback" position. Moukoko kept a vertical line. There were far too many bodies in the box to meet Duranville's first cross from the left at the end of the 81st. The Belgian teenager then regrettably committed an offensive foul to start the 82nd. Onside cushioned the ball on the FSV right to kill off some time after the subsequent free-kick.

Reyna worked in his first cross from the right after Guerreiro put him through in the 83rd. Haller couldn't connect. Moukoko nevertheless drew a foul off of Bell after Hummels and Reus squelched an Onisiwo counter. Reus' 84th-minute service was absolutely sublime. Hummels still ended up heading the potential equalizer wide by a hair's breadth. One had to wince a bit and wonder if Hummels should have even tried. Moukoko was in a great position just beyond him.

Reus, Hummels, and Guerreiro had a hard fight through traffic in the 85th. After the trio fought their way back onto the ball twice, the sequence ended with Guerreiro sending a vertical far too long for anyone. Süle tried again with a long carry in the 86th. Haller saw a header of Süle's chip blocked. Duranville's subsequent cross then went past both Haller and Moukoko. Haller required some treatment after the play following a rough aerial duel with Bell.

Dahmen finally got matters going again in with a goal kick in the 87th. Guerreiro eventually sliced his way through out to the right after some possession changes delayed the next BVB charge until the 88th. Martin turned Guerreiro's cross out for a corner. Reyna took the service from the flag quickly; perhaps too quickly. Martin had no problem clearing the American's weak delivery. Ingvartsen was still picked clean on the attempted Mainz counter.

Reyna joined Duranville on the left to make something happen in the 89th. The latter actor could only send a cross out for a goal-kick. It was whilst Dahmen was taking his time to set up the next dead-ball that we got the news. Bayern had retaken the lead against Köln. From losing their way to the title, Dortmund would have to now score two goals in order to capture first. It didn't take long for this news to filter through the stands and onto to the pitch.

Wind out of the BVB sails.

Match Flow: 89th minute to full-time

The hosts had problems coping with an FSV charge to start the 90th. Reus at least drew a foul on the counter. Guerriero launched a desperate free kick from the deep to no one in particular. Modeste headed over to Reyna on the half-left. The American whiffed on his shot. Onisiwo somehow missed the knockout blow at 90+1 when Ingvartsen had him perfectly set up. Reyna and Duranville both missed with sloppy crosses on a haphazard counter in the same minute.

The next chance belonged to Svensson's freshly-introduced time-killer sub Marlon Mustapha at 90+2. Mustapha missed a sitter directly free in front of the net. Duranville again couldn't find the accuracy as the Dortmund counter was simply too desperate. Mainz seemed content to waste time rather than legitimately try to score on their net charge at 90+3. The hasty hosts finally snatched the ball back and did earn a corner when Fernandes fought off a Guerreiro cross aimed at Modeste before the minute was out.

Hummels and Reus both saw efforts blocked off Reyna's service at 90+4. The ball found its way back to Kobel, who went for the "hail mary" punt. Signal Iduna briefly erupted when Moukoko and Modeste extended a ball to Haller with back-to-back headers. The goal never stood much of a chance of counting, however, as Haller was clearly offside. Bayern-Köln officially went final at 90+5 in Dortmund. Süle's finish off a Guerreiro cross at 90+6 didn't do much to improve the mood. It came at the tail end of the allotted added time.

Fritz permitted one last BVB attack at 90+7.

A Modeste flick-on was easily cleared.

To bookend:

xG Dortmund--2.82, xG Mainz--1.60

Tears all around.

Terzic's were perhaps the hardest to take. We've all had our fill of watching Reyna cry last season. The manner in which the unused Bellingham pushed the broadcast camera away to keep it away from filming his misty eyes stirred one a bit, but the youngster has such a prolific career ahead of him that it's difficult to feel all that sorry for him. Hummels has already won pretty much all there is to be won. Modeste has had a rich and full career as well.

Marco Reus? Well. The legend seems to always miss out, but does have a pair of Pokals to brag about. There's also a chance for him to win next year. Yes, Dortmund fans. There will be a next year. Tough as it may be to digest this defeat, there will most definitely be a next year. Those believing that Bayern will bounce back immediately from their own crisis and rattle off a bunch of uncompetitive Bundesliga cycles like they did between 2013 and 2019 are sorely mistaken.

Anyone purporting to know the future of German football is, of course, lying through their teeth. So many moving components need to settle down after this highly exhausting and abnormal season that featured all the wear-and-tear of the winter World Cup and so many managerial shifts in both the Dortmund and Bayern front offices. Normal simply didn't return in the first post-COVID year. The Qatar tournament made that impossible. A long break will teach us much, but we also won't know the shape of these league squads for a long time either.

Perhaps the only thing the columnist can say for certain is that BVB sporting director Sebastian Kehl needs to cash in on Jude Bellingham now. Much as we all shall miss him, attempts to retain the mega-talent don't compare with something approaching €120 million plus in the coffers. Kehl cannot miss this opportunity to outpace Bayern for financial resources at this critical juncture. The most important lesson after being leapfrogged by Bayern sporting-wise on the final day of the season is that it's time to leapfrog the record champions monetarily with a once-in-a-decade chance.

Nice to see Guerreiro play so well in his farewell match.

We won't get that with Jude, unfortunately.

So it goes sometimes.

Thanks so much for reading! You can catch the release of all Peter's columns on twitter, @ViceytheSS.

Twitter DMs are open for football conversations, corrections, and (if you truly insist) general abuse. 

All columns debut on Bulinews before appearing on Peter's website as the season progresses.



Related stories