Seoane praises Jordan's abilities after test fixture
By Peter Weis @PeterVicey
Even though newly-acquired American striker Jordan didn't net a goal in a recent test fixture against Bremen, Borussia Mönchengladbach trainer Gerardo Seoane and BMG sporting director Roland Virkus dropped strong hints that the USMNT player serve as more than a back-up for Tomas Cvancara this season.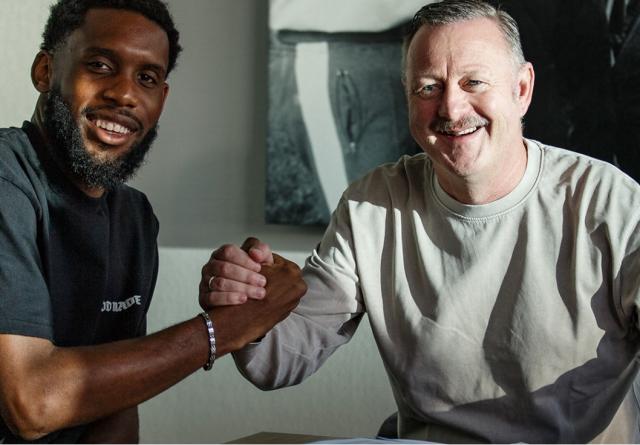 Photo: Borussia Mönchengladbach

After losing his starting spot with 1. FC Union Berlin, American striker Theoson "Jordan" Siebatcheu Pefok is back working under the aegis of the head-coach with whom he thrived at Young Boys Bern. Borussia Mönchengladbach gaffer Gerardo Seoane knows the 27-year-old well and consistently pushed to bring him into the fold at his new club.


After being signed on loan from Union near the end of the transfer window, Jordan played 30 minutes in relief in the squad's last Bundesliga fixture. With regular lead-striker Tomas Cvancara out on international duty, he also started alone up top in a recent test fixture against Bremen on Thursday. Seoane was full of praise for his player afterwards.

"He held the ball up really well with his back to goal," Seoane noted afterwards, "and nearly avoided playing a single stray pass. For him to begin thriving, we need more balls sent into the penalty area via crosses and set-pieces. He's a physical striker who brings a significant aerial advantage in the penalty area with his size. He's comfortable inside the 18 and doesn't need long to adjust."

Jordan's prowess in the air enabled him to score 34 goals in just 64 league fixtures whilst playing professionally in Switzerland. He took the Swiss league scoring title with 22 tallies during the 2021/22 campaign; the last season he played with Young Boys before moving to the Bundesliga. Both Seoane and BMG sporting director Roland Virkus have resurrected his old "Air Jordan" moniker when speaking about him in interviews.

How Jordan will fit into the BMG offense remains to be seen. It does stand to reason that, after referring to him as an "anchoring" player, Virkus and Seoane did not acquire him to merely serve as a back-up for Cvancara. The two of them may start together up front. Cvancara himself, as quoted by Kicker Magazine journalist Oliver Bitter, has said that he also feels "comfortable playing as a ten or out on the wings."



More about Gladbach