Brandt: Ronaldinho is an inspiration to me
Julian Brandt has talked about his idols and role models at the number 10 position.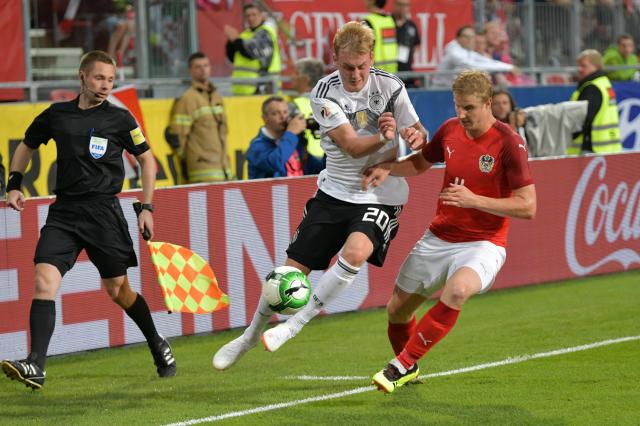 | | |
| --- | --- |
| Julian Brandt (left). | Photo: Granada, CC-by-SA 4.0 |
Bayer Leverkusen's Julian Brandt says he has drawn inspiration from Ronaldinho's playing style and approach to football.

In an interview with Sportbuzzer, the German international explains he prefers to play in the offensive midfield as a classical number 10 - just like the Brazilian legend.

"As a number 10, I'm able to move in an ideal way in the space between the opposing number six and centre-backs," Brandt, who was made Germany's new number 10 after Mesut Özil quit the national team last year, said and added:

"To me, the most inspiring player in this position was Ronaldinho, because he showed how much fun you can have by playing football. He has helped many children to start playing for a football club. Obviously, I also look up to players like Diego [Maradona] and [Lionel] Messi."

However, the 22-year-old also makes it very clear that he doesn't just want to copy anyone else.

"I'm not the type of person who wanted to be like someone else. There are players who want to be just like Cristiano Ronaldo and who only eat vegan food, stop drinking alchohol and work five hours in the weight room every day. I'm a character on my own, and I want to leave my own footprint."

Brandt has made 24 appearances for Germany, scoring two goals.