Eintracht Frankfurt fans protest by throwing Easter eggs on the pitch
The game between Wolfsburg and Eintracht Frankfurt on Monday evening turned into an Easter egg hunt.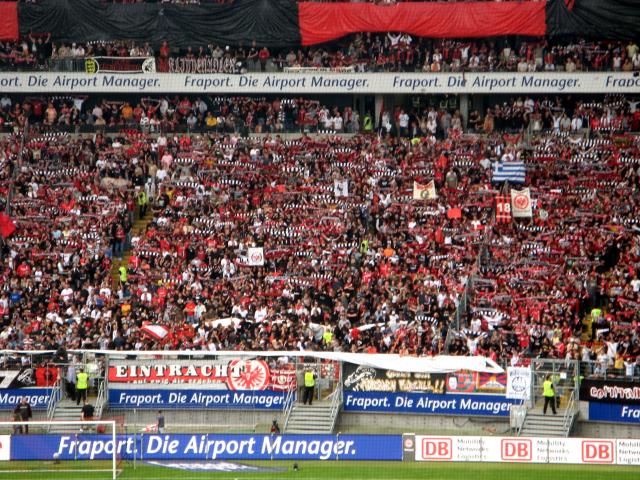 Eintracht Frankfurt fans objected to Monday night games by throwing Easter eggs on the pitch during their team's 1-1 draw with Wolfsburg at Volkswagen Arena last night.

The away fans, who had to travel around 370 kilometers to watch the game, let easter eggs rain down on the pitch at the beginning of the game, and the atmopshere was very quiet during the first half in particular.

For Wolfsburg coach Bruno Labbadia, it was a game like no other.

"It was a really strange game, and the things that went off didn't do me or the team any good," he told Kicker after the game and added:

"You could basically hear a pin drop. Something was missing. For us down there, it felt weird, because that had nothing to do with football."


A Bundesliga Easter 🥚hunt.

Traveling fans from Frankfurt upset at long round trip on a Monday evening pepper Wolfsburg's penalty area with nibbles.

Besides Makoto Hasebe's clearance off the line, the highlight of the game so far. pic.twitter.com/WabRqWGE86

— DW Sports (@dw_sports) April 22, 2019
Eintracht Frankfurt fans threw easter eggs on the pitch protests | WOB - SGE 22.4.2019#eintrachtfrankfurt #schwarz #weiß #wie #schnee #das #ist #die #sge#bundesliga #eintrachtfrankfurt #eintracht #frankfurt #sge #vflwolfsburg #vfl #wolfsburg #wob #wölfe #wobsge #wobsge #sge pic.twitter.com/RedFh9PkYt

— Ultras life (@ultras_life0) April 22, 2019