Rummenigge at the presentation of Lucas Hernandez: 'We're very proud to have Lucas here!'
Lucas Hernandez was officially presented at Bayern München at a press conference today, sitting next to club CEO Karl-Heinz Rummenigge. Here's what they told the press.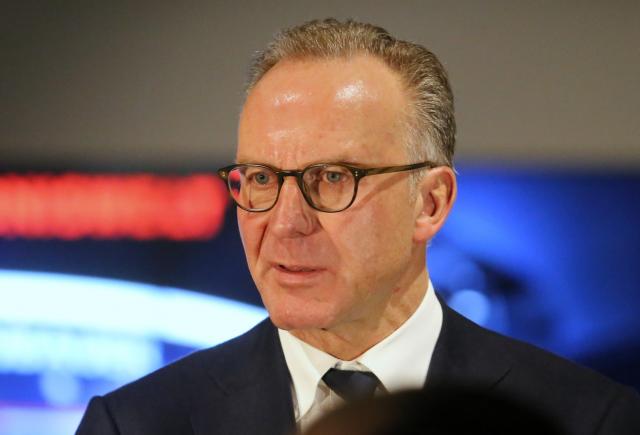 Lucas Hernandez:
"I arrived here at a great club with big players with a lot of experience. I'm a defender who can play as a centre-back and also as a left-back. It depends on the coach and his tactics. He will decide where to put me. It's now up to me to pay back the club for the faith they have put in me."

"I'm a player with a strong mentality, and I'm proud to be able to wear this shirt and defend the colors of the club. It's a great step for me."

About recovering from his knee surgery: "I had to undergo surgery a few months ago, but I feel very well. I have been working very hard to recover step by step. I will give everything to be ready for the start of the Bundesliga."

"From the first moment my agent told me Bayern were interested in me, it was something big for me. As a kid, you dream about playing for a big club like Bayern München."

About how he was convinced to join Bayern: "I talked a lot to Hasan [Salihamidzic]. I also talked to Corentin Tolisso, who is a great friend of mine, and Kingsley Coman as well. The French national players told me to sign for this great club. But I really didn't need to be convinced. It was all clear to me."

"Bayern are a top team, not only in Europe, but in the whole world. Not many clubs can keep up with them. They fight for the championship and the German cup every year and are always present in the Champions League. They are one of the best clubs in the world. Everyone knows that."

About wearing number 21, Philipp Lahm's former shirt number: "It's obviously a number that has great history at the club. It was worn by Philipp Lahm, a great player who won everything. There's a lot of tradition related to this number."

Karl-Heinz Rummenigge:
"We're very proud to have Lucas here. He's a great player whom we followed at the World Cup. Our scoting department looked at him for the whole of last year, and I have to say that we're really happy that we were able to sign him. It's an advantage that he's both able to play in central defence and on the left side, because it gives the coach more possibilities to put him on the pitch. So we're very happy and very proud. Both ourselves and the whole of the Bundesliga I think can very much look forward to a world champion joining the league."

"I have read that the best German defender isn't playing for Bayern anymore, but I still think he plays for Bayern - and for the national team as well (most likely a reference to Niklas Süle). And in my opinion, the best centre-back in the Bundesliga is sitting right next to me. In Lucas Hernandez, Niklas Süle and Benjamin Pavard, we have three great centre-backs. And with David Alaba and Joshua Kimmich as well, I believe that our defence looks great. I think it looks ready, not only for the Bundesliga, but also for Europe."

About the future of Jerome Boateng: He still has a contract until 2021. We will have to wait and see if he will stay at Bayern. One of the reasons why Mats [Hummels] left is that the coach is planning more with Lucas Hernandez, Benjamin Pavard and Niklas Süle. This matter also concerns Jerome Boateng. He has to make a decision."

About Bayern's pursuit of Leroy Sané: "He's coming back from his vacation this week. He didn't want to have any discussions during his vacation, because he wanted to think it through on his own. Now, we have to wait and see if there's any movement towards Bayern. It's clear that we're looking for another winger following the departures of Franck Ribery and Arjen Robben."

About the recent criticism from Manuel Neuer's agent, Thomas Kroth: "I had a phone call with Neuer this morning. Kroth didn't speak on behalf of Neuer. It's just a private opinion of Thomas that we accepted, but also found a little strange, because so far, we have had a serious and good relationship with him. But we are democrats which means that everyone can voice their opinion about us if they like."

About making further transfers: "It's the 8th of July. I know that everybody – the public and the fans – are impatient. But I would like you to remember that the transfer window runs for another two months. We have enough time. Hasan [Salihamidzic] is working very hard and is very focused. When the first huge transfer happens, other transfers will follow. I'd also like to add that we have often signed players close to the deadline. That was the case with Javi Martinez, Xabi Alonso and Arjen Robben for example. We are patient. I can understand there's impatience, that's normal when it comes to Bayern. But we're not nervous at all within the club. You will see at the end that we will put a team together which will be competitive in all three competitions."