Who will win the Bundesliga 18/19? Here's who the coaches picked
The majority of the Bundesliga coaches believe that Bayern München will win the league again.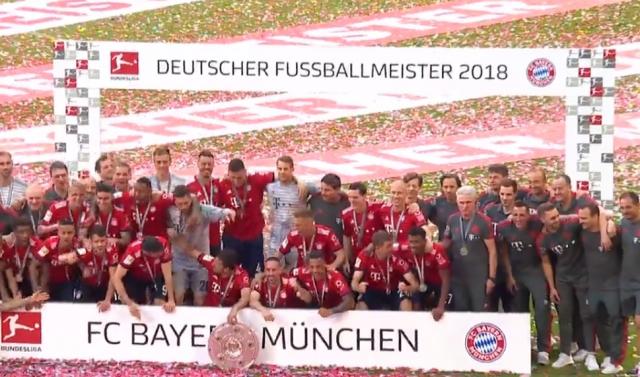 Bayern München after winning the championship.

Bayern München will win the Bundesliga for the seventh time in a row - at least if you ask the Bundesliga coaches.

According to a survey performed by DPA, 15 out of 18 coaches/sporting directors - each representing a Bundesliga club - believe that the Bavarian club will win the championship yet again.

All Bundesliga coaches participated except Gladbach's Dieter Hecking (replaced by sporting director Max Eberl) and SC Freiburg's Christian Streich (replaced by sporting director Jochen Saier).

The new Bayern München coach Niko Kovac believes in himself and the team.

"Of course we are confident enough to say that we want to become German champions," Niko Kovac says.

Hoffenheim coach Julian Nagelsmann believes that Bayer Leverkusen will take the title with the argumentation that it's "a good team".

However, Bayer Leverkusen's own coach, Heiko Herrlich, has faith in Borussia Dortmund.

"I tipped that the BVB would win already last year, and I will stick to that decision. The BVB have a great squad that has been reinforced even more," Herrlich says.

Borussia Mönchengladbach sporting director Max Eberl doesn't pick one team, but says it will be between Bayern and Dortmund.

"I expect a duel between Bayern and Borussia Dortmund. In addition to that, I also expect that the teams at the top of the table will be closer in regard to points," Eberl says.

Bayern München have won the Bundesliga every year since 2013. Borussia Dortmund were crowned champions in 2011 and 2012.