Analysis of Borussia Mönchengladbach's Champions League Group
By Adam Khan @XxAdamKhanxX
Ahead of Gladbach's Champions League opener, we take a look at the three sides they will face in the group stage, analysing their strengths, weaknesses, key player and where they will finish in Group B.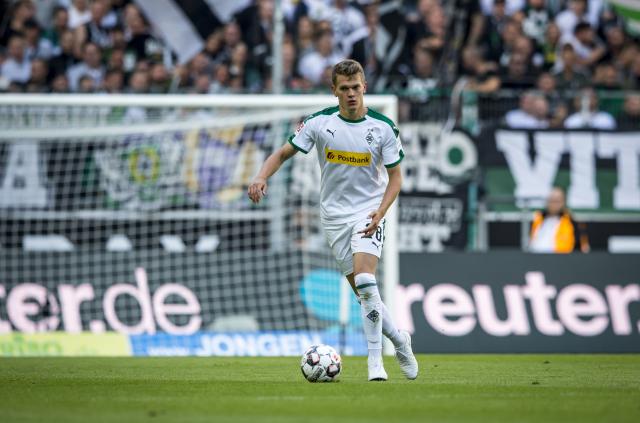 | | |
| --- | --- |
| Matthias Ginter will have his work cut out for him, up against the likes of Karim Benzema and Romelu Lukaku in this star-studded Group B. | Photo: Borussia Mönchengladbach |
After a 3-year hiatus, Borussia Mönchengladbach are back on the elite stage, making their return in this season's Champions League. The Fohlenelf are right away up against it, in a group featuring Real Madrid, Shakhtar Donetsk and Inter Milan. In what is a front runner for this season's group of death, each team will be thinking that they have a shot at reaching the knockout stages, capable of giving anyone a match on their day.


Gladbach are of course no exception to this, with Marco Rose's young guns hungry for success on the European stage after bitter elimination from the Europa League group stages last season. Gladbach will be looking to add to their illustrious European history in 2019-20, with the aim of reaching the knockout stages for the first time since the competitions' modernization in the 1992/93 season.

In order for our readers to get a better understanding of Gladbach's upcoming opponents, we have put together a profile of each club they will face. We look at their strengths & weaknesses, key player and where they will finish come Matchday 6 on the 9th of December.

Real Madrid (Spain)
Matchday 2 10/27/2020 (A) VS M'Gladbach
Matchday 6 12/09/2020 (H) VS M'Gladbach

Strengths:
Real Madrid will be looking to add to their record haul of 13 Champions League trophies this season. Although the current squad is now slightly removed from the team who won the Champions League in three consecutive seasons, the quality and strength throughout is once more unquestionably amongst the best in the competition. Furthermore, the amount of players within the squad who have won the competition before will be invaluable in the knockout stages, where every mistake is punished.

Specifically in defense, Real Madrid look as good as ever, with Thibaut Courtois having come good in his second season in Spain, leading Madrid to a La Liga title in which he contributed to 18 clean sheets in 34 games. Alongside the Belgian shot stopper is the ever reliable Sergio Ramos, who once more showed his importance to Real with his impressive 13 goals across all competitions. As injuries and lack of consistency plagued Real Madrid's game going forward, a reliable defense and a goal threat in Ramos were crucial in securing important victories post la Liga restart to secure Madrid's 34th title.


The emergence of young talent has also played a crucial role in this new era in Madrid, specifically the ever growing impact that Feder Valverde has in Zidane's midfield. The 22-year-old Uruguayan has added extra legs to an aging midfield core of Casemiro (28), Modric (35), and Kroos (30), allowing either Kroos or Modric the freedom to pick out passes with Valverde doing the hard running either side of the ball. With 44 games under his belt last season, Valverde has shown his importance in the evolving Madrid side, and is the perfect balance between the intricate passing of Modric and Kroos, and the combative box to box midfielder required in football's modern era.

In attack Madrid are still relying exclusively on the old guard, with Karim Benzema's importance to Zidane continuing to grow although the Frenchman is now 32 years old. Since Ronaldo left for Juventus, Benzema has contributed to 76 goals and assists across all competitions. The Frenchman's presence in Madrid's attack is essential, with his ability to finish off moves or start them from deep lying positions invaluable to Madrid's game and their successes in La Liga.

Weaknesses:
Although having a player of Benzema's quality up front is a major strength in Zidane's side, Madrid's reliance on the Frenchman's world class output over the last two seasons is also a major worry looking towards the future at Madrid. Amongst all 6 of Real Madrid's other attackers available to Zidane last season combined, they managed just 14 goals in 113 La Liga appearances. For Zidane this is not just a worrying sign for the future, but leaves large doubts about where the goals will come from if Benzema isn't at the very top of his game, and if Ramos is unable to get on the end of a set piece.

The big disappointment that was Eden Hazard's first season at Madrid is another factor that can not be waved away. The Belgian missed 26 games through injury last season, and even when fit produced performances far removed from the form that saw him snapped up for €115.00m last summer.

If the Belgian is able to regain his form that he showed at Chelsea, Los Blancos have another Galactico on their hands, able to rival any player on his day. Not only will his ability to change a game be a crucial weapon for Zidane to have at his disposal, but it will ease the reliance on Benzema's contributions and offer another threat in Madrid's attack.

Madrid's aging squad is also a factor that must be recognized. Integrating Fede Valverde has been crucial in adding a more dynamic aspect to Madrid's midfield, however against some of the best pressing sides in Europe, Madrid could find it difficult keeping up with the pace of the game.

Madrid can be found out in transition moments, with neither Kroos nor Modric particularly good at defensive duels or recovery tackles. Without Valverde in the side, the sole defensive responsibility lies on Casemiro's shoulders, a burden that may be too large against some of Europe's most talented midfields.

Key Player: Karim Benzema
Karim Benzema showed once more last season why he has made the number 9 shirt his own over the better part of a decade in the famous white jerseys of Real. With crucial goals in La Liga as well as 5 goals and 2 assists in 8 CL games, Benzema is the difference between a woeful Madrid attack, and one that gets the job done. With Hazard hopefully returning to his form he showed in the Premier League, Benzema will be relieved of some of the attacking burden, and Madrid could have an attack that is once again reminiscent of the great BBC forward line that reigned over Europe for three seasons.

Verdict: First Place
Although many unknowns surround Madrid's ability to score against the best sides in Europe, there is just no way a side of their status in the competition will not progress past the group stages. It may not be convincing from Zidane's men, but ultimately they have enough know-how and quality to top Group B.

Inter (Italy)
Matchday 1 10/21/2020 (H) VS M'Gladbach
Matchday 5 12/01/2020 (A) VS M'Gladbach

Strengths:
Inter are looking to once again become the domestic and European force that the city of Milan deserves, bringing in a host of players over the summer window with a total of €97.00m spent. Demands of investment in the squad have been dutifully fulfilled by Inter president Steven Zhang, and it is up to manger Conte now to bring European silverware to Inter for the first time since Mourinho's treble in 2010.

Inter's great strength is the variety of options and systems that they can lineup in. Although Inter favor a 3-5-2, the personnel at Conte's disposal means they are flexible to change throughout the match and able to adjust to the opposition.
Take for example Inter's midfield. You have your creative midfielders in Erikson, Barella, and Sensi, your deep lying pace controlling midfielders in Brozovic and Vecino, and your box to box engines in Nainggolan and Arturo Vidal. With a midfield comprised of varying strengths Conte will always have players that can fit into his tactical plans and exploit the oppositions weaknesses.

This is further showcased up front in Inter's main strike partnership made up of Romelu Lukaku and Lautaro Martinez. The most prolific striker partnership in the top 4 leagues last season, the Belgian and Argentine combined for an astounding 48 goals in all competitions. Lukaku's strong physical hold up play paired with Martinez's game of running in behind the opposition means that opposition centre halves are often stretched and disconnected due to the different movements of Inter's forwards.

Inter play a possession heavy game that starts all the way at the back with their Slovenian goalkeeper Handanović. Conte utilizes his shotstoppers top class ability on the ball to draw in opponents and then release the pressure through vertical balls that bypass multiple opponents sucked into the press. This is especially effective with Lukaku as an outlet, with the Belgian capable of holding off multiple opponents and allowing Inter's midfield to push up the field in support of the Belgian. Inter in essence combines a possession based build up style with a long ball system that uses Lukaku's elite talent at holding up possession as well as the squads' ability to maintain possession in congested areas. This is yet another strength in Conte's depth of personnel, because it means he can use a combination of systems at once due to the talent he has at his disposal.

Weaknesses:
Inter deploy a high paced energetic game that when functioning is extremely difficult to get past. However, when just one player doesn't execute their job correctly Conte's system can break down. Whether it be in their dangerous passing out of the back, or their systemic pressing up front, one mistake can be costly.
Another weakness of Inter is how draining the system can be. Often last season Inter began matches brightly, taking the game to the opposition and virtually giving them no chance to breath. However, by the second half the Italian outfit often could not maintain the same intensity, coming one step too late and giving the opposition opportunities to play through their now disjointed press.

Twice last season Inter led both Barcelona and Dortmund at halftime, yet went on to lose the game after second halves where the Nerazzurri collapsed. If Inter want to reach the knockout stages in a similarly challenging group to last season, maintaining the intensity throughout the full 90 minutes will be crucial.

Key Player: Romelu Lukaku
After constant media criticism in England, Romelu Lukaku took his talents back to the mainland, immediately hitting the ground running scoring 9 goals in his first 11 games. Lukaku didn't slow down much as the season progressed, adding another 25 goals in all competition to bring his season tally to 34, the most of an Inter striker since Samuel Eto'o in 2010-11.

Far more than just the "big man in the box" that he was ridiculed as in his time at Manchester United, Lukaku combines the abilities of a lethal finisher with an old school hold up striker. This enables his side to make large gains up the pitch in one long pass, or provide a release of pressure when Inter is unable to find a way to build through the oppositions press. If Inter are to have success in the Champions League this season, then getting the ball into Big Rom's feet will be crucial.

Verdict: Second Place
In a tough group with Barcelona and Dortmund last season, Inter narrowly missed out on qualification for the knockout stages. This year, we think the Milan club have enough to make it one step further, with Inter holding onto their key assets from last season, as well as adding numerous players who will slot directly into the first XI.

Shakhtar Donetsk (Ukraine)
Matchday 3 11/03/2020 (H) VS M'Gladbach
Matchday 4 11/25/2020 (A) VS M'Gladbach

Strengths:
Ukrainian champions Shakhtar Donetsk have become a fixture of the Champions League group stages in recent years, failing to qualify just once in the last decade. The 13 time Ukrainian Premier League winners will be hoping their experience in Europe can pay off this season, with Luis Castro hoping to propel his side into the knockout stages for the first time since the 17/18 campaign.

Although not the first name to come to fans' minds when they think of great Champions League sides, Shakhtar are not exactly plucky underdogs. Just last season, Shakhtar made it all the way to the Europa League semi finals, bowing out to Inter Milan after beating Wolfsburg, Basel and Benfica en route to the finals in Köln. Portuguese manager Luis Castro is at the helm of a Shakhtar side who play attractive attacking football, combining the flair and elegance of South American talent, with a well drilled defensive unit.

Specifically up front is where the magic happens for Shakhtar, with now veterans in the Ukranian side Marlos & Taison (both 32) still pulling the strings on either flank with the same speed and fleet footedness that they had when they were youngsters coming through. The wide areas is where Shakhtar wants the ball, using their inverted wingers and overlapping fullbacks to try to double up on opposition defenders and create overloads on one side.

With one of the oldest squads in this year's competition, Shakhtar is bringing a lot of experience and know-how with them. Shakhtar features a starting XI from front to back who have played with each other for many seasons, that understands the ins and outs of each other's game and precisely what each player needs to succeed. This could be an undervalued factor in their favor this season, with once again many of Europe's sides making changes to their squads in the transfer window, but without the necessary preseason to integrate their new assets in training.

Weaknesses:
Like many sides who dominate their domestic league, Shakhtar Donetsk do not have fixtures on a regular basis that replicate the intensity of a Tuesday or Wednesday night fixture under the lights in Europe. Shakhtar can often play with a naivety and overconfidence that stems from their unchallenged status at the top of Ukranian football. This involves pushing too many players forward in attack, audacious attempts to build possession out of the back, and leaving their defensive backbone exposed to the attacks of elite sides. All 3 of these traits were evident in their 0:5 Europa League Semi Final loss in Köln, where overconfidence in their possession out of the back was duly punished by a superior Inter side.

If Shakhtar want to make the next step in the Champions League, Luis Castro must bring a more ruthless nature to the squad, where performances can not just be about brilliant attacking displays, but also picking out the strengths and weaknesses in the opposition and catering the game plan to each opponent. This will be particularly important early on with Shakhtar placed in a tough group where each club firmly believes in their strengths in possession.

Key Player: Júnior Moraes
33-year-old Júnior Moraes has been leading the line for Shakhtar since 2018, and has come off another stellar season where he scored 17 goals and assisted a further 7 in 19 matches in the Ukranian top flight. Although the Ukranian Premier League fixture is not exactly comparable to a tuesday night in the Bernabéu, Moraes clearly knows where the goal is, and his partnership with Marlos and Taison will be crucial if Shakhtar are to progress through to the round of 16.

Verdict: Third Place
In a group with less star pedigree, it could have been Shakhtar's year. However, the talent on display at Inter and Madrid will likely be a step to far for the Ukranian Champions, and they will have to settle for Europa League football once again in 2021. Of Course Gladbach will want to have a say when it comes to the race for third place in Group B, however the experience in European competition is clearly in Shakhtar's favor versus what is a young Gladbach side.


If you enjoyed this group stage analysis, feel free to check out our articles about Group A, Group F and Group H and follow Adam Khan on Twitter for more articles of a similar nature.



Related stories