Americans in the Bundesliga:
Chris Richards makes strong case in Hoffenheim debut
By Peter Weis @PeterVicey
There's much to discuss in our weekly scout of Americans playing in Germany's top footballing division. The chief talking point is none other than a very strong debut for defender Chris Richards in his first start for his new club.

As always, we'll provide full coverage of all the US internationals who logged pitch time this past weekend and provide our weekly assessment of the Bundesliga's first American head-coach.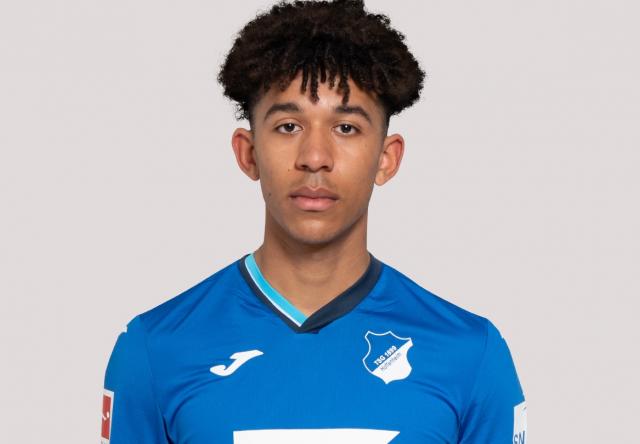 | | |
| --- | --- |
| Chris Richards. | Photo: TSG Hoffenheim |
This week's "American's" Column welcomes a highly touted player into the regular fold. Chris Richards made his starting XI debut for Sebastian Hoeneß's XI this week. The thorough scout of him undertaken for this instalment leads the writer to conclude that he actually did much better than his coach is letting on.


We still wait Joe Scally's first selection into a Marco Rose squad, but the play of Stefan Lainer this past weekend might imply that it's not far away. The possibility of eight regular actors in Germany's top flight could draw nearer.

As it stands now, we've once again six actors to discuss after Josh Sargent and Werder Bremen saw their fixture postponed this weekend.

John Anthony Brooks, VfL Wolfsburg

Minutes played = 90/90, Positions played = CB

Grade = A

A different American centre-halve receives more attention this week. Before getting to that, one must emphasise that the Berliner remains in the best form of his career. Brooks turned in another gem this weekend against Augsburg. This writer's count had accumulating 86 touches and 85 passes; only one of which was misplayed. He would have also picked up an assist had Ridle Baku's second goal not been disallowed.

Brooks found himself less involved in direct aerial duels than usual this week. A truly fascinating tactical quick of Oliver Glasner's system was behind this. Incredibly enough, rearward six Maximilian Arnold often drifted back in between the two center backs on some builds. As a result, the American spent a considerable amount of time upfield. The best intervals of this phenomenon can be found between the 15th and 20th, as well as between the 55th and 70th.


It's far too early to tell if Glasner has indeed issued some sort of new directive for his high-flying central defenders. It may be the case that Brooks, and at other times Lacroix, merely opted to be adventurous against an FCA-squad incapable of mustering much offensively. The manner in Arnold kept dropping back, however, does suggest that something is afoot. This American remains one to keep a close eye on in the coming weeks.

Chris Richards, TSG 1899 Hoffenheim

Minutes played = 90/90, Positions played = CB

Grade = A-

Early indications point to a productive spell over in Sinsheim for this highly talented Alabama native. Reunited with former FC Bayern II coach Sebastian Hoeneß, Richards works under the aegis of a true believer in his capabilities. His new trainer threw him directly into novel back-three set-up he concocted.

Lineup—Hoffenheim—Match 20 (5-3-2)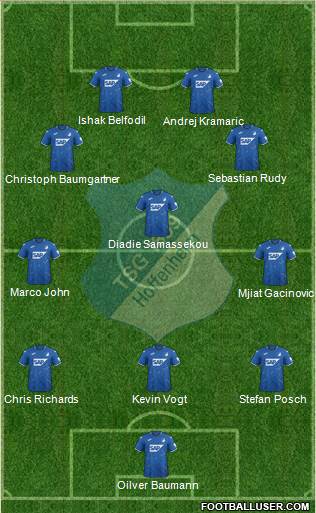 Unlike the arrangement we saw from Hoffenheim earlier in the season, there's no room for a sweeper in this set-up. The Sinsheimer gaffer has reverted to a flat back-three in recent months. Moreover, it appears as if he's spread it out to function as a particularly wide line as well. The three center backs find themselves spaced as far as 15 meters apart.

The idea seems to revolve around building a quick high press. As evidenced by the extremely poor offensive performance from this team in the first half against Frankfurt, it has a long way to go. The back row bends nicely at times, but there's little upfield potential when players on the next forward axis simply call for the ball at their feet.

Marco John, Diadie Sammassekou, and Mijat Gacinovic--three players who arguably shouldn't be stationed that far back--ensured that die Kraichgauer weren't going much of anywhere during the initial 45. Richards made his errors too. He ball watched a bit when Filip Kostic held possession, trading a bit too slowly when the Serb scored the opening goal in the 15th. He did much better holding up André Silva in the 32nd.

At the end of the day, one can forgive him for this lapse. After all, the primary objective of any central defender in Kostic's immediate vicinity should be keeping an eye out for crosses. The 20-year-old also produced some excellent play amid his team's dross. He hit his forward teammates with wonderful incisive passes in the 6th, 22nd, 24th, 36th, and 41st. The 24th-minute diagnonal for Sebastian Rudy was by far the best.

Hoeneß inserted Pavel Kaderabek into the right-wingback role in one of two half-time personnel changes. The squad immediately reaped the dividends of this change and even equalised on their first shot-on-target in the entire match. Richards turned in an immensely strong second half. This American supplied multiple examples of the full skill-set one expects from a center back.

There was some more great man-marking, including an excellent one vs. one and clearance on Silva in the 50th. A magnificent header away in the 48th, a splendid vertical pass forward in the 61st, an inch-perfect chest/down attack initiation in the 81st, and another fine forward move in the 88th illustrated how Richards brings the full athletic package.

Like the rest of his team, he let enervation get to him between the 60th and 80th. Everyone in blue was culpable on the set-piece mess up in the 63rd and the blown transition coverage in the 64th. This pair of collective mistakes led to the 1-3 scoreline. One still saw how deft Richards can be at reading the game. Fabulous cut-outs 54th, 57th, 58th, 80th, 82nd and 87th show just how good he can anticipate.

Overall, this American's stay in Baden-Württemberg should be a fruitful one. The player one observed on Sunday afternoon bore almost no resemblance to the truly out-of-his depth right-back we saw oscillate between brilliance and basic errors in a Bayern tricot during round three. If Richards parlays this strong debut into a steady run-of-form, we should see him in a Bayern jersey much more often next season.

Pellegrino Matarazzo, VfB Stuttgart

Matches = 1, Result = L

Grade = C

A straight up average grade for the Bundesliga's American trainer reflects the fact that his task remains an unenviable one. Both the club's head coach and sporting director vehemently deny that the front office chaos affects their daily lives. One somehow doubts this is entirely the case, especially given how erratic the team continues to play.

Matarazzo earned some plaudits last week for a decidedly more "hands off" approach he's taken in recent fixtures. Naturally, the trainer treads a delicate line. Neither the person in direct charge of managing a handful of performers nor a review writer (no matter how meticulous) can truly say when the best time to lay off or light a fire underneath everyone's posteriors might be.

Die Schwaben continue to slump. This weekend's 2-5 defeat to Leverkusen, controversial officiating aside, served as a torrid example of how easily the team can get mired in one-dimensional circuity. Amid all of this, the head-coach is still trying to keep the ship from listing too far.

Lineup—VfB Stuttgart—Match 20 (3-4-3)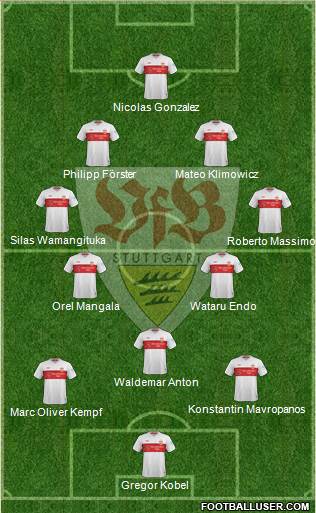 A couple of experiments here weren't strictly necessary. Those who follow Stuttgart closely know that Wataru Endo works better when he's not tethered to an axial partner. Furthermore, if Silas Wamangituka moves over to the left, it's been demonstrably better for him to partner horizontally with a speedster like Tanguy Coulibaly.

Roberto Massimo played very much like a winger who hadn't got much practice in this season. The defensive ramifications of this proved lethal early. Leverkusen encountered no difficulty at all slip-slide playing through the middle. It was far too easy for the Werkself. Nearly ever VfB counter ran through Wamangituka. Concrete examples in the 16th and 24th show how the opponents had far too much time to watch this develop.

Kerem Demirbay's second goal in the 31st came on the heels of some wonderful team football. One must remark again, however, that no team should be given enough space to play through the middle as Bayer did in the lead up. The entire Stuttgart shape crumbled after the second tally. Patrik Schick missed by millimetres only seconds later and Bosz's men kept up the pounding for the full 15 minutes until the break.

Lineup—VfB Stuttgart—46th minute (3-4-3)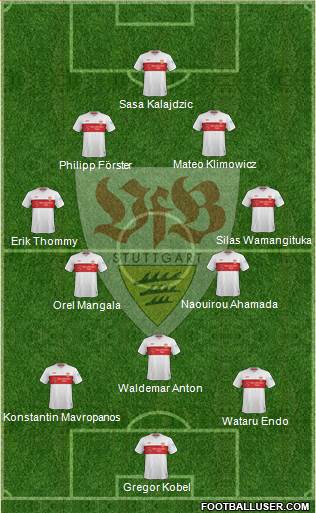 Credit Matarazzo with employing the right changes at halftime. Switching Wamangituka over to the right and buttressing him directly with Naouirou Ahamada worked out brilliantly. One can also not that dropping the flexible Endo behind them both proved a great idea. Former Düsseldorf loanee and subject of endless transfer talk Erik Thommy has really come into form. His use proved the right call.

As of yet, we've not yet mentioned the fact that Nicolas Gonzalez went down with injury twenty minutes into the first half. This occurrence largely constituted irrelevant news as the team maintains enough deep at the lead attacking position to render it immaterial. For the most part, Gonzalez has been playing behind the lead striker recently anyway. One could nevertheless note that throwing a pure target man like Sasa Kalajdzic on affects the matchplay somewhat.

Waldemar Anton expertly picked the pocket of Florian Wirtz five minutes after the restart and immediately sent a streaking Thommy through. The new led-winger had no trouble picking out Kalajdzic, who in turn finished over a flailing Edmond Tapbsoba. In effect, everything was working out perfectly. This could very well have been one of those matches which Matarazzo found himself commended for an ingenious masterstroke. Now comes the controversy.

Shortly before Leon Bailey scored off the break in the 56th, it looked as if Timothy Fosu-Mensah handled a Kalajdzic shot in the Stuttgart box. Match official Sven Jablonski held up proceedings while he conversed with the remote viewing officials in the Kölner Keller. One must say that it did look as if Fosu-Mensah's hand was in an unnatural position. It still remained a difficult play to read.

The Dutchmen's movement seemed to suggest that he hadn't expected to be in the way of the shot and was trying to get out of the way. Obviously, this play came at such a critical turning point in the match that it can't help but serve as a huge point of contention. This writer's read on it tends toward handball and a penalty for Stuttgart. That effectively makes it a 2-2 instead of a 3-1 match.

That notwithstanding, Leverkusen completely carved up Matarazzo's middle again on Florian Wirtz's goal in the 68th. In perhaps a bit of a karmic giveback, referee Jablonski also looked the other way on a flagrant Anton takedown of Wirtz in the box. Thommy latched onto a great pass from Mangala in the 77th and once again furnished a lovely assist on a Kalajdzic goal. Demirbay and Jeremie Frimpong then combined to set up Demarai Gray's blast in the 84th.

Whew. At long last this crazy seven-goal thriller came to an end. There being so very much to take into account, according the American trainer average marks seems the fairest solution. It's nevertheless apt to the throw in the xG stats in this case: Leverkusen 3.2, Stuttgart 1.5. This was, at the end of the day, a deserved result. Extenuating circumstances threaten to run out if Matarazzo can't shake this team out of their lousy run of form.

Two wins from seven league matches since the turn of the calendar year simply isn't good enough. With Hertha, Köln, and Schalke coming up next one expects seven to nine points from this side in the next three weeks. Matarazzo faces much heavier scrutiny now.

Tyler Adams, RasenballSport Leipzig

Minutes played = 67/90, Positions played = RM

Grade = C-

A disappointingly average day for the New Yorker during his team's rather lacklustre performance against Schalke. Julian Nagelsmann's rote Bullen have put together three straight wins on the bounce, yet still don't appear to be a team truly in sync. In the quest to develop a consistently coherent tactical system, this American (quite literally) keeps getting squeezed out.

Lineup—RB Leipzig—Match 20 (3-4-3)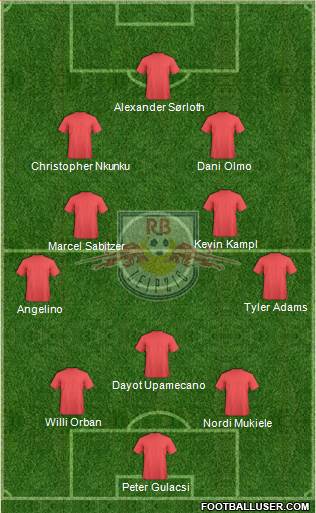 Not unlike something we've seen five rounds back. There's talent all over the place. Despite that, the German Red Bulls managed only one legitimate incursion into the lowly Schalke ranks over the course of the first half hour. Adams put in some decent work on two inspired forward runs in the 29th and 31st. He channeled lanes again in the 34th and 41st, felled by fouls in both cases.

The New Yorker nevertheless completed a largely anonymous first half, accruing only 22 touches in this writer's (unofficial) count. He'd get his foot around the ball another 13 times before being subbed off after the break. Highlight-worthy plays came on a defensive dispossession in the 51st and a pseudo-decent break in the 55th.

One of the persistent problems all afternoon concerned very poor switches to his axial partner Angelino. It might be the case that these two are not meant to be paired together. A more centralised role for Adams seems in order, particularly if one takes a look at his badly warped cross in the 61st.

In his final three minutes on the pitch, this American did a fairly decent job boxing out countryman Matthew Hoppe on a few breaks between the 63rd and 66th. One still awaits a command performance from him. It's been some time. Even the recent fixture in which he scored couldn't be described as a truly convincing game.

Matthew Hoppe, FC Schalke 04

Minutes played = 79/90, Positions played = LS

Grade = D

It's probably time for the Californian to take break. The spark he ignited for this team has long since faded from embers to dust. Someone other than a 19-year-old should be given a chance to get something going in Gelsenkirchen. Unfortunately, trainer Christian Groß has no one else to turn to. Hoppe can definitely improve on some of his recent work, but the ten players behind him have miles to go as well.

Unsurprisingly, this American didn't see much of the ball in the Saturday fixture. This writer recorded only 23 touches. On some occasions, his actions were serviceable enough. He did very well to keep a ball in play in the 5th. He took a chest down expertly in the 19th. Mark Uth should have been looking for him in the 34th as he had manoeuvred himself into a very nice position. The header directly into the turf in the 63rd at least showed solid fightback on a contested rebound.

Alas, the on-pitch chatter in a spectator-less stadium tells a more problematic tale. Hoppe's positioning on drives, set-pieces, and throw-ins hasn't been great. Teammates attempt to direct him with shouts of "go ahead" or "come on". Such talk can be both sensible (as it was in the 22nd) or counterproductive (at 45+1). One doesn't lay a harsh judgement on the youngster based on banter alone. One can see how poorly he reads the play sometimes on a failed cross collect in the 44th or an aborted charge in the 66th.

A little bit of rest and tape review would surely benefit a lad who never expected to be shouldering such a burden when he was playing every other week in the Regionalliga at the beginning of this season. With Klaas Jan Huntelaar and Gonçalo Paciencia still unavailable, however, one may just have to hope that he finds a way of playing himself back into form.

Giovanni Reyna, Borussia Dortmund

Minutes played = 70/90, Positions played = RW, CM

Grade = D-

Those interested can find a complete catalog of Reyna's many errors in this week's tactical focus. Suffice to say here that existed a surplus of bad giveaways, poor passing decisions, and hesitance on the ball. The worst turnover occurred in the 17th. The most egregious example of a heavy touch came in the 22nd.

He wasted some of his own good work, crossing poorly in the 47th after a neatly choreographed give-and-go, killing off a good possession spell with a foul in the 58th, and trying to thread too finely for Jadon Sancho after a nice breakthrough in the 64th. It came as no surprise to see him pulled six minutes after the last miscue.

One conjectures that it will not take long for the "American dream" to work his way back to full strength. Given his pace and technical ability on the ball, only some sort of self-inflicted mental stumbling block can halt his progress. Sadly, the after effects of the viral infection that kept him off the training pitch for a couple of weeks are still apparent.



Related stories