"The End of an Era":
A nation reacts to Löw's decision
By Peter Vice @ViceytheSS
The announcement that Joachim Löw would step back from his job of 17 years on his own terms elicited much praise across the editorial pages of the Bundesrepublik. The general consensus holds that the timing of the announcement constitutes the best possible solution for all involved parties

The rampant frustrations of a short four months now give way to a respectful and appropriate goodbye. Many are now prepared to give the leader who, for all the criticisms of the past three years, did deliver Germany its first World Championship since the country truly became cognizant of its reunified self a proper send-off.

Transfermarkt.de has compiled a list of quotes from German football notables after yesterday's disclosure.

Here at Bulinews, we're pleased to supply a translation.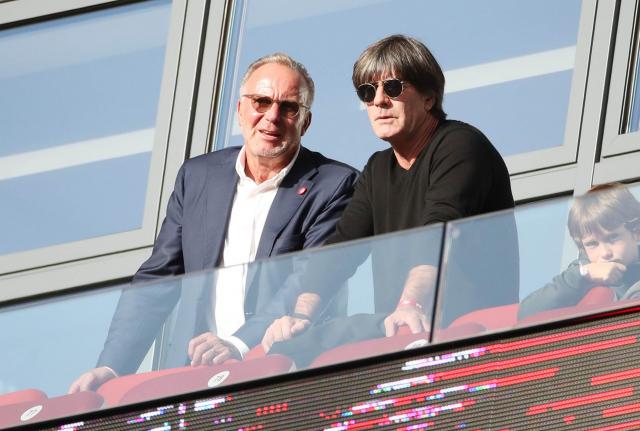 | | |
| --- | --- |
| Karl-Heinz Rummenigge and Joachim Löw. | Photo: GEPA Pictures/Sven Sonntag |
Here are some of the reactions from German football's discursive leaders following Joachim Löw's decision to voluntarily terminate his contract, and thereby his involvement with the German Nationalmannschaft after this summer's European Championship:

Karl-Heinz Rummenigge, FC Bayern München

"Joachim Löw shaped an enormously successful era of German football, with the winning of the 2014 World Cup in Brazil as the zenith. The DFB owes him a debt of gratitude. We wish him a successful European Championship to round out his magnificent career as national team trainer. He has earned a dignified exit."

Acki Watzke, Borussia Dortmund

"Jogi Löw's decision deserves significant respect as it was a decision arrives at through his own volition. Löw has done amazing things for German football during his tenure. Everyone in German football is now called upon to do their part in giving Joachim Löw the grand send-off he deserves this summer."

Julian Nagelsmann, RB Leipzig

"It is a sad piece of news, but he remains at the helm. He's had an enormous impact on German football, shaping an epoch with both titles and development. He's made the correct decisions in important moments; ones that were not easy. The European Championship will ideally serve as a grand conclusion. I'm curious to what he shall do."

Jürgen Klopp, FC Liverpool

"I'm as surprised as anyone else that Jogi made the announcement. But now one has enough time to carefully select a successor. Joachim Löw has done such an incredible job for so many years."

Lothar Matthäus, German footballing legend

"This is a great move by Joachim Löw and the DFB. It takes the pressure off the team. The timing couldn't be better."

Bastian Schweinsteiger, 2014 German World Cup winner

"My full respect applies to Joachim Löw. He has positively shaped German football as the national team coach for years, culminating in the 2014 World Championship. I also have a lot to be grateful to him for on a personal level. Now my wish for him and the team is to capture the European Championship to conclude the era."

Berti Vogts, 1974 and 1990 German World Cup winner

"He is one of the greatest national team coaches ever. For me, the 2014 World Championship is as significant as the 1954 World Cup triumph [Germany's first ever]. No other German coach has managed to win a World Cup in South America."

Rudi Völler, 1990 World Cup winner and former national team coach

"Jogi Löw's decision deserves [our] respect. Now he has the chance to head into this summer's European Championship unburdened and try for the spectacular finish. We'll all be keeping our fingers crossed for him."

Frank Kramer, former youth-system colleague

"Jogi is an absolute football expert. This is someone who has done an outstanding job. Any alternative assessment is out of the question. I've had the privilege of seeing this. One should be fair enough to laud this work over years at the absolute highest level."

Frank Baumann, German national team veteran

"I was able to experience Jogi myself as a player. It's anything but a given to occupy this position for so long. He achieved excellent results in all tournaments, 2018 excepted. He's accomplished so much and I wish him a fond farewell this summer.

Florian Kohfeldt, SV Werder Bremen

"Jogi Löw is one of the most meritorious German football trainers ever. He shaped an era for the national team. He won the World Cup with exciting football. That's why I have the greatest respect for his life's work. I'll be sitting in front of the television this summer as an enormous fan and wish him the farewell he deserves."

Pal Dardai, Hertha BSC

"I've just one thing to say: Top what that man has achieved. Huge personality, huge success. I find it, on the one hand, something of a shame and can only say: respect! I can only say good things about him. Every trainer can only learn from him."


Irrespective of what may have happened in 2018, the German footballing public has but one expectation entering every major international tournament: the team should attain the semi-finals. Joachim Löw delivered this in 2008, 2010, 2012, and 2016. Anyone donning the tricot of die Nationalmannschaft since 2014 now sports a fourth star below the DFB's crest thanks to the 2014 World Championship.

When Germany hosted the World Cup in 2006 (the infamous "Sommermärchen" for the country's soul) an incomplete song emerged that would once again find itself sung in 2010. After 2014, all Germans could carry the complete tune:

" '54, '74, '90, 2014 
Ja so stimmen wir alle ein
Mit dem Herz in der Hand und der Leidenshaft in Bein 
Werden wir Weltmeister sein."




More about Germany