News Analysis:
Will fans return to the Allianz for Bayern's season finale?
By Peter Vice @ViceytheSS
A great deal of the press Karl-Heinz Rummenigge received after Bayern's title win on Saturday concerned Hansi Flick's future and his inevitable weigh-in on the dispute between DFB bigwigs Dr. Rainer Koch and Fritz Keller. 

Almost lost among all of this was the Bayern CEO's expressed hope that the Allianz Arena might welcome some fans back for the season finale on May 22nd. 

Is this another vapid oath of false hope? Very likely, but there are a few reasons to think otherwise. We'll examine the facts.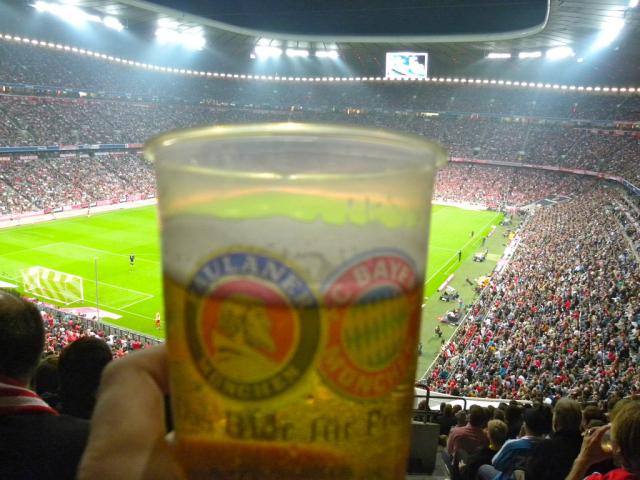 Photo: JasonParis, CC BY-SA 2.0

Here at Bulinews, we once devoted an entire column to the state of fan re-entry into the footballing cathedrals of the Bundesrepublik during the global pandemic. Once the entire country revoked such privileges at the beginning of November 2020, no supporters have been allowed in to watch top-flight Bundesliga football in Germany.


The advent of so many false dawns certainly leaves one feeling skeptical of yet another empty proclamation from a footballing executive will lead anywhere. The mere logistics of a hygiene-concept may seem anathema to weary politicians responsible for keeping public order. In addition to this, there's much working against the plan.

The only two Bundesliga clubs who haven't allowed any spectators through the turnstiles during the pandemic are, ironically enough, Champions Bayern München and dead-last relegated FC Schalke 04. Rummenigge argues that, with actors such as Hansi Flick, Javi Martinez, David Alaba, and Jerome Boateng departing, the club wishes to organize a farewell of sorts for a cohort that deserves a final round of applause.

The FCB has had a hygiene concept in place since before the first match of the season. Implementation protocols are already in place. It's a simple matter of execution. Naturally, Rummenigge's sentimentalist argument amounts to very little in the grand scheme of things. Taken by itself, this constitutes a weak argument.

Local politicians, specifically Munich mayor Dieter Reiter (SPD) and Bavarian governor Markus Söder (CDU), still need to be persuaded. Even if Söder, having recently conceded his own bid for the national Chancellorship, finds himself under less political pressure, neither is likely to budge from sanctioning any public gathering before the RKI Stabilizer is reached.

As a reminder, public events are not supposed to take place in Germany unless the 7-day-incidence rate of new COVID infections falls below 35 per 100,000 inhabitants. According to the latest data from Germany's Süddeutsche Zeitung, Munich stands at 92.3 per 100,000. The city recently announced that Oktoberfest 2021 had been officially cancelled. No one in the region appears prepared to take chances.


All of this notwithstanding, there's actually one major reason to be optimistic. Munich will be one of the hosting cities of the coming European Championship. The case could be made that the club officials need to, at the very least, undertake a trial run to see if it is feasible to welcome a small number of fans in.

UEFA initially made demands of Bayern and the city of Munich late last month. City and club were to present a plan for 25-percent capacity at the Allianz or lose their Euro 2020 hosting privileges. As we all know, the chaos of "European Super League" week rendered this whole issue immaterial. UEFA suddenly needed German football as a steadfast ally. As a result, Bayern and the city were allowed to keep their hosting rights whether they planned to welcome fans or not.

Hence, to tie it all together, we'll handicap the probability of a few fans being allowed in for Bayern's season finale at about 20 percent. This is mostly based on the fact that the major concession made to the German public seems to have been the "license to travel" given to those citizens who have been fully vaccinated. Individual, rather than communal, entitlements look to be the manner in which the Bundesrepublik handles this phase of the pandemic.

Naturally, this is subject to change. Given the amount of editorial space devoted to the subject over a season's worth of columns, a reader can easily surmise which side of issue one of this site's writers comes down on.

Rummenigge's announcement does serve as the first real impetus on behalf of a German footballing executive to resurrect this issue in several months. Further developments will come and we'll be here to cover them on Bulinews.



More about the match
More about the teams