Bundesliga Tactics Talk: Round 32
By Peter Weis @PeterVicey
Another great weekend of football on the German Bundesliga beat saw FC Bayern München officially crowned as the 2020/21 league Champions. Further down the table, the plot thickens in the race for the top four with after a Dortmund win and a Frankfurt loss.

This week's tactical focus takes a deeper look at the Eintracht-Mainz fixture. We've also a closer look at Leipzig's tactics ahead of Thursday's big Pokal finale and all the salient talking points from every last match.

As a special treat this week, the commentary section supplies a full set of predictions for all the promotions/relegation picks across all three German footballing divisions.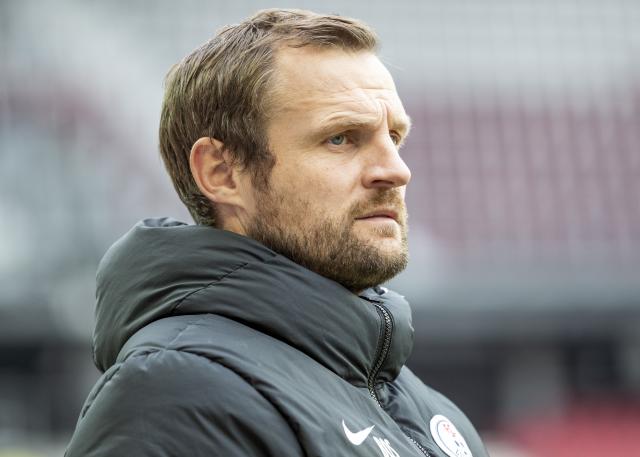 | | |
| --- | --- |
| Bo Svensson. | Photo: GEPA Pictures/Wolfgang Jannach |
League-wide Talking Points: Round 32
Dardai's bluster falls short

Hertha trainer Pal Dardai, back for his second tour of duty this year with the capital city's Charlottenburg side, has always been a great deal of fun to cover. Never one to mince words and always forthcoming with his tactical plans, the Hungarian head-coach is a welcome breath of fresh air for those used to somber press conferences in which a stolid-faced gaffer takes great pains to reveal absolutely nothing. Dardai's unique style made for good entertainment the lead-up to this round's capper: Hertha vs. Bielefeld.


After rotating nine players in Thursday's win over Freiburg, Dardai proudly proclaimed that he "had the balls" to do it again this weekend. He also directly challenged his opponents in the Saturday presser, boisterously declaring that Arminia were holding three points that "belong to us". Great stuff. Regrettably, the team didn't respond to this swagger. Dardai's nine new players had the effect of making Bielefeld look like world-beaters. Matheus Cunha and Maximilian Mittelstädt even succumbed to injury; a possible consequence of impractically over-rotating the squad.

Jhon Cordoba was a mite unlucky to hit the post and then later the side netting during a surge near the end of the opening 45. There was also at least one stretch--between the 46th and 70th--during which Hertha looked lively. Otherwise, a 0-0 draw felt worthy of the flat play. Naturally one has sympathy for "die alte dame" after the whole quarantine nightmare. It still proves a disappointment whenever the league's most charmingly amusing coach doesn't get a response.

The ghost of Peter Bosz

The round's other 0-0 draw initially served as a good candidate for a "Spiegel special". Bremen's goalless stalemate with Leverkusen proved every bit as mind-bogglingly boring as the 1-1 deadlock in the reverse fixture. In the end, the fact that the the match felt eerily similar to the match in early January didn't seem to fit with the spirit of the whole "mirroring" principle. Speaking of spirits, the manner in which die Werkself lorded over 70 percent of the possession, yet couldn't seem to play their way through midfield left one wondering if Peter Bosz was in fact still running this team.

Thus far, one has to credit interim trainer Hannes Wolf with breaking this team's muscle-memory bound habit of the 4-1-4-1. He always endures that the anchoring midfielder ahead of the defensive line always has a partner and that the constellation is adequately buttressed by with someone like Nadiem Amiri or Kerem Demirbay in deeper midfield positions. A 3-6-1 with Daley Sinkgraven and Karim Bellarabi as the wingers still seemed like an oversteer. Leon Bailey couldn't get much done from his inside position and Moussa Diaby began the game on the bench.

The difficulty associated with not being too obvious in his attacking selections and getting this team comfortable with a back-three set-up isn't lost on this commentator, but Wolf appeared to take a trip to crazy town against an opponent that should have easily been dispatched. Okay. We'll also credit Bremen with a good midfield duel rate and their own "team spirit". That taken into account, Wolf's audition for a full-time role isn't going so well.

A weirdly skewed scoreline

Moving on from the games without any goals, Freiburg-Köln definitely made for recommended viewing. We got five tallies in this one. A 4-1 victory for Christian Streich's Breisgauer felt deserved as Friedhelm Funkel's Geißböcke lost their bearings after Ellyes Skhiri's early mistake and let Vincenzo Grifo and Ermedin Demirovic double the advantage barely sixty seconds after scoring the first goal. Roland Sallai probably should have put the game to bed five minutes before the half.

Seeing as how he didn't, however, it's most unfortunate that the Domstädter weren't able to draw level. After Sebastian Andersson pulled a goal back in the second half, Köln came within an Ondrej Duda slip at the penalty spot of making it 2-2. The efforts of Ismail Jakobs and Florian Kainz also brought Funkel's team within a whisker. The final two Freiburg goals came deep into second half injury time. This was not the blowout the scoresheet suggested.


All the same, we'll call it a case of poetic justice. The penalty Duda slipped upon wasn't a deserved one and the Effzeh were heinously lousy against a team that had just played three days ago during the first half. It's beginning to look as if Köln are headed for the automatic relegation spot, just as we predicted some weeks back.

Winning against the worst

From a Joel Pojanpalo hat-trick to place them on top of the world to a Josip Brekalo hat trick that made them look like absolute rubbish, FC Union Berlin blew their chance to leap ahead Borussia Mönchengladbach in the race for the conference league space. Taken in context, Brekalo's three-goal-day wasn't all that remarkable. He benefitted from a lucky bounce on the second and caught keeper Andreas Luthe checked-out in the 90th on the third. Meanwhile, Union sat fearfully deep and the double striker set of Pohanpalo and Petar Musa made too many wretched mental errors to count.

We'll have some rosier predictions for Union below. For now, it suffices to say that they turned in easily their most lethargic and timid performance of the season. Urs Fischer's XI barely resembled a football team. That isn't to say that they were the most confounding football team on the pitch this weekend. Marcus Weinzerl's new-look Augsburg, after an early pop, looked about as confused as they did during Heiko Herrlich's final first-half of football.

The Fuggerstädter wilted late on even though Stuttgart were the side losing the players. The FCA have the points edge in the relegation race, but need to figure out their identity fast. With all due respect to Wolfsburg and Stuttgart for their victories this weekend, the state of their opponents were complexly off the ball in every last sense of the phrase.

The "Spiegel Specials": Round 32
Bayern-Gladbach (2:3, 6:0)

Well, well, well. This was some way to commemorate a ninth consecutive title. At this juncture, does anyone even recall that Marco Rose's foals pulled off the sensational upset back in round 15? We dedicated the entire commentary section of the column to it at the time. Note that the final bit of prognosticating emphasized that there stood very little in the way of Bayern's Meisterschale chase. Flick's FCB gave us only minor conceptual reasons to doubt them this season. Visual evidence on the pitch was overwhelming.

Even for those left ruing the cold fact that there exist teenagers in the Bunderepublik who have known no other title winner than the mighty Bavarians, this fixture proved an enjoyable watch. Robert Lewandowski's pursuit of the Gerd Müller record now appears destined for success. The Polish striker's second goal--in the 34th--came off one of the most breathtakingly gorgeous mid-air twist finishes anyone is like to see. Thomas Müller surely cemented his place in the national team with his glittering goal and superb assist. Jamal Musiala also got us all hyped and psyched for the Euros after his play.

In summation, it's hard for the crestfallen fans of smaller market clubs (of which this writer is one) to hate on Bayern following this display. The team demonstrated such an amazing passion for the game. The closest and most amorous squad one. "Mia san mia" manifested  Period. We'll take it. About the only thing that couldn't help but be depressing was watching the players traipsing about in an empty stadium for the second straight year. Surely some others felt the stinging pain of inertia; a disturbing sense that the world isn't progressing forward.

Prognosis: A conference in Köpenick

Not to dwell to long in the realm of the dreary, but there's also Gladbach to discuss. A 0-6 loss has huge ramifications for the fight for the new Europa Conference League slot. Fohlenelf fans have every reason to be furious at their crew for effectively giving up after Lewandowski turned in the third goal. Prior to the match, Union's 0-3 loss to Wolfsburg gave Gladbach a plus-seven goal differential lead over their capital city challengers.

Remaining schedule strength looks about equal for the two contenders for the token European tournament place. In terms of auguries, this column tips Union for a win over Leverkusen and a draw with Leipzig. Rose's BMG face tougher-than-expected tests in Stuttgart and Bremen, deceptively difficult fixtures which they'll have trouble racking up goals in. Signs point to a close finish, with extra matches for the fantastic ultras in East Berlin.

Hoffenheim-Schalke (0:4, 4:2)

Anyone remember when Mathew Hoppe scored that magnificent hat-trick to ensure that Schalke would not break the Tasmania Berlin record? At that time, it seemed as if a turnaround really was possible. Christian Groß brought a new attitude to the Königsblauen. Sead Kolasinac brought with him all the gusto of the forgone glory days. Klaas Jan Huntelaar and Shkodran Mustafi were on the way. On-loan Juventus midfielder Weston McKennie, then still the property of the Bundesliga club, cheered his former teammates and his countryman on from his apartment in Torino. It was a different era indeed.

This one proved one rude smack across the face for an already devastated once proud footballing organization. Luck finally appeared to be breaking in a blue direction during the first half, with Mark Uth and Shkodran Mustafi scoring on the only two real chances the Königsblauen got in front of goal. Sebastian Hoeneß' Kraichgauer then erased the two-goal lead with four tallies in 19 minutes. Ugh. Nothing goes right with this club. Banding together in the spirit of solidarity can't even save them. Every piece of good news gets immediately stomped on and obliterated.

Prognosis: A proposal for Fiorentino Perez

How fitting is it that the very match that dropped one of the Bundesrepublik's classic fan-owned clubs to a new level of misery happened to be the one that officially solidified another season of Bundesliga football for the Sinsheimers. Thanks to this victory, Dietmar Hopp's 50+1 violation lives to fight another year.

A brief on Hoffenheim. Not every German football lover spews the type of stuff seen last spring regularly. Most of us are content to dance around the issue or even root for the team in European club competitions. It seems a prudent time to suggest to disgraced Super League president Fiorentino Perez that he can absolutely have both Hoffenheim and Leipzig for the next version of his project.

Care to reserve two spots for German clubs in the next version of the Super League? You can have those two. We might watch. We might not. In any event, there wouldn't be any complaints.

The Burning Question: Round 32
What were the takeaways from BVB-RBL?

We'll go singular again this week as this engaging affair gives us a chance to look at the upcoming DFB-Pokal final. Dortmund-Leipzig taught us that there remain limits to Julian Nagelsmann's postmodern approach to tactics. There shall always be such a thing as too avant-gardé. One should keep an eye on how the 33-year-old trainer approaches his new task at FC Bayern München. The tendency to place straining strategic demands on his players might not necessarily jive well with players accustomed to not being micromanaged.

Bayern, at least currently, operate in a self-coached 4-2-3-1. Dortmund parted company and installed Edin Terzic with the precise aim of ensuring that he permitted the same. While it took some time for the BVB interim trainer to cultivate his own version of this, the current standard template is an echo of such a model. A healthy Giovanni Reyna and Jadon Sancho can run the wings. Mahmoud Dahoud gets a six-partner either in Thomas Delaney or Emré Can, depending on the availability of players in central defense. Veteran captain Marco Reus mimics Thomas Müller from the ten-spot.

In light of the this predictable strategy, it strikes one as strange that Nagelsmann opted for a formation such as the one below. A centrally stacked build like this almost invites the opponent to run rampant on the wings. Back-builds found themselves stymied before they could get started under a double-three press.

Lineup—RB Leipzig—Match 32 (3-3-3-1)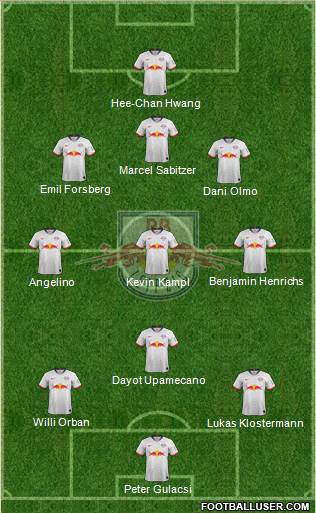 Watch out for this this over-complication when Nagelsmann takes the reins at Bayern. To chain Kevin Kampl to horizontal axial partners effectively cut out the rhythm of the halfway axis. Marcel Sabitzer's main strength lies in possession circulation much deeper in the set-up. The Austrian gets good purchase on ranged efforts largely because he's not responsible for pocket distribution in the final third.

Free of a swarm of markers, Sabitzer maintains the ability to unleash one of his "howitzers" during a handful of opportune times per match. Here, the 27-year-old is weighted down short-passing-game burdens to be of much use. Another problem concerns the placement Angelino and Benjamin Henrichs. The two wide wingbacks are too close to the tightly bunched together support axis to truly work adequate overlaps.

As noted above, these two teams will meet again very soon in the DFB-Pokal Final. Nagelsmann's use of this unorthodox formation could conceivably have been related to keeping his best hand closer to the vest. Some 58 minutes into this weekend's encounter, he readied a double substitution for a major reformat. This seemed to be the objective even before Lukas Klostermann pulled the first goal back off the set-piece.

Lineup—RB Leipzig—65th minute (4-2-3-1)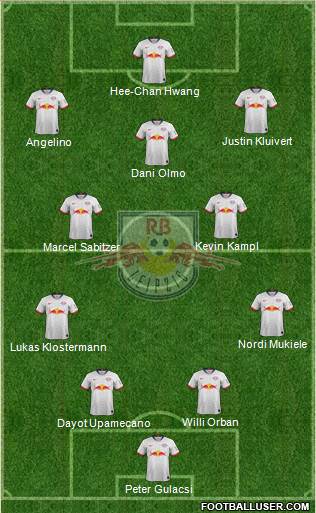 A mirror of Terzic's 4-2-3-1 fared much better. Dortmund's defensive shape frayed easily once Sabitzer and Kampl assumed a separated six-set partnership, upfield traffic ran significantly smoother. Dani Olmo slides into a less demanding anchor role. Angelino obtains a more useful advanced  offensive position on the left flank. The BVB's Raphaël Guerreiro suddenly found himself overwhelmed by two fresh-legged subs on the right.

Everything is in place here, save for Nagelsmann's preferred actors at a few positions. He'll likely prefer Alexander Sørloth at the center-forward position to accord the team a better aerial advantage. Assuming that Tyler Adams and Christopher Nukunku remain unavailable for Thursday, Amadou Haidara should take over on the left while Angelino moves back. Justin Kluivert probably starts, though Nordi Mukiele could also move up.

When it comes to the subject of takeaways from this intriguing affair, one can't help focus exclusively on the Naglesmann riddle and its implications for Thursday. It's highly likely that a very fun and exciting game of football awaits us in four days' time. The next edition of BVB-RBL doesn't lend itself to an easy tip. The reality that Leipzig's trainer did ultimately end up showing his hand, however, has one leaning in the direction of Dortmund as the pick.

Terzic can and should be able to crack this with one of his 4-1-4-1 spreads. His counterpart can't mirror that unless the returning Konrad Laimer really feels prepared to work as a solo-sweeper ahead of a more stationary back-four. This would allow Sabitzer and Kampl to manage the flow of the game from their horizontal double-six pairing. In the event one considers this a possibility, it might eye better to go with the German Red Bulls.

Weekly Tactical Focus: The magic of Svensson's Mainz

As meaningful a match as Saturday's Leipzig-Dortmund showdown was for the top-four race, the more revealing fixture lay ahead on Sunday afternoon. No Bundesliga watcher wanted to miss out on Mainz-Frankfurt. So much of consequence stood at stake for both teams. For Bo Svensson's Nullfünfter, the improbable charge up the table qualifies as must-see stuff. It's been mentioned what feels like a thousand times in this column, but the scope of Svensson's turnaround is nothing short of an arithmetical miracle. Mainz had seven points at the season's halfway mark. Seven points. Incredible that Mainz may clinch safety before this campaign is even over.

For Adi Hütter and the ever-sympathetic German Adler, the pressure builds as the the finish nears. The SGE keep sliding down a slippery slope as Dortmund threatens to overtake them for in their quest for the club's first-ever Champions' League place. The German Eagles boast plenty of top-notch talent, but even the sharpest talons can't keep their grip once the rest of the claw has been pried away. Balance in the squad fades as they scramble to hang on amid the specter of a departing trainer. One can't avert one's eyes.

Results earlier in the weekend imbued the fixture with more meaning still. Dortmund's win amped up the pressure on Eintracht to respond. Köln's loss meant that, to resurrect the tired point for the 1001th time, Mainz could potentially guarantee themselves Bundesliga football next year with a win and a Bielefeld loss or draw. Just amazing. Simply incredible.

With so much on the line, one settled in for a hard-fought and especially telling match sure to furnish the storylines. Despite some enervated lulls on an unusually hot day in Germany's commercial capital, it did not disappoint.

Lineup—FSV Mainz 05—Match 32 (3-4-3)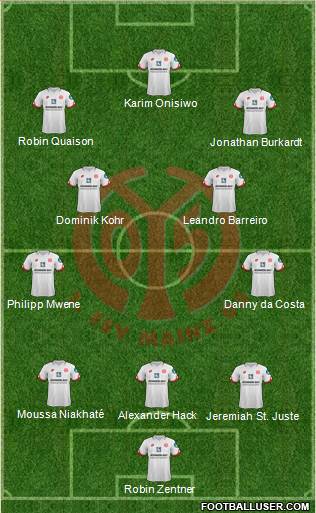 The initial release of the team sheet left one forecasting something more akin to the 3-3-2-2 arrangement Svensson has been rolling out as of late. Something much bolder emerged once the players settled. Perhaps the most remarkable facet of this intrepid 3-4-3 concerned how much possession the Mainzer trainer was willing to concede to his opponents. This was an quick-counterstrike-minded attacking constellation.

Man-marking of familiar faces

The starting XI contains two on-loan Frankfurt players in Dominik Kohr and Danny da Costa. If German media reports materializing this week are to be believed, both will be headed back to the SGE this summer. What better assignment could there be for this pair then to showcase their ability to keep tight to the actors they shall soon once again call teammates? It may be a stretch to say that this was actually fully intentional, but it almost makes too much logical sense to be considered a coincidence.

Da Costa shadowboxed Filip Kostic on both sides of the ball. This yielded the effect of rattling the Serbian flanker early and keeping him on his toes defensively. Kohr's direct mark appeared to be Daichi Kamada. The 27-year old midfielder expended surprisingly little time zonal guarding Djibril Sow and Sebastian Rode. Instead, he focused on wrenching Eintracht's pocket axis via a noticeable focus on the Japanese international. This worked very well.

Disciplined movements at the back

The amount of times da Costa dropped back created an optical illusion of sorts. At first, it seemed as if his job was to complete a four-man-defensive chain on all Frankfurt rushes. This writer concedes that he falsely assumed that the matchplan for the first 20 minutes or so. It took some time to figure out that he solely had eyes for Kostic. Finally blowing this incorrect theory apart was the forward tears from Jeremiah St. Juste.

The Dutch center-halve truly motored upfield quite a bit. The Rheinhessen head-coach had a plan in place for these forward tears. Either Moussa Niakhaté would straddle over for coverage, or Phillip Mwene would make an astern diagonal run. It wasn't immediately apparent that the right-center and left-wing backs had these assignments because da Costa moved in reverse so often.

Once the plan revealed itself, one surmised that Svensson put a great deal of thought into his weekly design. Sadly, the same could not be said of Hütter.

Lineup—Eintracht Frankfurt—Match 32 (3-4-1-2)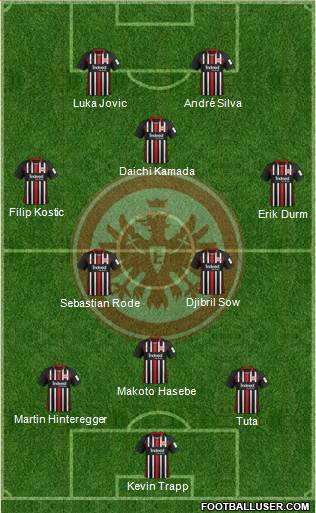 Here we behold something that is unquestionably bold, yet not as carefully thought-out as what Svensson put together. The two über-talented strikers are deployed up top and, with the exception of the suspended Evan N'dicka, the most in-form players are on the pitch. A critical failing ended up doing this in.

An all too static attack

One sensed this would be a problem from the onset. Whereas Karim Onisiwo, Jonathan Burkardt, and Robin Quaison could engage in fluid rotations, Kostic and Erik Durm aren't built for flank flips. Moreover, André Silva and Luka Jovic--whenever paired together--stick to their respective slant sides. The latter issue stems from their lack of experience playing together, as well as Silva's need to bail out Durm on occasion.

It proved interesting to see which defender would run pivot. Lucas Silva "Tuta" Melo never really seemed a viable candidate, meaning either Makoto Hasebe or Martin Hinteregger had the job on the day. When the Austrian debuted on the left, a sinking feeling that too much predictable vertical traffic up towards Kostic would lead to an early stall. This premonition turned out correct.

Match Flow: 1st to 11th minute

The hosting Hesseners got off to a very nervy start. Burkardt forced SGE keeper Kevin Trapp into a stretch save inside the first 60 seconds. Hasebe looked off from the beginning, missing Hinteregger with a back-pass by miles in the 2nd and visibly stutter-stepping around the disorganized Frankfurt defensive ranks in the 3rd. Hinteregger and Kostic could manage only poorly broken cycles on their side and Hasebe launched a useless long ball well beyond Silva before we reached the five-minute-mark.

The early tenor suggested something was seriously awry with Frankfurt. They frankly looked totally spooked for no legitimate reason. Da Costa took advantage of this with a nice run after a turnover in the 6th. Both Hasebe and Kostic had to be spot on to close ranks on their once-and-future colleague. After another desperate looking long ball from Sow in the 7th, Hasebe drove a halfway decent push into the final third in the 8th. Silva's cross for Jovic nevertheless proved harmless.

Kostic attempted another straight square cross in for Jovic in the 9th, but his countryman had four Mainz markers swarming around his general vicinity. Eintracht's attacks were painfully uninventive and the sloppy play at the back was beginning to mount. The Rheinhessen capitalized on a woefully atrocious back-pass from Hasebe to open the scoring in the 11th.

As fate would have it, Frankfurt's other loanee made it happen. Trapp found himself awkwardly rushed into a reckless clearance. Kohr eyed the ball after it left Tripp's foot and kept the play alive with a great header forward. The ball would eventually bounce back to Kohr on the press and the man who played the first half of the season for Eintracht set up Onisiwo for the low-corner finish. Hütter's Adler stared down disaster.

Match Flow: 11th to 28th minute

The panic was palpable in the four minutes following the goal. Eintracht looked particularly rattled between the 12th and 15th. Genuinely terrible passing of the most amateurish variety demonstrated how disconcerted they were. Offensive actions continued in a wholly non-creative vein. Jovic and Rode tried a give-and-go from a ridiculously deep position in the 15th while Kamada wasted a useful breakout ball with another tepid straight-square cross for a covered Jovic one minute later. Sow repeated the same mistake one minute after that.

Frankfurt earned a pair of corners, but St. Juste and Hack ensured that nothing came of them. Onisiwo made Hasebe look like a rookie with a brush-by deke on a counter in the 18th. The veteran captain was lucky that Hinteregger caught up with the streaking Pfälzer. More grimace-inducing SGE attack-waves produced zilch. Durm got easily squeezed out on the right in the 19th and Barreiro snuffed out Jovic central in the 20th.

One serviceable combo involving Sow, coming after a falsely awarded corner in the 21st, at least tested FSV keeper Robin Zentner. This aberrant flicker quickly gave way to more messy imprecision. Kostic did well to cut inside past St. Juste in the 22nd, but ended up overrunning the ball. Eintracht couldn't manufacture anything of promise in the next six minutes. Instead, Burkardt got two chances on the counter in the 23rd and 27th.

Mercifully, match official Dr. Felix Brych opted to invoke his privilege of calling for a hydration break in the 28th. Svensson laughed and joked with his players in the southern German heat. Hütter remained on the bench, only belatedly lifting a finger to sub off a player.

Match Flow: 28th minute to half-time

Very under-utilized winger Adjin Hrustic checked in from the sidelines to replace Sebastian Rode. One assumes it related to an injury even though Rode looked healthy in his trot to the sidelines. Replacing Rode with an attacking flanker seemed sure to herald a tactical change. Since the SGE held their shape and no shifts were visible, all one can say of this writing is that it must have been related to a knock. Frankfurt remained in the 3-4-1-2. Results remained about the same.

A frustrated Kostic hauled down Onisiwo after the Mainzer striker beat him to a ball at the half-hour mark. The SGE forward was very lucky to escape with just a yellow. Hrustic struggled initially in midfield. A poor clearance in the 33rd gifted Burkardt with another opportunity in front of goal. The youngster's attempt to bend one might have been successful if he were a bit more experienced. Da Costa, Mwene, and St. Juste all took their turn shutting down Frankfurt combos in the next three minutes.

Jovic flashed over in the 35th. Kamada did a shockingly poor job picking out the last pass in the 36th. Hrustic contributed his own off-target effort in the same minute. Just when it appeared as if the hosts were going to completely bore everyone for the duration of the half, Silva suddenly broke free in the 37th. St. Juste stopped the Portuguese striker with a marvelous precision crunch tackle. The acceleration with which FSV's Dutch prodigy caught up with Silva on the break was equally as impressive.

That particular play remains well worth a look for those who appreciate monster tackles. St. Juste possesses amazing pace. Those are the kinds of skills that Leverkusen are prepared to shell out serious bank for. There was more great defending on display from Kohr in the 40th and Alexander Hack in the 41st. Both Mainz defenders put the kosh on Silva. A driver switch of play for Kostic got well cut out by da Costa in the 42nd.

Everything slowed to a crawl as all actors on both teams began to feel the effects of the heat again. Dr. Brych kept the whistle in his pocket as there was no need to call for a water break so close to halftime. Nothing apart from an offensive half-chance for da Costa at 45+1 took place before it was time to head into the tunnel.

Match Flow: 46th to 61st minute

Action didn't exactly pick up after the restart. Svensson's men kept their defensive spacing inch perfect. The outcome of the match appeared in little doubt for a long stretch of time. Da costa stymied Kostic again in the 47th. Burkardt, Quaison, and Onisiwo engineered the first attacking chance of the half shortly thereafter. Hasebe's nightmare day carried on with a bad ball loss to Burkardt in the 51st.

Nothing much transpired in the next ten minutes. Hütter's Adler kept trying centralized attacks, yet ran into a compact wall of Pfälzer protectors every time. Burkardt and da Costa flaunted some nifty moves in the 54th and 59th respectively. The Mainzer attack nevertheless didn't generate any dazzling opportunities. Jean-Paul Boetius came on for Quaison on a like-for-like in the the 56th.

Hütter had been readying a double substitution as the hour mark neared. This turned into a "pen's out" triple change when defender Tuta signaled that he couldn't continue in the 61st. The Rheinhessen would operate with a pseudo man advantage whilst the Frankfurt bench organized the subs.

Match Flow: 61st to 72nd minute

One can't accuse Svensson's XI of not being motivated enough to go for the jugular. They pressed forward in the three minutes it took for Eintracht to execute the change. Kohr saw an effort unluckily blocked in the 63rd, then couldn't quite find the right touch on a Mwene cross moments later. Boetius also found himself free in space before the ball went out into touch.

Stefan Ilsanker, Timothy Chandler, and Amin Younes relieved Sow, Durm, and the injured Tuta. It was at this point that Hütter finally altered the shape, though certainly not in the most readily anticipated manner.

Lineup—Eintracht Frankfurt—66th minute (3-1-4-2)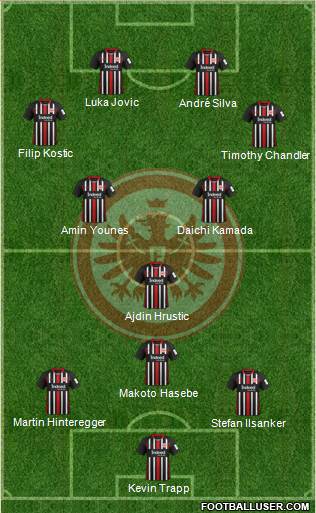 This was actually the most creative thing we witnessed from Frankfurt all afternoon. It came not from the field, but the bench. Hrustic slid back to serve as the lone holding midfielder on his own independent axis. Kamada also felt assuaged of some pressure back working with Younes. Chandler and Kostic both pushed up and, after some time, proceeded to impact play positively.

Before the SGE could get themselves sorted out, Boetius railed off enough long run in the 67. Leandro Barreiro followed up a brilliant defensive tackle on Younes in 68th with some nice work forward in the 69th. The Luxembourg talent did everything right save the finish, which he screwed wide. Chandler got his team moving forward with a great run in the 70th. The cross from the right looked aimed at Kostic, but Younes before it could reach him.

Chandler's axial counterpart voiced his displeasure at this and one feared the crew might descend into infighting. Younes, Chandler, and Kostic argued a bit while Hütter completed the refresh of his third axis by introducing Steven Zuber for Kamada in the 71st. Referee Brych decided that he would pack another hydration break in after the substitution.

Match Flow: 72nd to 84th minute

The drinks pause gave the SGE actors a chance to calm down. It was nevertheless Mainz who emerged from the intermission stronger. Hrustic couldn't quite reach either Kostic or Chandler with over-the-top balls in the 73rd and 74th. Onisiwo had only the keeper to beat after another Hasebe error in the 76th. Keeper Trapp, ice-veined one must say, waited until precisely the right moment to rush out and cut down the striker's angle.

Should Frankfurt end up qualifying for the Champions' League this year, Trapp's brilliant save may end up being a season-defining moment. Oniswo had game, set, and match on his toe. Were it not for this exquisite piece of net-minding, we'd be discussing a different result. The action ended up being Onisiwo's last involvement of the game. He exited along with Burkardt in favor of Levin Öztunali and Robert Glatzel in the 77th.

Interestingly, Svensson maintained the 3-4-3. There would be no tactical alterations on this day. One should really commend Svensson for this as it was absolutely the right (non) move. Öztunali stayed forward with the three-striker set. Rotations were allowed so long as everyone kept the underlying shape in tact. Such directives are commonly the hallmark of trainer well aware of his team's strengths.

Simple yet supple works when the players understand and buy in. With a superbly regulated work ethic, the Pfälzer continued to grind their opponents down. Niakhaté disrupted a cross meant for Chandler with an awe-inspiring aerial win in the 80th. Mwene fought Chandler to a draw one minute later. Da Costa and Hack ensured that an Zuber unlock for Chandler would take too long in the 83rd.

It really did appear as if the carnival city club would snatch all three points. Out of nowhere, a late flukish goal enabled Frankfurt to salvage the draw.

Match Flow: 84th minute to full-time

Hrustic rushed up to put himself into position to collect a Younes pull back in the 85th. The tame effort was blocked and the Australian found himself very lucky to have the ball bounce back to him. We'll label the equalizer "flukish", but in truth there wasn't much serendipitous about Hrustic's finish. The barely used summer transfer stuck a leg out to direct a solid effort in whilst he was on the ground.

Along with St. Juste's tackle and Trapp's save, the 24-year-old's 85th-minute goal constitutes the third sensational highlight from this match that everyone should check out. Chandler, Zuber, Kostic, and Silva all came close to delivering Eintracht the victory after this late goal turned the flow of the fixture it's head. Silva came the closest on the turn at 90+1. His shot whizzed millimeters wide.

On the one hand, a draw feels like a dreadfully unfair result in this case. Had Trapp not come up with the goods in the 76th, Mainz would be celebrating (based on goal differential) a virtual clinch of full survival. Everything was breaking the way of the Rheinhessen until the late momentum swing. The lone point earned after the 1-1 result merely guarantees that the Pfälzer, at worst, will contest the relegation playoff.

That accomplishment, diminished as its may be, still counts as meritorious enough to devote a large section of this column to. We'll engage in some repetition for those who like to skim. Consider once again what Svensson has done with this team. Seven points at the halfway point of the season. Seven points at the halfway point of the season? YES! Seven points at the halfway point of the season. Wow.

One really wants to declare it time to pop the champagne corks in the eastern corner of the Palatinate. Mainz looks survive for an incredible 12th straight Bundesliga season. Such a shame that this couldn't be officially confirmed today. Any premature celebrations need to be put on hold as the Nullfünfter still need to play Dortmund and Wolfsburg in the final two rounds. Yikes. Oh well. Avoiding automatic relegation remains quite the feat.

Concluding Thoughts: The next Bundesliga

With only two rounds remaining, it's definitely time to make some promotion/relegation forecasts across all three of Germany's professional footballing divisions. This particular Bundesliga draws to a close. Come autumn, we'll be discussing a different Bundesliga. To label the European footballing system a "season" isn't strictly accurate as a slightly different set of teams comprises the next field. That's why a franchise model will never work on the continent.

Ermmm...there's just one problem. When one takes into account what the Bundesliga will look like during the next campaign, Germany's second footballing flight looks to be the far more intriguing division. The next "real" Bundesliga may be the 2. Bundesliga. Developments in all three footballing tiers converge to make this so.

Historic clubs Schalke and Köln look set for automatic relegation. In the 2. Bundesliga, VfL Bochum and SpVgg Greuther Fürth are the two strongest teams. Bochum is a town that diehard Bundesliga historians of the "1848" controversy and the "un-relegatable" years will appreciate. Fürth would be worth more in a division with Nürnberg. Some Americans might tune in to see what Julian Green's been up to, but a lot of Germans will tune out.

Meanwhile, in the 3. Bundesliga, the richly supported clubs of Dynamo Dresden and Hansa Rostock are set for promotion. The 2. Bundesliga gets four larger markets pumped into from both above and below while it cedes four smaller market organizations to other divisions. This is quite something. It may turn out to be the best 2. Bundesliga ever! Hamburg, Karlsruhe, Hannover, St. Pauli, Düsseldorf, Nürnberg, and Aue are all still there for rivalries.

If Werder Bremen ends up getting relegated and 1860 München attains promotion out of the third flight....alright enough. We'll get to the picks.

3. Bundesliga 

1) Dynamo Dresden (automatic promotion to 2. Bundesliga)

2) Hansa Rostock (automatic promotion to 2. Bundesliga)

3) 1860 München (promotion to 2. Bundesliga via playoffs)

17) SV Meppen (automatic relegation to Regionalliga)

18) KFC Uerdingen 05 (automatic relegation to Regionalliga)

19) VfB Lübeck (automatic relegation to Regionalliga)

20) SpVgg Unterhaching (already relegated to Regionalliga)

2. Bundesliga 

1) VfL Bochum (automatic promotion to the Bundesliga)

2) SpVgg Greuther Fürth (automatic promotion to the Bundesliga)

3) Holstein Kiel (remains in 2. Bundesliga via playoffs)

16) SV Sandhausen (relegated to 3. Bundesliga via playoffs)

17) Eintracht Braunschweig (automatic relegation to 3. Bundesliga)

18) Würzburger Kickers (already relegated to 3. Bundesliga)

German Bundesliga

16) Armenia Bielefeld (remains in the Bundesliga via playoffs)

17) FC Köln (automatic relegation to 2. Bundesliga)

18) FC Schalke 04 (already relegated to 2. Bundesliga)

Thanks to all those who have read some part of this column this season! You can now catch Peter at his new home on twitter. DMs open. @ViceytheSS



Related stories