Bundesliga Fan Updates:
Köln and Bochum attain separation from incidence rate
By Peter Weis @PeterVicey
During 2021/22 German Bundesliga's second round this weekend, the other nine clubs in the German top flight will get an opportunity to welcome live fans back through their turnstiles. 

VfL Bochum prepares to host its first home Bundesliga game in over 11 years on Saturday at the Castroper Sport Platz. The club confirmed it had obtained full authority from the city to disregard the local incidence rate at host a half-capacity crowd of 13,500 spectators. 

Meanwhile, another development concerning the local incidence rate saw 1. FC Köln receive a similar dispensation.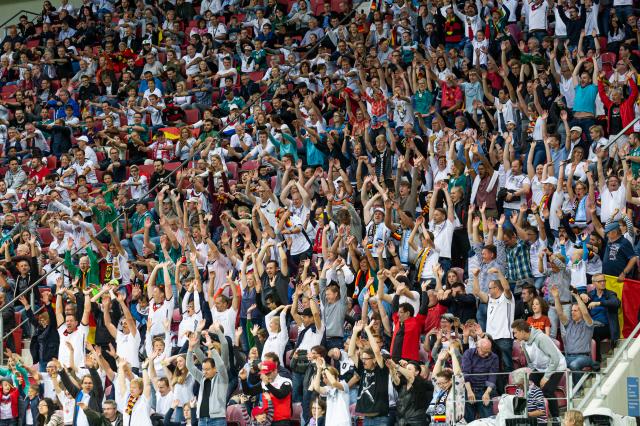 Photo: Steffen Prößdorf, CC BY-SA 4.0

In the debate over whether the so-called RKI stabilizer will be used to regulate large-scale open-air public events in Germany this autumn, two more dominoes officially fell on Wednesday. While there have been some hiccups along the way, it does appear as if reduced gatherings in Germany's sports stadia will be allowed to take place even if the local incidence rate exceeds that of a weekly average of 35 per 100,000 individuals.


Despite the fact that infection rates are on the rise in some districts of the Bundesrepublik--including very high rates in the densely populated football mad state of Nordrhein-westfalen--clubs are asking for and receiving permission from their local municipalities to operate at the federally permitted 50-percent-capacity (capped at 25,000) level.

In Bochum, the VfL 1848 received permission to place 13,500 tickets on sale even though the incident rate currently sits at 79.6 and has been on the rise. The club confirmed this information at the request of German journalist Oliver Bitter of footballing magazine Kicker. The 1848ers host FSV Mainz 05 in one of the Saturday 15:30s.

There was also news out of Köln, where the incidence rate hovers around 90 per 100,000. Die Geißböcke were not allowed to plan for the full allotment of 25,000 fans when hosting Hertha last weekend because of the incidence rate. Instead, the club was only allow to sell 16,500 tickets. The match did sell out.

The handler of club mascot Hennes IX was also permitted to lead the local icon back into the stadium for the first time since March 2020.


🐐 Hennes IX. ist auch wieder da! 😍
___#KOEBSC #effzeh pic.twitter.com/J2PGbUkJ5k

— 1. FC Köln (@fckoeln) August 15, 2021



Club manager Alexander Wehrle also confirmed to Kicker that 1. FC Köln had received approval for 25,000 fans during their next home fixture against Bochum on August 28th. Adminstrator Wehrle, second perhaps only to FC Union president Dirk Zingler in his vocal opposition to the use of the incidence rate, also reaffirmed that he wished to use his club's strict entry regulations to lead the way to even larger crowds across the Bundesrepublik.

"With the '2G concept', we want 50,000 fans," Wehrle has reiterated many times in recent days.

To clarify, the current "3G concept" most Bundesliga clubs are using refers to three entry requirements.

"Geimpft" (vaccinated), "Genesen" (recovered), "Getestet" (tested)

The final "G" presently allows a small portion non-vaccinated-or-recovered fans to attend football matches if they are tested at the gate. Wehrle wishes to dispense with the final "G" and move towards only letting spectators with proof of vaccination or recovery in.

It remains to be seen at pace Europe's historically best-attended football league will recover its live supporters. After 18 months of being excluded, some may be hesitant to return. This could prove critical to Germany's fan-owned clubs, all of whom are operating under huge financial shortfalls at the moment.

Hesitance may even have some possible ramifications for the future of German football's 50+1 ownership model, reforms of which have promised for some time.

Here at Bulinews, we reported on the full attendance figures for last weekend's opening round as a matter of general interest. We shall continue to do so as the campaign progresses.

Thanks so much for reading! You can occasionally catch Peter on twitter, @ViceytheSS.

Twitter DMs are open for football conversations, corrections, and (if you truly insist) general abuse. 

All columns debut on Bulinews before appearing on Peter's website later in the week.



Related stories