Americans in the Bundesliga:
Reyna with near perfect marks, Paredes struggles in first start
By Peter Weis @PeterVicey
The Bulinews deep-scout column returns with fantastic news for Gio Reyna fans! The youngster referred to as the "American Dream" scored his first league goal in over 14 months during the last Bundesliga matchday.

Reyna receives near perfect marks this time. After checking in with Joe Scally and Jordan Pefok, we'll also assess the work of Kevin Paredes during his first Bundesliga start for VfL Wolfsburg. There is a wide range of grades this time.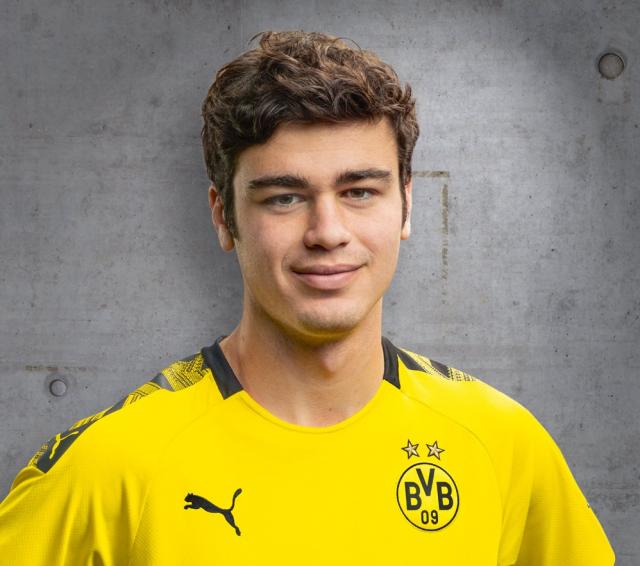 | | |
| --- | --- |
| Giovanni Reyna. | Photo: Borussia Dortmund |
Our weekly check in with the American footballers active in Germany's top footballing flight features four graded sections this time around. As presaged in the previous column, both Giovanni Reyna and Kevin Paredes started for their teams in the most recent Bundesliga round. Their respective grades could not have been more different, however.


Gio came in a shade under perfect while Paredes was just a hair above failing. We'll also check in with the other two regulars, both of whom turned in slightly below average performances. Joe Scally and Jordan Pefok found themselves on the losing end of their respective contests and didn't have the greatest day at the office.

Giovanni Reyna, Borussia Dortmund

Minutes played = 66/90, Positions played = LW

Grade = A

The 4-2-3-1 utilized by Edin Terzic this past weekend carried over to last night's Champions' League draw with Manchester City. This column doesn't assess UCL fixtures, but it will be noted that Gio looked confident and fit in his Tuesday deployment. The American youngster even came close to netting a goal late in the first-half. Reyna did tally in the league this past weekend, much to the delight of German football enthusiasts everywhere.

Lineup—Borussia Dortmund—Match 11 (4-2-3-1)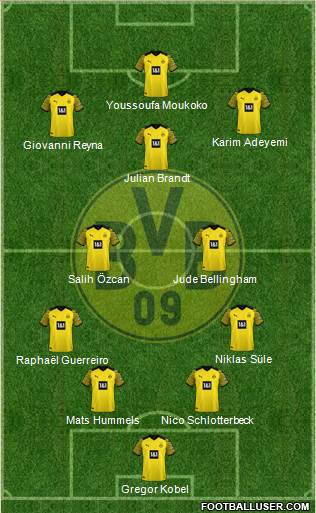 Dortmund are an immensely stronger team with a healthy Gio in the XI. Much of the talk surrounding last year's disappointing campaign centers around defensive woes, mentality issues, and injuries. Reyna's nightmare season of recurrent injures played a very significant role in the BVB's failure to make a legitimate title push. The sight of Gio commemorate his first Bundesliga goal in over nearly 14 months proved a poignant moment for those of us who had to watch him disappear down the tunnel in tears twice after re-injuring himself twice last season.

Reyna's goal, in the 44th minute over the 5-0 rout over Stuttgart, wasn't anything particularly spectacular. Salih Özcan set him up in front of an open goal and the "American Dream" breezily swept home an easy finish. The celebrations that followed were very stirring. Gio collapsed onto the pitch in relief. All of his teammates quickly piled on to show their support. As it should be. A "hug festival" for the adversity-laden young talent. The columnist highly recommends that everyone take a look.

There's plenty more great stuff for Gio fans to check out for those with access to the tape. One can watch him execute a sublime touch in the lead up to Jude Bellingham's goal in the 2nd. One can also find two very nice wins outside the box just prior to Bellingham's second goal in the 53rd. Two minutes after that, there's an awesome set-up on an effort by Youssoufa Moukoko that got cleared off the line. Reyna should have definitely registered an assist there.

More fantastic work on the ball came in the 12th, 15th, 17th, 20th, 21st, 33rd, 40th, 48th, 50th, 60th, and 64th. Some imperfections to report. Challenges in the 4th, 6th, 27th, 29th, 43rd, 56th could have been better. Reyna won a little less than half of his direct duels. His other shot on target (40th) was a little weak and a few touches/passes later on (51st, 52nd, 62nd, 64th) fell prey to sloppiness. We won't accord Gio perfect marks this time, but he was pretty damn close.

Dortmund genuinely are a different team with this phenom on the pitch.

Jordan Siebatcheu, 1. FC Union Berlin

Minutes played = 66/90, Positions played = CF

Grade = C-

A dispiriting day for the Köpenickers as Urs Fischer's men saw their points gap at the top shrink significantly following a loss to last-placed VfL Bochum. The tactics column contains a brief discussion of how this improbable result came to pass. The manner in which the 1848ers so thoroughly clipped Union's game actually makes it rather difficult to grade Jordan's work on the day. Union's American lead-striker only got 19 touches on the ball. It was hardly his fault that the link-up play behind him was so broken and feeble.

One could say that 26-year-old might have dropped back more often. When he did work downfield to hold balls up (36th, 38th, 47th, 49th), he was able to spark a few useful counters. On the rare occasions when the FCU rear axes sent him some useful deliveries, there were excellent flicks-on in the the 4th, 16th, and 41st. Unfortunately, this wasn't a great day for him in the air. Losses came in the 11th, 32nd, 33rd, 35th, 39th, 45+1 and 52nd. Poorly timed runs, surely related to the short injury layoff, are also on display in the 18th, 23rd 26th, 54th, and 55th.

The D.C. native did manage some decent work outside the box in the 8th, 22nd, 38th, and 60th. He guided a nifty snapshot on target in the 37th. A few suspect touches in the 5th, 31st, 32nd, and 62nd led to ball losses. All of this notwithstanding, both Jordan and attacking partner Sheraldo Becker found themselves fairly thoroughly taken out of the game by a brave cohort of Bochum actors who broke up play in midfield. A slightly below average grade seems in order. To dock our subject here down to "D-Level" simply isn't fair to him on a short shift.

Joe Scally, Borussia Mönchengladbach

Minutes played = 90/90, Positions played = RB

Grade = D+

BMG trainer Daniel Farke seriously needs to rethink his tactics after his, for some time, regular 4-2-3-1 (with Christoph Kramer reinserted) produced another dud against Eintracht Frankfurt this weekend. No one in Gladbach's back-four played particularly well, though Scally was definitely a cut above Nico Elvedi and Marvin Friedrich. The entire quartet needs to re-drill their track-back strategy. The American subject here was nowhere to be found on both Jesper Lindstrøm's goals. Everyone failed on the mark during Eric Junior Ebimbe's set-piece tally.

Other poor tracks (luckily) not resulting in goals occurred in the 8th, 44th, 47th, and 63rd. Very weak marks took place in the 10th, 18th, 26th, 34th, 48th, and 50th. Confidence was certainly lacking on touches in the 5th, 12th, 24th, 35th, 51st, 61st, and 88th. Turnovers resulted from the last three instances. A scene in the 21st during which he "pump-faked" six times on a turnover made one wince. At least there was some good defensive work and ball-secure touches on display in the 2nd, 17th, 38th, 43rd, 50th, 56th, and 89th.

One witnessed some decent offensive play from the Long Island native in the latest fixture. Regrettably, a lot of it (53rd, 59th, 69th, 71st, 76th, and 88th) materialized long after the game had been decided and Eintracht laid off on the press. Scally did work some nice balls forward when matters were still competitive in the 23rd, 30th, 31st, 36th, and 41st. On balance, however, the teenage talent needs to be marked well below average this time. There's plenty to be concerned about when it comes to this recent form dip. Hopefully, he can find a way back.

Kevin Paredes, VfL Wolfsburg

Minutes played = 73/90, Positions played = RW

Grade = D-

German press sources generally took it a slight bit little easier on the Virginia native. This columnist most certainly wishes he could as it's been an absolute joy watching him add some really uplifting spark and flair off the bench in recent weeks. Hopes were certainly high when VfL trainer Niko Kovac dropped the news that the 19-year-old would be getting his chance. Sadly, this observer can't discount the upsetting evidence. It did not go well.

About the only thing keeping Paredes off failing level is Kovac's tactical deployment against Leverkusen. The regular 4-1-4-1 undoubtably became a 5-4-1 with captain Maximilian Arnold sliding in at sweeper. One can understand the need for more defensive stability from the VfL gaffer, but the lack of rotation between Paredes and Jaukub Kaminiski was practically non-existent. One assumes that Kovac ordered this as part of his "stable backbone" package as well.

Lineup—VfL Wolfsburg—Match 11 (5-4-1)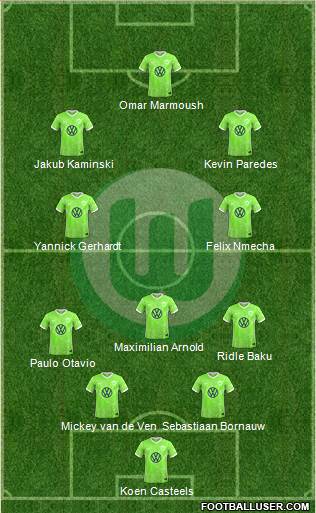 Paredes seemed (at best) shy and (at worst) jittery off the ball in the 3rd, 6th, 13th, 18th, 33rd, 48th, and 63rd. He seemed extremely reluctant to get a challenge in when there were several opportunities to do so. Attempts to break up play when the ball was played past him were totally subpar. This had a bit of a sad dovetail with some skittish defensive work and ball losses of his own in the 11th, 16th, 31st, 32nd, 45+1, and 63rd.

Some deplorably poor touches on attacking sequences, many of them inside the box, can be found in the 7th, 14th, 19th, 23rd, 27th, and 37th. Note that all of this took place early and can be attributed to the nervousness associated with his first Bundesliga start. He did settle down a bit to furnish some average work on the ball in the 38th, 42nd, 52nd, 62nd, and 67th. Nothing terribly spectacular, but at least suitable enough for the level.

With a duel rate well below one-third, five stray passes, and a whole plethora of nervy notables, it's likely highly doubtful that this American will get another start soon. One should definitely still keep an eye on him later in games. Kovac will continue to throw him on as a wild card late in matches and he could score his first Bundesliga goal before we arrive at the World Cup break. There shall be several significantly better days at the office for this young lad.

Thanks so much for reading! You can occasionally catch Peter goofing off while watching non-Bundesliga football on twitter, @ViceytheSS.

Twitter DMs are open for football conversations, corrections, and (if you truly insist) general abuse. 

All columns debut on Bulinews before appearing on Peter's website as the season progresses.



Related stories