Germans abroad:
Champions League and Europa League round-up
By Rafael Garrido Reinoso @RGarrido2210
7 Germans playing abroad jumped into action between the UCL and UEL Quarter-finals; Most of them did good, but it wasn't a great week for the centre-backs.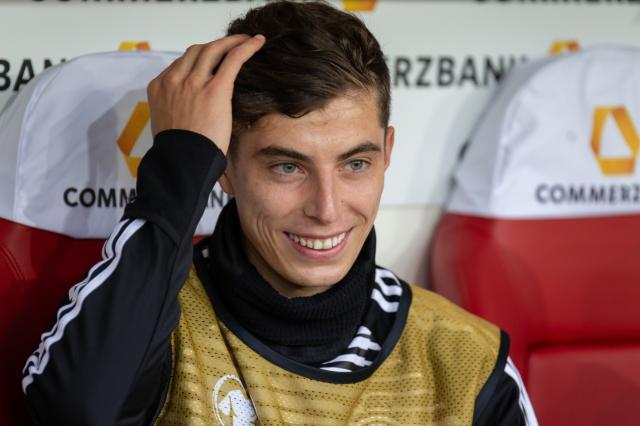 | | |
| --- | --- |
| Kai Havertz. | Photo: Steffen Prößdorf, CC BY-SA 4.0 |
CHAMPIONS LEAGUE

Toni Kroos
Chelsea 1-3 Real Madrid


• 70 minutes
• Great game, Chelsea demanded an unusual physical effort from him
• Key with the ball and without it

Toni Kroos stepped up great against Chelsea, adapting perfectly to what the game demanded despite being the type of match that makes the midfielder from Greifswald uncomfortable.

Kroos, as the whole squad, plays in another gear when it comes to the Champions League. The midfielder was his usual self when it came to having the ball at his feet, but it was his positioning without the ball that was key to Madrid's functioning.

On offense, Kroos moved into a deeper position than usual, almost as a left-back; this allowed Mendy to push forward and take Reece James with him, Casemiro and the two center-backs took the marking of all three Chelsea forwards, leaving Kroos completely by himself as Kante and Jorginho were too far back to press.


In defense, the order was to press high all on Chelsea's right side, with Vinicius and Mendy helping Kroos press Reece James, Kante, and Christensen; some Spanish on-field reporters even said they could hear Ancelotti talk to Kroos and Vinicius about it.

Antonio Rüdiger
Chelsea 1-3 Real Madrid

• 90 minutes
• Regular/bad game, made individual errors
• Booked on the 18th minute
• Suffered with Benzema

The highly wanted center-back did not have the best game, having to battle with Karim Benzema really made Rüdiger suffer.

Acting as a left centre-back in the line of three, you could make a case he did not do enough to close down Benzema before the first goal. Then the disaster came with the third goal. Even though Mendy passed the ball short, the German centre-back was soft in the 50/50 situation with Benzema, allowing the Frenchman to take the ball and score.

Rüdiger was also booked in the 18th minute and completed the game without any clearances, tackles or blocked shots.

Kai Havertz
Chelsea 1-3 Real Madrid

• Was Chelsea's best player and the goalscorer
• 90 minutes
• Trapped in the defensive triangle made by Casemiro, Militao, and Alaba
• Good movements with and without the ball

Havertz arguably put in Chelsea's only salvable performance; the 22-year-old did not stop looking for options, trying to move in the half-spaces behind the midfield, but the German was very well covered by Madrid's defensive scheme. He didn't receive much help from Mount and Pulisic up front.

The few times he was able to receive in an advantageous position, he was able to produce some kind of danger, linking with passes or dribbling.

Just before the half-time Havertz was able to run in behind Dani Carvajal's back and finished a great pass from Jorginho with a header that Courtois almost saved, making the game 1-2.

In the second half, he kept going, moving a bit wider once Lukaku entered the pitch, but did get too many chances.

Ilkay Gundogan
Manchester City 1-0 Atletico de Madrid

•68 minutes
•Atletico defended with all 11 men
•Normal game by Gundogan as a product of Atletico's strategy

Die Mannschaft's starting midfielder had a regular but interesting game against Diego Simeone's Atletico de Madrid.

Manchester City spent 90% of the match in Atletico's half of the pitch; the German tried to find spaces within the lines to unlock the ultra-defensive strategy from Simeone.

Gundogan moved around the left side of the pitch, trying to offer a good passing option as well as to pin up one of Atletico's midfielders to allow Bernardo Silva and Sterling to move in behind the lines; trying not to lose the ball in susceptible areas that could start a counterattack from Atletico.

The midfielder did not have many spaces, either to pass or to occupy them as he tends to do in the channels; his substitution was a tactical adjustment from Guardiola more than a performance-motivated one. His characteristics didn't suit the needs of the City's match.

Julian Weigl
Benfica 1-3 Liverpool

• 90 minutes
• Benfica sat deep trying to eliminate Liverpool's counterattacks and long
passes
• Weigl did very well in the few amounts of time Benfica had the possession

The ex-BVB midfielder completed a good match with Benfica against Jurgen Klopp's Liverpool, despite Benfica playing most of the game in a low block strategy that does not fit well with Weigl's traits.

Sitting on defense on a 4-4-2 that looked at times a 5-3-2 or a 4-5-1, as both wingers had the task to follow Liverpool's fullbacks; Weigl played next to Taarabt, acting as the more positional midfielder of the two.

The German was superb with his passing accuracy, holding the possession. Although he could not produce any through balls, he was slow with his reactions on some 50-50 balls and occupied the spaces well defenseively, but was not a determinant factor to avoid Liverpool's threats.

EUROPA LEAGUE

Marc-Andre Ter Stegen
Eintracht Frankfurt 1-1 FC Barcelona

• 90 minutes
• 4 saves
• Faced his main competitor for Die Mannschaft's #2 place in goal, Kevin Trapp

Barcelona's goalkeeper performed well against a very threatening Eintracht Frankfurt.

Ter Stegen was very confident between the posts and with the ball, being precise with his passes; the keeper saved all shots on target except for Ansgar Knauff's incredible strike.

The German keeper was not very demanded throughout the game and the shots saved were not really hard. However, he was there and pulled them off perfectly.

Jerome Boateng
West Ham 1-1 Olympique Lyon

•Slow on the anticipation and defensive transitions
•Role in West Ham's goal
•Subbed-off again (64th minute)

The central defender still cannot improve his recent form after his mistake last weekend that caused Lyon to concede a goal. The ex-Bayern played a role again in the goal that allowed West Ham to get ahead with one man down.

Boateng suffered to make the defensive transitions throughout the game, being slow to either anticipate or the retreat. He also was not very strong on the clearances, as shown in the goal.

First, Boateng dropped too much behind the defensive line and allowed Bowen to be onside, then he didn't control or cleared the ball from the pass/rebound from Fornals, allowing the ball to roll up to Bowen; Boateng tried to block the shot, but the ball deflected of him an into the goal.

He was the centre-back selected to come off for Toko-Ekambi in a formation change to tie the game.



Related stories