VfB execs insist managerial shakeup has nothing to do with Mislintat: "We're still working out the roles."
By Peter Weis @PeterVicey
VfB Stuttgart's unveiling of three former German national team players as new club executives yesterday has nothing to do with recent conflicting reports about the status of the club's chief personnel executive Sven Mislintat. 

This was, at the very least, what was repeatedly stressed by board chairman Alexander Wehrle at yesterday's press conference.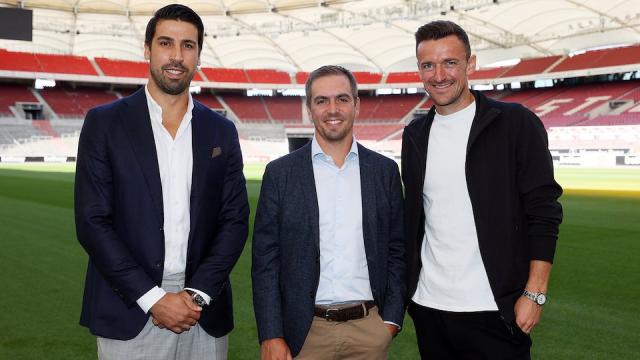 | | |
| --- | --- |
| Philipp Lahm, Sami Khedira, and Christian Genter at their unveiling | VfB Stuttgart |
VfB Stuttgart has three new bosses. In a major public relations coup, new sporting CEO Alexander Wehrle put forward three former German national team players as newly installed employees of the club. Former Stuttgart captain Christian Gentner, still active as a player for FC Luzern, will take office of as the club's new professional licensing director while 2014 World Cup heroes Philipp Lahm and Sami Khedira, at present, receive ill-defined "advisory roles."


The managerial shakeup in Swabia comes at an interesting time. Conflicting reports over the weekend claimed that the Badeners were both considering not renewing current sporting director Sven Mislintat's contract and actively working with him on an extension. Wehrle obviously had to go to great pains to emphasize that these administrative appointments were unrelated to the reports. Mislintat himself attended the introductory presser.

"If Sven thought all this was stupid, he wouldn't be standing back here," Wehrle noted, "All of you can relax a bit."

Club President and Supervisory board chairman Claus Vogt also attended the event. After his rather nasty break up with previous board chairman Thomas Hitzlsperger (also a former German national team player with a VfB past), Vogt certainly needed to emphasize that there was unity among the club's administration.

"This is an expansion of sporting expertise," Vogt noted, "We have a new sense of unity here. We didn't put either our coach or our sporting director up for discussion last year, even when we were [battling relegation] in 17th place. We have a functional sporting [managerial] team."

All of this notwithstanding, Wehrle didn't find it necessary to beat around the bush when pressed on how the contract extensions with Mislintat were going. Even with the former Dortmund and Arsenal exec standing behind him, the former Köln boss acknowledged that there were some tough discussions ahead.


"Naturally, we have a few things to discuss," Wehrle noted with a wry smile, "and I don't consider either one of us to be either easy or pleasant contract negotiators."

For their part, both Khedira and Lahm openly stated that they would "not be making decisions". Khedira took care to stress that he didn't feel himself qualified to be a sporting director at this point in his career, though he expressed the desire to potentially learn the craft in his current appointment.

What precisely Khedira and Lahm will actually be doing remains unclear. It's possible that they could be groomed for future positions with greater responsibilities. Gentler, who will report directly to Mislintat, has certification in the DFL/DFB's sporting director training course.

"We're still working out the roles," Wehrle said, "I'm not going to give you any status updates [on Mislintat]. Sorry to disappoint you. I won't be pressured. We'll make the right decision in the best interests of the VfB. We said we'd wait until after the transfer window closed and that's precisely what we're going to do.



More about Christian Gentner