Köln's meeting with Slovácko postponed as fog descends
By Ultan Corcoran @UltanCorcoran
After a lengthy delay, Köln only took to the field for a handful of minutes before fog badly impaired vision on the pitch resulting in the fixture's cancellation. Elsewhere in Group D, Nice overcame Partizan Belgrade 2-1. That leaves 4 points between Köln and the all-important 1st and 2nd positions in Group D with the resumption of the Slovácko game, and the French outfit still to play.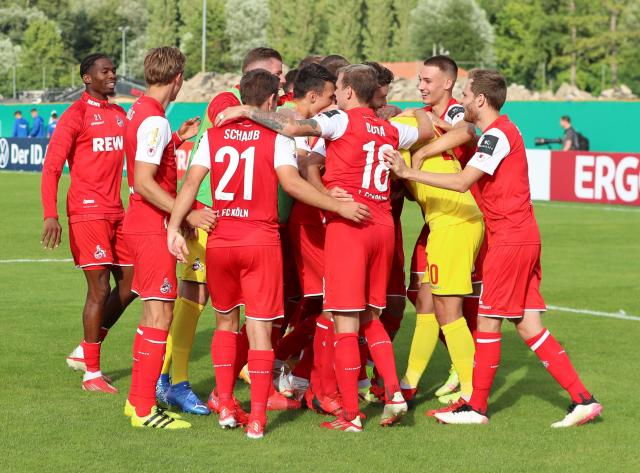 Photo: Sandro Halank, Wikimedia Commons, CC-BY-SA 4.0

Group D in the UEFA Europa Conference League has proved increasingly tight as the four teams lay separated by as many points with two games to play ahead of tonight. FC Köln who sat in 3rd position this evening, knew a big result against Czech outfit Slovácko would be crucial in boosting chances of progression. When the sides last met it was a highly entertaining 4-2 victory for Baumgart's charges – without doubt a huge confidence boost ahead of this evening's rerun. However, the club from the cathedral city were forced to wait before the ball could finally get rolling. Adverse weather conditions in south-east Czech Republic resulted in a 75-minute-long delay.

As the match finally got underway, Kainz's early corner was hooked left of the upright by Dietz with what was the first and only chance of the night. It came without surprise that a minute later referee Kruashvili called a halt to proceedings. The game only 7 minutes young at this stage, as arbiters and UEFA officials held further discussions about persevering through the fog-laden action. While both teams resumed warmups as the wait went on, the Georgian match official eventually called in the respective captains Kadlec and Kainz - Postponement the only option.

As Köln players went over to their fans who made the journey and waited patiently, news broke of a re-scheduled time for the match to be completed. Koln will fulfil their Matchday 5 fixture against Slovacko tomorrow, Friday at 1:00PM (Central European Time). UEFA has stated the game will resume from the 7th minute – the time of postponement from tonight's short lived entertainment.
Related stories