Klos comments on relegation and future: "No tears left in me after last week."
By Peter Weis @PeterVicey
Following DSC Arminia Bielefeld's official relegation back to the third division last night, a much less emotion-driven Fabian Klos conducted various post-match interviews last night. Klos famously went alone to the stands in order to calm down rowdy guest supporters after last Friday's 0-4 defeat away at Wiesbaden. 

When it came time to discuss his personal future with the DSC, the 35-year-old nevertheless made it clear that - even with a a fractured skull and a season in the third division - he would certainly be willing to give it a go for what he termed "my club."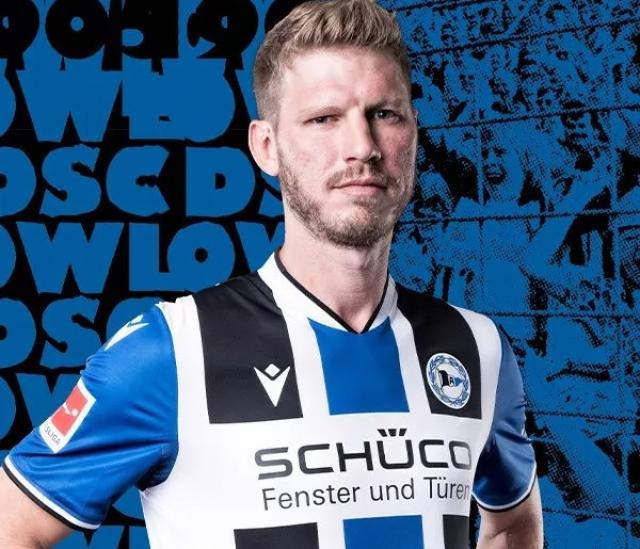 Photo: DSC Arminia Bielefeld

Arminia Bielefeld's relegation from the German second division was effectively confirmed after the first leg of the promotion-relegation playoff last Friday night. The East Westphalians completely imploded in the latter stages if the game against 2. Bundesliga aspirants SV Wehen Wiesbaden.


Thirty-five-year-old club legend Fabian Klos - joined by none of his teammates - went directly to Bielefeld's traveling support section to engage with fans directly following the 0-4 loss. After his dialogue with the "Gäste-Block", Klos returned to the pitch with tears streaming down his face.

Speaking to Sky Germany after the scene, Klos gave an extraordinary post-match interview in which he said that his team had no character and heart. A still emotional and frustrated Klos complained that few on a squad with noticeable quality wanted to play with the team.

Klos was given a chance to help the team pull off an extraordinary comeback when head-coach Uwe Kochinat placed him in the starting XI last night. Klos even gave the hometown fans something to cheer about with the opening goal inside of four minutes.

Unfortunately, Wiesbaden struck back twice before the half was out. Benedict Hollerbach completed a brace to give the visiting Bavarians a 2-1 lead. So the scoreline remained. Klos gave more docile interviews with German broadcasters Ran and ARD afterwards.

"Of course I'm doing better personally," Klos acknowledged in his first pitch-side interview, "After last week, I've no more tears left in me. It hurts, but not as much. I can only hope that next year Bielefeld will field a team of players who are motivated to be here."


Asked whether he would like to be included in the newly rebuilt side - one that has only four players with contracts valid for the 3. Liga - Klos did not hesitate. Klos opted to reverse an initial decision to retire and continue representing the club last summer after their relegation from the Bundesliga despite incurring a potential career-ending head injury that now forces him to permanently don a face-mask on the pitch.

"I hope so," Klos answered when asked if he would be included in the club's future plans, "I'll take my phone with my on vacation. I'm always available to the club. This is my club., I thank the fans for honoring me today, but It's not about me."

Trainer Kochinat, who may or may not remain with the Teutoborgs as they prepare to contest the third division, insisted that he did not wish to "impose himself" on the club. In responding to Klos' outburst from last week, Kochinat called it "a call to arms that came far too late".

Klos has actually played three 3. Liga seasons over the course of his career with the German club that has switched divisions more than any other over the last 25 years. He helped the team get promoted back to the second division with massive 20+ goal hauls during the 2012/13 and 2014/15 campaigns.



More about Fabian Klos
More about Bielefeld