Americans in the Bundesliga:
Matarazzo's Stuttgart heat up ahead of Bayern
By Peter Weis @PeterVicey
Our weekly look at American's earning their living in Germany's top flight has plenty of solid work to report upon.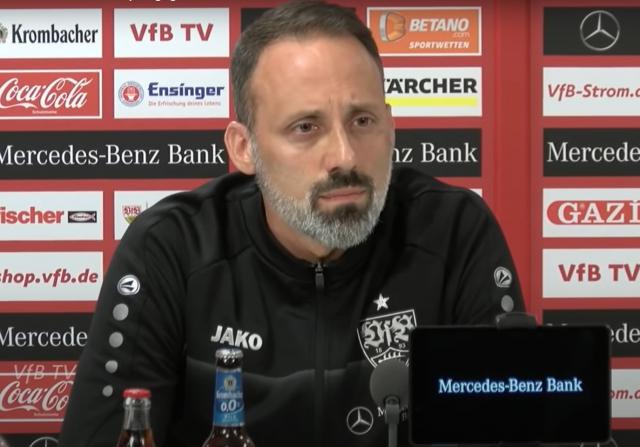 Four US internationals logged pitch time in the 2020/21 German Bundesliga's eighth round. Three saw enough action to merit graded sections. BVB trainer Lucien Favre opted to save Giovanni Reyna for the Wednesday UCL encounter against Brugge. The 18-year-old played only 14 minutes against Hertha.


In terms of the players and coach receiving graded sections in this column, no one actually dropped below "B-Level". Stuttgart's trainer leads the pack with a truly impressive sculpt of his team.

Pellegrino Matarazzo, VfB Stuttgart

Grade = A+

It's been some time since the Bundesliga's American trainer received perfect marks. The matchday four victory over Hertha BSC constituted his last major managerial accomplishment. In the three draws that followed, one sensed that he allowed legitimate opportunities slip through his grasp.

We've another draw to discuss here. As it so happens, the 3-3 standoff against his former club of Hoffenheim was simply a fantastic football match. Bold moves and consistently high level of play demonstrated that the American coach made excellent use of the international break. His team displayed all the hallmarks of a squad worked exceedingly hard on the training pitch.

The insanely packed footballing calendar means that not even the diehards can find time for mid-week re-watches. Such a reality makes paying homage to this soon-to-be forgotten gem in print all the more important.

Lineup—VfB Stuttgart—Match Eight (3-3-4)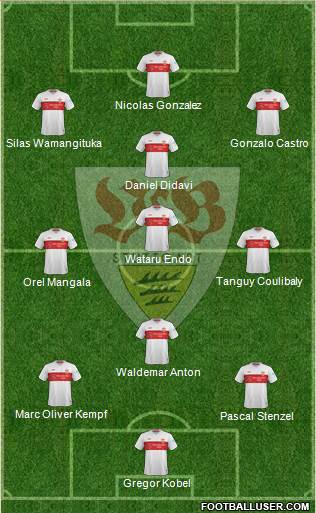 Quite a few interesting things going on here. Matarazzo stuck with his basic 3-3-4, yet moved some pieces around in an innovative manner. Silas Wamagituka moved over to the left wing. One certainly anticipated that Tanguy Coulibaly would work as his wide axial partner. After about fifteen minutes, however, it became apparent that his real deployment was on the third midfield axis. Captain Gonzalo Castro assumed the role; part of a four man press designed to unlock Sebastian Hoeneß's 4-2-2-2.

The fixture supplied its share of fun for "Wataru Endo watchers". The 27-year-old Japanese international moved about in his trademark manner. He again proved difficult to place gallivanting around as if he a had a personal vendetta against every blade of grass on the pitch. The strategy ultimately manifesting itself revealed him to be a "shadow ten" of sorts, responsible for pressing all the way to the edge of the box ahead of every attempted clearance.

Daniel Didavi returned to the starting XI to serve as the actual ten. Waldemar Anton reprised his pivot runner role in back-three deftly spaced to keep the offense constantly pushing on with pressure and pace. One can see just how well drawn up this was by watching the initial 12 minutes of the match. The Badeners put on an exemplary passing clinic. Super sharp execution will leave any observer agog at how brilliantly it worked.

The Swabians dominated the opening quarter of a hour. Some of Endo's best work can be found between the 13th and 15th. Less than a minute after Didavi missed an almost perfect chance to put his team ahead, Christoph Baumgartner scored at the other end against the run of play. Matarazzo's men stormed right back the other. Nicolas Gonzalez drew the Badeners level in the 17th.

Insanely slick solo dribbling preceded his magnificent finish. It was nevertheless Wamnagituka who got the ball into the box with some marvelously clever tricks and Endo who kept the play alive with a stunning win of the ball just outside the 18. The Stuttgart onslaught continued with more preposterously good possession play between the 18th and 22nd.

As Hoffenheim grew into the game a bit, Matarazzo's troops also showed how well trained they were in the defensive arts. In particular, a pair of set-piece situations around the 23rd illustrated that the coach had them studying tape. By the 26th, the VfB beast was back in their attacking third landing a flurry of punches impossible to keep up with. Jabs, straights, upper-cuts. No minute-by-minute writer will have recorded them all.

The 27th minute go-ahead-goal might be the best team-tally of the young season. Thirteen touches by seven players came before Gonzalez kicked back for Didavi, then went from zero to sixty as he started his own inside run. Didavi returned the ball, Gonzalez headed onto the bar, Wamangituka then belted the rebound onto the near post before finishing on the ricochet back. Gorgeous sequence. Any viewer will want to watch it over and over again.

Gonzalez's subsequent injury did slow matters down somewhat, but the VfB were already back in their four-man press by the 34th. Sometimes Coulibaly would join to make it five on the charge. On other occasions, Managala rushed up as the fifth man. Endo won another six midfield balls before the half was out. Wamangituka shone from nearly every wide area on the left. The hosting Kraichgauer contributed their own nice aesthetics near the end of the half, but Coulibaly managed to snuff out their attacks from his much deeper position.

A slight lapse from Coulibaly enabled Hoffenheim to equalize three minutes after the re-start. The 19-year-old Frenchman committed too far forward, enabling Andrej Kramaric to spring Ryan Sessegnon for his first Bundesliga goal. It's completely forgivable that the winger found bound by the muscle memory of his normal position. Within a couple of minutes he was even making the most of his innate offensive instincts in a fabulous combo with Castro in the right.

After some more radiance from Endo and Wamangituka, Hoeneß's squad finally started to exert some control over the match in the 55th. Matarazzo's basic shape still held remarkably well, but Hoffenheim were able to stretch the players just enough to render them a little less competitive on aerial duels. The American trainer employed a double substitution in the 59th. Borna Sosa and Matteo Klimowicz came on for Didavi and Sosa. Both changes were like-for-like.

The flow continues to tilt ever so slightly in favor of the hosts. Stuttgart could have been a little braver on the ball and some disciplinary breakdowns in the midfield accorded their opponents a little too much space on the overlap. Kramaric had himself in high gear by the hour mark, forcing Sosa and Stenzel to scramble away some dangerous balls. Waldemar Anton hauled down Florian Grillitsch in the box after a great Kramaric through ball in the 70th. The Croatian converted the penalty to put the Sinsheimers in front.

Matarazzo need to make some moves in order to further contest the fixture. While his changes weren't directly related to Marc Oliver Kempf's equalizer at 90+3, the trainer does deserve credit for trying something audaciously unique.

Lineup—VfB Stuttgart—76th minute (4-5-1)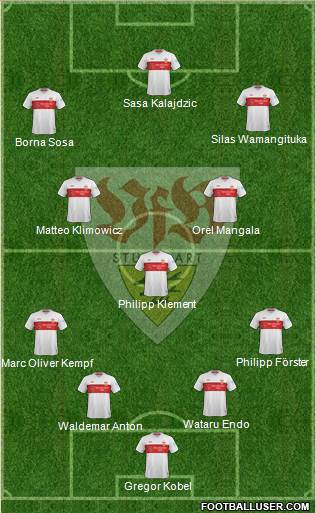 One hasn't seen Matarazzo use a traditional back four yet this season. The surprise definitely did its job, throwing Hoeneß and Hoffenheim off for the duration of the match. Indefatigable Endo responded very well as the center-half responsible for back builds. Switching Wamangituka over to the right led to several quality chances for both wingers. Philipp Klement, himself in a more predictable role as the midfield link-up man, ensured that the final minutes belonged exclusively to die Schwaben.

This writer considers Stuttgart's performance by far the most engaging of any Bundesliga side's from this weekend. Erling Haaland's four tallies stole the headlines, but they truly didn't hold a candle to an overall team performance that might be unrivaled this season. In tribute to how well all those in white tricot played, we'll grade all fifteen pitch players who factored in.

Grades—VfB Stuttgart—Match Eight
| | |
| --- | --- |
| Nicolas Gonzalez | A+ |
| Silas Wamangituka | A+ |
| Wataru Endo | A+ |
| Gonzalo Castro | A |
| Orel Mangala | A |
| Daniel Didavi | A |
| Philipp Klement | A |
| Tanguy Coulibaly | A- |
| Borna Sosa | B+ |
| Marc Oliver Kempf | B |
| Pascal Stenzel | B |
| Sasa Kalajdzic | B- |
| Gregor Kobel | B- |
| Sasa Kalajdzic | C+ |
| Waldemar Anton | C |

American-style grades for a side led by an American trainer. Had it not been for the tactical foul, Anton might have been graded higher. Sasa Kalajdzic looked somewhat unprepared to relieve Gonzalez, but otherwise there was not a C-Level player on the pitch.

Stuttgart should definitely be considered a hot commodity again after this performance. Some may even wish to consider them for the upset tip against Bayern next weekend.

Josh Sargent, SV Weder Bremen

Minutes played = 90/90, Positions played = LS

Grade = A-

A very stellar match from this American. Despite playing in one of the most conservative constellations a coach can build, the Missouri marvel got three quality chances on goal and earned an assist on his squad's lone tally.

Florian Kohfeldt benefitted from an early injury to Bayern's Lucas Hernandez, but still confronted the German giants with an apt set-up.

Lineup—SV Werder Bremen—Match Eight (5-4-1)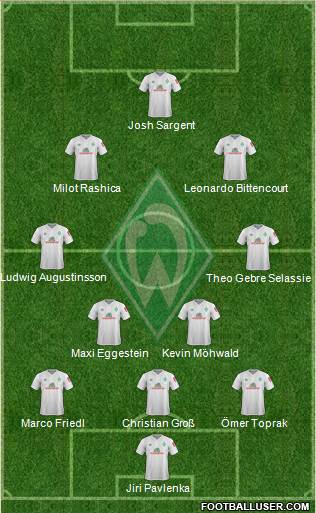 Some attention is given to this construct in the tactics column. Positioning a full seven players at or behind the halfway line it remains one of the only ways one can hope to give oneself a chance against the Bayern behemoth. Interestingly enough, the Bremen attack didn't completely cease to exist in this approach. On the contrary, the Hanseaten somehow managed to win the xG battle.

Sargent found himself robbed of a goal by Manuel Neuer in the 16th. Germany's #1 backstop was at his best to deny the American striker on a threatening rebound. Counterattacks in the 21st and 26th lacked the final menace, but the 20-year-old got solid touches in on both. He took a little too long to make a decision on a 34th minute assault, though Jerome Boateng's recovery proved more influential on the broken chance.

The first half featured confident runs from Sargent on both the right and left. The best example of the former came in the 16th. He would tear through on the left impressively in the 43rd. An amazing chest-down and perfect shuffle out to Maximilian Eggestein led to the Bremen goal at 45+1. Two minutes after the re-start, he sent Milot Rashica through on a very pretty play.

Sargent might have broke a little earlier when Rashica attempted to return the favor two minutes later. Hesitance on this day still remained the exception rather than the rule. Neuer had to come out again to shut him down in the 58th. A very bad giveaway in the 68th stemmed from a miscommunication with new starter Kevin Möhwald. This specific play precluded Sargent from earning even higher level marks.

The American recovered with a nice attack lead in the 79th. The sequence began with him executing an expert touch-down of the ball. Christian Groß sent him through in the 83rd for what was the highlight of his day. Sargent totally destroyed Boateng with a lovely piece of skill. Only an inch-perfect backslide from Leon Goretzka could stop him from scoring.

Some more great offensive interplay came in the 87th. Sargent combined with substitute Felix Agu this time. Neuer again had to be at his best to deny Bremen the goal. An (unofficial) tally of 53 touches on the day is sensationally good for a lead striker. The Missouri marvel appeared very aware and present during a fixture in which he also did plenty of box-to-box sprinting.

John Anthony Brooks, VfL Wolfsburg

Minutes played = 90/90, Positions played = CB

Grade = B 

It was not an especially busy day for the Berliner. Schalke presently play a style of football so shockingly bad that one can barely believe it's actually transpiring before one's very eyes. Mark Uth's post-game diatribe got it spot on. This writer almost felt like crying too during the opening half hour. The poor Königsblauen are so despondent that they truly never come within miles of getting a challenge on the ball in.

Brooks and center-half partner Maxence did well enough simply to not fall asleep against Manuel Baum's genuinely pathetic 3-3-2-2. All of the action was on the other side of the pitch. The Wolves rattled off 16 shots in the opening 45 alone. Brooks did reasonably well on most of his forward balls. Defensive highlights came on a tackle away from Uth in the 25th and a good read on Kilian Ludewig's cross in the 28th.

Gonçalo Paciencia snuck past him when he switched off in the 40th. Benito Raman beat him as well in the 52nd. These were hardly major infractions. Considering the opponent, one can hardly blame this American for having difficulties concentrating on the match. Baum's Schalke really are indescribably atrocious. Required viewing of them leaves one wondering what one did to deserve such a cruel fate.

Brooks recovered for a nice block in the 58th and nice header away shortly thereafter. He again looked tentative, and not altogether fit, marking Mark Uth in the 84th. Some of weaker aspects of his performance aside, the general level of play certainly counted as a bounce back from last round's dip. Some of the duel positioning left something to be desired, but he finished with a respectable (unofficial count) 80 touches and 87 percent passing.

Tyler Adams, RasenBallSport Leipzig

Minutes played = 90/90, Positions played = RB, RM

Grade = B-

The New Yorker is often vocal about his desire not to play as a fullback. He prefers to work in central midfield as a six. Ahead of midweek UCL rotations, Nagelsmann needed him at right back this time. We discuss much of nuance of his performance in this week's tactics column. The major talking point emerging from that analysis does concern some of the problems he had maintaining his position.

The mere fact that he left his post on numerous occasions does not overtly affect this week's grade, however. Many of the moves were actually designed rotations with right-flanker Amadou Haidara. The American did especially well this week on duels. The writer's (unofficial) stats put him at 80 percent. One can find the best ball wins in the 10th, 17th, 29th, 64th, and 78th.

A few forward sorties could have been executed better. Adams seemed a little to desperate to make things happen in the 30th, 50th, and 55th. A total of six wayward passes was a mite high for his position, but still not terrible. Altogether, one can label it a decent deputization. Adams remains a better right-back than even he may care to admit.



Related stories