Americans in the Bundesliga:
John Anthony Brooks and Tyler Adams earn top marks in week four
By Peter Weis @PeterVicey
Time for the weekly examination of US internationals working in Germany's top flight. Four players join coach Pellegrino Matarazzo in receiving graded sections this time.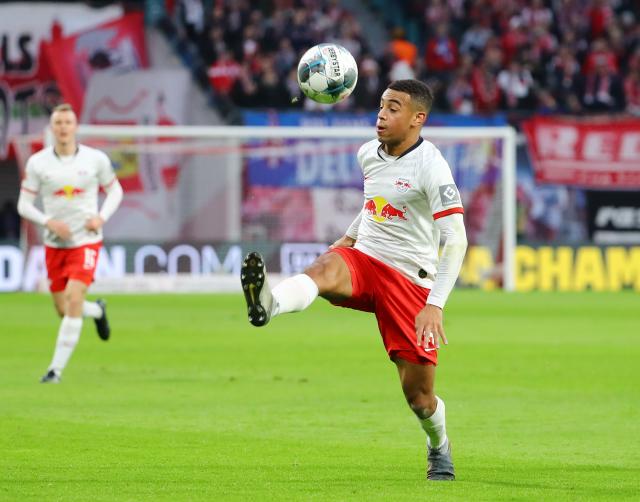 | | |
| --- | --- |
| Tyler Adams. | Photo: GEPA Pictures/Roger Petzsche |
All four Americans logging pitch time in the 2020/21 German Bundesliga's fourth round played the full ninety minutes. Favorable performances for both Leipzig's Tyler Adams and Dortmund's Giovanni Reyna bode well for both players headed into their Champions' League fixtures this week.


The Bundesliga's first American head-coach and one of its best center-backs also had excellent weekends. With the exception of Bremen striker Josh Sargent, the grades are relatively favorable in this week's breakdown.

Pellegrino Matarazzo, VfB Stuttgart

Grade = A+

Matarazzo's most recent match is covered in great depth in this week's tactical column. The American trainer produced another gem in the weekend's sole upset. A very avant-garde form of Catenaccio emerges; one with a rapid counter-attacking strategy built in. One conjectures that we shall be discussing this emergent footballing style for months, and possibly years, to come.

This American learned from most of his mistakes in the previous round and constructed a constellation based on his round two strategy. Anyone watching the shifts closely will surely agree that it was all artfully done. The coming match Friday match against Köln can't get here soon enough.

In terms of the potential for improvement, there are two players one wishes to see Matarazzo focus a bit more on. Promising talent Silas Wamangituka had a rather poor match on the right flank, where he appeared to run out of ideas. Noted Bundesliga legacy player Matteo Klimowicz still awaits a noteworthy performance.

Some inventive new roles for these two, along with a proper introduction for the highly intriguing Naouirou Ahamada should be in order. Given the state of the opponent, one expects something ambitious from the coach.

John Anthony Brooks, VfL Wolfsburg

Minutes played = 90/90, Positions played = CB


Grade = A

The 1-1 draw with Gladbach proved a very interesting affair. Both teams furnished good football. Marco Rose's foals supplied the more exciting chances while Oliver Glasner's Wolves presented some sharp bossing possession play very pleasing to the eye. At the center of the smooth VfL transition play we have an exceptionally smooth American center-back; once again in peak form during the early stages of the season.

John Anthony Brooks defies expectations yet again. Now a regular starter alongside the young Maxence Lacroix, the Berliner incredibly thrives with his fourth center-half partner in less than twelve months. Its frankly amazing how the always ascendant Brooks continues to meet every challenge thrown at him with aplomb. Nothing shall deny his upward trajectory.

Those looking for top-notch play from a center-back should definitely give this match a re-watch. Early communication between the two central defenders impresses. Moreover, one can watch Brooks drive the offensive machine with strong carries and kick outs. Wolfsburg lords over as much as 70 percent possession in the opening half hour in large part thanks to this American's distribution.

A trenchant and precise attack all begins with Brooks at the back. Some of his best work comes between the 70th and 73rd minute. Watch as he adroitly calls for the ball to settle things down. Other examples abound. This writer has him down for (unofficially) 74 touches and well over 80 percent passing.

Brooks' best header away came in the 20th. Unfortunately he did lose the subsequent aerial duel. Incredibly enough, that miscue along with another lost jockey in the 68th constituted his only two defeats of the entire evening. Apart from those two false steps, he won every other air and ground challenge.

Lacroix's defensive howler in in the 74th may mean that Brooks will get a different partner next weekend against Bielefeld. It ultimately shouldn't matter as this American can surely pair with anyone with his confidence and precision so sky-high.

Tyler Adams, RasenBallSport Leipzig

Minutes played = 90/90, Positions played = DM

Grade = A

The New Yorker looked largely nimble in his return to the Leipzig starting XI after sitting out a week with back spasms. It remains true that Adams didn't turn in a spectacular performance, but that wasn't necessarily his job in defensive midfield on this particular day. Head coach Julian Nagelsmann's plan for Augsburg, which also earned a draw-up in this week's tactics column, were essentially a throwaway board concept meant to bridge the team's entrance in to the Champions' League.

The offbeat and disjointed formation translated to some pretty rough viewing for those studying the fixture. It was truly tedious going, especially in the first half-hour. Adams didn't see much of the ball in the opening minutes. He spent a great deal of time away from the action, if indeed one could be so generous as to label the type of football being produced "action".

One can nevertheless watch Adams roam effectively with excellent field vision and some solid work whenever he did get a touch in. Something perhaps unheralded concerns the manner in which he was always quick to get rid of the ball with first-time passes. The mind tends to edit out such brief interactions whenever watching a boring match. A player still deserves credit for at least trying to creatively spur his team on by always playing the give-and-go.

The New Yorker's best duel came in the 34th. He played a positive role in a 16th minute attacking sequence. Leipzig began to wake up late in the first-half. Adams motored through well in the 40th, chipped in a nice ball in the 42nd, and initiated the play that would lead to the opening goal in the 45th. Quick and calm on the ball, it was the American who drove the team in for Dani Olmo's set-up of Angelino.

More stellar involvement would come shortly after the restart. Touches in the 46th and 48th worked well. A stinging run in the 51st, an incisive through ball for Christopher Nkunku in the 55th, and a blistering run/draw of a foul in the 59th would follow. Intelligent passing decisions can be found in the 72nd, 74th, and 86th.

Adams finished with (writer's unofficial count) 96 touches and what was surely a very colorful heat map. An (unofficial) duel rate of 60 percent might have been better, but still counted as an improvement. This American put together by far his best fixture of the season. His case for a spot in the UCL staring lineup surely wasn't hurt by this strong display.

Giovanni Reyna, Borussia Dortmund

Minutes played = 90/90, Positions played = LW, SS

Grade = B+ 

Quite the chess match in Sinsheim as BVB trainer Lucien Favre sought to properly rotate his squad ahead of the UCL whilst also dealing with unforeseen injuries. This American's form dipped somewhat in a constellation not specifically designed to generate offensive fireworks.

Lineup—Borussia Dortmund—Match Four (3-4-3)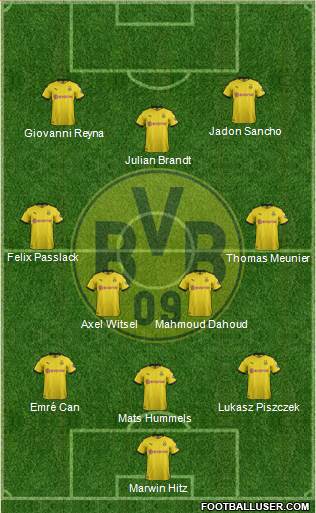 Neither Reyna nor Jadon Sancho adapted particularly well to playing ahead of not-so-subtle false-9 Julian Brandt. Hoffenheim coach Sebastian Hoeneß, missing some of his pivotal attacking actors, also transformed his usual 4-2-2-2 into an ultra-protective 5-2-3. The Schwarzgelben were left with very little time and space on the ball.

Reyna found himself easily disposed in the 5th. He lost a couple of important duels shortly thereafter and showed very poor anticipation on both played and received passes in the 7th. The top axis struggled to achieve fluid rotations in the opening minutes. Accordingly, interchanges were fairly sloppy.

Despite all of this, Dortmund were able to pick the lock relatively early. By the 9th minute the players already settled into a more patient buildup. Reyna garnered some attention on the left in the 14th when a frustrated Sebastian Rudy could only stop him with a hard foul. The American did take three successive poor corners between the 15th and 18th. Favre took him off the delivery role.

Dortmund operated with ten men between the 15th and 21st whilst working out a way to get the injured Lukasz Piszczek off. Replacement Thomas Delaney initially worked as the left center-back with Emré Can shifting back over the right. This proved awkward. Reyna punched through in the 27th with a sneaky sleek run, yet botched the cutback after he couldn't get a good read on the options.

Not long after the half hour mark, Favre moved Thomas Meunier back and gave some license for Delaney to work a bit more forward. This led to improved play. The "American Dream" executed an amazing dribble in the 35th. A beautiful effort at the end deserved a goal. Hoffenheim's Robert Skov robbed Reyna off his tally with a clearance off the line. Reyna engineered another effort with a second ball win in the 37th and flashed one over before the half was out.

Much of the play after the restart illustrated just how much Sancho and Reyna needed Erling Haaland on the pitch. Both wingers were capable of finding their attacking lanes, only to hesitate and stop short at the penultimate part of the sequence. It almost seemed as if their muscle memory compelled them to find Haaland whilst their brains took an extra second to adjust to the fact that he wasn't there.

Reyna still managed a decent curled effort in on goal in the 53rd. He would have been through in the 55th as well had Stefan Posch not flagrantly attempted to rip his arm off with a vicious tactical foul. Within four minutes of Haaland's introduction in the 64th, his American roommate and friend had served the Norwegian with tight passes from both the left and right.

The primary lesson derived from this fixture isn't a particular profound one. Reyna, and to a lesser extent Sancho, aren't nearly as effective without their fellow "young-gun" on the pitch between them. Not exactly a hot take. Everyone's non-football watching great aunt could figure that one out.

One didn't get the chance to lip read Haaland's words to Reyna following another brilliant combo from the pair this week. Last round this writer swears he witnessed Haaland screaming "You pass, I score!". The American still finished the match strongly.

A fine forward header preceded Marco Reus' goal in the 76th. Reyna himself should have scored after Raphäel Guerreiro cut back for him in the 85th. A failure to find the finish there and an 89th minute booking only slightly dampened what was another good day at the office for the young phenom.

Josh Sargent, SV Werder Bremen

Minutes played = 90/90, Positions played = LW, LS

Grade = D+

After he tallied during on of the international break's friendlies, there did exist some hope that the "Missouri Marvel" might augment his league form. Regrettably, only a minuscule uptick was detected. The (unofficial) count keeps him at under 30 touches for the afternoon. The duel rate stands at only 33 percent.

Naturally, one cannot discuss anything Bremen-related without examining Florian Kohfeldt's latest failed attempt to spin straw into gold.

Lineup—SV Werder Bremen—Match Four (4-3-3)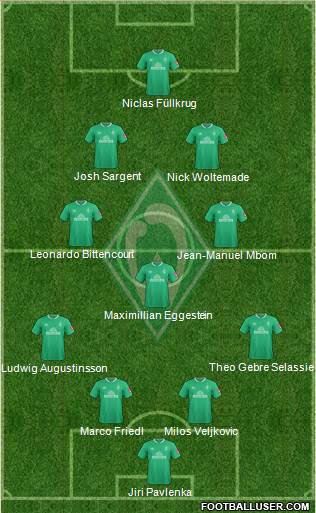 So much for Leonardo Bittencourt's "clearly defined role." The 26-year-old attacking midfielder might have known better than to trust his coach when Kohfeldt remains known for concocting arrangements like this.

A very narrow 4-3-3 settled into the shape of symmetrical Christmas tree in Werder's 1-1 draw with Freiburg. Sargent spent entirely too much time ambling around aimlessly on the second axis whilst the players behind him couldn't connect through the congested midfield.

The American carelessly lost possession in the 2nd, 14th, and 35th. Freiburg ended up killing the Werderaner on their right-hand side. Sargent's woeful marking on a 16th minute corner enabled the Schwarzwälder to score the opening goal. He was also far too reticent on challenges in the 17th and 23rd.

The Missourian disappeared for large stretches of the match. He practically impossible to locate between the 46th and 58th. Inattentive body language once again reared its ugly head in the 68th as he totally missed a ball played directly to him. Egregious defensive errors came in the 69th, 75th, and 84th.

For those desperately seeking some positive signs, Sargent executed a good recovery tackle in the 10th. A sequence in the 40th saw him adroitly call for a ball from Nick Woltemade, unleash a respectable shot that was blocked, and then quickly feed Woltemade when the rebound bounced back to him.

A decent pass forward for Jean Manuel Mbom and good ball-wins against Jonathan Schmid (61st) and Baptiste Santamaria (83rd) are enough to take this American up from a D- grade last week to a D+ this time. One still just isn't seeing the right type of progress from the young Missourian.



Related stories