Bundesliga Tactics Talk: Round Three
By Peter Weis @PeterVicey
A rollicking seven-goal thriller between Bayern and Hertha sends the German Bundesliga into the season's first international break.

Another fantastic weekend of football in Germany's top flight brought with it another surfeit of storylines.

In this week's tactical column, we'll highlight the most intriguing developments, take a closer look at Hoffenheim-Frankfurt, and wrap up with some forward-looking speculation on die Nationalmannschaft.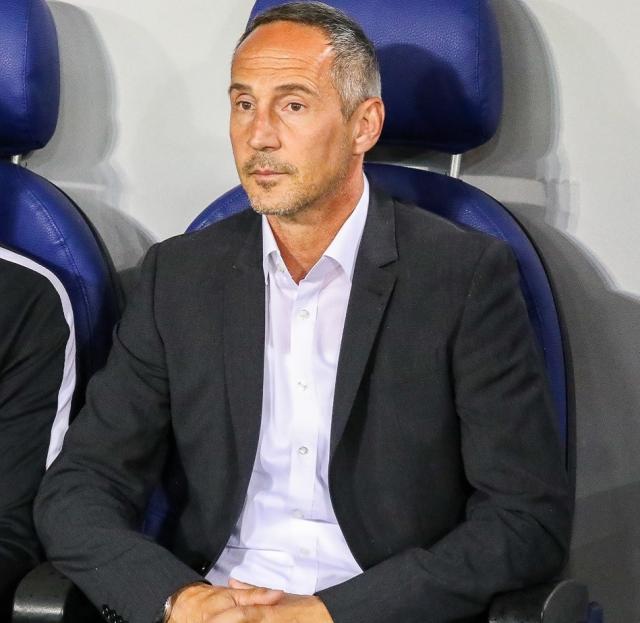 | | |
| --- | --- |
| Adi Hütter. | Photo: Дмитрий Голубович, Soccer.ru, CC BY-SA 3.0 |
League-wide Talking Points: Round Three
The Iron Armada

Perfect debuts for strikers Max Kruse and Joel Pohjanpalo leave one very optimistic about the survival prospects of the capital city's smaller footballing club. Kruse, featuring in his first Bundesliga starting XI in over a year, headed home a magnificent finish early in his club's fixture. Pohjanpalo opened his account for his new club literally seconds after being subbed on later.


Urs Fischer and the Union front office did well to obtain these two eager journeymen via a free-agent pick up and a loan. Such acquisitions serve as precisely the sort of intelligent, non-budget-busting personnel moves smaller market clubs must make to enhance their chances in their second top flight season.

The Taiwo Awoniyi loan also counts as a very solid pick-up, as does the lesser reported Cedric Teuchert capture from Schalke. Altogether that makes for four talented new strikers; all with something to prove after being shopped, shuffled, and generally discounted by previous clubs.

Great defensive pickups also came in on frees this summer. Fortuna Düsseldorf's Niko Gießelmann, Wolfsburg's Robin Knoche, and FC Heidenheim's Sebastian Griesbeck can all be considered upgrades. The Schlotterbeck swap with Freiburg and the recent Lorius Karius coup make this club stronger at every position.

Gisdol gets Desperate

Union get their first win of the season whilst Köln must wait for their first points. The defensive battles coach Markus Gisdol encouraged amongst members of his defensive corps were once a subject of intrigue. They've quickly evolved into a subject of insolvency.

The Geißböcke shape in the most recent loss defies easy classification. In all honesty, it resembled a sort of 3-3-2-1-1 absent any apparent anchor. This time Gisdol tried using the returning Frederick Sørensen at right back, with Kingsley Ehizibue and Ellyes Skhiri taking turns in central midfield. Jonas Hector didn't start at all.

New wingers Dimitrios Limnios and Marius Wolf came on later, yet neither one seemed to wish to play regularly on the right wing. A even stranger 3-6-1 emerged later on. Perhaps there were simply no further instructions on what turned out to be a wash of a day against the overbearing Gladbach.

Bosz overdoes adjustments

Apropros odd-looking shapes, Leverkusen trainer Peter Bosz tried out a 4-1-2-2-1 set-up in the opening stages of his side's 1-1 draw with Stuttgart. Unlike last week, Patrik Schick worked as a definite nine. Moussa Diaby and Karim Bellarabi moved much further out wide while Florian Wirtz and Kerem Demirbay flipped sides and hunched closer together.


This didn't change when the injured Schick made way for Lucas Alario in the 20th. However, what should have been another injury-induced like-for-like swap eight minutes later did yield something different. When Wendell came on for Daley Sinkgraven, it appeared as if the Brazilian moved into midfield whilst Santiago Arias slid into a back-three.

The resulting 3-2-2-2-1 generating some good ideas, but seemed far too complicated for the talent on the pitch. Die Werkself resembled the confused gaggle that struggled mightily in the first ten rounds of last year's campaign.

Neuhaus still needs a Goal-Scorer

One coach still keeps it simple. Bielefeld's Uwe Neuhaus rolled out a 4-5-1 for the third consecutive week. It's the same plan, albeit with some different experimental roles for prize-acquisition Ritsu Doan. The Japanese international seems to be gradually moving up the pitch. The case may be that Neuhaus intends to ease him into a more forward role.

In any event, one must report that neither Doan nor regular lead striker Fabian Klos have had especially strong league debuts. Principle winger Sergio Cordova hasn't been very active either. Immensely strong performances from keeper Stefan Ortega keep this team competitive for now, but someone will eventually have to begin finding the back of the net if this club wishes to remain afloat.

In Klos and fellow striker Andreas Voglshammer, Neuhaus essentially has two Simon Teroddes; players who can light it up in the lower divisions, yet can't quite cut it at the higher levels. One of the two will have to make the leap.

Augsburg trots out identical Diamond Box

Heiko Herrlich's hospitalization may have had something to do with the fact that the Fuggerstädter used the exact same midfield clogging trap as they did against Dortmund. Iraklis Metaxas could consider himself lucky if he had enough time to go over the set-piece designs with his team on such short notice.

There remains very little chance that we'll see it again anytime soon. The much-less talented Wolves were made to look far more creative against it than their short week should have allowed. A disallowed goal and a botched late chance by John Anthony Brooks should have seen the VfL claim all three points.

"Lewan-goal-ski" returns

A more playful observation can still find its way into a tactics column. Just when it seemed as if Hoffenheim's Andrej Kramaric might open up a big lead in the race for the Kicker Cannon, the European footballer of the year exploded for a hat trick against Hertha. The late converted penalty gives Bayern's super-striker five on the season; only one behind the Croatian after he too scored this weekend.

Irrespective of how they may feel about Bayern, virtually all Germans root for Lewandowski to have another spectacular season. The controversial cancelation of the Ballon d'Or this year harshly robbed the Polish forward of an award he had long deserved to win. There's only one thing left to do:  put together an even better campaign.

"Rabona Assists" are all very well and good. Non-stop goals across all competitions are nevertheless what's needed.

The Burning Questions: Round Three
How did Dortmund get back on track?

Pointing out that intractably obstinate Lucien Favre refuses to change his tactics even when his team drops critical early points becomes an autumn tradition. The German press, having had to make these observations for three consecutive years now, understandably grows tired of the exercise. Nearly every piece of reporting this week carried with it inherent sighs.

Here we go again. Among the legitimate critical queries: Why is Thomas Meunier being used as direct replacement for Achraf Hakimi? What is he burying an in-form Emré Can in a 3-4-3? Is there truly no alternative to playing these teenagers week in and week out?

Dortumund's 4-0 win over Freiburg being a match in which American international Giovanni Reyna featured prominently, a full tactical draw up will come in the next column. For now it suffices to say that Favre changed almost nothing. The Swiss trainer frequently speaks of a "process" that he is largely powerless to influence.

This week's tactics affirm those words. Favre seems intent, for better or worse, to leave his construct alone and let it develop organically.

What can be done about Schalke?

Nothing. Honestly, nothing. The Königsblauen don't possess so much as a dime to spend on the transfer market in the remaining few hours. Hence,  new coach Manuel Baum must make do with this collection of players who largely wish they were playing in specific other places. What transpired this weekend can be described as "beyond awful".

The club administration simply bungled it by publicly committing to keep David Wagner when there were still five games to play at the end of last season. They didn't leave themselves the option of seeking new leadership over the summer, placing themselves in the entirely predictable bind they now find themselves in.

Another completely foreseeable bind approaches soon. What happens if the 20-game-winless streak continues under Manuel Baum? At present there aren't any high-profile German speaking managers with Bundesliga experience that find themselves out of a job. Even if there were, Ralph Rangnick's quick second thoughts demonstrate that no sensible trainer wants to take on a project with no investment.

Faced with a dearth of homegrown German-speaking operatives, Bundesliga clubs often look eastward to pluck an ambitious coach out of the Austrian Bundesliga. That won't work this year as, after stealing away Marco Rose, Oliver Glasner, and (on the basis of potential) Sandro Schwarz, Bundesliga clubs practically exhausted the supply of up-and-comers last year.

It truly shapes up to be a long season in Gelsenkirchen, very possibly followed by some dark years in the lower divisions.

What can be done about Mainz?

Another self-destructing club leads us to an identical question. One has little choice but offer an identical answer. Nothing. Honestly, nothing. Rouven Schröder might not even have the money to salary another trainer; not with Achim Beierlorzer and Sandro Schwarz still on the payroll.

Interim coach Jans Moritz-Lichte's debut constituted truly painful viewing. While one could find little fault with his tactics, a logical 4-3-3 spearheaded by Jean Philippe-Mateta, all ten outfielders made only a minimal attempt to play.

Passing remained atrocious. Sprints were almost non-existent. Half-hearted duels showed almost no one wanted the ball. To label the lack of ideas a "dearth" would be an understatement. A general lethargy, the likes of which is rarely observed at so high a level, meant that those representing the Nullfünfter meant that ideas weren't even beginning to be formulated.

The level-of-play confirmed to many observers that the purported player revolt must be very real. Moreover, it must run very deep. It looks to be a long season in the Pfalz as well.

Weekly Tactical Focus: Adler soar over Hoeneß

Die Adler of Eintracht Frankfurt soar up the table following a highly credible and convincing 2-1 victory over last week's most-discussed disrupters. Frankfurt-Hoffenheim was definitely this weekend's most entertaining offering; a thoroughly full-throttle affair worthy of the top-spot on anyone's re-watch list.

One genuinely felt sorry for the minute-by-minute writers tasked with covering this fixture. The lads gave them scant hope of catching up. It was full steam ahead from start to finish.

Before dissecting the more recent encounter, it seems apt to take a step back to examine Sebastian Hoeneß's tactics in greater depth. We'll cover some of the basics of how Hoeneß pulled off the sensational 4-1 upset of his former club in round two:

Lineup—TSG Hoffenheim—Match Two (4-2-2-2)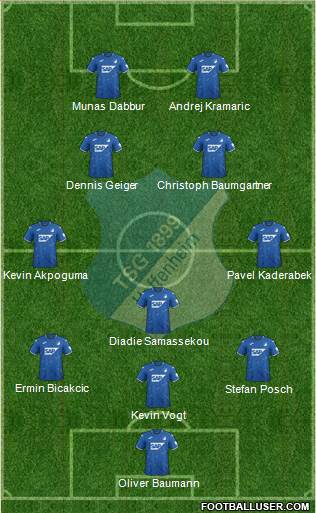 A well-staggered back-four

The 4-2-2-2, very much a Julian Nagelsmann-esque concoction, begins well-planned positioning for the four defenders. Kevin Vogt takes point  slightly behind his fellow center-halves. Diadie Samassekou keeps a vertical line with Vogt, acting almost as a faux pivot-runner in the initial phase.

Keeper Oliver Baumann began the match by playing short balls out of the back with roughly even distribution to these four defenders. This maintained the hallmarks of a deliberate invitation for Bayern to press high immediately.

Extremely wide-deployed wingbacks

The second phase of this well-thought out long-con saw Baumann completely change his distributive strategy. After absorbing the Bayern attack, he punted long balls out to his wing backs. Samassekou maintained his central midfield position, stretching FCB midfielders Joshua Kimmich and Correntin Tolisso out of a more disciplined shape.

An effective counterattacking strategy emerged, with the Sinsheimers often three passes from their own danger area. Baumann played out wide. The wingbacks could identify a quick inward passing lane. Finally, either Samassekou or the two buttressing attackers would play a long upfield ball into the strikers.

Kevin Akpoguma and Pavel Kaderabek would frequently switch sides to keep the attack fresh.

Rapid reversion to a 5-3-2

Akpoguma and Kaderabek, having fulfilled their roles in getting upfield chances going, would almost always immediately drop back very deep. Honeß's formation quickly reverted to a 5-3-2 after a hopeful ball was played. Excellent coordination between Samassekou and Christoph Baumgartner ensured that one of them would hang back to guard against the next Bayern wave.

Baumgartner sometimes even rushed as far back as the defense ranks sometimes, trading places with Akpoguma in a midfield set-up both exceptionally refined and flexible. Dennis Geiger engaged in his fair share of hard-hustle track-backs as well.

Intelligent substitutions

The amount of sprinting Baumgartner and Geiger occupied themselves with left them both flagging shortly after the restart. Hoeneß entered the match with a clear back-up plan for his roving eights.

Ihlas Bebou and Mijat Gacinovic arrived on behalf of the eights. The fresh-legged players themselves took turns playing the ten position in a very ambitious 3-3-4. Bebou assisted on both of Kramaric's late goals as Hoeneß beat Bayern at their own high-press game.

The mere fact that the Hoffenheim trainer went for the jugular with his attack-minded late formation merits very high praise. The young coach built a 90-minute strategy designed to first deceive, then chip away, and then ultimately land effective sucker punches.

The role of luck

Of course, this can't be ignored. The German giants missed some huge opportunities that one would ordinarily expect less tired players to convert. Flick's men weren't even 72 hours removed from their trip to Budapest and all of the squad rotations itself left die Kraichgauer with plenty of uncoordinated play to take advantage of.

For reasons unknown, Ermin Bicakcic has still been credited with the 16th minute opening goal, despite the fact that the corner clearly deflected off Tolisso's head, throwing off Alaba's effort to head off the line. Thomas Müller had legitimate claims for a penalty moments before the second goal, itself a product of Benjamin Pavard's turnover.

Bayern were the pacier team for much of the second half. Though both of Kramaric's goals remained well deserved, the Flick XI generated enough chances to render the match a draw.

Luck plays such an importance role in football as opposed to other sports; the main reason why the xG may be the most important statistic the game has ever seen. The xG of this fixture (Hoffenheim 2.5, Bayern 2.2) demonstrates how close it was.

Hoeneß's luck runs out

Injuries to Samassekou and Bicakcic certainly didn't help matters, but one might have expected better adjustments from Hoeneß in this weekend's encounter with Eintracht. A familiar constellation manifested itself early.

Lineup—TSG Hoffenheim—Match Three (4-2-2-2)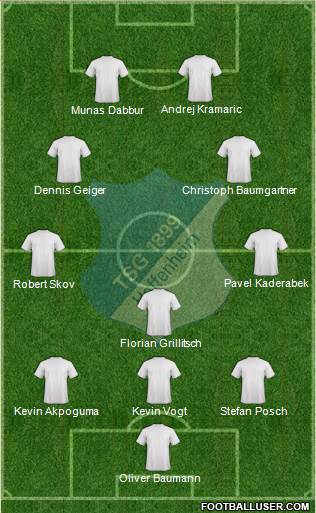 Very familiar indeed. If anything, one witnessed a significantly less imaginative construct.

Square pegs into round holes

Austrian international Florian Grillitsch, by no means an immobile defensive midfielder, doesn't possess the same skill set as Samassekou. To compensate for this, Akpoguma, Vogt, and Posch formed a very flat horizontal axis just ahead of the keeper.

Robert Skov's deployment, on his unnatural side, might have called for a re-think with regard to wingback positioning. It did not. Geiger and Baumgartner worked a little wider in a presumed attempt to allow Skov to cut centrally forward.

A better solution might have been to permit Skov to occupy Baumgartner's position and have the latter slide into a double-six design. Unlike last week, the approach above didn't appear to have any sort of long-range distributive strategy for Baumann.

Hütter's plan: Owning the flanks

One would have thought that Filip Kostic's injury would affect Frankfurt trainer Adi Hütter's construct. Instead, just like Hoeneß, he employed only minor tweaks. His happened to work.

Lineup—Eintracht Frankfurt—Match Three (3-5-2)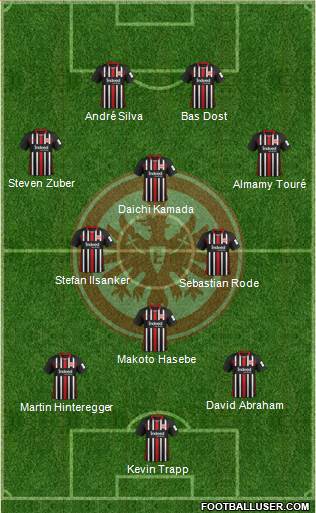 Another familiar constellation. Differences to the one witnessed last week stand barely noticeable.

This slightly altered shape nevertheless aimed much higher.

Complete faith in Zuber

Whether it was because the newly-acquired Steven Zuber found himself squaring off against his old team or not, Hütter fearlessly plugged the 29-year-old Swiss international in and moved both his wingers up the pitch considerably.

Hütter made an early play to establish control over the wide areas. Stefan Ilsanker and Sebastian Rode also moved inward a bit to accord the wingers a tad more space on rushes.

Defensive rotation pulls the midfield in

Placing Makoto Hasebe, David Abraham, and Martin Hinteregger proved difficult as the trio revolved a great deal more than in previous fixtures. The vertical axis pairing of Hasebe and Daichi Kamada remained apparent, yet a more purposefully planned rotation sought to draw the Sinsheimers out of their own tactics and confuse them.

Rode fell back to be part of this scheme as well in the later stages of the match.

Match Flow: 1st to 15th minute

It was all Frankfurt for the opening quarter of an hour. Dazzling attacking sequences varied widely in their points of creative origin. Hasebe and Kamada got the first thrusts through using their straightforward vertical alignment. Bas Dost only just missed partner André Silva with a square header in the 3rd at the end of one such sequence.

Zuber made his presence felt early with a gorgeous cross in just one minute later. It looked about as inventive as anything Kostic typically produces. Silva's cheeky back heel, slick as it was, stopped that sequence dead in its tracks.

One minute after that, Rode put through Almamy Touré with a beautiful through ball. Zuber crashed in to meet the Frenchmen's cross, only for Vogt to win the aerial battle.

Having used virtually every section of the pitch to create chances in the 3rd, 4th, and 5th, die Adler continued to dominate proceedings with an intensely fluid tempo. Away from the ball, Stefan Ilsanker effectively took Grillitsch out of the match with several deft picks.

Rode, taking Hasebe's place on a back build, nearly connected with the Japanese defender on an creatively improvised long-ball bait-and-switch in the 11th. Touré initiated a fine sequence one minute later. Silva hit the side netting and Kamada linked up with Dost for two solid chances shortly thereafter.

Match Flow: 15th to 33rd minute

The SGE found their way past the Sinsheimers everywhere. Hütter might perhaps have given the order to focus a on the leftward cycle around the 15th, however. Though it was aesthetically pleasing to watch Hinteregger, Rode, and Zuber artfully pass around the left flank, three minutes of it seemed to dampen Eintracht's creative drive.

Andrej Kramaric opened up the scoring in the 18th with pure solo sublime skill. Serviced by Baumgartner in the box, it initially looked as if he didn't have any options. Six silky smooth touches and perfectly curled range-effort, he had scored another wonder goal.

The tally knocked all the wind of the Frankfurt sails for a spell. There were many more errors on back builds. David Abraham, who possibly steered Kramaric's effort in with an unintentional deflection, tanked fairly hard.

Hoeneß, now aware of the SGE strategy moved six of his players over to the Adler left to shut down Zuber. The above-mentioned trio unsuccessfully tried to re-initiate the cycling in the 27th and 31st, but could find no way through. They would finally get it going again in the 33rd. Baumann and Vogt had to be extremely alert to stop the first genuine threat from Hütter's men in 18 minutes.

Match Flow: 33rd minute to half-time

The two sides traded chances in a wonderful back-and-forth finish to the half. Defensive work was simply top notch. Kramaric punched through again in the 34th with Hinteregger ultimately outmuscling him. Ilsanker shut down Munus Dabbur a couple of minutes later with a brave, if not somewhat high, tackle.

Vogt and Baumann twice had to work together to cancel out Hasebe in the 36th. One minute later Hasebe saved a sure goal at the other end with a perfectly timed slide on Skov. Rode and Touré managed to skirt past their defenders in the 41st and 42nd, respectively. Vogt and Baumann, yet again, bailed out their team on the latter.

Touré's incisive pass for Zuber in the 44th definitely constituted the highlight of this full-throttle interval.

Match Flow: 46th to 54th minute

Without personnel changes it went on. The scales tipped firmly towards the SGE after the restart. Akpoguma had to intervene to shut down Kamada after a sumptuous return from Touré in the 46th. Baumann, perhaps a little overconfident after his late-first-half stops, began directly charging out of his net on several Frankfurt attacks.

With the keeper too easily leaving his line, one had the sense that the equalizer was near. Seconds after Silva nearly supplied it in the 54th, Zuber located Dost with a pass that again left one feeling as if Filip Kostic had indeed started the match. The Dutchman laid off perfectly for the inward crashing Kamada and Hinteregger. The Japanese international won the foot race and executed the tap in.

Match Flow: 54th to 68th minute

Hüters men pressed for the go-ahead goal. Zuber, who simply had a sensational match, sliced his way through in the 56th. No one, not even his teammates, anticipated the move. Kostic's replacement had to wait for them to get back onside.

Rode astonished with an incredible ball win in the 58th. Silva and Touré combined beautifully one minute later. Dost got two consecutive chances in the 61st and 62nd. In the 66th, it was Zuber again coming within millimeters of setting up the Dutch striker perfectly.

Match Flow: 68th to 74th minute

A positively spellbinding stretch saw the Sinsheimers push back a bit. Dabbur did some lovely work in the 68th to nearly score. Hinteregger narrowly avoided putting the ball into his own net and cleared off the line. Traoré raced back on the counter, but couldn't find a colleague.

In the 70th, it was Skov's turn. Hinteregger stood tall with his second game-saving tackle in as many minutes. Kamada blitzed through with a scintillating solo run on the ensuing Frankfurt counter. He then deftly shuffled over to Silva. When the Portuguese striker found himself stymied at the goal line, he somehow directed the rebound over to Dost, who finished cooly for an over-due and well deserved goal.

It was at this point that Hoeneß attempted to implement the final phase of the strategy he used against Bayern in the previous round.

Lineup—TSG Hoffenheim—74th minute (3-3-4)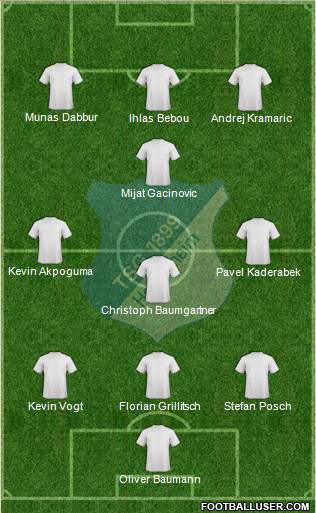 Bebou and Gacinovic came on to form a carbon copy of the 3-3-4 used to finish off the Bundesliga Goliaths.

Match Flow: 74th minute to full-time

This time it came nowhere close to working. Hütter didn't touch his 3-5-2. It remained perfectly designed to take advantage of all the midfield space and sneak past over-committed strikers on the flanks.

Hoffenheim produced nothing more of note. The SGE should have scored on a Dost-Touré-Kamada combo in the 78th. Silva would have a goal disallowed moments later. Substitutes Ragnar Ache and Timothy Chandler spurned easy chances to run up the score late-on.

Sebastian Hoeneß returns back down to earth with his first Bundesliga defeat. Analysis of his last two matches should ideally prove that he does possess some tactical acumen. He nevertheless can be a little too beholden to some of his ideas and doesn't know his team all that well yet.

Hütter absolutely deserves credit for besting him with some simple adjustments here.

Concluding Thoughts: Hopes for a back-four

Germans enter the October international break with several concrete hopes. There are hopes die Nationalmannschaft supplies three watchable games, earns their first UEFA Nations League win, and engenders some optimism for a serviceable European campaign in this summer's delayed European Championships.

Crucial to all of these aspirations, there is the hope that Bundestrainer Joachim Löw ditches the half-baked attempts to play a back-three that features Niklas Süle as an uncomfortable looking "libero" and relies too heavily on inconsistent wingbacks to drive a sputtering offensive engine.

The recent round of call-ups seem to suggest that Löw will, at least in one of the three fixtures, try something less impractically avant gardé and more rationally prudent.

A "hopeful" projection using Gladbach's sixes:

Lineup—Deutschland—PROJECTED (4-2-1-3)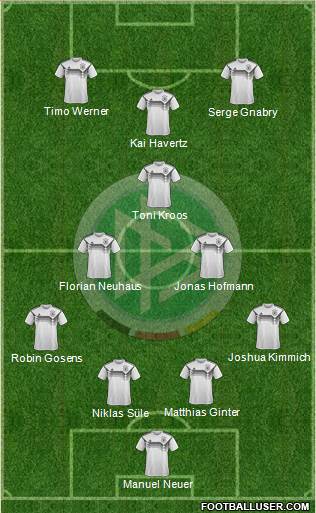 Related stories