Into the unknown:
German footballing world prepares to assess coaching debutant
By Peter Weis @PeterVicey
The task ahead for a slumping SV Werder Bremen gets harder still as they seek to snap a three-game-losing-streak, and eight match winless run, against a far superior Borussia Dortmund side. 

Bremen trainer Florian Kohfeldt acknowledged that the coaching change "massively alters the preparation scheme" and conceded that it had been difficult to dig up information on a complete unknown. 

Meanwhile, BVB boss Hans Joachim Watze expressed complete confidence in his trainer debutant, telling Germany's Bild Zeitung that the club hired Edin Terzic in 2018 "knowing that something like this might happen."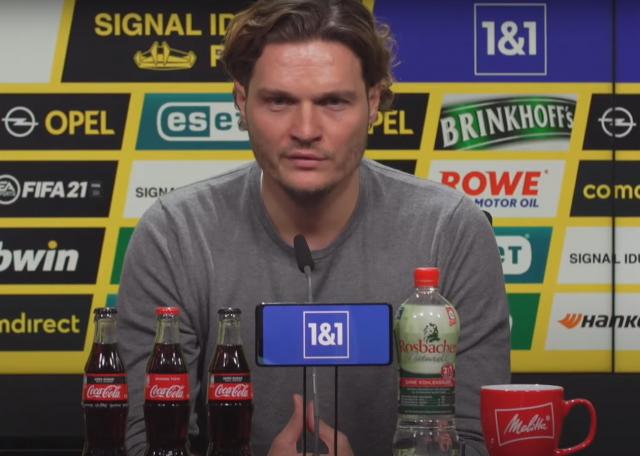 Edin Terzic counts as a footballing blank slate. The 38-year-old has never served as a trainer for any professional football club on any level. There are thus no videos to review, no scouting reports to pull up, and no idea what to expect when Dortmund's post Lucien Favre era kicks off tomorrow at the Weserstadion.


For Hanseaten trainer Florian Kohfeldt, this most certainly counts as a disadvantage. "I've tried to gather some information," Kohfeldt reported to the press on Monday, "obviously, this massively alters the preparation scheme for us."

Dortmund's Acki Watzke sat down with reporters on Monday in his first media round since Sunday's sensational sacking. He told reporters that the club deliberately hired Terzic, who had worked as a scout and amateur coach for club, for just such an eventuality after he obtained his professional license in 2018.

"We trust him with this task," Watzke told Germany's Bild Zeitung, "We have agreed that he'll have the rest of the season. On May 30th, we'll review other options."

The expectation within German footballing circles has long been that Marco Rose would take over at Dortmund after the conclusion of the season. Reports have already surfaced, most notably one on transfermarkt.it, that Rose and the club already have a "handshake agreement" in place.

Watzke effectively quashed these rumors, telling reporters that he didn't even know if Rose's current contract with Borussia Mönchengladbach had an exit clause. In statements earlier in the day, Glabach Sporting Director Max Eberl noted that the very issue of an exit clause was basically irrelevant.


"If a coach wants to leave, it ultimately doesn't matter if he has an exit clause or not," Eberl told German footballing magazine Kicker.

Terzic himself only appeared before the media briefly on Monday, calling his new appointment an "unbelievable chance" and vowing to win the final three games before the winter break.



More about the match
More about the teams