Americans in the Bundesliga:
Three attackers continue to struggle
By Peter Weis @PeterVicey
The news concerning US Internationals in Germany's top flight couldn't be more disproportionate. Defender John Anthony Brooks continues to enjoy career-high form for his club.

On the other side of the ball, Josh Sargent, Gio Reyna, and Matthew Hoppe cannot seem to find their stride.

We'll take a detailed look at all the domestic league action in our weekly column.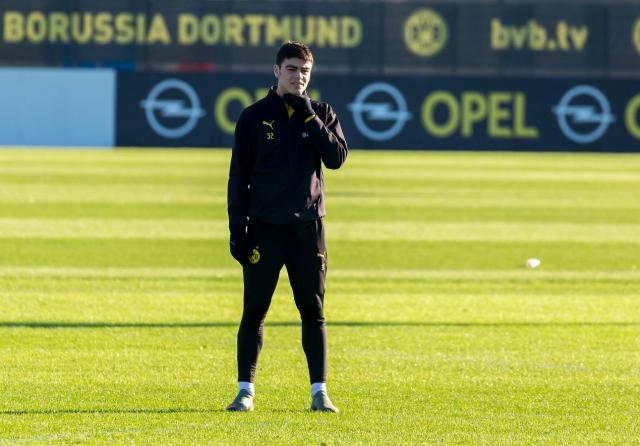 This week's analysis of US internationals earning their pay checks in the Bundesrepublik features only four players. Leipzig trainer Julian Nagelsmann rotated out midfielder Tyler Adams in anticipation of the upcoming UCL duel against Liverpool. The  played 27 minutes of half-speed relief again Augsburg on Friday.


Chris Richards regrettably missed the chance to build upon his strong debut for loan-squad Hoffenheim this weekend. The 20-year-old made Sebastian Honeß's starting XI, yet had to be withdrawn after pulling a muscle in warm-ups. Factoring in the league's American trainer, we've five graded sections this time.

John Anthony Brooks, VfL Wolfsburg

Minutes played = 90/90, Positions played = CB

Grade = A+

Another top-notch performance from the Berliner, whom most assuredly got shafted for the "man of the match" honours against Gladbach. A recently observed piece of tactical nuance continues to evolve. If one watches the first 15 minutes of the WOB-BMG encounter, one can get a great view of how Brooks and center-half partner Maxence Lacroix fan out all the way to opposite flanks on back-builds. These are the actions of a highly confident tandem courageous enough to assume control of the forward impetus.

The American takes the left. Over 60 percent of the VfL attacks originated from his side. Brooks works a lot of kick-outs/verticals to Paulo Otavio and rolled through balls/diagonals for Xaver Schlager. He also often mans the overlap quite frequently for a center-back. Some of the best examples of his offensive prowess can be found in the 10th, 15th, 26th, 68th, and 80th. As always, there's plenty of excellent defensive work on display. He shines in the 14th, 29th, 37th, and 52nd.

Brooks came closer than any other player on either team to tallying with a header off the post in the 63rd. He also wasn't far off on early set-piece plays in the 8th and 10th. A booking in the 11th looked an exceedingly harsh unfair stain on his fine afternoon. Once again, the stats are unreal. Over 100 touches, 90 percent passing, and only two lost duels. Future play may be affected somewhat by an apparent injury to Lacroix, but this American shows no individual signs of slowing down.

Pellegrino Matarazzo, VfB Stuttgart

Matches = 1, Result = D


Grade = B

Despite the fact that the Swabians ultimately failed to get a much needed win, one can find little fault with the Bundesliga's American trainer tactics-wise. The construct deployed against Hertha largely conformed to the sensible set-up most anyone taking a rational look at the squad over the past few weeks might have expected.

Lineup—VfB Stuttgart—Match 21 (3-3-4)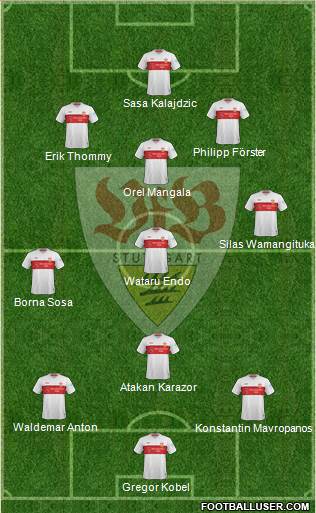 A few things to discuss here. Marc Oliver Kempf's absence threatened to throw the entire defensive scheme out of whack. Matarazzo made the correct call in moving Waldemar Anton out left and allowing Atakan Karazor to run pivot. Instructing Wataru Endo to operate a bit higher upfield ensured that the Badeners avoided significant protective collapses.

Borna Sosa's return obviously counts as a huge asset for the team. The symmetrical separation utilised by Croat and axial partner Silas Wamangituka ins't a tactical directive. Those two developed the split themselves. One personnel choice that Matarazzo deserves credit for involves Erik Thommy's assignment left center. That decision has led to very sharp play of the left as of late.

Stretches in which the Stuttgart possession game looked its sharpest came between the 5th and 10th, the 30th and 42nd, and the 53rd and 59th. As noted in the tactics bulletin, Sami Khedira's introduction near the hour mark gave the Hertheraner in the leg up during the final half hour of the match. The American stuck with straightforward like-for-like substitutions, but the notion of docking him for that doesn't feel appropriate. The team needed to old their shape better.

Josh Sargent, SV Werder Bremen

Minutes played = 62/90, Positions played = LS

Grade = D

It took a significant amount of time to figure out Florian Kohfeldt's strategy against Freiburg. In the end, the conjecture below is generous to say the least. A reviewer can only assume how this was supposed to work.

Lineup—SV Werder Bremen—Match 21 (5-3-2)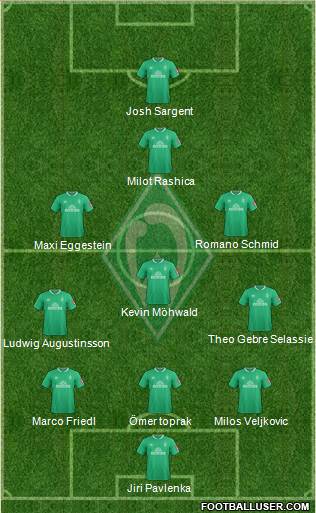 The Hanseaten attack resembled desperation football on the rare occasions that a counter opportunity presented itself. Romano Schmid and Milot Rashica never truly settled into set lanes. When the side managed to string together possession spells, the vast majority of the traffic went rearward.

The defensive shape also unfolded confusingly. Schmid and Rashica took turns joining Sargent on a non-pressing 3-3-3-2. Conceivably, the Werder trainer sought let opposing coach Christian Streich show his hand first before implementing something of his own. The match itself proved quite the eyesore.

Beyond a strong win in the 8th and a foul in the 12th, this American barely found himself involved in proceedings at all. A recorded 11 touches in the first half constitutes an atrocious total for a striker. The Missourian generated no efforts whatsoever and only played eight passes.

Sargent's minimal involvement nearly led to him not being scored at all. He finished with duel and passing rates well below 50 percent, but that hardly matters given the small sample size. One must still dock him for not making an active enough effort to insert himself into the match.

Giovanni Reyna, Borussia Dortmund

Minutes played = 59/90, Positions played = RW, CM

Grade = D+

This American remains bogged down in a makeshift 4-1-4-1 that frequently locks him into a central midfield position. For some reason, he's seen scant time on the wings since returning from his brief illness-induced hiatus. That particular excuse aside, Reyna's touch lacks acuity. One witnessed this already in the 8th minute of the weekend encounter. After delivering a very off-kilter cross for Erling Haaland, he cut short the subsequent cycle with heavy feet on the ball.

There doesn't appear to be anything wrong with Reyna's pace. He can still weave past defenders with the right run, doing so in the 17th, 20th, and 37th. Recognition of Diadie Samessekou's positioning led to him covering some great ground in the 40th. Moreover, his slip passing isn't terrible. He hit Emré Can with a nice through in the 37th and serviced Julian Brandt out wide at 45+1. Layoffs for Haalnd in the 47th and 49th weren't bad.

While split-second decision making often gives one glimpses of Reyna's best form, he still shakes off rust in that a few extra seconds on the ball leave him tripping over his feet. A horrible stutter in the 23rd probably serves as the best example. Other factors contributing to the low grade include long periods in which he appeared lost from the play and repeated instances in which he got bumped off the ball. He was a shade better than last week.

Matthew Hoppe, FC Schalke 04

Minutes played = 90/90, Positions played = LS

Grade = D-

Schalke receive a draw-up in this week's tactics column. Among other things, the illustration seeks to convey how isolated Hoppe finds himself in a highly tentative constellation. This American stands little chance of imposing himself given the amount of distance he typically keeps from his wingers and buttressing midfielders. It's also noted that the Californian shouldn't be considered a target forward. One should emphasise again that the teenager remains more of a "scrapper"; one who can expect few touches unless his teammates crowd the box.

The (unofficial) count credits the youngster with 36 touches. Over half of these came in the final twenty minutes. The American pulled himself out of the "F-level" zone with a few bright plays down the stretch. Though the overall total of ball taps constitutes a respectable enough amount for a striker, he still didn't manage a single shot on goal. That should never be the case for one charged with spearheading the attack. An 11th-minute chest forward to no one left one wincing. Prolonged hesitation in the 26th saw him get caught up in too many ideas at once.

There were many instances in which he could be spotted taking too casual a role on the attack. More worryingly, he rarely opened his mouth when a break past the defensive line appeared possible. He lost every ground and air challenge against Union marker Robin Knoche all afternoon. He did round Knoche nicely in the 70th and might have gotten an effort off had Benito Raman supplied him with a return ball. A deep drop in the 74th to get a play initiated was laudable. Pressure play in the final four minutes looked strong. Alas, we grasp at straws to find a few positives in a very poor performance.




Related stories