Americans in the Bundesliga:
Matarazzo's Stuttgart back on track, Richards and Brooks dip slightly
By Peter Weis @PeterVicey
The round 25 assessment of American footballing professionals in the Bundesliga leads us to a familiar place. Just as was the case at this point in the "Hin-runde", we're looking at a Stuttgart side showing signs of clicking ahead of a monster match against Bayern.

We'll devote significant space to the first top-tier Bundesliga side ever to be helmed by an American trainer this week.

We'll also undertake detailed analysis of the recent play of Josh Sargent, Chris Richards, and John Anthony Brooks.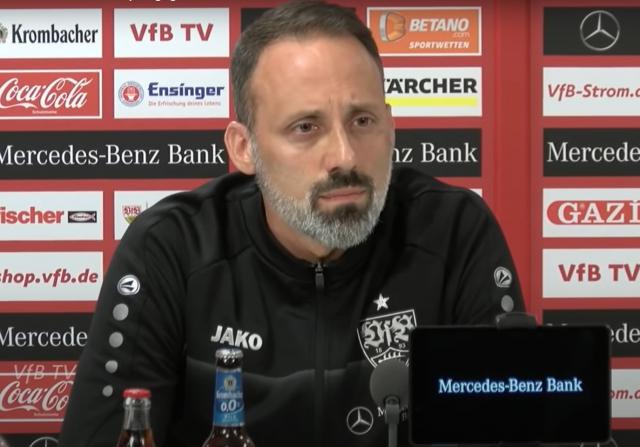 With Tyler Adams, Matthew Hoppe, and Giovanni Reyna all beginning their respective clubs' weekend fixtures on the bench, we've but four graded sections in our latest edition of our "Americans" scouting column. Naturally, that doesn't mean that there isn't a great deal to discuss. Among other things, a double-match section for Bremen's Josh Sargent ensures that this week's column is of average length.


The trio of Hoppe, Reyna, and Adams all logged minutes as substitutes in the 2020/21 German Bundesliga's 25th round. Though the limited extent of their involvement obviously means that they won't receive grades this time, it should be noted that they all looked strong in relief. It looks to be another big weekend for all Americans in the Bundesrepublik's top footballing flight. Former US international Timothy Chandler may also get a start.

Pellegrino Matarazzo, VfB Stuttgart

Matches = 1, Match Result = W

Grade = A

It's been quite some time since we've emphatically sung the praises of the Bundesliga's American trainer. The new calendar year hasn't been especially kind to the Swabian club mired in an internal political scandal and stuck in a mediocre rut on the pitch. The highly convincing 2-0 home win over Hoffenheim constitutes the best we've seen from this team in quite some time. The actual state of the stadium's pitch remains embarrassingly below par, but we can let that go in light of this performance.

Germany's Württemberg Swabians finally have a nice solid unbeaten streak (five matches) going. Austrian lead striker Sasa Kalajdzic has his own solid streak (seven consecutive matches scoring) to his credit. Die Schwaben move up to eighth place in the table; two points off the Europa League playoff spot. These developments suggest that their 2020/21 campaign won't end up being a wash after all.

Here's how they worked it against the Sinsheimers in Sunday's round 25 capper:


Lineup—VfB Stuttgart—Match 25 (4-5-1)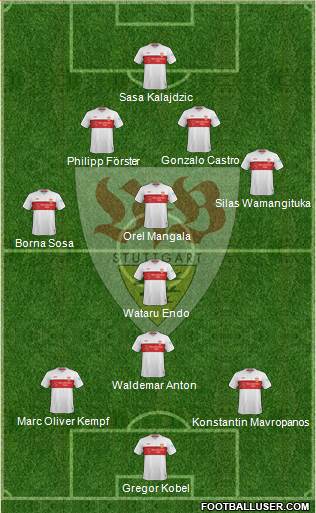 Clean. Simple. Elegant. Well tailored to his team's strengths at this particular moment in time. Before getting to any of the actual action at the Mercedes Benz arena, we'll need to credit Matarazzo for giving Silas Wamangituka multiple training days off in the last couple of weeks. The American aptly recognized that his star player exhibited signs of burnout and was, as a result, inadvertently pulling the entire squad out of shape.

There are some attempts to address this directly in the constellation above. Gonzalo Castro and Philipp Förster flipped sides. Wataru Endo received a specific assignment as a "bolt-lock" sweeper. The most important factor contributing to the team's impressive play, however, remains the fact that Wamangituka looked significantly fresher, more creative, and limber following some well-deserved mental breaks.

We'll discuss a bit below how Hoffenheim trainer Sebastian Hoeneß made matters perhaps a mite too easy for the Congolese star in this one. In point of fact, we've even touched upon it in the tactical bulletin. Ryan Sessegnon encountered a great deal of difficulty containing the spry Stuttgart right flanker. Diadie Samassekou often had to slide over to help, ensuring that the TSG structure frequently looked out of whack.

This was already apparent in the 5th minute, when Wamangituka sailed through the Sinsheimer ranks with ridiculous ease. At the 15-minute-mark, the Congolese talisman completely shredded the triad meant to mark him and forced an own-goal out of Kasim Adams. Stuttgart concluded the first-half with a 1-0 lead despite generating a 0.0 xG. One could nevertheless label it a strong 45. When Wamangituka is on, it's foolish to bet against this team.

A late-first-half injury to Orel Mangala might have left Matarazzo's men at a disadvantage. The American head-coach chose his replacement well, placing faith in the hitherto barely utilized Naouiro Ahamada. The on-loan Juventus talent slotted in nicely. Philipp Förster also upped his game accordingly, helping the teenager out with assisted ground coverage.

VfB's gaffer didn't panic in the face of a few minor second-half wobbles. He let his actors work it out. And did they ever. The 64th minute tally that put the game beyond reach was an absolutely brilliant team goal. Captain Castro sprung Wamangituka with a sumptuous pass off the outside of his boot. The Congolese attacker then dusted everyone with a scintillating turbo run and set up Kalajdzic for the easy finish.

Stuttgart could have easily won the match 4-0 or 5-0 had Wamangituka not found himself in the mood to record more assists when he could have scored some goals of his own. Endo was also magnificent late on, pressing high into the box in the final ten minutes all the up to 90+3. With the team operating at this level, it should be expected that Matarazzo's crew will give Bayern a real test this weekend, just as they did in the Hin-runde.

Josh Sargent, SV Werder Bremen

Matches played = 2/2, Matches started = 2/2

Minutes played = 154/180, Positions played = LS

Cumulative Grade = B-

We've two matches to score for the Missouri Marvel. Recall that his Hanseaten had a midweek makeup against Bielefeld last week. The fixture in which Sargent notched his third consecutive tally on the trot was technically a round 20 encounter. In the light of the opponent's strength, trainer Florian Kohfeldt actually designed a real offensive press.

Lineup—SV Werder Bremen—Match 20 (3-4-3)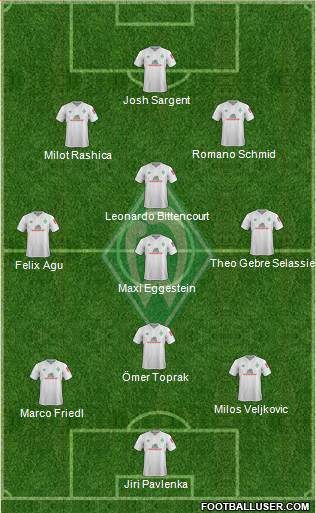 It remains rare to see Ömer Toprak run a genuine pivot. Moreover, one seldom witnesses such blatant forward license accorded to the wingbacks. Neither Sargent nor his team produced a particularly strong first half against the DSC. The American looked very shaky on a 3rd minute aerial duel. He let his mark slip away defending a 7th minute corner and supplied a deplorably bad lay-off in the 24th. Whether it was a pass or shot is immaterial. It was just bad.

It shaped up to be another immensely frustrating match in which Sargent ran his heart out to absolutely no avail. Given that he generally averages less than 30 touches in an appearance, one's heart sinks whenever this American supplies all of the hustle, yet can't seem to find the right bit of skill when it truly counts. Such was the case again in 33rd when he chested a ball down well, but couldn't figure out what to do with it afterwards. He did recover slightly near the end of the half, chipping in solid defending in the 36th and 44th.

Kohfeldt's more aggressive constellation failed to produce a single shot on target in the opening half. One can still credit the 38-year-old trainer for not ditching the approach at the intermission. The fixture might have ended 0-0 if Bremen sunk back into one of their 6-2-2s or 3-6-1s. Instead, Kohfeldt employed only one personnel change. Ludwig Augustinsson came on for Felix Agu. With a little luck, the oft-maligned coach ended up looking like a genius in this instance.

Augustinsson immediately got involved in the first charge of the second half. The Swedish international picked out Milot Rashica after his own courageous run. Rashica, in turn, set up Sargent for the American's third goal in as many matches. The Missourian positioned himself well and kept his nerve on the finish. It's worth noting that he was aided by a propitious deflection off Amos Pieper. On balance, however, one didn't have the impression that it was a random luck goal. Sargent certainly earned it.

Ordinarily, Sargent's play after scoring benefits from a big confidence boost. This time his post-goal performance was a bit more mix. He unnecessarily fouled an opponent tin the 54th and impractically killed off one of his team's attacks by breaking entirely too soon in the 57th. Teammate Leonardo Bittencourt could be heard yelling at Sargent to slow down and settle down. In terms of positives, he executed a brilliant ball shield in the 56th and teed up Romano Schmid just outside the box for an assisted shot three minutes before being subbed of in the 64th.

While it was not surprising to see Kohfeldt return to one of his "capitulation constellations" against Bayern over the weekend, it definitely never ceases to be disappointing. Bremen managed all of ten minutes or so of fight in their fixture vs. the German giants. Back to a flat back-three and buried wingbacks we went. Obviously, Bayern were a very different beast. That still doesn't fully excuse this:

Lineup—SV Werder Bremen—Match 25 (3-3-4)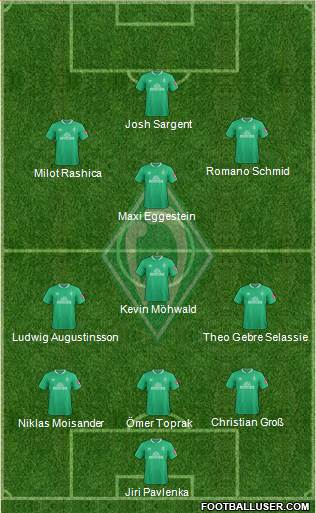 Sargent went the full 90 against the Bavarians, remaining at the lead-striker position even after Niclas Füllkrug came on in the 63rd. In the writer's count, the American collected an impressive 49 touches. Much of this had to do with the fact that usually got four to five touches in per possession spell. His teammates were often able to locate him on the ever-suspect Bayern right and he frequently knocked the ball around a bit before finding himself unsuccessful at finding a way through. Examples can be found in the 8th, 16th, 26th, 49th, and 52nd.

On this day, the American's short-passing game was actually rather sharp. The writer's (unofficial) stats accord him a 87 percent completion rate. One had to like how he picked out colleagues with deft field vision. Sargent gets thumbs up for play during sequences in the 18th, 48th, 55th, 60th, and 90th. Duels were pretty poor as he lost most of his challenges in the air and even got booked again in the 70th. To be fair, the Missouri Marvel was pitted against Jerome Boateng. It's unreasonably to hope that he could win more than a fifth of his direct contests matched up with so high caliber a player.

Assigning a composite grade was by no means easy as the opponents Bielefeld and Bayern made such radically different demands of the player. Kohfeldt's big shift also must be taken into account. The Hanseatic professionals routinely have to adjust their game radically from week to week. A short week renders the task even more difficult. In the final analysis, the lower third of the "B-tier" seems appropriate. Sargent basically did what was asked of him, though there were too many inconsistencies to merit a higher grade.

Chris Richards, TSG 1899 Hoffenheim

Minutes played = 90/90, Positions played = CB

Grade = C

Truly a day of wild swings for the Alabama native. Insofar as Sebastian Hoeneß's tactics are concerned, we're still looking at the same 5-3-2 utilized for several weeks. Spacing seems a bit wider; an evolution that more than likely constitutes an organic shift than a concrete directive from the young trainer. As promised above, we'll take a look as a means of demonstrating why it didn't work out for the Kraichhgauer against Stuttgart.

Lineup—TSG Hoffenheim—Match 25 (5-3-2)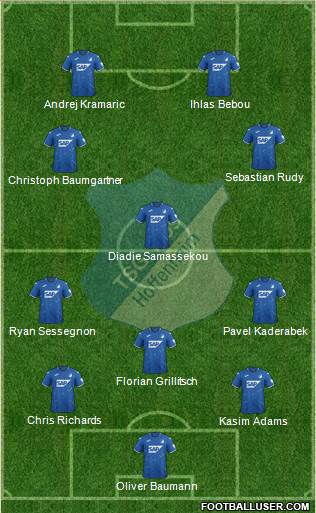 This American found himself very much involved throughout the proceedings, racking up 91 touches and playing 74 passes in the writer's register. One might as well begin with Stuttgart's goal in the 15th minute. Richards was one of the overcommitted players who allowed Wamangituka through. He earns a substantial docking for that play. He immediately recovered, however, to put in some good defensive work in the 18th and 19th.

There were many one vs. ones versus Wamangituka in the first half. Unsurprisingly, the American lost most of the battles. It still remains immensely difficult to dole out the demerits when one considers the type of speed Richards was up against. Perhaps the best illustration of how defending Wamangituka constitutes the impossible came in the 33rd. No one can reasonably hope to stop that. Our subject did extremely well to fight Stuttgart's magic man to a draw in the 38th.

It was encouraging to see Richards press forward so frequently during the match. Even in the midst of, arguably, one of the league's most difficult defensive assignments, this American maintained enough courage to join the offensive charge when opportunities presented themselves. That being said, his decision making was often poor. There were recklessly inaccurate long verticals (23rd, 52nd, 53rd), indecisive holds when he should have sent the ball back in (40th, 78th), and lackadaisical ball losses (42nd, 54th, 55th, 82nd).

The laudable highlights came via a nice forward chip at 45+1, an incredible stop of Wamangituka in 50th, and marvelous ball wins in the 70th and 87th. Some will have Richards rated significantly lower after Wamangituka made an absolute mockery out of his side. In this writer's opinion, Ryan Sessengnon was the the true culprit in this mismatch. Robert Skov came off the bench and didn't do all that much of a better job protecting the American from the great attacking menace. Moreover, Florian Grillitsch too often pushed forward and left the American stranded.

For whatever it's worth, Richards proved the strongest actor in the back-three.

John Anthony Brooks, VfL Wolfsburg

Minutes played = 90/90, Positions played = CB

Grade = C-

Can't say it was an especially compelling performance from the Berliner, even as his team demolished Schalke 5-0. Indeed, one can extrapolate this statement to apply to Wolfsburg as a whole. This writer agrees with Wout Weghorst's statement after the match. The VfL managed to score four second-half goals despite playing one of their optically worst halves of the season. So it goes when one squares off against Schalke. It doesn't need to be crisp or attractive. One can demolish the Königsblauen playing as ugly as one wishes.

Brooks began the match not entirely confident in his synchronization with new center back Marin Pongracic. His play was especially tentative from the onset, as evidenced by the number of rearward passes back to keeper Koen Casteels on aborted back-builds. Though he still won 63 percent of his duels in the writer's count, most of them hardly should have counted as mutually contested battles in the first place. Schalke were that terrible off the ball. Considering the opponent, bad losses in the 19th, 39th, and 53rd loom large.

This American also badly bungled and few rear collects in the 9th, 48th, and 84th. Sufficient positives prevent his grade from sliding into levels normally associated with a catastrophe. Great clearances came in the 5th, 64th, and 75th. His best challenge wins can be found in the 26th, 28th, 60th and 73rd. Intelligent possession choices are on display in the 2nd, 10th, 14th, 50th, and 62nd. He wasted absolutely no team in supplying one of his trademark towering headers away. One of his finest came 30 seconds in.

Brooks came in a little low in the touch count. Seventy four is a very low for him. It shows how uncharacteristically inactive and not present he was when one takes into account that at least 14 of those were back passes to Casteels. Switching off against Schalke may be difficult to resist for most Bundesliga players these days, but it's never truly excusable. A mediocre match can easily snowball into a slide. We'll hope that's not the case for one of Germany's best current defenders.



Related stories