Americans in the Bundesliga:
Reyna, Sargent, and Adams earn top level marks
By Peter Weis @PeterVicey
The football rolls on in the Bundesrepublik with an exciting midweek of DFB Pokal fixtures and another great weekend round on tap.

This week's scouting column covering the Bundesliga's American actors merges round 23 of the league with the quarterfinals of the country's domestic cup.

It's a lengthy one this time with plenty of pertinent information.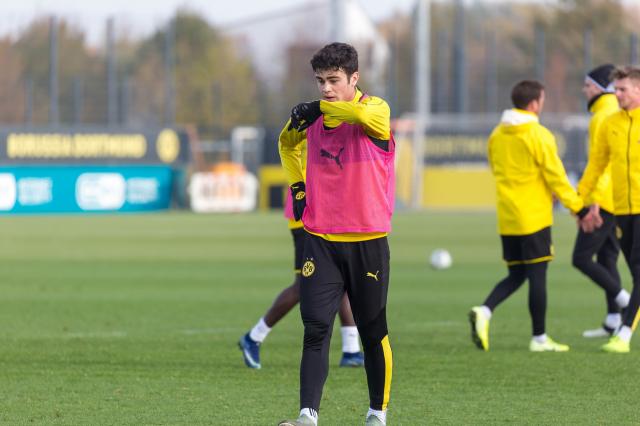 The DFB-Pokal quarterfinals leads us to another multi-match column. Although four Americans were eligible for double duty this week, only Tyler Adams ended up playing maximum matches. Edin Terzic opted not to use Giovanni Reyna in the Pokal. Josh Sargent saw his Tuesday fixture cancelled on account of COVID. John Anthony Brooks had to serve a suspension this weekend.


There remains a great deal to catch up on. Chris Richards' ascendancy at Hoffenheim pushes the field of USA Bundesliga regulars to seven strong. All six players along with the league's American trainer receive graded sections this time. All seven sections furnish a significant amount of intrigue. Off we go!

Giovanni Reyna, Borussia Dortmund

Matches played = 1/2 , Matches started = 1/2

Minutes played = 69/180 , Positions played = CM, RW

Cumulative Grade = A

Some may disagree with top level marks in this instance. One should point out that no other footballing reviews have him rated so highly. The set of eyes responsible for scoring in this column witnessed a lot of promising signs from a player who hasn't looked near his best for several weeks. Reyna still isn't close to 100 percent after his recent bout with illness. Moreover, his non-use in the DFB-Pokal fixture may suggest that his coach isn't comfortable giving him his role in the starting XI yet.

We can nevertheless commemorate a good overall performance. With a mite more luck, the "American Dream" could have gotten himself on the scoresheet against Bielefeld this weekend.


Lineup—Borussia Dortmund—Match 23 (4-1-4-1)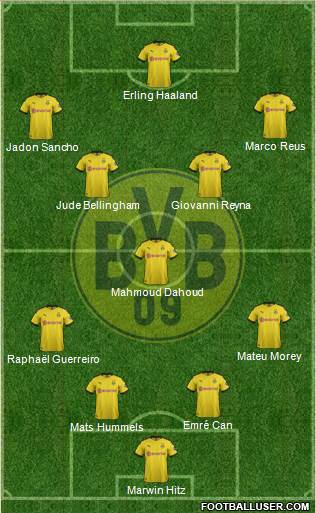 We'll cover the bad plays first. Reyna's more natural position lies on the wings. As a result, he sometimes struggles to work out his role on charges when slanted inward. He failed to call for the ball in the 4th and couldn't recover from a lead-footed first touch in the 5th. In the 6th, he got his pocket picked ahead of Ritsu Doan's shot. After this disastrous start, he faded away from the play for about 13 minutes.

With a bit more more determination, he began pushing outward. A much more confident first touch in the 19th needed to be followed up by a run into the box, but he didn't appear quite ready yet. Two through balls in the 22nd and 23rd arose from better assurance, even if they lacked the requisite precision. Reyna still wasn't quite in the game in the 28th when he let a rebound bounce off him instead of being aware enough to deal with it.

Now the turnaround. After a nice pick-out of Sancho in the 31st, he hit the side-netting himself in the 33rd. The control was impeccable, the finish elegant if not a tad too cutesy. Reyna and Sancho finally displayed some chemistry on their synchronized runs around the 35th. The pair have had some difficulty getting their intuition correct in recent weeks, so this counts as a rather significant development.

A sublime kick-out to Sancho in the 40th and some more stylized control in the 45th showed he was on the uptick. Involvement in the attack after the restart looked far less tentative. There exist multiple examples between the 49th and 56th. The real spot of bad luck came on the play leading to the 58th minute penalty. Referee Tobias Reichel shouldn't have blown the whistle as an advantage play was developing.

Had Reichel not interrupted the play, Reyna's exquisite finish would have counted. The American may consider himself very unlucky not to have been credited with a goal on this day. He might have had another were it not for a hard takedown in the 61st that Reichel inexplicably failed to whistle down. Strong touches and takedowns continued until Edin Terzic cautiously pulled Reyna off in the 67th.

As noted above, it served as a disappointment not to see the American utilized in the Pokal. No reliable information concerning him absence can be located at this juncture. Assuming he hasn't incurred a light injury, one should expect him to continue on an upward trajectory in the coming weeks.

Josh Sargent, SV Werder Bremen

Matches played = 1/1, Matches started = 1/1

Minutes played = 79/90, Positions played = CF, SS

Grade = A-

At long last the Missouri Marvel pulls himself out of the "D-zone". The 21-year-old works hard through his head-coach's patented over-tinkering every week. Distance statistics always place this Americans km totals between seven and nine, meaning he runs quite a bit for a striker. This round might have been another instance were it not for some uncommonly sensible adjustments from Florian Kohfeldt at the half.

Lineup—Werder Bremen—Match 23 (6-3-1)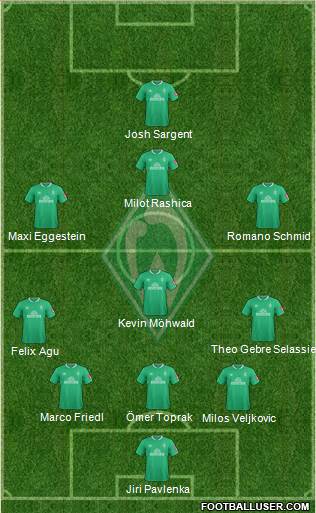 This was about as maddening as anything else we've seen from Kohfeldt this season. If one cares to give the first ten, one can observe Sargent mostly engaged in deep defensive press work. He's absurdly far back in the 3rd, 8th, and 9th; far too much so to have any hope of affecting the play. As stated numerous times in this column, this American's primary deficiency remains his inability to catch up to the attack. Predictably enough, this occurred in the 12th, 22nd, and 34th.

Even amongst all the frustrating connotations of another Kohfeldt "deep-six" constellation, there did exist signs that it might be a different day for this American prospect. He did a phenomenal job of holding the ball up in the 23rd, was somewhat unlucky to have a goal disallowed after some great hustle in the 28th, and charged in to see a worthy effort blocked in the 39th. One can only conjecture if his head-coach sensed a subtle confidence build near the end of the half.

Whatever the circumstances, Kohfeldt got his tactics right at the restart:

Lineup—Werder Bremen—46th minute (6-3-1)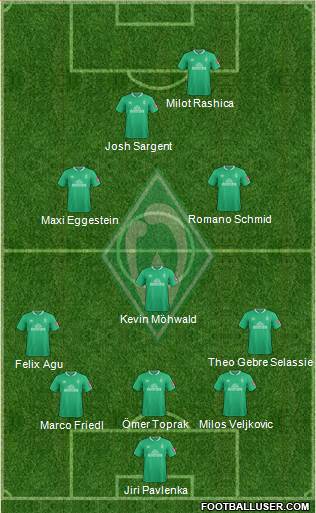 Prudently compensating for a first half xG of 0.2m, it looked as if the Hasnseaten trainer flipped Maximilian Eggestein and Romano Schmid. Much more importantly, he finally moved Sargent back into the short striker role in which he demonstrated such promise during the preseason. Though Bremen's eventual comeback had much to do with a series of flow-interrupting VAR timeouts, the American took full advantage of his pocketed positioning to infuse his team with much-needed energy.

Theodor Gebre Selassie's equalizer wasn't directly related to the shift. Filip Kostic simply lapsed on a ball loss deep within his own defensive territory. The 1-1 in the 47th thus literally came out of nothing. Over the ensuing quarter of an hour, however, an increasingly assertive offensive posture on behalf of the northern hosts reduced Frankfurt's own attacking sequences to a series of plodding builds and long switches. Sargent put his team ahead in the 62nd when he latched onto an Eggestein short-pass with a sumptuous first touch and a ruthless finish.

Five minutes later, Milot Rashica nearly serviced the American with an excellent return. The streaking American looked a different player, brimming with confidence and an appetite for tenacious runs. Sargent set up Schmid for a goal in the 69th. In accordance with some of the other bizarre refereeing decisions in this one's second 45, the goal was waved off by the Kölner Keller even though Sargent looked to be onside. Had the play been allowed to count, Sargent would have been credited with a magnificent assist. He demonstrated amazing composure against onrushing SGE keeper Kevin Trapp.

Plenty of more great work on display from the Missourian in his final ten minutes on the pitch. One can watch him work a cycle splendidly in the 72nd, nearly crack a counter with some fine positioning in the 74th, and recover from a turf spill to win a ball in the 75th. We've often said in this column that Kohfeldt finally stumbled upon a system capable of bringing out the best in his players. This optimistic observation rarely amounts to much as the 38-year-old routinely finds a way to make a hash of it the next week. Chances are that Sargent will once again find himself at the bottom of the pack next time.

Bremen remains a team that burns one after each and every hopeful display.

Tyler Adams, RasenBallSport Leipzig

Matches played = 2/2 , Matches started = 2/2

Minutes played = 180/180 , Positions played = CM, RM, RB

Cumulative Grade = A-

Full minutes and top-level marks for the New Yorker, who earned some deserved praise from Julian Nagelsmann this week for incredible work against Gladbach on Saturday. Having already covered that match in great detail via this week's tactics column, we'll want to focus on the Pokal fixture here. It should still be noted that Adams garnered an incredible 131 touches in the league encounter. It was by far his best work of the season. Sensational skill is on display there in the 17th, 45th, 57th, 60th, 65th. and 87th to take just a few examples.

Moving onto the Pokal match against Wolfsburg, the RB trainer didn't bring up his American's dogged work as a midfield linchpin arbitrarily. The 33-year-old head-coach found himself genuinely impressed by double-six set-up comprised of Adams and Dani Olmo; to the point that he rolled it out as part of his opening hand in the cup quarterfinals.

Lineup—RB Leipzig—DFB Pokal (4-3-3)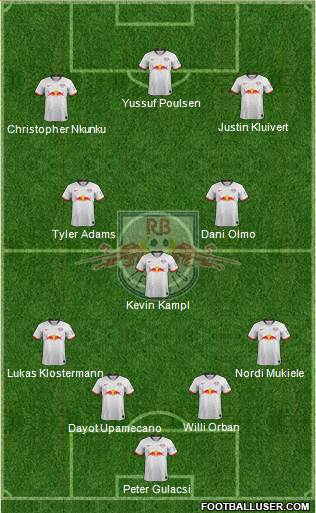 This straightforward set-up (a rarity from Nagelsmann) proved fiendishly effective. Everyone understood their pressing lanes. Accordingly, just about every Saxon actor dispossessed their counterparts before they could even begin to contemplate doing much with the ball. Adams was an absolute bundle of energy in the opening 20 minutes, stripping VfL players of the ball in the 3rd, 6th, 8th, and 12th. He even ran ridiculously hard for balls he had zero chance of reaching, as was the case in the 11th.

The Leipzig engine room cooled off a bit nearer to the hour mark; in part because of the amount of energy expended by the full XI, but mostly due to a tactical directive from Nagelsmann. The RB trainer called for a back-three revert in possession. This sowed a bit of confusion. Adams still broke up some nice VfL builds in the 33rd and 38th. He was at his best on a tenacious one-vs-one against Ridle Baku in the 37th. Well on his way to racking up another beastly touch count as many as 14 kms in distance covered, an injury to Willi Orban forced Nagelsmann into a half-time re-format.

Lineup—RB Leipzig—46th minute (4-3-3)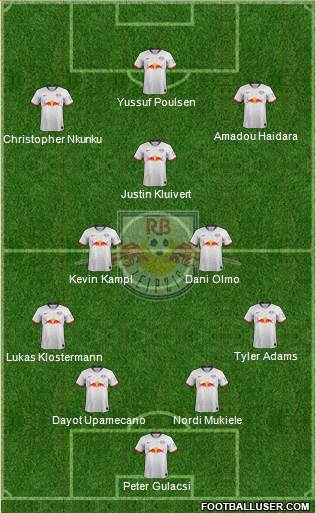 We've spoken in this column about how right-back isn't necessarily Adams' strongest position. In addition to that, Kevin Kampl usually does better to occupy his own axis or at least work a stagger with Marcel Sabitzer. Justin Kluivert's work at in the ten-spot also took some time stabilize. Operating under these changes, the German Red Bulls weren't nearly was dominant in the second half.

One saw far less of the American, though he did play a role in initiating some sharp attacking sequences between the 69th and 78th. Adams was not involved in either of the team's goals and realized only 19 touches in the second 45. The cumulative grade doesn't suffer much as the cause was tactical. One still witnessed plenty of energy from him.

Given that Nagelsmann will surely have his sights set on Liverpool this weekend, one might see him rest his New York prodigy after a very busy week. A round of applause remains in order for Adams' fantastic work on a full double shift in the last seven days. The 22-year-old looks set up for a strong finish to the season.

Chris Richards, TSG 1899 Hoffenheim

Matches played = 1/1, Matches started = 1/1

Minutes played = 90/90, Positions played = CB

Grade = B

The Birmingham, Alabama native unquestionably brought a bit too much "mia san mia" spirit to his new team last week. An zealous quote seemed quite out of place following the Europa League humiliation. That notwithstanding, one shouldn't penalize an ambitious youngster for a minor case of misplaced hubris. This American's performance against on Union over the weekend fell short of spectacular, but was by no means a bad one.

Lineup—TSG Hoffenheim—Match 23 (5-3-2)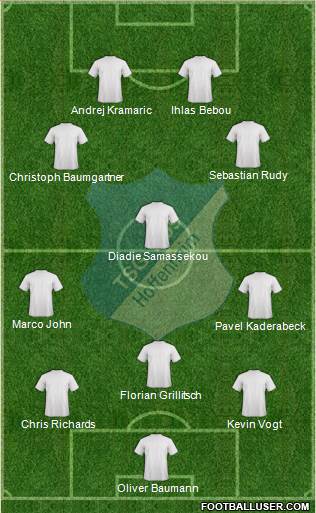 A few small adjustments, beyond the two personnel changes, from Sebastian Hoeneß differentiate this from what we observed last week. First, it looked as if Sebastian Rudy and Christoph Baumgartner flipped sides. Next, wingbacks Pavel Kaderabeck and Marco John joined Diadie Samassekou in scooting back a bit for a deeper build.

The reasoning behind the second alteration relates to the third change. Natural midfielder Florian Grillitsch stepped ahead to run pivot. While well intentioned, one can make the case that these slight shifts cost the Kraichgauer a chance for all three points at the Stadion An der Alten Försterei. Early sloppiness associated with the alterations cost the squad dearly.

Richards exemplified the difficulty many of the actors had getting their lines straight with two poor vertical balls forward in the opening five minutes. He carried forward deep like a pro in the 8th, yet ultimately ended up losing the ball and being caught out of position on the subsequent play that led to the penalty. The actual foul preceding the spot kick came from Grillitsch, also completely out of position and incapable of defending properly.

Grillitsch unleashed an absolute stunner from 25 meters out in the 14th. Perhaps lost amongst this play was the fact that the American had carved out a perfect position to receive a whipped in cross. All of the aforementioned changes, minute though they might have been, left the team woefully disorganized during the crucial period during which they could have established complete control.

Richards stuttered badly, unsure of whether to break or not in the 15th. He passed forward poorly again in the 17th, couldn't complete a passing triangle in the 19th, and lost a very bad aerial against Joel Pohjanpalo in the 25th. In truth, the whole team didn't really settle in until the half hour mark. The American recovered to clear well in the 31st and strip a ball very well in the 35th.

A better job on aerial 50-50 somewhat compensated for more suspect passing in the 41st, 43rd, and 45+1. Some might consider it appropriate to dock Richards further for these miscues. He did rack up a total of 16 stray passes in the (unofficial) count. After some reflection, this reviewer concludes that the general lack of ideas going forward from the spread back-three remained more of a tactical issue.

The American still connected on 87 percent of his passes, often having little option beyond a straight vertical. Two strong aways in the 56th and 58th certainly helped his score. Tight marking on Pohjanpalo in the 63rd might have saved his team the game. Richards also continually ran forward to involve himself in the offensive play. Crosses only just missed him in the 53rd, 65th, and 78th.

There may be future matches in which repetitive mistakes plunge him lower down the grading scale. In this one, the Alabama man simply covered way to much box-to-box ground for it to be considered a substandard performance of any sort. Richards remains in the right place and is (mostly) doing the right things. He should be in for a strong finish to the season.

Pellegrino Matarazzo, VfB Stuttgart

Matches = 1 , Match result = W

Grade = C+

Grading Matarazzo proved an excessively difficult task this week. Practically all the credit for his side's 5-1 defeat of Schalke belongs to self-sabotage on behalf of the Bundesliga's doormat club. For weeks now we've been tracking the positioning trends of Silas Wamangituka and Borna Sosa. An organic re-orientation sees this pair pull further apart.

Something needs to be done about this. The most obvious solution would be to give the Congolese attacker a break. Matarazzo showed himself fully aware of this and acknowledged as much. Tanguy Coulibaly's injury meant that it couldn't come this week. As a result, we witnessed this:

Lineup—VfB Stuttgart—Match 23 (3-5-2)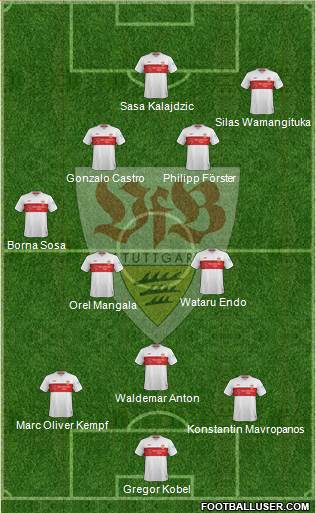 We're at the point now where Wamangituka is almost keeping an equal line with the lead striker. The highly gifted winger remains full of energy and athleticism, but he possesses less patience and creativity behind the play. A four-match league scoring drought won't be ameliorated by him tethering himself to the front, routinely powering efforts over or trying to draw contact in the box.

Given Wataru Endo's propensity to roam, Matarazzo must implement measures capable of bringing some stability to this lineup. At present, there exist too many exploitable spaces. It would come as no surprise to see Eintracht Frankfurt light up the Swabians this weekend with Adi Hütter's especially potent 3-4-2-1. The coming fixture counts as a significant test of Matarazzo's tactical mettle.

A fixed triplicate axis behind Sasa Kalajdzic seems like a good idea. If the American trainer truly finds himself unable to give Wamangituka a break, he could perhaps place Daniel Didavi above him on a horizontal deployment alongside Gonzalo Castro and Philipp Förster (or Philipp Klement) to keep his rapacious attacker in check. The SGE may potentially have a field day with what hapless Schalke couldn't even begin to match.

Matthew Hoppe, FC Schalke 04

Matches played = 1/1, Matches started = 1/1

Minutes played = 73/90, Positions played = LS

Grade = D-

One might think the player complaints leading to Christian Groß' dismal a bit reminiscent of something petulant and spoiled children would do. This writer mostly agrees. It's frankly sad that young footballers who have every want and need catered to feel entitled to throw their superiors under the bus. The fact remains that football a rough business. Moreover, the game evolves at warp speed. The tactics that worked for Groß the last time he coached in the Bundesliga (2009/10 with VfB Stuttgart) don't apply well to the modern game.

We'll examine the Swiss trainer's strategy on Saturday against the club he once led. In truth, one doesn't necessarily need to look at the constellation in order to determine that Groß wasn't running his training sessions properly. The team's total lack of defensive organization on set-pieces serves as indictment enough. It remains worth one's time to take a closer look at just how many inherent mistakes exist within the matchplan.

Lineup—FC Schalke 04—Match 23 (4-2-3-1)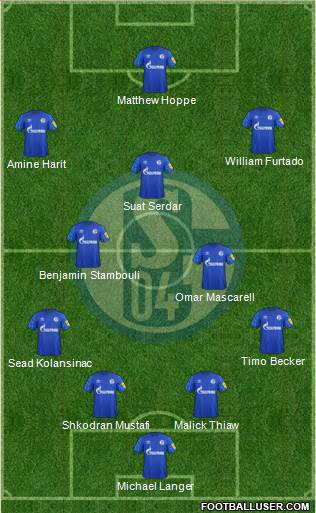 Contrasting this with what we saw in round 22, little about this makes any sense. Die Knappen's biggest problem, Hoppe's isolation from the build-up play isn't addressed at all. Groß sacrificed one of his midfield linkers to further prelude the possibility of upfield sequences. Benjamin Stambouli and William Furtado, both of whom were wretched last week, are relied upon to work staggers.

Stambouli's advanced stagger is far more obvious. William operated just a hair ahead of Amine Harit in the, ridiculous, hope that he could work around Stuttgart's Borna Sosa. The players accused Groß of not adequately preparing for the next opponent. They have a point. Two actors in suspect form were kept in the lineup. An attempt at some contemporary tactical trickery didn't appear to take the opposing side's greatest strengths into account.

Insofar as Hoppe is concerned, we must again return to the touch count. The American got his foot on the ball a paltry 13 times throughout the course of the afternoon. While such a statistic ordinary reflects the tactics more than the player, this remains an appalling total for a lead striker irrespective of how bad the day's design was. Apart from a deft chest-down in the 7th, there's little positive to say about this American's performance.

The whole match induced endless cringes. As noted in the weekend column, it was akin to watching a litter of kittens getting stomped on. Hoppe contributed his own fair share of winces. A bad ball loss moments after the take down in the 7th, a completely botched breakaway with Harit in the 48th, and capitulatory positioning on a 67th minute set-piece are a few examples. The Californian played as bad as the rest of the team.

It shall of course prove interesting to see what sort of flash reforms new trainer Dimitrios Grammozis undertakes in his first fixture against Mainz on Friday night. This writer predicts that Hoppe will retain his starting spot, with three new support actors in the form of Steven Skrzybski, Alessandro Schöpf and Benito Raman. A move many of us league-watchers have been calling for would see Sead Kolansinac move into midfield. Theoretically at least, this would prove very helpful for the perpetually abandoned lone striker.

John Anthony Brooks, VfL Wolfsburg

Matches played = 1/2 , Matches started = 1/2

Minutes played = 90/180, Positions played = CB

Cumulative Grade = D-

After serving his yellow card suspension this weekend, the Berliner returned midweek in the Pokal. All things must come to an end eventually. Brooks' sustained run of nearly perfect form constitutes no exception. The man who managed 122 touches in his last league fixture accumulated less than half that in a mistake-riddled performance against Leipzig. Cause for serious alarm doesn't exist yet as it the entire team, excepting keeper Koen Casteels, turned in a wholly deficient effort.

All of the VfL's defensive actors were sent scrambling for their live in the opening 20 minutes of the cup tie. The side actually owes a debt of gratitude to Brooks for a vital recovery in the 2nd and a desperate header away in the 15th. Germany's green company team got absolutely slaughtered in terms of early possession. Intricate one-touch passing combinations on behalf of the hosts left Oliver Glasner's men with virtually no hope of setting up their shape. The American looked to be settling in by at least keeping a good offside line in the 33rd and 37th.

Shortly before the break, however, Brooks hauled down Christopher Nkunku in a move that the ref totally missed. A nice forward play in the 43rd didn't quite make up for the fact that he should have been booked; possibly even sent off. As it turned out, the lapse would be the prelude to a hard tank. He mistimed ground challenges in the 47th and 53rd. Brooks allowed Alexander Sørloth to pull him out of position and didn't track back properly on what would lead to Yussuf Poulsen's 63rd minute goal. He'd blow his marking again in the 64th, 68th, and 70th.

To cap an absolutely miserable day, the Berliner got beat by Sørloth on Leipzig's second goal in the 88th. The Norwegian tugged him a bit on the right flank duel, but one could it poetic justice in the sense that it was nowhere near as flagrant as Brooks' own manhandling of Nkunku. Off nights happen. One can look forward to seeing if he can rebound against fellow American center back Chris Richards and Hoffenheim on Saturday.



Related stories