Eintracht Frankfurt set new fan precedent:
Vaccinated and recovered get four times as many seats
By Peter Vice @ViceytheSS
In what may prove a highly significant legal precedent in the Bundesrepublik, the city of Frankfurt announced an interesting interpretation of its own corona-protection-ordinance. 

Little stands in the way of 25,000 live fans attending Eintracht Frankfurt's home season opener against FC Augsburg on August 21st.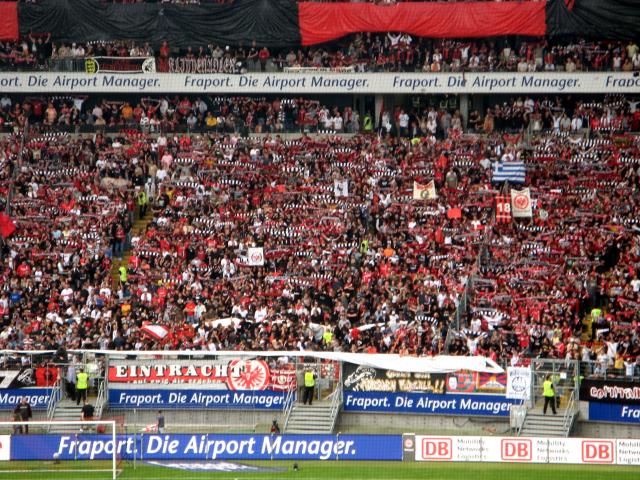 When issuing its latest ruling on the state of fan re-entry in Germany, the DFL left open the possibility that football clubs may--in cooperation with the relevant local health authorities--operate outside the confines of the familiar "RKI stabilizer metric". To review, public events in Germany have been regulated by a statistical stabilizer since the onset of the pandemic some 18 months ago. The recommendation of the nation's federal public health research institute holds that large-scale gatherings should be prohibited if the seven-day-running-average of new COVID infections exceeds 35 per 100,000 inhabitants.


Early indications this year suggest that local organizations, including football clubs, will not be strictly adhering to this measure in the same manner that they did last autumn. An interesting precedent emerges from the German state of Hessen, in which the city of Frankfurt just exceeds the barrier of 35. As of Friday, the state's largest city is averaging 40.2 per 100,000 inhabitants. Does this mean that the club must immediately begin to walk back plans to host 25,000 spectators in Deutsche Bank Park?

Not according to state health minister Stefan Majer (Bündnis 90). In an interview with Bild, the official explained that state's Corona Protection Ordinance caps public gatherings at a figure of 5,000 persons when the threshold has been exceeded. In what can only be described as an especially bold interpretation of the law, Majer insisted that the ban does not apply to those citizens who can demonstrate proof of either vaccination or recovery.

Effectively, this reading of the legal statute separates the vaccinated from calculus. Should the number remain above 35, Frankfurt will only be able to host 5,000 unvaccinated fans. A further 20,000 inoculated or recovered supporters can be permitted through the turnstiles without hinderance.

"From an incidence rate above 35, the state of Hesse only allows up to 5,000 spectators," Majer explained to the newspaper, "but vaccinated and recovered people belong to a separate group."

Majer added a direct message to SGE supporters: "Thus, be sure to get vaccinated dear Eintracht fans!"


It remains possible that this interpretation will not survive long. A great many things can transpire between now and the date of the fixture in question, which takes place one month down the line.

On the other hand, Western governments who rapidly run out of carrots in the quest to inoculate the more hesitant portions of their populace may be tempted to deploy what, contextually speaking, amounts to a soft stick.

It shall prove most interesting to see how clubs across the Bundesrepublik, and indeed organizations across the Western world, treat this precedent.



More about Frankfurt