Schmadtke defends van Bommel after illegal sub:
"It's important that we don't get too bent out of shape on this."
By Peter Vice @ViceytheSS
After Preußen Münster opted to lodge a formal complaint with the DFB over an illegal substitution by VfL Wolfsburg trainer Mark van Bommel in Sunday's 1-3 cup defeat, the German FA will first collect detailed statements from both clubs before proceeding further. 

It is not yet clear whether the DFB will hold van Bommel or members of match official Christian Dingert's officiating team responsible for a rule-violating sixth substitution in the 103rd minute of extra time.

At present, it seems likely that the arbitration committee will rule in favor of Münster and eliminate Wolfsburg from the competition. In effectively conceding defeat in the matter, VfL managing director Jörg Schmadtke expressed both humility and frustration regarding the mistake.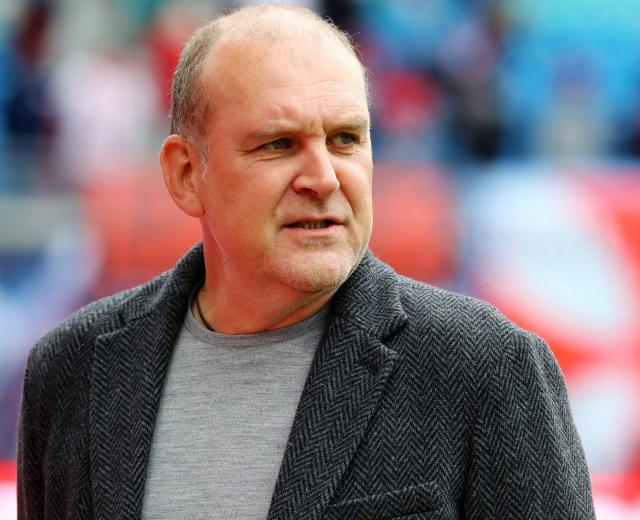 | | |
| --- | --- |
| Jörg Schmadtke. | Photo: GEPA Pictures/Roger Petzsche |
Neither the viewers, broadcasters, nor players on the pitch seemed to notice the mistake. In the 103rd minute of extra time, with VfL Wolfsburg and Preußen Münster deadlocked at 1-1, VfL trainer Mark van Bommel pulled the trigger on a double substitution. Admir Mehmedi and newly acquired central defender Sebastiaan Bornauw entered the match for Maximilian Phillip and Maxence Lacroix, respectively.


Accustomed to following football during the recent European Championships, many observers could be forgiven for not noticing that the switches constituted Wolfsburg's 5th and 6th substitutions of the match. At the international level, an extra sub is permitted should a match go into extra time.

Regrettably, that rule actually does not apply to Germany's domestic cup competition. The substitution allowance remains capped at five irrespective of whether a match goes into extra time.

Bornauw, who within less than a minute after his introduction, assisted on a Wout Weghorst goal that broke the deadlock and effectively swung the match in visiting Wolfsburg's favor. Bornauw's use was nevertheless illegal.

After taking the day to think about it, Preußen Münster filed a protest on the basis that, through the illegal substitution, "our guests decisively influenced the match to our disadvantage." For the third tier side, there is much at stake financially. A trip to the 2nd round of the DFB-Pokal carries with it a financial reward of some €250,000.

For van Bommel, the mistake counts as something of an embarrassment in his first ever official competitive match as a footballing head-coach. Contacted by Germany's Associated Press (spa) for comment earlier in the day, the VfL contended that van Bommel and his coaching staff repeatedly asked the officiating team if the sixth sub was permitted and were given the green light.


Wolfsburg boss Jörg Schmadtke effectively declared that all sides should share the blame in his own statements on the matter

"This is extremely annoying and frustrating, but unfortunately can no longer be reversed," Schmadtke initially said, "We will analyze the issue internally and ensure that something like this doesn't happen again."

"Despite all the anger and frustration, it's important that we don't get too bent out of shape about this," Schmadtke said later in the day after investigating the matter and announcing that there would be no internal consequences, "Even though we briefly thought about enrolling all of those involved in a basic course on 'reading correctly' at the adult education center, we decided--after careful consideration--to refrain from doing so."


"Ausgesprochen ärgerlich": Stellungnahme von VfL-Geschäftsführer Jörg Schmadtke.

➡️ https://t.co/cYAP2ccPOu#VfLWolfsburg pic.twitter.com/V1IIysUnc3

— VfL Wolfsburg (@VfL_Wolfsburg) August 9, 2021
Related stories