Bochum brass back current coach at presser: "We have faith in Thomas Reis."
By Peter Vice @ViceytheSS
At a Thursday presser, both new VfL Bochum sporting director Patrick Fabian and board chairman Hans-Peter Villis denied that head-coach Thomas Reis' job was in jeopardy.

Reis himself responded to rumors that he had been prevented from taking his preferred job at Schalke over the summer, noting that he was very irked at the suggestion that he sought higher pay at took the insinuation "brutally personally".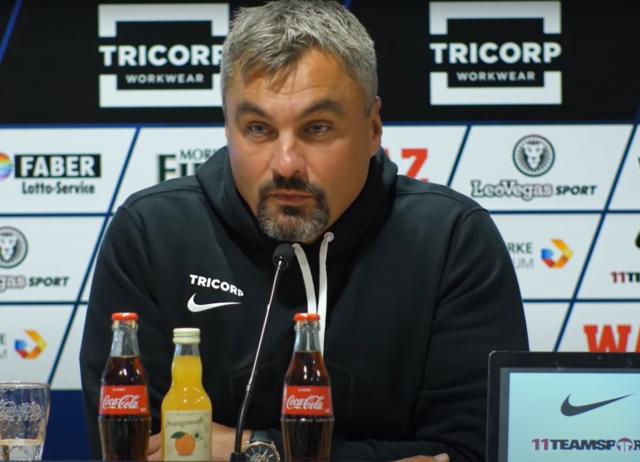 VfL Bochum unveiled their new sporting director at a Thursday press conference. As had been expected for some time, Sebastian Schindzierlorz's four-year-tenure as the club's chief personnel executive came to an end on Wednesday. In choosing Schindzierlorz's successor, the Ruhrpott club chose another former player in the form of Patrick Fabian.


The new VfL sporting director represented the 1848ers 148 times on the pitch from 2007 to 2020. Fabian has been involved with the club in total for 22 years. Joining Fabian and head-coach Thomas Reis on the podium was board chairmen Hans-Peter Villis.

Naturally, the first questions directed at the three men involved rumors that Reis may be on the hot seat, along with reports Reis may have been forbidden from taking the Schalke job this summer by his current club.

"Thomas and I have a very good relationship," Fabian noted, "Even before I started today, we were always exchanging ideas and trading feedback. I am convinced that we will continue to work together successfully in the future."

Villis also wished to stress that the status quo would be retained.

"Our wish is to continue working with Thomas," the chairmen noted while also confirming that contract extension talks had been broken off for now, "Together, we've decided to push the talks back until the winter. Everything else is speculation from the outside."


When it came to the Schalke rumors, Villis sidestepped the question.

"Those are internal matters that remain internal," Villis said, "We have always emphasized that we want to work with him [Reis], and that remains the case today. We are now focusing exclusively on the sporting side, not on any personnel matters. There will be no alterations because of pressure from the outside. We have confidence in Thomas Reis."

Reis himself conceded that he was "annoyed" by the rumors, but declared himself to be satisfied in his current position and said he had observed several important developments within the team. Reis didn't shy away from sharing his feelings on how he was portrayed in the press with respect to the Schalke rumors. 

"In the summer, I was supposedly headed to Wolfsburg," Reis noted, "These are all rumors. We want to focus on the sporting side of things here now. The discussion that it would be about money for me irks me. It's out of my hands, but I still take it brutally personally. Ultimately, my reputation has been spun in a way that I don't think I deserve."

Already relegation-favorites in their second year back in Germany's top footballing flight, Bochum have been unable to attain any points through four round in the current campaign.

The only Bundesliga team not to have gotten at least one point in the 2022/23 Bundesliga season lies at the bottom of the table and has a tough match against recently promoted SV Werder Bremen, who have looked very strong in their first four matches thus far.

"It is what it is," Fabian responded when asked about the state of the club he had inherited, "I take the situation as it is right now. I'm convinced that this roster possesses enough quality to remain in the league."



More about Bochum