Neuer's rift with FCB management deepens after interview
By Peter Weis @PeterVicey
In interviews with Raphael Honigstein of "The Athletic" and Philipp Selldorf of the "Süddeutsche Zeitung", Manuel Neuer issued harsh public comments on Bayern's firing of his preferred goalkeeping coach yesterday. 

Bayern CEO Oliver Kahn has responded to these comments. Senior Editor Georg Holzner of Germany's Kicker Magazine has published a commentary for Germany's preeminent footballing publication.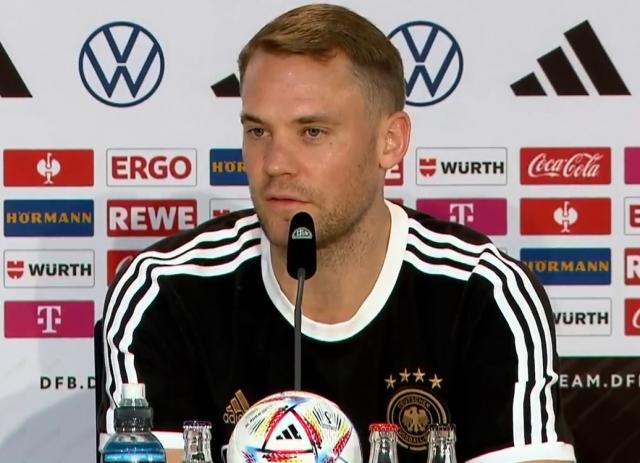 Famous German footballing journalists Raphael Honigstein ("The Athletic") and Philipp Selldorf ("Süddeutsche Zeitung") have tracked Manuel Neuer down at his secluded recovery locale in Bavaria's remote lakeside town of Tergensee. It obviously would only be a matter of time until Neuer was pressed to respond to the public criticism of his World Cup performance, his controversial decision to go on a skiing holiday (and injure himself) afterwards. and his club's recent firing of his preferred goal-keeping coach.


Neuer's skiing holiday has led to him receiving a lot of heat among media pundits. The German footballing legend defended himself by stating that he simply needed a break after the tournament; one in which the scant support from the public, a very public spat with FIFA, and a humiliating second consecutive group stage elimination left the man tasked with donning the captain's armband feeling totally burnt out.

"We had the feeling that we had little support from the public," Neuer said of Germany's World Cup, "We arrived from our pre-tournament training camp in Oman with a millstone around our necks. When people said that I was responsible for Germany's failure that hit me. It really hurt me. On my first day back home, I sat around and felt like shit. I couldn't sit still and wasn't ready to watch the other games either."

"So I went on a 10k run the first day and again on the second," Neuer continued, "I realized that this works like therapy for me. On the third day, I went for a long hike. On the fourth on a skiing tour with my closest friends. I've been skiing for over 30 years. It's not a vacation activity for me. It's as commonplace as going to the bakery."

For Neuer, the accident was not foreseeable. Finding out that he needed surgery obviously filled him with dread. The 36-year-old confirmed that he did feel as if he had let his team down. He immediately apologized after posting the now-famous photo of him in his hospital bed to Bayern's "WhatsApp" group. Though he insisted - and FCB bosses have confirmed this - that he had no problems with Yann Sommer's transfer in to replace him. Toni Tapalovic's sacking, however, is another matter.

"That blow hit me very hard," Neuer said of the firing of his preferred goal-keeping coach, "It came out of nowhere. It was a big kick when I was already down. It felt like my heart was being ripped out of my chest. It was the most crass thing I've ever experienced in my professional career, and I've experienced quite a lot. Many in our goalkeeping group and team burst into tears."


While Bayernhave tried to keep the exact circumstances behind Tapalovic's dismissal deliberately vague, it's not necessarily hard to divine what is happening. The club plans for the future. Tapalovic's presence is rumored to be one reason why Alexander Nübel couldn't be persuaded to return from his loan spell with Monaco. Sommer himself is expected to compete for Neuer's spot long-term.

Bayern have removed what they perceived to be a biased voice from their coaching team. An ostensible "comfort blanket" has been taken away from the position in the interest of future competition. Neuer had already deployed what were, for him, rather surprisingly vehement words. As the interview continued, he sounded even more unbecoming.

"There was no reason given that was comprehensible to me," Neuer said of the dismissal, "Things were said that I didn't agree to. Nothing I heard of would have prevented the possibility of things being sorted out with a conversation. This was a big disappointment; about how a valued employee was treated from a human perspective."

Neuer did emphasize several times during the interview that he accepted the club's decision and maintained good relations with FCB management. As pertains to his specific talks with Oliver Kahn, Neuer thanked the Bayern executive for allowing him to express his opinion as "let his voice be heard". Kahn nevertheless had to express his own disappointment with Neuer's interview in his first public comments on the matter.

Germany's associated press (dpa) contacted Kahn for comment on Friday.

"He is personally affected and one can understand that to a certain extent," Kahn said about Neuer's reasons for giving the interview; one that was not coordinated with the club. "We were aware of that when we explained to him that the decision we made about the goalkeeping coach, which was not taken lightly, was what was best for our team at that moment."

Khan still had to cite some examples from his personal career. The former German national team goalkeeper found himself unpleasantly relegated to the sidelines during the 2006 World Cup; the famous championship hosted by his own country. Then Bundestrainer Jürgen Klinsmann opted to demote Kahn and start Jens Lehmann based on the fact that the latter was playing "a notch" better.

Kahn's journey to the bench still began two years prior to the competition, when his preferred goalkeeping coach Sepp Maier left the DFB. Kahn made it clear that he felt Neuer was out of line making his personal feelings public. Kahn did, of course, publicly speak on his frustrations during the 2006 tournament. The relationship to his goalkeeping coach, on the other hand, was kept private.

"I was in a similar situation in my career," Kahn said, "I was disappointed at the time too. I was angry with the DFB. Sepp and I had a friendly and trusting relationship for years. But our common objectives were my top priority. The goals were more important to me than my feelings. That's why I decided at the time not to express myself publicly. Manuel has now done the opposite and we will have clear words with him."

Whether or not Neuer's rift with club management is reconcilable remains to be seen. Much depends on the perception of the interview amongst the German footballing public. Leading the charge on initial opinion forming, senior German footballing journalist Georg Holzner of Germany's Kicker magazine published an editorial on Kicker's website late Friday.

Holzner emphasized that the normal docile and cooperative Neuer isn't one to speak out in such a regard unless he feels truly wronged. Holzner called this occurrence a predictable eventuality given how the Tapalovic sack was handled. In the journalists' own words, "Bayern have no right to act surprised."

Holzner places the odds of reconciliation low.

"The relationship with trainer Julian Nagelsmann, who prefers to exchange ideas with Joshua Kimmich than with captain Neuer during his tenure, was already considered not particularly close before the injury," Holzner writes, "It will get even chillier in the future. After all, the head coach was the driving force behind Tapalovic's exit.



More about Manuel Neuer
More about FC Bayern