Bundesliga fans somewhat tepid to return as only five of nine opening round fixtures sell out
By Peter Vice @ViceytheSS
In terms of footballing attendance, one European League once always stood head and shoulders above the rest. Germany's Bundesliga reliably bested all other competitors for well over a decade before the onset of the global pandemic. 

As the Bundesrepublik slowly eases restrictions on its way out of the COVID thicket, the return of crowds the nation's footballing temples proceeds gradually. 

In a special Bulinews report, we'll take a look at the current state of affairs via examination of the attendance figures at all nine fixtures this weekend.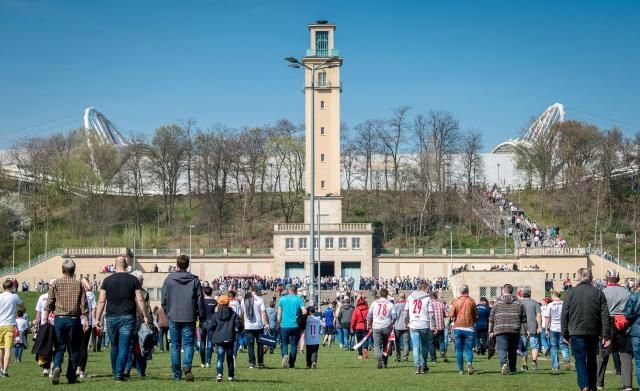 The Bundesliga is back. The fans, however, in many respects are not. Broadly speaking, Bundesliga clubs are permitted to operate at 50 percent stadium capacity (with a cap of 25,000) this autumn. That is the federal directive. The extent to which this is taken advantage of depends on the policies implemented by local authorities and the preference of the clubs themselves. Some organizations and municipalities seek to maximize their allotment of spectators whilst others show more restraint.


As the clubs themselves discovered this weekend, many of the actual supporters remain hesitant to buy tickets. Only five of the nine fixtures taking place on the 2021/22 Bundesliga's opening weekend sold out. All clubs selling tickets still had many available on Friday afternoon. This despite the fact that most clubs offered entry at cut-rate prices. It's customary for German football clubs to tie ticket prices to the year of the team's founding (e.g. €18.99, €19.04, €19.23) when they wish to establish a special bond of solidarity with the locals.

Reasons for the hesitance to return to Germany's footballing temples are myriad. Some fans have understandably developed a certain sense of fatigue at having bought tickets, only to have them snatched away after local circumstances shifted. Others don't wish to hassle themselves with the entry requirements associated with the 3G concept. Still others find the atmospherics unappealing. A mostly empty stadium with strict masking requirements and no alcohol sales doesn't necessarily feel like football to many.

"The Alte Försterei isn't the same with 11,000 people as it is with 22,000," FC Union Berlin commercial director Christian Arbeit explained at a recent press conference, "Those who come to see us wish to have contact with others, purchase beer, jump around, let loose and have a good time."

"We have to start a dialogue with the fans," FC St. Pauli President Oke Göttlich explained in a recent interview with the Süddetusche Zeitung, "in order to come up with ideas about how to make it a collective experience again. It's no secret that clubs need money [in the form of gate receipts] in order to survive."

A look at the attendance situation at all nine fixtures this weekend gives one an interesting look at how matters are proceeding around the country. Many different ideas are also inherent in the actions of the hosting Bundesliga clubs.



---


FC Bayern München (at) Borussia Mönchengladbach

Maximum Spectator Allowance = 25,000

Planned Capacity = 22,925

Attendance = 22,925 (sold out)

The opener of the 59th edition of the Bundesliga had no difficulties selling out. Moreover, Borussia Mönchengladbach took the initiative in coming up with a highly detailed seating concept. The BMG offered fewer tickets than the maximum allowance after devising what they called a "Checker-board seating plan". Supporters were allowed to purchase tickets in groups, but the groups were strategically separated.

The ongoing debate as to whether the local COVID incidence rate--at which a weekly average of 35 new infections per 100,000 inhabitants shuts down events--is still relevant will rage nowhere harder than it shall in North Rhine-Westphalia. Rates are on the rise in this densely populated region of Germany, where many still work in close-quartered manufacturing jobs.

Gladbach Maximum Stadium Capacity = 54,041

Local RKI COVID Incidence Rate = 92.3 per 100,000


---


Bayer 04 Leverkusen (at) 1. FC Union Berlin

Maximum Spectator Allowance = 11,006

Planned Capacity = 11,006

Attendance = 11,006 (sold out)

The club always leading the race to bring fans back had no problems selling out its opening day fixture. The recent comments of club spokesperson Arbeit at the presser notwithstanding, Union fans have demonstrated their willingness to adhere to regulations throughout the pandemic. Last October, the final Bundesliga crowd attending a match before November's second lockdown actually refrained from singing, shouting, or chanting.

The Berliner Senate recently announced that it would not intervene in Union's fan concept no matter what the incidence rate climbs to. This guarantee runs through the end of August. The question of how many tickets will be offered to Union supporters when their team faces Kuopion PS in the second leg of the UEFA Europa Conference League Qualifying fixture next Thursday in Hertha's Olympiastadion has not yet been addressed.

Union Berlin Maximum Stadium Capacity = 22,012

Local RKI COVID Incidence Rate = 66.2 per 100,000


---


SpVgg Greuther Fürth (at) VfB Stuttgart

Maximum Spectator Allowance = 25,000

Planned Capacity = 22,500

Attendance = 18,109 

Baden-Württemberg is one of two German states (Lower Saxony being the other) who has publicly declared the incident rate no longer valid. This South-West quadrant of Germany also happens to sport some of the lowest infection and highest vaccination rates. VfB Stuttgart nevertheless opted not to take full advantage of the allotment.

Sales were such at the beginning of the week that the club fully expected to reach its target audience. Once the turnstiles were counted, however, it became apparent that even many who purchased admission passes did not show up. Stuttgart plans to increase the allotment for their next home match.

Stuttgart Maximum Stadium Capacity = 60,441

Local RKI COVID Incidence Rate = 35.9 per 100,000


---


TSG 1899 Hoffenheim (at) FC Augsburg

Maximum Spectator Allowance = 15,330

Planned Capacity = 10,700

Attendance = 9,124

The region that combines the more conservative elements of Bavaria with those of Swabia planned conservatively when opening up the WWK-Arena for its first home match. As was the case in Stuttgart, there were some no-shows. Augsburg also plans to increase their allotment for the next home fixture.

Augsburg Maximum Stadium Capacity = 30,660

Local RKI COVID Incidence Rate = 43.8 per 100,000


---


SC Freiburg (at) DSC Arminia Bielefeld 

Maximum Spectator Allowance = 13,750

Planned Capacity = 13,750

Attendance = 13,750 (sold out)

Eager Bielefeld fans quickly snatched up their allotment of tickets almost as soon as they became available. The pent-up demand associated with a club that achieved promotion back to the Bundesliga last year (when no fans were allowed to see them live) likely means that die Arminnen will sell out all of their home fixtures this year.

Bielefeld Maximum Stadium Capacity = 26,515

Local RKI COVID Incidence Rate = 73.3 per 100,000


---


VfL Bochum (at) VfL Wolfsburg

Maximum Spectator Allowance = 15,000

Planned Capacity = 12,755

Attendance = 8,536

Match attendance in Germany's "Autostadt" has always been notoriously low. The total population of the town barely exceeds 120,000 and many of those employed by Volkswagen commute from nearby Hannover or Berlin. The fact that VfL Wolfsburg attendance constitutes something of a running joke among the German footballing public remains telling. The club rarely sold out even before the pandemic.

Wolfsburg Maximum Stadium Capacity = 30,000

Local RKI COVID Incidence Rate = 69.1 per 100,000


---


Eintracht Frankfurt (at) Borussia Dortmund

Maximum Spectator Allowance = 25,000 

Planned Capacity = 25,000

Attendance = 25,000 (sold out)

The "Top-Spiel" did eventually sell out, but it came as a shock to many to discover that tickets were still available on Friday afternoon. The club began raffling off their full allotment of tickets earlier in the week, but there were many declines. One reason for this is that many BVB season ticket holders live in different parts of Nordrhein-westfalen. While traveling to Signal-Iduna Park in pre-pandemic times may have been done without thought, some may not be prepared to immediately return to the habit.

Dortmund Maximum Stadium Capacity = 81,365

Local RKI COVID Incidence Rate = 71.6 per 100,000


---


RB Leipzig (at) 1. FSV Mainz 05

Maximum Spectator Allowance = 17,000 

Planned Capacity = 13,500

Attendance = 10,500 

Some uncertainty probably hampered the decisions made by potential match attendees in this case. Politics in the Palatinate remain somewhat sketchy, with many local municipalities still adhering to the incident rate. A little further south in the Pfalz, 1. FC Kaiserslautern fans were promised an allotment of 20,000 tickets for last Monday's Pokal fixture against Borussia Mönchengladbach. Lautern officials then shut the process down, limiting the Betzenberg to 5,000 live spectators for the match.

The Pfalz's top-tier Bundesliga side made an aggressive attempt to sell tickets for the Nullfünfter's opening fixture. Seats were offered to anyone, regardless of any previous status as a season ticket holder. For reasons possibly related to fear of revocation--or maybe even local perception of the team--the club came up short of their target.

Mainz Maximum Stadium Capacity = 33,305

Local RKI COVID Incidence Rate = 41.6 per 100,000


---


Hertha BSC (at) 1. FC Köln

Maximum Spectator Allowance = 25,000 

Planned Capacity = 16,500

Attendance = 16,500 (sold out)

Köln has already announced that it will implement the strictest entry protocols for its next home match. If other German football clubs follow Köln's lead, the so-called "3G concept"--"Geimpft" (vaccinated), "Genesen" (recovered), "Getestet" (tested)--will quickly become the "2G concept", "Geimpft" (vaccinated), "Genesen" (recovered). No one who cannot demonstrate proof of either vaccination or recovery will be permitted into Bundesliga venues.

It should prove interesting to see how this affects match attendance in the Bundesliga. While the question as to whether the vaccinated should enjoy more privileges isn't as divisive in the Bundesrepublik as it is in some other countries, it remains a hot-button-issue that divides portions of the citizenry.

The announcement last week that the federal government will stop paying for PCR tests in October counts as a signal that all resources (financial and otherwise) will be shifted into vaccinations. Köln is among dozens of German football clubs from all tiers who have turned their stadium into a hosting site for free vaccination drives.

Köln Maximum Stadium Capacity = 50,000

Local RKI COVID Incidence Rate = 81.5 per 100,000


---
Related stories