Three Bundesliga executives speak on future of European Football: "Germany will have to choose."
By Peter Vice @ViceytheSS
Administrators from three of the Bundesliga's smaller clubs sat down with German footballing magazine Kicker for a lengthy interview to lead the Monday print edition. 

SpVgg Greuther Fürth sporting director Rachid Azzouzi, Mainz CEO Steffen Hofmann, and Bochum Executive Ilja Kaenzig spoke on the two most relevant trends facing German football:

The state of revenue-sharing-reforms and the next "European Super League" fight.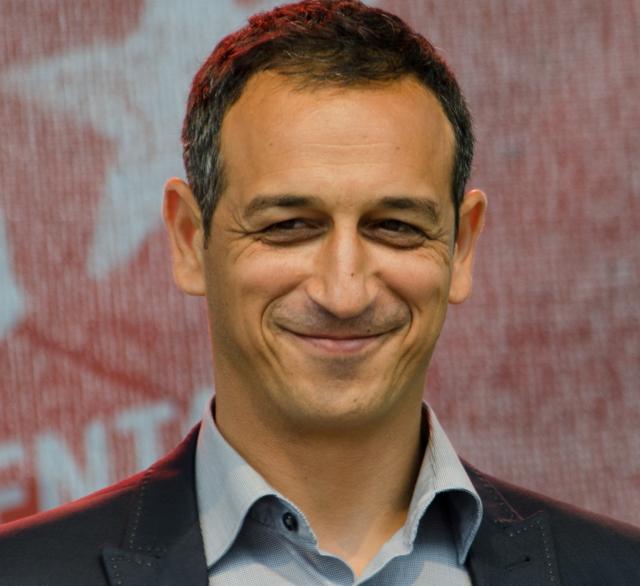 | | |
| --- | --- |
| Rachid Azzouzi. | Photo: Fuguito, CC BY-SA 3.0 |
One year ago, in October and November of 2020, alliances and counter-alliances quickly formed as German football prepared to sort out the revenue sharing details associated with its new TV-Rights Package. The package that was ultimately approved was widely lauded as a serviceable compromise that did see adequate reform of the distribution model in favor of some of the smaller clubs.


Rachid Azzouzi (Fürth), Steffen Hofmann (Mainz) and Ilja Kaenzig (Bochum) have not forgotten that hard-won victory, even if the Super League Chaos of last spring shifted the footballing discourse tectonically. In the span of just five months, Bayern boss Karl-Heinz Rummenigge went from a reviled figure attempting to hoard more rights-revenue for the larger clubs to a star UEFA recruit in the continental battle over a breakaway league.

The three footballing executives, knowing that their gains may appear pyrrhic in the face of all that has transpired since, did take some time to praise the German F.A. for taking some of their needs into account. One member of the interviewed trio even spoke of the specific benefits his club got under the deal.

Fürth sporting director Azzouzi reflected on some of the compromises attained in the revenue-sharing fight. In particular, the footballing executive praised the DFL for rewarding smaller clubs for developed talent that went on to represent the country at youth level. This part of the package ensured an extra €1.9 million for Fürth during their 2020/21 promotion campaign.

"For us, that's an instrument that we consciously rely upon," Azzouzi told Kicker.

The 50-year-old former Fürth star also took time to praise the DFL for a steady increase in the revenue allocations that reward commitment and training of local talents, though Azzouzi registered plenty of concerns as well.


"The clubs that have more money can take our boys away when they are 12, 13, or 14 years old," Azzouzi noted, "and then they can profit from it afterwards because the training years are attributed to them."

"That's often a disaster in terms of personality development," Azzouzi continued, "Then the player perhaps loses motivation because he thinks that he's much further along even though he merely holds promise for the future."

Azzouzi and his two counterparts noted that they would fight for further reforms to close such loopholes.

Azzouzi, Hofmann, and Kaenzig all expressed confidence that Germany's fan-ownership club model of 50+1 would hold amid the coming footballing reforms that seem inevitable. Phrases such as "rock solid", "an unbreakable tradition", and "part of our identity" were used.

When it came to the future of European football in general, however, the trio seemed to think that the concept of a Super League would be back sooner rather than later. Many European football diehards share this perspective. The "paper tiger" known as "Financial Fair Play" simply cannot hold out forever.

"If we don't get a grip on the financial basis and the gap widens, three or four [German] clubs might drop out of the national league," Hofmann said, "We don't want it, but the market will sort it out. Then the Super League will come and the clubs that want to be in it should play in it."

"Financial Fair Play will fall at some point," Kaenzig concurred, "and then those for whom it is not a problem will play in their own league. At some point, Germany will have to decide if it wishes to join the global circus or go its own way."

To some it may seem ironic that the domestic league which has only seen two different champions in the last 11 years (Dortmund and Bayern), should serve as the bastion of resistance against a European Super League.

All three administrators rejected this logic, saying that it amounted to a "belittling of the Bundesliga".

"We are happy to play against Bayern or Dortmund," Hofmann noted.

Azzouzi also offered up some optimism on how Germany could withstand the coming changes.

"In the Bundesliga, we need our own identity," the German-Moroccan immigrant noted, "We need to stand for certain things. We can recruit people with such a perspective because it's all about perspective in Germany."



Related stories