Americans in the Bundesliga: 2020's Year-End Report
By Peter Weis @PeterVicey
Germans may not be quite used to compiling year-end assessments when less than half of the Bundesliga campaign has been completed. The calendar nevertheless prepares to turn.

We'll assess the final matches of 2020, dole out composite 2020 grades and select Autumn 2020's best American Bundesligist.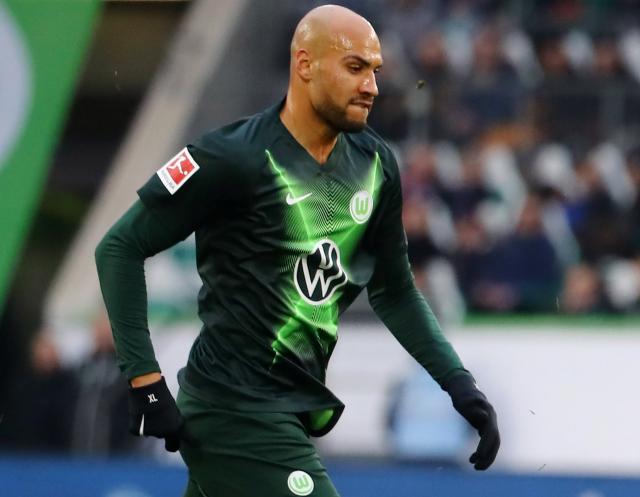 | | |
| --- | --- |
| John Anthony Brooks. | Photo: GEPA Pictures/Sven Sonntag |
Just as was the case last week, this installment of our check-up of US internationals in the Bundesrepublik's premier football league takes two fixtures into account. A midweek set of DFB Pokal fixtures counts towards the grades. All those logging significant minutes are assessed across both their teams' matches. Matthew Hoppe and John Anthony Brooks do not receive full graded sections after only playing negligible minutes.


This being the final column of the calendar year, we'll also assign composite grades for the entire autumn. The comprehensive marks determine the descending order in which the players are listed. Brooks still captures the crown of best overall autumnal player despite lacking a new graded section.

Giovanni Reyna, Borussia Dortmund

Minutes played = 173/180 , Positions played = LW

Cumulative Grade = D

The teenage phenom who operates under the "American Dream" moniker finished the calendar year with a pair of poor performances. Reyna misses the fellow young gun who bestowed that nickname upon him. Erling Braut Haaland's absence dragged the entire BVB squad down. Gio, after doing a very admirable job carrying the team on his shoulders for a while, eventually succumbed too. The Dortmund of the year's final two fixtures could be accurately labelled as pretty pathetic.

First, we've the 1-2 defeat to FC Union Berlin to discuss. Reyna and his mates were fully deserving of the loss there. This writer recorded 13 wayward passes from the American during a fixture defined by sloppiness and lethargy. Edi Terzic's XI, set-up in a rearward-geared 4-2-3-1 perpetually turned the ball over in midfield. Marco Reus and Jadon Sancho joined Reyna in being culpable for seemingly endless atrocious attack builds that would often feature as many as 10 or 12 reciprocal lateral passes behind the halfway line.

The match will be remembered for the many promising attempts Youssoufa Moukoko generated for himself before eventually earning his first Bundesliga goal. The match will also be remembered for the manner in which an infuriated Mats Hummels took out his frustration on an advertising board before calling out his teammates for their defensive lapses in a post-match interview. Hummels was correct. Reyna totally fluffed his marking on the first set-piece goal; a bad error from a young player who momentarily lost focus.


The 2-0 win over Eintracht Braunschweig in the DFB Pokal did not really constitute much of an improvement for either player or team. Reyna found himself creatively hamstrung in a 4-5-1 spread spearheaded by debutant Steffen Tigges. Not exactly comfortable feeding a token 22-year-old starter, the American mostly tried to hit trailing Thomas Delaney with a series of cutbacks. He racked up nine stray passes this time. In terms of  shooting, two shopworn finishes went well-wide in the 27th and 68th.

Reyna was not involved in either of the unspectacular, borderline incidental, of his team's goals


2020/21 Autumn Grade = A


Two tired and threadbare fixtures from this American as a fractured and traumatized BVB limped into the Christmas break have absolutely zero effect on Reyna's smashingly successful opening phase of the season. If anything, it remains surprising just how little adversity Gio has had to traverse. Though he most assuredly had a couple of "off" weeks, but his play remains very much in line with the type of emergent splendor one expects from a talent of his caliber.

Three league goals; all of them contenders for the season's best. Five direct assists and as many as a dozen initiations on other tallies. One fully expects Reyna to continue to shine through the first six months of 2021. There exist no major manifestations of weakness in his game. Even some of the going-to-ground issues associated with his targeting that gave one cause for concern at the beginning of the season have largely dissipated.

This American meets the high expectations that came with his initial breakthrough goal in the Pokal last spring. He continues to impress with his clever resourcefulness on the ball. As many predicted when the club began to integrate him into the senior side in early 2020, a bonafide superstar surfaces. Reyna progresses along this trajectory with nothing tangible standing in his way.

Pellegrino Matarazzo, VfB Stuttgart

Cumulative Grade = B

Those anticipating another tactical coup-de-grace were sorely disappointed in the Bundesliga's final round. The Italian American head-coach employed a straightforward 3-4-3 against VfL Wolfsburg. Candidly, it should have done better against a VfL missing four of its regular starters. Some discussion of the flop can be found in the most recent tactical column. Matarazzo's head may have already been on the quick trip home and his impending showdown with Christian Streich's Freiburg in the Pokal. For whatever reason, he made no major tactical adjustments in the match.

The Pokal fixture was different matter entirely. A 3-4-3 would not work against a very strong Briesgauer back-three that had Streich's men cruising in on a three-game winning streak. Missing his first-choice keeper and three of his most offensive tools, Matarazzo put together a most intriguing constellation sure to keep all the "Wataru Endo Watchers" beguiled. After twenty minutes or so it settled into this:

Lineup—VfB Stuttgart—DFB Pokal (3-3-4)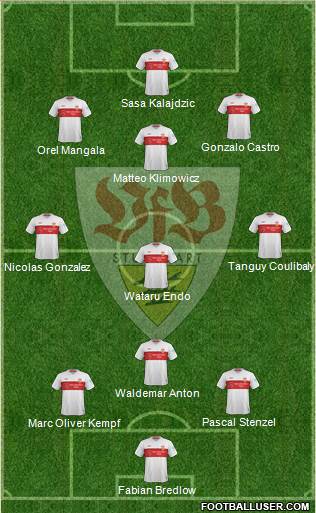 A team-sheet absent Borna Sosa ordinarily implies a back-three. Prior to kickoff, that was about the only thing a tactics-scribes could be assured off. Nicolas Gonzalez, Tanguy Coulibaly, and even Matteo Klimowicz could have served in central attack. One literally had no clue whether Orel Mangala or Gonzalo Castro might have been stationed on either side or even been assigned to the defensive midfield ranks.

As is always the case, the primary task revolves around figuring out what role Endo would play in the whole scheme. Here he had an entire middle axis all to himself; or at least it appeared so until Gonzalez and Coulibaly began floating back to help him. With the benefit of some hindsight, the presumed plan was to have four players (including the slightly advanced Waldemar Anton) available to run pivot opposite Freiburg's Keven Schlotterbeck.

A tight cluster of four attackers also sought to exploit the flatter nature of Freiburg's back-three. Standard rotations in the forward pack ensured that Baptiste Santamaria and Nicolas Höfler couldn't engage in straight man-marking. Sasa Kalajdzic looked a little silly participating in these rotations. A target striker of his height isn't usually part of something so gracefully contrived. It looked clumsy in the initial stages. The Swabians had all the possession, yet couldn't exactly get themselves configured around the 18.

After Kalajdzic scored on the first major chance in the 15th, the combos began to flow. It proved a sweet little pre-Christmas treat to watch Castro run the distribution from a semi-short-striker spindle. The VfB continued to dominate possession throughout the initial 45. Matarazzo again demonstrate how flexible his players can be by switching everything around at the break.

Lineup—VfB Stuttgart—46th minute (4-2-3-1)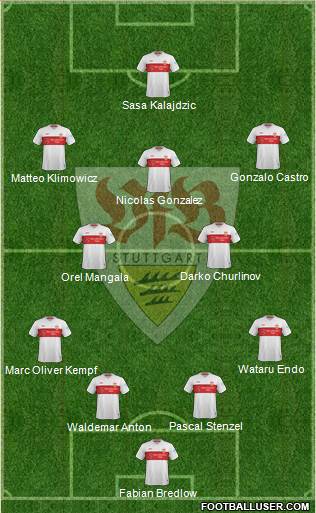 While this was certainly not the first time Matarazzo moved Endo over to the right-fullback position in the interest of forming a back-four, this did constitute the first attempt to do so without Sosa. The American tactician adds another layer of intrigue to the patterns he uses to hold leads. In this instance, Gonzalez undertook a novel placement and Marc Oliver Kempf worked as wide as we've seen all season.

The one halftime change--Darko Chrlinov for Tanguy Coulibaly--counted as the first move toward a bolt lockdown. Philipp Förster came on for Castro in the 61st. Klimowicz drifted central and Mangala and Churlinov moved directly behind him in a straight vertical triplicate. Sosa entered the match as well to take over Klimowicz's position on the wing. Finally, Daniel Didavi replaced Klimowicz in the 73rd to ensure a fresh Catenaccio-style spine.

Freiburg produced some worthy fightback in this most captivating affair. The best chance still came on an error from back-up keeper Fabian Bredlow. Stuttgart answered most every Freiburg build with a quick vertical counterattack. Matarazzo's Schwaben should have gone up 2-0 or 3-0 after a flurry of chances in the final twenty minutes.


2020/21 Autumn Grade = A-


The Bundesliga's first ever American trainer remains far from perfect. His gross mismanagement of a player injury in the 5th round is a mistake that shouldn't be forgotten. There were plenty of other cases in which better moves might have afforded his newly promoted side an opportunity to pick up still more points. The overall grade grants some leeway to a coach who understandably erred on the side of caution whilst in charge of a club that must prioritize top-tier standing above all else.

Both tactics-lovers and general football fans may look forward to some very interesting avant garde football from this team over the rest of the campaign. Matarazzo's talent management proved most impressive. The manner in which he has his players accustomed to playing a diverse array of positions means that even one or two significant injuries will not derail the club's prospects.

One learns to expect some cooling off from promoted squads that typically play above their level in their first season back in the top flight. Though a slight slump cannot be ruled out, the Benz City Badeners actually do not run into a particularly dangerous scheduling patch between now and May. Accordingly, it's quite possible that Matarazzo can steer this team toward UEL qualification in his first year in Germany's top tier.

Such a finish will naturally lead other clubs to take an interest in him.

Tyler Adams, RasenBallSport Leipzig

Minutes played = 103/180 , Positions played = DM, RM, RW

Cumulative Grade = B

The final round of 2019 marked the first time that Julian Nagelsmann constructed a starting XI featuring the New Yorker. The young trainer evidently liked what he saw; so much so that he parted company with midfield mainstay Diego Demme over the January transfer window in a move specifically designed to elevate this American into his regular selections. Precisely one year later, the 21-year-old starts approximately three quarters of RB's fixtures across all competitions.

Nagelsmann remains a constant tinkerer who rarely trots out even vaguely related tactics from match-to-match. Last Saturday's wholly unpersuasive 0-0 draw with Köln certainly didn't count as one of his better constellations. The American encountered significant difficulty functioning in an odd placement.

Lineup—RB Leipzig—Match 13 (4-3-3)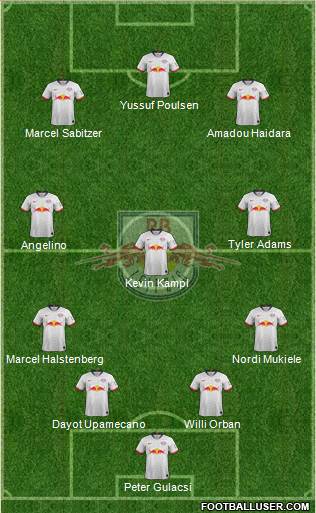 The great mystery upon receiving the team sheet concerned where three midfielders who ordinarily partner in deeper-seated six positions--Adams, Kevin Kampl, and Marcel Sabitzer--would take up positions. After some time, it looked as if Sabitzer was the odd-man out. The 26-year-old Austrian played further afield as an offensive winger whilst Kampl straddled the halfway line. Adams remained exceedingly difficult to place. He frequently flipped with Amadou Haidara and Nordi Mukiele.

The American began with some solid ball wins in midfield, yet seemed to be confused on forward charges emanating on his own flank. The rightward trio couldn't quite figure out who was supposed to work the overlap in the 4th. A low-block Kölner 4-3-3 had the Red Bulls taken care of effectively enough. All of the disorientation out on Adams' wing made one of the Bundesliga's weaker sides resemble defensive titans. Adams ran ringlets for a while between the 7th and 12th.

Nagelsmann's left, courtesy of the ever-keen Angelino, got their fair share of penetration. Over on the disorganized opposite flank, however, players couldn't decide who was to be where on crosses and long switches. On several occasions, players called each other off on receptions. Accordingly, not a great deal of orderly quality emerged. Adams found himself forced into a stray pass in the 14th, then easily squeezed out of possession in the 17th and 21st.

After rotations with his vertical partners produced nothing, the American executed a nice give-and-go with Kampl in the 26th. The Croatian fired into the side netting. Two minutes later Adams saw his own effort blocked by Köln's Elvis Rexhbecaj after he hesitated a second too long. Another quick one-two with Kampl in the 37th might have ended better for the New Yorker. He was in a good position for the return ball, but didn't receive it.

Four minutes before the end of the first-half, Adams bailed out his team with a critical clearance after his keeper had been beaten. The very impressive piece of fine defensive work was soon forgotten, however, as he lost the ball twice on broken attacking sequences before the whistle blew. Neither he nor his team looked comfortable in the arrangement. As a result, Nagelsmann dusted off an old strategy.

Lineup—RB Leipzig—46th minute (4-2-2-2)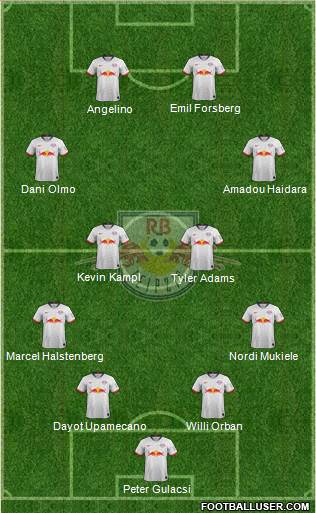 With Dani Olmo and Emil Forsberg coming on for Poulsen and Sabitzer, the shape aimed to capture some of the quick transition spirit more prevalent in the previous campaign. Angelino moved all the way up to the spot Timo Werner once occupied. A more confident and comfortable Adams immediately won a ball and carried out a superb solo run in the 46th. He found himself less harangued paired directly alongside Kampl and got Marcel Halstenberg forward with a nice aerial win in the 49th.

More great movement through traffic came in the 53rd. Köln were still able to figure out the shift comparatively early. By the 58th, the American found himself frustrated again. There was no way through central. The annoyed cut-out challenges began to mount. The worst came in the 59th. Once Alexander Sørloth came on the 62nd, a tired assemblage of Leipzig players weren't mentally spry enough to figure out the third major tactical adjustment of the afternoon. They ran about haphazardly.

While it may have been a bit jumbled, the more talented team did managed to generate their fair share of chances down the stretch. Köln keeper Timo Horn turned in one of his better performances to preserve the 0-0 scoreline. Adams popped up all over the map, as the focal point of offensive charges in the 66th and 69th, then all the back helping on the last defensive axis in the 73rd and 76th. One definitely couldn't fault the American for lack of effort in the final 15 minutes. He always seemed to hover around the action through the captivating finish. He put through a lovely ball in the 88th.

A little under 15 minutes at the tail end of Leipzig's 3-0 defeat of Augsburg in the Pokal were totally irrelevant. This writer only saw him get two touches in.


2020/21 Autumn Grade = B+


The last six months may not have brought with them many sensationalists headlines for the New Yorker. He's earned some plaudits for what is perceived to be a breakthrough for his national side, but most of the Bundesliga grading punditry has him listed as average or below. True, there have been plenty of forgettable performances. It doesn't necessarily help that the work of a defensive midfielder procures significantly less attention on a team known for its surplus of scoring threats.

This writer may be guilty of some inherent bias. It remains nevertheless worth standing by some thorough assessments of the young prospect's work that depart significantly from the other subjective ratings out there. Adams has played above average football at as many as four markedly different positions. One must fixate carefully on a player whenever a coach favors him with a new assignment. This American has proven himself capable of delivering as a fullback, winger, anchor, or sweeper.

What the new year might have in store for him is exceedingly difficult to forecast. There shall be many personnel ins-and-outs at Leipzig in the next forty days. One troublesome aspect of the New Yorker's game concerns his ground challenges. He routinely finishes fixtures well below 50 percent, sometimes tanking late in matches. Tremendous field vision enables him to cut out enough midfield balls to retain his starting place. Nagelsmann may wish to audition other, more physical players who can compete better in directly in one-on-ones.

Just as Demme unexpectedly became expendable in last winter's window, it might be the case that Adams appears on the block in the coming weeks. Competitors Konrad Laimer and Benjamin Henrichs are slated to return from injury soon. One also senses that Nagelsmann may wish to try out Lazar Samardzic a little further back in the coming weeks. The pending arrival of Dominik Szoboszlai affects all the RB actors indirectly as it may allow the trainer to fully resurrect his old 4-2-2-2.

Josh Sargent, SV Werder Bremen

Minutes played = 177/180 , Positions played = LS, SS

Cumulative Grade = C-

The Missouri marvel found himself on the receiving end of an early Christmas present when, at long last, one of his teammates played through a decent ball for him in the Pokal fixture against Hannover 96. Thanks to the stylish service, the 20-year-old striker was able to commemorate his second goal across all competitions. Naturally, that comes nowhere close to the production numbers one expects from a center-forward.

Analysis of Sargent must always take the context of a genuinely lousy team into account. The Hanseaten feature a younger cadre of players this season, yet should not be considered a better team than they were during last season's relegation battle. Florian Kohfeldt's tactical solutions, while elegant, remain mostly ineffective on a week-to-week basis.

Lineup—Werder Bremen—Match 13 (4-4-2)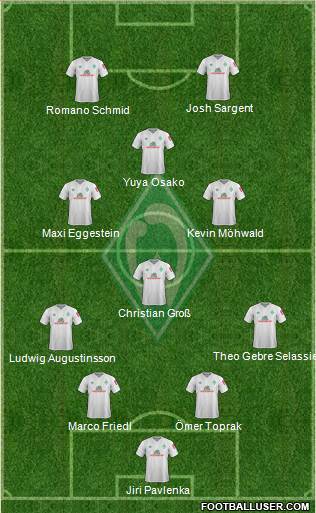 Against Mainz, the young trainer dispensed with the notion of a pivot runner in favor of a looser midfield diamond. Veteran Christian Groß moved forward into a space where he could contest more 50-50s. The basic notion aspired to build upon the modest distributive successes of the tighter diamond utilized in the 12th round.

Initially, the top triangle did succeed in getting some balls into Sargent. Regrettably, the American completely got his positioned wrong on a potential header in the 5th. Mainz's Jeremiah St. Juste all too easily outmuscled him in the 8th. A fine cross in from Yuya Osako in the 9th was met with a tame header.

In the course of the first ten minutes, one couldn't lay blame on the Hanseaten for their approach play. That aspect of the team's game stood top-notch. Sargent simply couldn't produce the movements associated with a high-level attacking forward. As will invariably be the case when a side senses that their striker isn't up to the task of getting into position, the other players will attempt to compensate on their own.

This has happened so many times this season. New starter Romano Schmid needs title reason to shift towards more individualistic play. Any adrenaline-fueled new introduction wishes to try to do too much on his own. Examples abounded between the 12th and 24th. Sargent made an absolute mess of a free-header in the 25th, driving a fantastic opportunity directly into the turf. There were few attempts to reach him after that.

The American went the full 90 against the Nullfünfter over the weekend. In fairness, he did put in some decent defensive work on the day. During a spell between the 60th and 65th, Sargent turned in some solid involvement in a couple of attacking sequences. His overall performance in the mostly drab match remained nevertheless characterized by some very poor play in the final third. An awkward standstill in front of Pierre Kunde Malang in the 34th epitomized just how off-kilter he was.

Onwards to the Pokal fixture, in which he once again started rather meekly. Kohfeldt reverted to a back three in order to speed things up.

Lineup—Werder Bremen—DFB Pokal (3-4-3)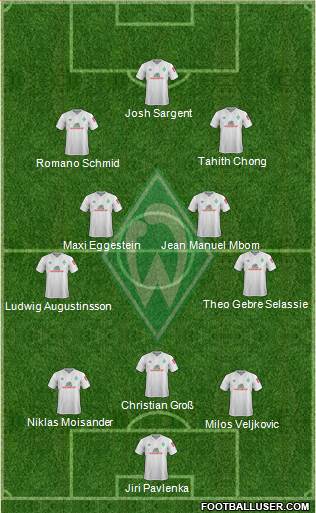 Schmid clearly received instructions to fall back and focus more on squaring into Sargent. Ludwig Augustinsson and Theodor Gebre Selassie got license to operate as full wingbacks. With Tahith Chong and Jean Manuel Mbom, Kohfeldt sought to insert the best of his summer overhaul in the hope that creativity would reign on the second and third axis.

Sargent lost the ball in a promising position in the 7th. One minute later he executed a nice turn inside the 18, but couldn't put any power behind his shot. A horribly morbid period of authentically wretched football proceeded Gebre Selassie's opening goal at the half-hour mark. One had the impression that, despite the inherent weakness of the Hannoverian hosts, this match would remain at 0-0 for a full deplorable 120 minutes.

Gebre Selassie almost accidentally finished an Augustinsson switch that sailed far too high over the head of Sargent. Moisander then reeled off his sensational run a couple of minutes later. The American did well to keep his stride and finished deftly after a sharp first touch. Much like in the league encounter, Sargent was disadvantaged by the fact that his colleagues weren't always looking for him. He was wide open three minutes after the restart when everyone missed him on what should have been a simple through ball.

Again, Kohfeldt kept the youngster on the pitch for nearly the full match. Again, there was some good defensive work on display. Sargent really did well on a defensive aerial duel in the 73rd. His customary hard work came accompanied with a a bit more skill in the second match. A little extra confidence heading into the new year certainly won't hurt the Missouri marvel.


2020/21 Autumn Grade = D+


There's no question that this American works hard every week. Observers who kept a close eye on him last season can discern that he's runs a great deal more and has improved immensely on the track back. He's also put some serious effort into rectifying one of his most persistent issues: catching back up with the attack. He doesn't struggle with that this year.

The production numbers remain off and he rarely gets more than 30 touches in per game. Naturally, one must take the quality around him and the shifting tactics into account when assessing this facet of his performance. It's still simply not fair to offload the blame for this on his fellows. They aren't angling for him because he doesn't inspire confidence. A striker shoulders the responsibility for keeping eyes focused toward him.

His physical presence on aerial duels is marginally better than last year, but that's not good enough. He certainly has the height to compete. Perhaps a bit more bulk might be necessary to accord him some more self-assurance in the air. Sargent still enjoys the confidence of his trainer and there have been a few flickers here and there of a potential surge.

Overall, however, this has been a most disappointing start to a campaign for an attacker who truly needed to get going. Though he has many years in front of him at this insanely early stage in his career, one isn't certain anymore that he'll be much more than an average and ultimately forgettable striker for some time yet. Should his team slip into the second division, obscure mediocrity may be just around the corner.

Autumn 2020's Best American Bundesligist, John Anthony Brooks

The award for the Bundesliga's best autumnal player goes to one who didn't even see enough action to warrant a write-up this time. Brooks' recent injury and a crowded field of center-backs among Oliver Glasner's ranks may mean that this honor is short lived. Sadly, another relegation to the bench would befit the wildly erratic career of the very talented Berliner. Every time he's overcome a set-back to once again showcase how much he's developed, another hard luck injury or personnel push awaits him soon thereafter.

So the story of the unheralded 27-year-old invariably always goes. It's been an amazing start to the campaign for the towering center-back, who has put together more than one masterpiece. As much of a pity as it would be to see his momentum stopped now, it would be a familiar enough storyline. One hopes that his head-coach is sincere in his recent praise for the well-rounded defender; enough not to jettison him so easily this time. Brooks has proven that he's capable of working with several partners over the course of the past year.

Many in German footballing circles now mention Brooks in the same breath as Jerome Boateng. He's come that far. Young phenoms like Edmond Tapsoba and Dayot Upamecano may get mentioned first when the topic of the league's current best central defender gets broached, but this American isn't far behind. Those who haven't yet taken a closer look at him should definitely do so. Every match features at least one breathtaking aerial win. Additionally, he can run an inspiring pivot out of the back despite the fact that he plays in a back-four.

Among the myriad of hopes we all have ahead of 2021, this writer adds the earnest wish that this American finally gets the more widespread respect he so richly deserves.



Related stories