Bundesliga Fan Scene:
Six of nine fixtures sell out in week 33
By Peter Weis @PeterVicey
As fans of half of the Bundesliga field bid farewell to their clubs in the final 2021/22 home matches of the season, there were stirring scenes all across the Bundesrepublik.

From player send-offs to (friendly) pitch invasions, we're pleased to lend coverage to all of it in our weekly attendance feature here on Bulinews.

Magnificent job from all the ultra groups and fan societies this past weekend!

Do come along for a look.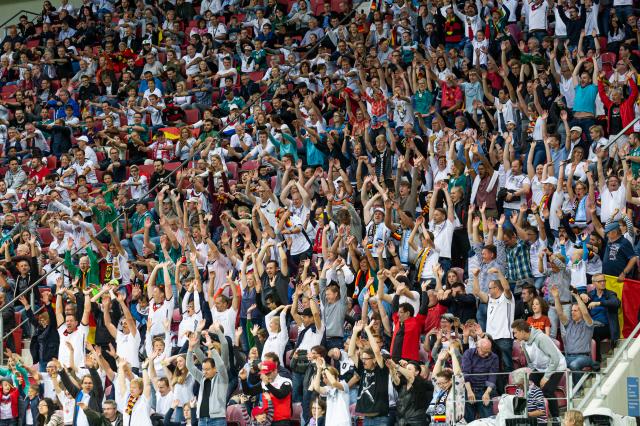 Photo: Steffen Prößdorf, CC BY-SA 4.0

All but three of the nine round 33 Bundesliga fixtures sold out on the penultimate matchday of the 2021/22 season. Leipzig, Hertha, and Hoffenheim didn't pack their houses on their final home matches of the season. Bochum, Freiburg, Köln, Frankfurt, Bayern, and Fürth got their venues filled to the brim.


Some still haven't gotten over the disappointment of the lack of simultaneous kickoffs in the second-to-last round of the season. While it's true that the spreading out of kickoff times translates to less drama and some competitive distortion, one benefit concerns the fact that many ultra groups got a chance to shine before larger audiences without competing fixtures on the telly.

We're pleased to pay tribute to all of them in our weekly attendance feature.


---


DSC Arminia Bielefeld (at) VfL Bochum

Attendance = 25,000 (sold out)


"Football as it's meant to be" over on the Castroper Straße on Friday night. All German football watchers are in agreement. The atmosphere was sensational at the Ruhrstadion. With only a small traveling contingent able to commemorate class preservation with the team away at Dortmund in the previous round, the locals turned out for this one in order to pay their respects.

VfL trainer Thomas Reis got virtually all of the players sure to depart the club this summer onto the pitch late. The team walked off the pitch as winners and celebrated with the fan block afterwards. Great scenes as the fans serenaded some of the veterans, like Robert Tesche, who were headed out the door.

The 1848 supporters--that unfortunate Bierbecher incident notwithstanding--played a very important role in the promoted club's highly successful season.  Bochum collected 22 points in the "Rück-runde", without which they would be factoring into the relegation race now. So many important home victories. Well done on everyone.


Einfach 🐐! DANKE ROBERT!💙#Tesche #meinVfL #BOCDSC 2:1 pic.twitter.com/spd7CFcMZS

— VfL Bochum 1848 (@VfLBochum1848eV) May 6, 2022
---


FC Union Berlin (at) SC Freiburg

Attendance = 34,700 (sold out)

Hopefully, the sell-out crowd in Breisgau didn't feel cheated by what many of us considered a "stolen fixture". Actually, it's perfectly understandable if they feel cheated. The competitive nature of the game got completely disrupted by some early officiating miscues.

In any event, the support was amazing from this classy club. The SCF even honored current 1. FC Union Berlin midfielder Dominique Heintz with a plaque presentation. One can assume that they'll do the same for Janik Haberer next year.

That's just what kind of club these guys are.


Danke für den geilen Support! ❤️ pic.twitter.com/tvElZPjtNT

— SC Freiburg (@scfreiburg) May 7, 2022
---


Bayer 04 Leverkusen (at) TSG 1899 Hoffenheim

Attendance = 34,700 (66.4%)

Hrmph. Look, one simply can't beat around the bush when it comes to this club. It serves its purpose with respect to German football. The home venue nonetheless doesn't make the recommendation list of German football stadia one should visit. Bundesliga enthusiasts remains largely happy that the PreZero won't be taking up one of our European slots next season.

So it is.


---


VfL Wolfsburg (at) 1. FC Köln

Attendance = 50,000 (sold out)

A pitch-invasion over at the RheinEnergieStadion even though the team lost. We actually had three pitch invasions in German football this past week. Eintracht fans swarmed onto the ground after making the Europa League Final while the Schalke supporters couldn't resist pouring onto the Veins-Arena turf following the official clinch of promotion.

No seriously heinous incidents to report upon. The DFB control committee has requested statements from all clubs concerning the failure of security protocols. Er....while the German FA awaits their statements, the club has already delivered its own to its fans via the Geißböcke social media feed.

Does it look as if the cathedral city side is concerned?


🎶 Wir spielen wieder im Europapokal! 🎶
_
🐐 0:1 🐺 (90.) #KOEWOB #effzeh pic.twitter.com/JXR21NIPHq

— 1. FC Köln (@fckoeln) May 7, 2022


Great atmosphere in the stands prior to the post-match stuff too.


Ist das schön, in diese glücklichen Gesichter zu schauen. 😍

Nächste Woche geht's dann gegen Stuttgart um die Frage, in welchem internationalen Wettbewerb wir spielen. #effzeh pic.twitter.com/g6CXYoCvsZ

— 1. FC Köln (@fckoeln) May 7, 2022


Well done, Effzeh Army!


---


Borussia Dortmund (at) SpVgg Greuther Fürth

Attendance = 16,626 (sold out)

The Kleeblatt boosters did an exceptional job keeping up the chants, drums, and songs going even as their team dropped the result 1-3 to visiting Dortmund. Several touching scenes before kickoff as the Kleeblatt bid farewell to their departing players and their long-time coach.

It looks as if Stefan Leitl won't even make an appearance on the sidelines for his final match running the squad. Oh well. It might as well pour when it rains, or so Germans are often fond of saying.


DANKE an unser Coaching-Team Stefan #Leitl und Andre #Mijatovic für die letzten dreieinhalb Jahre!

Und DANKE Doci für Deinen Einsatz in den letzten 8 Jahren für unser #Kleeblatt!
🙏☘️ pic.twitter.com/JMomHokRbB

— SPVGG GREUTHER FÜRTH (@kleeblattfuerth) May 8, 2022
---


FSV Mainz 05 (at) Hertha BSC

Attendance = 71,548 (95.8%)

Not quite a sell-out the "Oly", but one honestly couldn't tell the difference. The atmosphere remained top-notch throughout this one.

The team and the Ost-Kurve made amends shortly before kickoff after the unfortunate incident at the end of the "Berliner Derby" in round 29. From demands for the tricots to resolute support.

The squad stood before the fan-block and received nothing more than steady and dedicated cheers.


#GemeinsamHertha❕ 💙🤍#BSCM05 #HaHoHe pic.twitter.com/snDhiQHylF

— Hertha BSC (@HerthaBSC) May 7, 2022


Precisely what we wanted to see.


---


Borussia Mönchengladbach (at) Eintracht Frankfurt

Attendance = 51,500 (sold out)

Think that, just because this match was meaningless, the Adler fans wouldn't show up? Think again. The locals wouldn't dream of missing out on the season finale, even if they erected a banner reading "Heute ist egal, holt uns den Pokal!" ("Today doesn't matter, bring us the [Europa League] Cup")

Nice tributes for departing players Stefan Ilsanker, Danny da Costa, and Aymen Barkok. Wanna know what else they did? They flew in former captain David Abraham from Argentina so that he could get a proper send-off in front of a packed stadium!


Eure Portion Emotionen am Morgen!
Die komplette Verabschiedung unseres Capitanos 👇🥲🥰#SGE pic.twitter.com/WPUDyftURA

— Eintracht Frankfurt (@Eintracht) May 10, 2022


Isn't that cool?


---


VfB Stuttgart (at) FC Bayern München

Attendance = 75,000 (sold out)

Marvelous scenes at the Allianz as the German giants got their first chance to parade the Meisterschale about in front of live fans in over three years. We'll take it. Even the Bundesrepublik's Bayern-loathers might tune in for the Meister-feier on the Marktplatz. Why not.

In general, a great day to be a football fan. Bayern may be up to business as usual. Ten consecutive titles. On the other hand, the two years of this pandemic have felt like ten years to most of us.

Something like this almost feels new.


📣 BAAAAAAAAAAYERN MÜNCHEN! 📣#MiaSanMeister pic.twitter.com/YYqpDqGhng

— FC Bayern München (@FCBayern) May 8, 2022


Just go with it.


---


FC Augsburg (at) RB Leipzig

Attendance = 37,029 (78.6%)

Yeah. The RB supporters made some noise, particularly when their tired team just couldn't figure out a way to move the ball forward during a lethargic first half. It proved kind of cool to see the home support egg their side on and watch the squad ultimately furnish a response.

One still doesn't wish to end on a final home Leipzig fixture that (very disappointingly) came in well short of a sell out. Things like this just shouldn't happen in a season finale.

How about some Schalke scenes?


💙 Ist einfach so! 🤍

Danke fürs Video @Schalkecorner 👏#S04 | #Terodde | #AufsteiGEr pic.twitter.com/GUVdqZSeYn

— AufsteiGEr (@s04) May 11, 2022


There's a more uplifting note to conclude on.


---
Thanks so much for reading!
You can occasionally catch Peter on twitter, @ViceytheSS.
Twitter DMs are open for football conversations, corrections, and (if you truly insist) general abuse. 
All columns debut on Bulinews before appearing on Peter's website later in the week.
Related stories