Kohfeldt backs Bornauw over Brooks in Wolfsburg defense
By Peter Vice @ViceytheSS
Two head-coaches who completed their licensing classes together meet once again in the German top flight on Tuesday evening. 

The last time Florian Kohfeldt (then leading SV Werder Bremen) and Steffen Baumgart (then in charge of SC Paderborn) met in the top division, relegation-threatened Bremen crushed fellow relegation candidates Paderborn 5-1 on the 2019/20 German Bundesliga's 31st matchday.

Kohfeldt's Bremen would then rout Baumgart's current club Köln 7-1 on the final matchday to sensationally avoid automatic relegation. 

Under the gun once again, Kohfeldt fielded questions at a tense Monday afternoon presser. The club's still only recently installed trainer spoke on a bold personnel move as part of his efforts to forge a sense of identity within the team.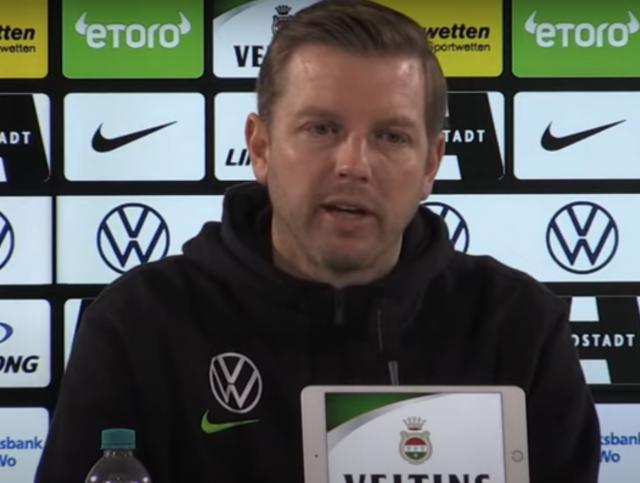 Wolfsburg's current run of form remains completely unacceptable. Six games winless on the trot. Five straight defeats by a combined 2-13 scoreline. A pair of embarrassing performances en route to crashing out of the Champions' League.


VfL trainer Florian Kohfeldt once again finds himself under serious pressure. Matches against Köln and Bayern to close out the Hin-runde mean that last year's top-four finishers could conclude the calendar year on seven straight defeats. It's entirely possible, and some are tipping as such, that Germany's green company team might even finish off the year in the relegation playoff place.

Kohfedlt knows all about the Bundesliga's relegation playoff place. It was only via  a 7-1 defeat of 1. FC Köln on the final matchday of the 2019/20 campaign that the 39-year-old trainer was able to Bremen in the league with an unexpected leap up to the playoff place. Köln aren't unfamiliar with it themselves, having only survived relegation last year in the playoffs. The Effzeh could theoretically finish the year up there too.

"We have a few problems at the moment," Kohfeldt said on Monday in something of an understatement, "It's important for this squad to figure out a path for itself. If we're honest, we've some catching up to do in that regard."

Kohfeldt faces a team that, many league watchers are convinced, does have a collective sense of identity. Even though Baumgart's crew roll into Lower Saxony on a two-match winless run of their own, the job Köln's new trainer has done in breathing new life into die Geißböcke leaves Köln the clear favorites in the crucial fixture.

After speaking a bit about his time taking coaching courses with Baumgart and speaking of how he looked forward to meeting him again, Kohfeldt made his own attempt to imprint his own stamp on his squad by discussing a key personnel decision.


Sebastiaan Bornauw, scorer of the game-winning goal that helped Köln avoid direct relegation on the final matchday last year, will start against his former club.

"The mentality of the group needs work," Kohfeldt said in explaining his choice, "Sebastiaan is a pure mentality player. I'm deciding for 'Seb'. There are things that need to be developed with him, but he just does us a lot of good with the type of player that he is."

Kohfeldt told members of the assembled press that he had already had a conversation with the man Bornauw would be replacing, American center-halve John Anthony Brooks. The VfL trainer revealed that he told Brooks that Bornauw was a notch ahead in terms of form."

"We had a conversation," Kohfeldt noted, "It's always hard for a player to accept, but Jay handled himself well in the team training circles. It shows what kind of professional he is."

Bornauw has started the last two fixtures (UCL and Bundesliga) in place of Brooks. The Belgian's performances have hardly been sparkling and some in German footballing circles feel as if the Berlin-born USMNT veteran may have been a bit unfairly maligned for defensive lapses in recent weeks.

Wolfsburg's big summer signing, meanwhile, has actually seen his clearances lead to goals against both Lille and Stuttgart.

Kohfeldt takes a chance. VfL chief sporting executive Jörg Schmadtke--not really having much of choice after being the first Bundesliga administrator to terminate a trainer this season--has publicly backed Kohfeldt despite the recent troubles.

Speaking to Kicker magazine over the weekend, Schmadtke called the losing streak "not the coach's fault."

Two more defeats could still alter that calculus. If the VfL front office were to make another change, the winter break would be the time to do it.



More about the match
More about the teams