How Leverkusen's wingbacks are taking the Bundesliga by storm
By Andrew Asher
Since taking over the reins at Bayer Leverkusen just over a year ago, Xabi Alonso has been a resounding success in North Rhine-Westphalia.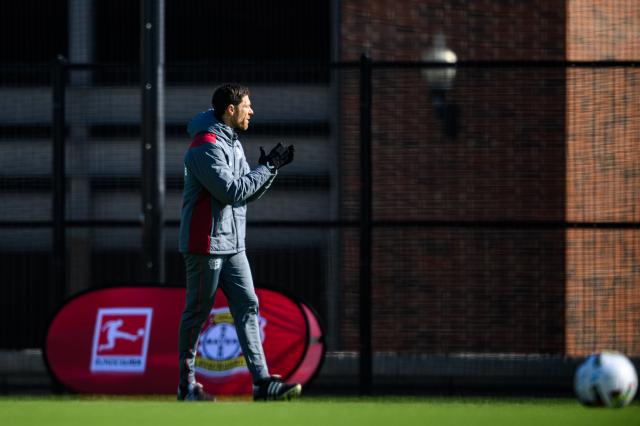 Photo: Bayer 04 Leverkusen

The Spaniard took over a team in freefall, sitting second bottom of the Bundesliga, after Gerardo Seoane's sacking in October 2022. Since then, an overhaul of the team's style and tactical identity has seen them rise to the top of the table just one year later, unbeaten in the league so far. Amongst many other tactical tweaks, the utilisation of Leverkusen's wingbacks has been perhaps Alonso's biggest masterstroke this season.



8 - Xabi Alonso becomes the first Leverkusen manager to win eight competitive matches in a row since the club's promotion to the Bundesliga in 1979 - breaking Klaus Toppmöller's old club record from the 2001-02 campaign and his own record from last season (7W each). Maestro. pic.twitter.com/sFN8fiLk0M

— OptaFranz (@OptaFranz) October 29, 2023


Formation and tactical analysis

On paper, Alonso likes to set up in 3-4-2-1 formation with Álex Grimaldo and Jeremie Frimpong as the main two wingbacks. Grimaldo, who signed for the club on a free transfer from Benfica in the summer, has played almost every minute this season. He and Frimpong have played 1,111 and 925 minutes respectively and are firmly established as first choice.

Before looking at Grimaldo and Frimpong individually, let's discuss the tactics behind Leverkusen and how their individual roles are defined. Unlike the majority of teams who operate with wingbacks, Alonso's men tend to build up centrally rather than on the flanks. Florian Wirtz and Jonas Hofmann who usually operate as inside forwards will come short to receive the ball from the midfield. Leverkusen are fluid in their midfield formation with Granit Xhaka and Exequiel Palacios often taking turns to break forward whilst Wirtz will drop deep to collect the ball as Hofmann hugs the right touchline allowing Frimpong to push forward. Grimaldo tends to find himself involved in the build more often than Frimpong who breaks forward into right wing position when the team are in possession.

The 3-4-2-1 will often drop into a 5-at-the-back formation in the defensive phase and into more of a 2-3-5 formation when Leverkusen are on the attack. With one of the three centre backs moving into a midfield position and Palacios and Xhaka sitting just in front, Grimaldo and Frimpong are free to join the attack and overload the opposition defence. Grimaldo offers himself as an option on the left hand side of the box whilst Frimpong breaks into the box to gets on the end of cut backs or create space for one of Hofmann, Wirtz or Victor Boniface. This attacking overload often leads to Frimpong finding space on the right side of the opposition box where he can be found by the likes of Wirtz or Xhaka and cut back for a tap-in or take on the shot himself.





Positional play

Perhaps the most telling aspect of the wingback roles in Alonso's system are their individual heat maps from the Bundesliga this season (SofaScore).

Grimaldo heatmap: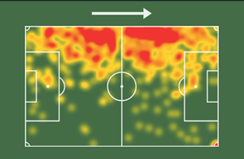 Photo: Sofascore

Grimaldo offers complete coverage down the left flank. Although he enters the opposition penalty area less than Frimpong he still breaks into the box far more frequently than other full backs or wingbacks. The La Masia graduate offers superb technical ability and calmness on the ball and has taken Xabi Alonso's team to new level on the left hand side. Another useful aspect to Grimaldo's game is his ability from set pieces as seen with his wonder strike against Bayern Munich during their 2-2 draw in September. During his time with Benfica, he was no stranger to shooting and scoring from distance, either from set pieces or in open play. The 28-year-old full back is not the greatest in stature which does lead to him being somewhat of a weak link in the air. However, as Leverkusen tend to control the possession in the majority of games, averaging the second highest possession stats in the Bundesliga this season according to FBref, his technical ability on the ball far outweighs his weakness in the air.




Frimpong heatmap: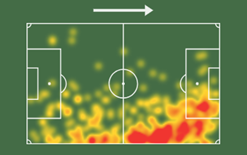 Photo: Sofascore

As for Frimpong, what can be seen is the unmistakeable heat map of a traditional 'winger'. The right hand side of the box is a huge action area for Frimpong, his darting runs often allowing him to ghost in and find space. This presents an issue for the opposition and time after time he will find himself being the spare man in the attack. His high position pushes the opposition back and will either drag a defender away from attacking players or will isolate him enough to carve out a chance. The Dutch international's blistering pace is key to Leverkusen in the transitional phase as he can quickly help out in defence or shift into the attack.

Statistical Analysis

When it comes to looking at the statistics behind these two bombing wingbacks, it's important to understand that their numbers will be skewed towards the attacking metrics due the roles that they adopt. This isn't to say that the statistics are not useful but more that they need to be understood within the context of the team's style of play.

For example, Grimaldo ranks in the 99th percentile for non-penalty goals, non-penalty xG and assists per 90 compared to players of a similar position in Europe's top five leagues (FBref). This is of course due in part to the position that Grimaldo finds himself on the pitch but it also shows that his output when he finds himself in those positions is amongst the best in Europe. With five goals and as many assists in 14 games in all competitions this season, Grimaldo is heavily involved in his teams attacking output. He is Leverkusen's joint third top scorer in the Bundesliga this season alongside Frimpong and he is also the third top assister, a list which is topped by Frimpong. The 22-year-old Dutch international has 12 goal contributions in 13 games this season, seven of those coming from assists.




As previously mentioned, both wingbacks like to pop up in the box and find pockets of space to create. Grimaldo and Frimpong are averaging 3.19 (98th percentile) and 4.9 (99th percentile) touches per 90 in the opposition penalty area respectively (FBref). Perhaps the most impressive part of this is that Frimpong is averaging a similar number of box entries per 90 as orthodox wingers such as Leverkusen's new man Nathan Tella (5.46), Borussia Dortmund's Donyell Malen (5.47) and Bayern Munich's Leroy Sané (4.76).

We can see that both wingbacks are somewhat relieved of defensive duties to allow for them to get forward and impact in a different area of the pitch. According to FBref, they each rank poorly in tackles, interceptions, clearances and aerials won per 90. Grimaldo, however, ranks in the 98th percentile for tackles in the attacking third, making him a vital cog in stopping the opposition counter attack as Leverkusen push forward and leave themselves vulnerable.

Frimpong's dribbling ability is potentially his strongest attribute, ranking in the 97th percentile for successful take-ons versus defenders and the 99th percentile versus midfielders. This allows him to make the most of situations in which he is isolated 1v1 against the opposition full back. The 22-year-old ranks in the 1st percentile for progressive passes but in the 99th percentile for progressive passes received and in the 97th percentile for progressive carries (FBref). In terms of a ball carrying, there a few better in the wingback position than Jeremie Frimpong.




So, what's plan B?

Alonso has used Piero Hincapié at left wingback from the bench and new signing Nathan Tella on the opposite side. This brings a different dynamic to Leverkusen's setup but in essence the same principles apply. Tella has operated solely as a winger in his career thus far and sliding into Frimpong's role should not be too much of an issue due to how much of the ball he will have in attacking areas with relatively limited defensive responsibility. In addition, although Hincapié is far more defensive-minded than Grimaldo, often operating as one of the three centre backs, he is more than capable on the ball. He ranks in the 91st percentile for passes attempted and in the 87th percentile for passes completed (FBref). Hincapié also offers Alonso the opportunity to go for a slightly more conservative approach in games and could be useful to from the bench to close out tight games. Similarly, Tella can offer a different option on the right as a more orthodox winger who is able to drift inside and bend in a strike on his left foot or go to the byline and cut back with his right. It certainly wouldn't be Alonso's first choice but it is encouraging to know that he has options if and when either wingback misses games during the season.




Overall, it looks to be a fascinating season ahead for Leverkusen as they seek to be the first team in eleven years to knock Bayern Munich off the top. At the heart of the exciting, expansive football that Xabi Alonso's team are producing this season, Grimaldo and Frimpong provide pace, fluidity, trickery and most importantly goals to this excellent Leverkusen team.



More about Leverkusen