Bundesliga Tactics Talk: Round 27
By Peter Weis @PeterVicey
It was indeed quite the eventful Easter Weekend over on the world's best footballing beat! All across the Bundesrepublik, thrilling matches remained on a knife's edge right up until the full-time whistle.

The title race remains alive thanks to narrow victories from Bayern and Dortmund. Matters tighten up significantly in the top six chase with six legitimate contenders for the European spaces. Down at the foot of the table, there was plenty of intrigue on hand in the quest to avoid the drop.

Our weekly comprehensive recap feature once again breaks down the biggest talking points from all nine fixtures. Bayern, Freiburg, Köln, and Stuttgart receive draw-ups in the latest installment.

Dortmund's return to form with a 2-1 victory over 1. FC Union Berlin is chronicled in great depth in this week's ddep-dive "tactical focus" section.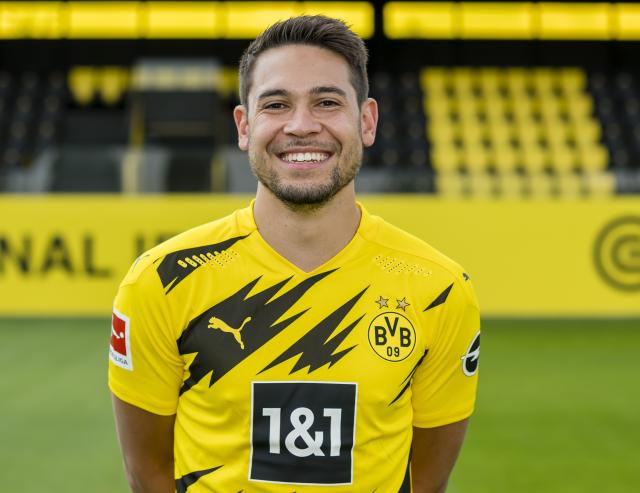 | | |
| --- | --- |
| Raphael Guerreiro. | Photo: Borussia Dortmund |
Bundesliga Tactical Banter: Round 27
A thrilling finish at the MEWE

Wow. Simply, wow. Amid an incredibly tense and wild set of Saturday 15:30 kickoffs, Mainz-Bremen qualified as the biggest edge-of-one's-seat thriller of them all. That's saying quite a bit for a set of simultaneous kickoffs in which Dortmund and Bayern were both in action clamoring for much-needed close victories. Four goals came after we entered the 85th minute in a 0-0 deadlock. Mainz forward Ludovic Ajorque finally opened the scoring with five minutes of normal time left after a ball propitiously bounced his way. Jens Stage promptly equalized. Nelson Weiper appeared to have secured the win at 90+3, but Niclas Füllkrug slotted home another equalizer at 90+5 when the hosts switched off.


In terms of what lessons we can unpack from this result, it's worth noting that Bo Svensson's Rheinhessen were by far the better team throughout. Ajorque, Dominik Kohr, and the subbed-on Jae-Sung Lee missed numerous chances to net the first goal before the 1-0 finally came. Buttressing attackers Marcus Ingvartsen and Anton Stach didn't produce their best days and often made very poor decisions in the final third. The result that extended Mainz's unbeaten run to eight straight fixtures was certainly well-deserved, yet still underscored how unpolished these particular European contenders can be at times. Some three weeks after punishing Freiburg for a late mental lapse, the FSV got a taste of their own medicine.

As pertains to Bremen, practically everything appears to revolve around what kind of mood Niclas Füllkrug and Marvin Ducksch find themselves in on any given day. The former - still the league's leading scorer - could have easily bagged a brace or even a hat trick had he converted chances in the 21st and 74th. Ducksch's contribution continues to revolve around set-pieces. Either SV trainer Ole Werner has the 29-year-old well drilled and confident during the training week or he doesn't. In this particular case, it looked as if Ducksch wasn't working with the best of packages. Apart from the alluded to service in the 21st, there weren't really any practiced deliveries from him. One can generally tell right away whether he's on or not.

A bore at the "Oly"

Somewhat predictably, the Saturday evening "Top Spiel" proved to be a total dud. One honestly both expected and got very little from Hertha-Leipzig. The German Red Bulls saw little need to assert themselves or take too many risks after their surprise win over Dortmund in the cup midweek snapped their losing skid. Sandro Schwarz's Charlottenburger, meanwhile, kept the defensive spacing carefully meticulous against their heavily-favored guests. Absolutely nothing happened in the initial 38 minutes. Amadou Haidara ultimately bungled the 1-0 home off a clumsily defended corner in the 39th. The finish itself could also be described as clumsy.

As has been the case in recent weeks, Leipzig came alive in the closing minutes of the match. Dominik Szoboszlai and Dani Olmo (again working off the bench this time) woke up to furnish some creativity late-on following prolonged stretches of sleepy and often lazy possession-based football. The only other RB player to generate a chance in the entire match was Benjamin Henrichs, who flashed over the crossbar just after the hour mark. Schwarz's hosting side - operating in the same 3-5-2 with the same personnel as last week against Freiburg - got a little better thanks to some offensively-minded substitutions late on. Note that "a little" can be equated with "minuscule" in this context.

Schwarz has a few things to think about personnel-wise after this one. All three of his new additions to the XI from the previous round (Kevin-Prince Boateng, Jonjoe Kenny, and Wilfried Kanga) dipped noticeably in this encounter. Suat Serdar, Marco Richter, and most especially Jessic Ngankam relieved the trio on a triple substitution in the 62nd. Serdar peeled off Hertha's best chance. Richter constituted a big upgrade over Kenny. Ngankam clearly carried with some leftover confidence from the international break. We should see this trio back in action next week against Schalke. Doubtful that it will be enough to pull "die alte Dame" out of the relegation race, but at least Schwarz gleaned some answers out of the result.

A return to the bottom for Schalke

Not a good Easter Sunday for Thomas Reis' Königsblauen. It's back to the bottom of the table after a 0-2 blanking away at Hoffenheim. A certifiably crazy day at Sinsheim's PreZero Arena saw both Marius Bülter and Maya Yoshida hit the post for Schalke. Alex Kral also turned a goal into his own net and Ralf Fährmann had a fine penalty save regrettably revoked by the DFB's new strict protocols aimed at ensuring that keepers don't stray from their line. Something of a snake-bit feel to Schalke's day. Absolutely nothing went right.

Reis the emerging tactician still made all the wrong moves both pre-match and in-game. Tim Skarke started over Dominick Drexler for no real sicernable reason. Thomas Ouwejan was also thrown into the XI to compensate for Moritz Jenz's continued absence while Hening Matriciani moved central. Reis ended up yanking Ouwejan before the half and tried to revert to a totally untested back-three of Matriciani, Yoshida, and Cedric Brunner. The columnist is slightly embarrassed that he praised Reis' tactics last week. Oops.


Stacking the attack late-on with Drexler, Simon Terodde, Danny Latza, and some kid by the name of Keke Topp only had the effect of producing a jumbled mess. Reis appears to have gone off the deep end with his ideas. That sensational undefeated start to the Rückrunde might have gone to his head. Shame on all of us for lauding him. When one thinks of Reis these days, one is haunted by thoughts of trainer Frank Kramer both last year for Bielefeld and earlier this season. Uh-oh. Not good times ahead unless Reis returns to basics next week against Hertha.

The "Spiegel Specials": Round 27
Freiburg-Bayern (0:5, 0:1)

Our first "Spiegel Special" of the round isn't really meant to juxtapose Bayern's slender 1-0 eke-out win over Freiburg with the 5-0 romp from matchday ten. What really requires some extra analysis, obviously enough, is Bayern's shocking DFB-Pokal elimination at the hands of Freiburg in Tuesday's quarterfinal matchup. Unprecedentedly huge news in German football. For the third consecutive year, the mighty German giants will not be hoisting the domestic cup. Newly appointed FCB trainer Thomas Tuchel has already failed one in one of his three specific tasks.

So, what happened exactly? For starters, a well-devised game plan from Christian Streich ran straight into an unnecessarily complicated match-scheme from Tuchel. Despite his own personal assurances that he wasn't in place to shake things up, Tuchel ended up falling straight back into the same sort of ill-fated pattern as his predecessor. Simply stated, Bayern looked like the Bayern that we observed at the precise point in time that doubts about Nagelsmann began to emerge.

We'll cover both sets of tactics.

Lineup—SC Freiburg—DFB Pokal (4-2-4)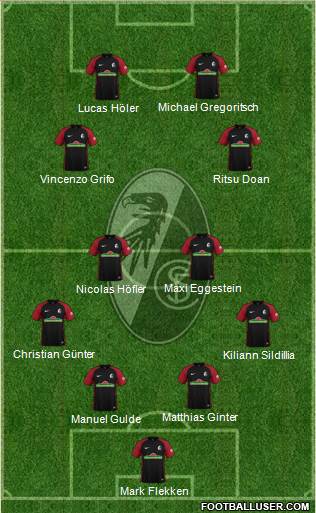 Streich's rather deep-seated 4-2-4 functioned effectively from the onset. The Breisgauer expertly squeezed Bayern out of the attacking spaces. FCB build-up play remained rhythmless and choppy whilst Freiburg lurked dangerously on the counter. The opening goal came off a corner in the 19th. Some controversy accompanied the tally as Dayot Upamecano might have utilized some illegal contact against Maximilian Eggestein on the critical aerial duel.

The goal counted in spite of the fact that a subjective reading might have seen it chalked off. No matter. Nicolas Höfler equalized eight minutes later with a gorgeous distance effort that, however pleasing, would not have been possible without a horribly poor defensive clearance from Kingsley Coman. The Schwarzwaldverein, in truth, delivered the much better football from open play. Virtually all of Bayern's chances came off of dead-balls. Tuchel's tactical set-up shouldered some blame.

Lineup—Bayern München—DFB Pokal (4-1-4-1)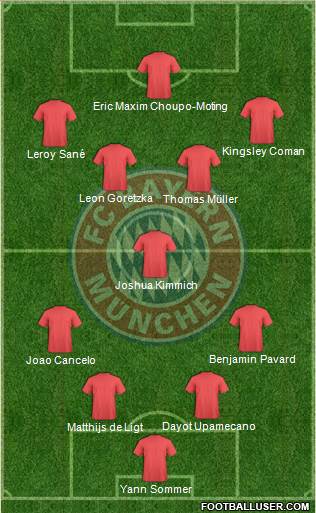 Placing Joshua Kimmich on his own solo axis isn't automatically a recipe for disaster. The German national team midfielder can handle the responsibility of the role and there isn't anything inherently wrong with placing his preferred axial midfield partner ahead of him. Leon Goretzka even thrives operating farther afield. Tuchel's lone personnel change - Joao Cancelo for the hitherto shaky Alphonso Davies - also had logic to it.

How it all fell apart

One thing that we can most assuredly say yields hit-or-miss results concerns a tightly-spaced eight partner working alongside Goretzka. We saw this fail in what would be Nagelsmann's final match in charge. It worked out much better when faster players like Jamal Musiala and Leroy Sané occupied the eight slots in the most recent Pokal round. Incidentally, Müller (as evidenced by that match and others) does better on his own solo axis.

Goretzka and Müller frequently got in one another's way. Eric Maxim Choupo-Moting also had difficulty affecting the play with deep drops amid the crowded second attacking axis. Coman and Cancelo - talented though they may be on both flanks - both struggled on the sides on which they've been weaker this season. These all counted as lessons that Nagelsmann, familiar with his players, already had figured out.

Tuchel has to grapple with a learning curve.

Returning to the 4-2-3-1

Tuchel earns some plaudits for at least figuring out what he needed to do ahead of the weekend encounter. Kimmich needed some additional assistance. Goretzka and Coman required some time off. Missing Choupo (injury) and Upamecano (suspension), the FCB trainer had two vitally important positions to fill.

Regular German football observers knew that Serge Gnabry (a sometimes striker) and Benjamin Pavard (a natural center back) were the answers. Tuchel couldn't be accused of not doing his homework in this case. The correct personnel calls were made. The team could also - as per Tuchel's original plan - fall back into its self-coached 4-2-3-1.

Lineup—Bayern München—Match 27 (4-2-3-1)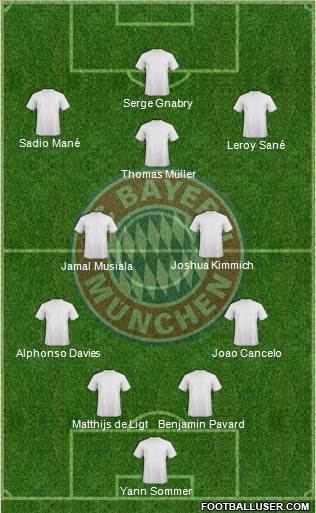 An essentially dominant performance from the Bavarians in the opening 45, even if the resolute manner in which Freiburg locked up the lanes was similarly admirable. Streich made little secret about the fact that he wished to use the exact same personnel and the exact same constellation yet again. The well-rested Breisgau bunch executed serviceably. Bayern weren't incompetent offensively, but were always blocked by SCF bodies.

Philipp Lienhart - on for the injured Manuel Gulde in the 36th - even made a pair of fine stops. We very nearly got another sensational development late in the first half when a brilliant Freiburg counter enabled Michael Gregoritsch to reach a wide-open Ritsu Doan in the 44th. The Japanese international regrettably hit the post. That's nevertheless how close we were.

How Freiburg nearly pulled it off again

After Matthijs de Ligt's distance strike in the 51st put the defending champs in the lead, matters could have easily unfolded in accordance with a typical FCB script. They did not. Streich pulled the trigger on a double-change in the 62nd. Roland Sallai and Lukas Kübler entered for Kiliann Sildillia and Vincenzo Grifo. A positional re-format - one which very nearly worked - followed. The Badeners supplied some danger in this.

Lineup—SC Freiburg—63rd minute (4-2-4)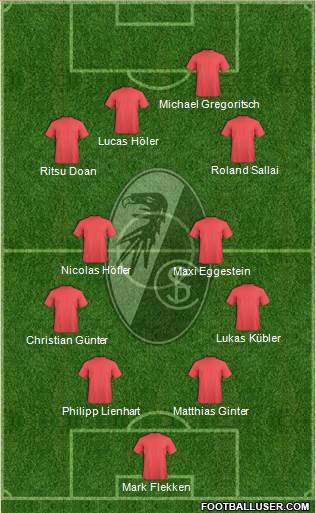 By moving Doan over to the left and dropping Lucas Höler back to a service striker role, Streich ensured that Sallai had some space in which to work. The Hungarian came damn close to securing the 1-1 in the 70th minute. Everyone poured forward in the final ten minutes of normal time. While injury time undoubtedly belonged to the Bayern actors, Kübler, Christian Günter, and Matthias Ginter demonstrated intent with excellent forward carries.

Kudos to the Breisgauer for opening up their shape and taking some chances toward the end. Streich's lads genuinely managed to make Tuchel's crew look like an unworthy title-aspirant in a second consecutive match that remained competitive until the end. General FCB frustration, combined with the fact that the stadium crew provoked the visiting team with footage of the Pokal defeat prior to kickoff, eventually sent Kimmich over the edge.

Bravo, Breisgauer!

The giants have been rattled.

Prognosis: A straightforward league journey

There's some totally unpredictable excitement in store for both of these teams in their upcoming elimination-contest fixtures. Bayern by no means look to be much of a match for Man City after the first three games under Tuchel, but much stranger things have happened this season. Freiburg have the Pokal at the beginning of next month. No telling if they can make the Final for the second straight year. It shall all prove most interesting in any case.

What may lamentably by less interesting concerns the three upcoming league fixtures that these two sides have on the docket. Freiburg face Bremen, Schalke, and Köln while Bayern have Hoffenheim, Mainz, and Hertha. With the caveat that Mainz-Bayern might possibly serve as an outlier, it looks like nine points apiece for the two clubs over the next three weeks. Something of a shame to see greater interest deferred here.

Streich's Breisgauer can legitimately take a lot with them from this legitimately insane week. Ginter played perhaps his best two matches since returning to the club this past offseason. Gregoritsch and Höler look to be gelling in all matter of interesting ways regardless of how Streich sets them up. Höfler's sudden resurgence came out of nowhere and attackers Doan, Grifo, and Sallai all round up in form.

Freiburg slipped out of the top-four here, yet should be back soon.

Augsburg-Köln (2:3, 1:3)

A pretty rare phenomenon this weekend saw Köln actually score some goals. It doesn't happen often. Indeed, it always seems to occur when one least expects it. The cathedral city side last woke up to net three tallies in a 3-0 win over Frankfurt in round 21. In the 540 minutes of league football since then, Steffen Baumgart's side found the back of the net just once; and that was a totally immaterial goal scored in the process of getting routed by Dortmund in round 25.

Few anticipated this, even if a Steffen Tigges brace led the Geißböcke past the Fuggerstädter in round 10. That was an eternity ago back at the RheinEnergieStadion; back when we were all (for whatever reason) convinced that Tigges was a top-tier striker; back when Linton Maina and Denis Huseinbasic appeared to possess the tools to transition to the next level. Surely the Effzeh couldn't do the double over one of the strongest sides in the league at home?

They could and they did.

Lineup—FC Köln—Match 27 (4-2-3-1)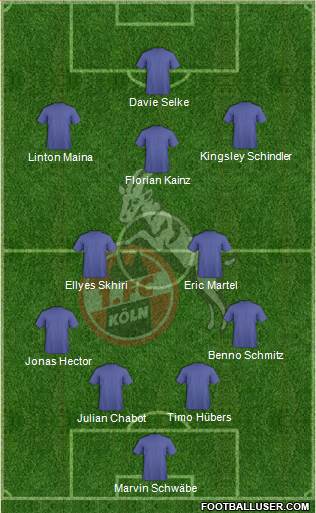 A brief mention of Baumgart's new 4-2-3-1 last week covered the fact that Köln trainer Baumgart tried out veteran attacker Florian Kainz in a novel role as the operating ten. The experiment worked well against the admittedly woeful Gladbach. For the first time in quite some while, the Domstädter looked to have something of a functional set-up. In hindsight, an awakening could have been presaged.

The columnist ultimately didn't maintain enough confidence to envision the constellation thriving, in large part because of the tight nature of the second axis seemed like something that would probably end up hamstringing Kainz. Köln were somewhat lucky to emerge from a wild opening phase with a 2-0 lead, but one should note that Baumgart also essentially got his tactics spot-on

Changes from last week

A wider berth for Kainz made a huge difference. The Austrian international turned the ball over about as many times as he led counter dribbles in the opening quarter-of-an-hour, yet still did a marvelous job of distributing to both Maina and Kingsley Schindler on the charge. Kainz's two flanking attackers got early looks in, though it was sixes Ellyes Skhiri and Eric Martel who made it count on the scoresheet.

The Domstädter railed off constant counter attacks thanks to their well-spaced and disciplined press. The half-time lead felt fully deserved. Ruben Vargas' 1-2 pullback goal even counted as a freakish fluke. Amid all the crazy momentum swings and uninterrupted possession changes, Köln emerged as the far more organized. Skhiri and Martel certainly benefitted from higher deployments as well.

Schindler's flexibility

Baumgart turned to the personnel change we'd thought we'd see from the start at the half. Dejan Ljubicic replaced Benno Schmitz. Schindler slid back to his more natural position in Schmitz's place at right back. This paid off immediately. Now Köln were in charge of the match in a more organized fashion. Ljubicic need up crossing in for Maina on the 3-1 in the 59th.

Schindler did a particularly good job defensively against multiple actors. True, his assignment against ad-hoc striker Fredrik Jensen (on for the injured Mërgim Berisha) left him with an easier job on the day. The German Ghanaian still kept an ordinarily solid FCA midfield from getting their build-up game rolling and ensured that no one got past him after Enrico Maaßen flooded the field with attackers late.

Prognosis: 2020/21 Bremen Redux?

An immensely interesting twist here in what was already a historic relegation race. Five clubs (Bochum, Hertha, Hoffenheim, and Stuttgart) remained mired in the fray whilst one additional side is almost surely set to join them as the coming weeks unfold. Ahead of this encounter, Köln seemed almost sure to be the "haul down" candidates. No attacking threats. Exploding administrative problems. It was all set up.

Now that's been turned on its head. The victory puts the cathedral city side within touching distance of the 35 points (they have 31) needed to secure safety. Augsburg (on 29 points) with Leipzig, Dortmund, Union Berlin, and Eintracht still to face this year, need to net two wins from somewhere. The FCA have their own administrative problems now and there's only so many times Stefan Reuter's tactic of firing trainers in the final weeks can work.

Hmmmm...interesting matters to contemplate in the coming weeks. For all the talk of Köln's goal-scoring droughts, Maaßen's team have now netted one fewer league tally than Baumgart's side. The squad clearly has problems whenever Berisha and Ermedin Demirovic can't participate. Mistakes keep mounting up in the midfield and defensive ranks. Suddenly, this team reminds one of Florian Kohfeldt's 2020/21 SV Werder Bremen.

As that team proved, relegation easily "sneak up" on a side. Bremen had captured 30 points through 24 matchdays that year before totally imploding and obtaining just one point from the final ten rounds. Hertha, Bielefeld, Mainz, Köln, and Augsburg all rose above Kohfeldt's Hanseaten that year to send a club just needed one more win down to the automatic drop. Hmmm indeed.

Leverkusen-Frankfurt (1-5, 3-1)

Now there's a nice classic "Spiegel Special" for everyone. Xabi Alonso's Leverkusen came close to a "perfect mirror" whilst turning the tables against the side that humiliated them on matchday ten. The scoreline notwithstanding, this one constituted about as perfect reflective image as it gets. Xabi's Werkself kicked the everlasting crap out of Oliver Glasner's RheinMain Eagles. Bayer's new "false-nine" 3-4-3 remains one of the most potent forces active in the top flight at the moment. This nine-game unbeaten run (including seven straight wins on-the-bounce) didn't happen by accident.

Flo Wirtz, Moussa Diaby, Jeremie Frimpong, and Amine Adi playfully danced past their opponents with the greatest of ease. Robert Andrich - back in midfield and off the defensive double-pivot - keeps the flow under control together with a much-improved Exequiel Palacios. Jonathan Tah (who did a marvelous job marking Randal Kolo Muani this time) and Edmond Tabsoba finally appear to be settling down. Sardar Azmoun scored off the bench again this week. Yep. One shouldn't bet against this team. Alonso doesn't even need to rush Patrik Schick and Adam Hlozek back at this point.

As many of us league watchers had feared, things continue to go downhill for Eintracht. The players expected to depart on frees this summer simply can't find the focus. Evan N'dicka screwed up on both of Leverkusen's first half goals. Daichi Kamada's primary objective coming off the bench seemed to be avoiding injury. On something of a positive note, reported want-aways Kolo Muani and Djibril Sow were still trying; albeit with tired legs from the Pokal match. The SGE's head-coach is definitely not trying anymore. One can't interpret another belligerent presser any other way.

Prognosis: Another 2020/21 redux?

Very likely. Frankfurt now maintains the feel of Frankfurt two springs ago. Bruno Hübner and Fredi Bobic had announced their departures. Trainer Adi Hütter declared his intention to head over to Gladbach. With all these changes in the air, Eintracht lost sight of the Champions' League race. A heartbroken Sebastian Rode could only mourn the fact that it proved impossible to chase the proverbial multiple pigs through the village. Sad stuff.

Frankfurt eventually found their way back that summer via a disaffected VfL Wolfsburg trainer who had just helped his club beat out Frankfurt for the final Champions' League slot, yet had no desire to remain in the northern Autostadt. Austrian "Wanderlust" man Oliver Glasner came to Frankfurt. Now that Glasner has come, saw, and conquered, he'll be departing for greener pastures this summer; possibly on the Isle.

About all that can save the SGE's prospects for next season will be a DFB-Pokal capture. The club's sixth overall domestic cup likely won't be enough to keep the likes of Glasner, Kolo Muani, Sow, and Jesper Lindstrøm interested enough to stay. It will, however, guarantee European football next season; the last one for hear-and-soul skipper Rode. Somehow one doesn't see that happening.

More memorably, yet sad, quotes from Rode are on the horizon.

The "Burning Questions": Round 27
How are Stuttgart's tactics looking?

A new calendar season characterized botanical rebirth, more favorable temperatures, and the soothing fresh air brought on by the breezes. A New coach. Two straight wins on-the-bounce for the Swabians? What sort of magic is Sebastian Hoeneß working for the Württembergers? How can a trainer thrust into a position so recently that he freely admits he doesn't know his team yet already have his best XI in place? Was it really that easy to just pick up on Bruno Labbadia's mistakes and make a few simple corrections?

Er...yes.

Lineup—VfB Stuttgart—Match 27 (3-4-3)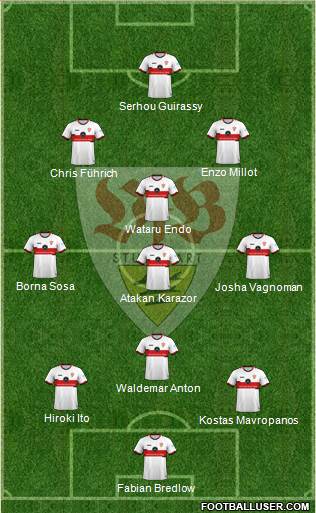 Pretty straightforward solutions, though many of us league watchers have duly noted that Hoeneß was extremely lucky to get the likes of Serhou Guirassy, Borna Sosa, and Silas back right at the beginning of his new coaching regime. The idea of getting Waldemar Anton running pivot and vertically aligned was nevertheless something that Labbadia absolutely should have reverted to earlier. The same applies - we shall note a thousand times - to getting Josha Vagnoman embedded and stationed on that right side.

The 3-5-2 utilized by Hoeneß in the most recent Pokal fixture actually left one with a sense that Hoeneß was preparing to make some of the same mistakes tactically as we far too often saw from him in the two disappointing Hoffenheim seasons. This set-up proved a pleasant surprise and very much left one feeling as if the 3-2 victory away at Bochum this Easter Sunday was deserved. This despite the fact that there was a bit of luck - and some bad goalkeeping by a possibly hurt Manuel Riemann - at work on Hiroki Ito's 1-0 and Vagnoman's 3-1.

The VfB managed to look offensively coherent for the first time in quite a while. Moreover, the central vertical axis held up well against a Bochum side that created chances of their own and nearly equaled Stuttgart in terms of xG. Vagnoman and Sosa put in great games on both sides of the ball. Endo and Anton need a little more adjustment time, but seemed to locate the right muscle memory towards the end. The table's new 16th-placed still needs much more luck against Dortmund next week.

One could nevertheless cautiously note an upward trend.

Have Gladbach proven something?

A 2-0 win over an in-form Wolfsburg side isn't something to be immediately dismissive of. BMG trainer Daniel Farke got the best out of two players - Nathan Ngoumou and Florian Neuhaus - forced to operate cold either in the XI or in a new position thanks to injury and suspension. There's also much to be said for the manner in which the foals kept their defensive discipline in the second half. The visiting Lower Saxons threw quite a bit at the center-halve duo of Ko Itakura and Nico Elvedi. The pair responded to the challenge quite well.

Those positives being noted, Gladbach were only able to open the scoring thanks to a horrific error from VfL keeper Koen Casteels. VfL striker Omar Marmoush had has 10th minute opening goal disallowed for a narrow offside position. Gladbach still looked fairly anemic offensively for much of the opening 45 and were rightly greeted by whistles from the hometown crowd for a poor standard of play. Wolfsburg should have equalized twice, but Mattias Svanberg couldn't find the finish from his unfamiliar slot on the right flank.

Yes, this one was more a case of Niko Kovac miffing up his tactics again. Scarcely believable that the Wolfsburg trainer went with the Svanberg over the suspended Wimmer on the right flank. A suspect decision to maintain the back-four with Ridle Baku suspended as well. A back-three with Paulo Otavio and Kilian Fischer functioning as wingbacks would have been the smarter choice. Gladbach padded their xG stats after the second goal, making it seem to non-observers as if they won this one convincingly.

In truth, they didn't.

Nothing much proved here.

Weekly Tactical Focus: Getting Dortmund off the cross

After a couple of weeks of "early lids", we've a wonderfully complete football match to cover in this week's edition of "Tactics Talk". When it came time to circle candidates for the weekend "deep-dive", the columnist didn't really hesitate to take Dortmund-Union over the concurrently kicking off Freiburg-Bayern. Inquiring minds had to know. We all had to know how Dortmund would respond to last week's drubbing and the midweek flop in the Pokal. Pressure mounted on the perennial also-rans.

How would Edin Terzic's BVB respond?

Full-time xG:

xG Dortmund--2.92, xG Union--0.33

Not bad at all, all things considered.

To be fair, the full-time xG stats do mask some important points here. In an epic must-win contest, Terzic's Schwarzgelben did (quite characteristically) make things too difficult for themselves. Needlessly dangerous passing out of the back led to way too many nervy moments for the Westphalian hosts. Though the team that leads the league in goals conceded from build-up play turnovers (14) didn't do so again this week, a horrible marking error from Niklas Süle did enable Union to make a game out of a match the BVB should have long closed out.

Süle's central defensive partner Mats Hummels committed his fair share of errors too. We witnessed another subpar performance from English phenom Jude Bellingham. The teenager has garnered a lot of negative coverage in the German press recently after a prolonged form slump, criticisms that he's frequently trying to do too much himself on the pitch, and the (not exactly new) reports emerging from Dortmund camp that the 19-year-old strikes too brash and cocky a tone with the team's veterans. One mustn't forget how young he is.

Having mentioned the issues, the overall view of this victory should be rigorously positive. After all, fighting off third-placed Union Berlin didn't count as a small feat. Terzic's side delivered a compelling and convincing win in front of their hometown fans. Rebounding from the disastrous week that just occurred was going to be difficult. The team ultimately fought their way through their problems. As palpably apparent as nerves and stress were in the BVB game, the title-challengers have every right to savor this one and feel confident moving forward.

We'll be according them their due here.

Lineup—Borussia Dortmund—Match 27 (4-1-4-1)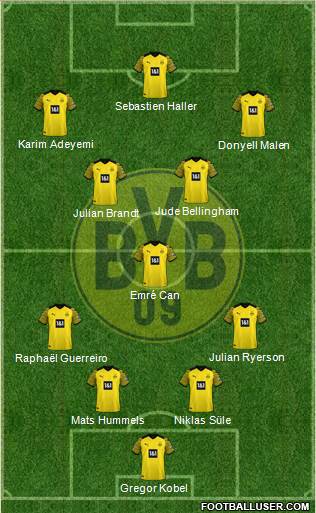 Very wise of Terzic to dispense with the double-experiment that had outlived its usefulness. Raphaël Guerreiro - impressive as he may have been as the Bundesliga's reigning player-of-the-month for March - needed to get back to his left-back position. Julian Ryerson, too, had to move back over to his right-hand-side. Terzic, inexplicably, didn't do this in the Pokal and paid a heavy price.

All told, there were three rotations in. Sebastian Haller returned after a brief injury-induced absence whilst Karim Adeyemi came back following a nearly two month spell on the sidelines. Captain Marco Reus and Salih Özcan made way for the returning duo. Bellingham, having completed his coach ordered break, also took a starting place. Marius Wolf was sacrificed due to illness, with Ryerson remaining in the team.

FCU trainer Urs Fischer had his own Pokal disappointment to contend with, doing so by rotating four fresh actors into his regular unchanging system. Keeper Frederik Rønnow returned from injury to take the place of back-up Lennart Grill. Paul Jaeckel, Morten Thørsby, and Niko Gießelmann also moved into the 3-5-2 for Diogo Leite, Paul Seguin, and Christopher Trimmel.

Lineup—Union Berlin—Match 27 (3-5-2)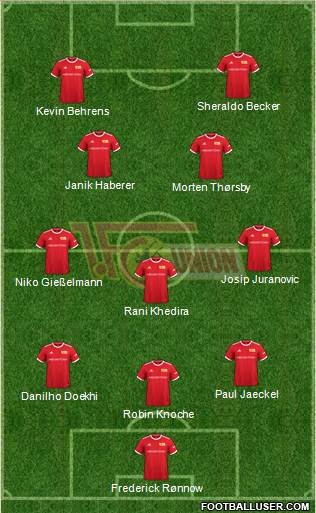 Off we go!

Match Flow: 1st to 16th minute

If one wee to pinpoint an exact time frame for the amount of time it took the Westphalian hosts to settle down a bit, 16 minutes seems about right. Things got off to a jumpy and skittish enough start shortly after the first ball was kicked. On one of the first actions of the game, Süle shanked a clearance directly onto the chest of a high-pressing Kevin Behrens. Sheraldo Becker picked up the loose ball and tore forward. Süle was forced to foul. Match official Daniel Schlager felt the need to reach into his book immediately. Süle was shown yellow before the 1st minute was out.

Josip Juranovic was the man responsible for taking the ensuing 2nd-minute free-kick. Hummels had a little difficulty dealing with a Thørsby flick-on. Haller did better seconds later with a forceful clearance after Thørsby got the ball back. Hummels again had some trouble with a Juranovic throw-in in the 3rd. Gregor Kobel ultimately had to claim a cross into the box from Rani Khedira. The first organized BVB build in the 4th featured failed attempts to break through from Süle, Guerreiro, and Ryerson.

Süle ultimately got himself in trouble again with an errant back pass near the end of the minute. Janik Haberer latched onto a ball intended for Kobel and played Becker through. Emré Can caught up with the FCU striker and took him out with a slight nudge. Referee Schlager opted not to whistle for an infringement this time. Kobel launched out, but a midfield aerial win put the Berliners back on the charge. Becker played Behrens in. Hummels tackled away clumsily in the box in the 5th.

Luckily for Hummels and the hosts, Behrens was clearly offside. There might have been appeals for a penalty otherwise. Hummels led the way with a long carry after Süle and Ryerson played the ball back on the next BVB rush. Julian Brandt ended up receiving the ball on the left, digging out a corner in a one-sone duel with robin Knoche. Guerreiro supplied a decent 6th-minute service from the flag. Hummels rose higher than marker Danilho Doekhi, but stirred his header over the bar nonetheless.

After neither Can  nor Ryerson couldn't hang onto the ball during the next BVB charge, Union earned a throw high up on their left in the 7th. Gießelmann employed the long throw. Knoche flicked on deftly for Behrens, who appeared to win a direct aerial duel with Kobel. Schlager whistled it dead due to a flagrant elbow thrown by Behrens. Replays confirmed it was pretty grisly. Behrens was lucky to escape a card. Haller took Kobel's goal-kick launch down well and Dortmund maintained possession through the 8th.

Guerreiro and Bellingham both tried to unleash Adeyemi on both sides during the long possession sequence. Adeyemi had calls for a foul when Jaeckel took him out let on the second try. Schlager didn't wish to interfere again so soon. Can and Bellingham got Adeyemi through on the left again in the 9th. Doekhi cleared an obvious square for Haller. Dortmund could only cycle back to their keeper on two more triangulations at the end of the 9th and the beginning of the 10th.

After Doekhi disrupted a semi-promising vertical for Donyell Malen in the 10th, Brandt opened up some space with a wide switch for Guerreiro. Hummels joined the attack, only to turn the ball over. In characteristic fashion, Hummels recovered in time to snuff out a Geißelmann-Thørsby-Becker counter in the 11th. The Union second-ranks maintained possession for a little while before Khedira shot over. Dortmund had great difficulty playing their way out of the back against the FCU press in the 12th.

Kobel floundered trying to dribble away from Becker and Behrens. Guerreiro had to foul Haberer when the alert and inherently reliable FCU poacher got his toe around the ball. Juranovic's quick 12th-minute kick proved a wasted opportunity. Kobel collected easily. Guerreiro, Brandt, Malen, and Bellingham put together a lovely string of passes in the 13th. Guerreiro polished it off with a lovely pass into the box on the half left. Brandt unfortunately succumbed to a loose touch and Knoche cleared out for a corner.

Brandt was visibly angry with himself. Guerreiro's 13th-minute service from the flag caused some frustration for the BVB's Portuguese international as well. The corner went straight to Rønnow. Guerreiro stamped his feet in frustration. Can was on hand to squelch out a counter involving Behrens. Bellingham cheekily dispossessed Doekhi on a long carry one minute later. The English phenom thought he spotted Rønnow off his line. The 14th-minute attempt at the spectacular half-way line shot still went well wide of the mark and into the second row.

At least Dortmund were beginning to establish themselves somewhat. Doekhi earned a free kick on another carry on the next FCU rush. Taking it himself, the Dutchman hit Haberer. Can had to scramble away for a throw. Gießelmann went for the long-throw again in the 15th. Thørsby tried to extend back to Doekhi. Ryerson - in a much improved performance from last week - got off the first of many excellent defensive tackles against his old club.

Ryerson did an excellent job winning a second ball off another Gießelmann throw in the 16th. With some help from Malen, Ryerson out Adeyemi through on the right. The BVB returnee scampered past both Juranovic and Jaeckel, hitting the deck when Jaeckel attempted a recovery tackle near the baseline. Referee Schlager didn't like what he saw from the young German international. Adeyemi received a yellow for a simulated dive. A fair enough decision.

Match Flow: 16th to 28th minute

Adeyemi shrugged the booking off calmly and was back at work with Can orchestrating a very nice BVB attack in the 17th. Some brilliant touches from Adeyemi past Knoche and Jaeckel on the sequence. The 21-year-old narrowly failed to hit Haller with his final square. Guerreiro crashed forward and, via Adeyemi again, Haller got the ball again. This time only brilliant defending from Doekhi prevented the opening goal. Adeyemi was again active on another BVB push in the 18th.

Guerreiro and Adeyemi worked the ball over to Brandt. A few too many touches from the resurgent German attacker allowed Knoche to dispossess. A quick counter attempt ended when Bellingham fouled Thørsby. Can cleared away the subsequent 19th-minute free-kick expertly and got an appreciative round of applause from the crowd. One had the sense that the packed Signal Iduna Park was finally transmitting some energy onto the pitch. A goal couldn't be long in forthcoming now.

As artful as the FCU back-line were in playing around the BVB press in the 19th, Khedira ultimately lost the ball to a snappy Brandt, who quickly earned his side their third corner of the night. Jaeckel had to be on point to clear a Brandt cross intended for Malen after a short-take in the 20th. Ryerson worked hard to take Adeyemi's second effort into the box off of Haller. Khedira finally cleared after Adeyemi worked in still another ball. Guerreiro, Bellingham, Ryerson, and Malen ensured that Dortmund would not relinquish possession.

The hosts got quite oppressive on their next charge. Hummels nearly broke through on a long carry. Ryerson saw two crosses repelled. Finally, Can enabled Rønnow too collect with a poor cross in at the end of the 21st. Rønnow failed to get his side rolling when Brandt again stepped up to take the ball off the FCU back-line. Another exquisite BVB passing sequence involving six players produced another scoring chance. Bellingham burst through at the edge of the area central in the 22nd. Jaeckel fouled the Englishman just outside the box.

Unluckily for Dortmund, Schlager let the BVB proceed on an advantage play. Nothing came of it as Ryerson crossed directly into Rønnow's arms. Bellingham, Can, and Ryerson could only crawl up the right on a slow cycle in the 23rd, but the ball remained with the hosts. Brandt, Guerreiro, and Süle saw fit to that with their own leftward cycle in the 24th. Union looked all out of sorts. One solitary counter drive through Becker was handled easily by Hummels.

Bellingham, Guerreiro, and Adeyemi powered their way past the FCU ranks in the 25th. Ryerson and Malen then executed a nifty give-and-go on the right. Gießelmann had to foul his former teammate after Ryerson punched through to the baseline. Brandt did a fine job with the ensuing free-kick, hitting Hummels in stride. Doekhi managed to track Hummels headed effort and deflected it across the goalmouth and away from danger. Dortmund still kept hold of possession after a short 26th-minute clearance.

Mostly wide bow-arcs from the Westphalian hosts in the 26th and 27th. Brandt and Guerreiro occasionally tried to do more than re-cycle with long switches. Brandt came the closes to reaching Ryerson with a full lateral at the end of the second minute. Gießelmann headed away a cross in intended for Malen. Jaeckel barely toed away from an in-crashing Adeyemi at the beginning of the 28th. Malen kept the play alive, initiating a new sequence and finishing it off himself.

Malen went back for Bellingham on the half-right. After taking a few touches to survey his options, Bellingham went for Brandt, who in turn opted to hit a streaking Guerreiro on the left. Guerreiro spotted Malen running back in with Gießelmann on a loose mark. The sharp cutback was about as simple as it gets. Malen had an easy finish as well. A highly complex and interesting team sequence finished with a pair of plays that made it look easy. Dortmund had their 1-0 lead.

Match Flow: 28th minute to half-time

This truly marked the end of Dortmund's nervy spell. Absolute dominance from the hosts until it was time to head into the tunnel. The BVB purred along smoothly and playfully while Union remained mostly harmless. The first FCU build after play resumed had a choppy feel to it. Becker ended up crossing well past Juranovic from the left in the 28th. Hummels easily stabbed away Thørsby's attempt to get the ball back into the box. Hummels and Haller together handled Juranovic's attempt at a long-throw in the 30th.

Action broke off in the 31st when Bellingham required some treatment in the 31st. Union couldn't get any momentum going forward in the 32nd. Ryerson, Knoche, and Haberer all gave the ball back to their hosts, twice to Ryerson. Guerreiro shot over from an acute angle following some nice work from Brandy and Adeyemi in the 33rd. The capital city guests managed a little something with a switch outside for Gießelmann on the left at the end of the minute. Schlager whistled Ryerson down for what appeared a ghost foul on his former teammate.

Juranovic put some spin on his 34th minute service, but Kobel took care of the swerve with a nice double-fist out. Jaeckel then worked a nice diagonal back in for Knoche. The FCU defender touched out poorly for a goal-kick. Dortmund took care of the 35th and most of the 36th with careful bow-arcs. Adeyemi finally burst through past two markers at the end of the second minute. Bellingham did even better to shake off three markers after Adeyemi cut back for him. Bellingham put Malen through and the BVB Dutchman's cross met Haller's head.

Rønnow happened to be one step ahead of it and the FCU keeper collected a point-blank header without much power behind it. Gießelmann, after a nice circle from Doekhi, attempted to unlock Becker up the left in the 37th. Becker outpaced Süle impressively, but couldn't catch up to his own touch. A miscued effort went out for a goal-kick. Adeyemi, Malen, and Ryerson proved a step ahead of each other on an otherwise decent rightward cycle in the 38th. The hometown crowd nevertheless applauded the effort.

In another play that sent the Signal Iduna crowd into rapturous applause in the 39th, Hummels and Guerreiro put in the extra hard work to ensure that Thørsby didn't earn a corner deep in BVB territory. After spreading the ball around to virtually everyone in the 40th, the net BVB breakthrough went through Malen on the right in the 41st. Doekhi only just straddled the ball away from his fellow Dutchman with a sliding tackle. Brandt slipped in a short corner back to Malen. Doekhi had him handled again.

More spread bow-arcs from the BVB in the 42nd. The hosts became dangerous again in the 43rd. Malen switched for Guerreiro. The Portuguese fullback crossed in deftly for Haller. Rønnow made an excellent save. Union couldn't help but turn the ball straight back over after Rønnow tried to instigate a corner. Malen whizzed a shot just wide at the beginning of the 44th. Before the 44th was out, Bellingham found himself twice repelled on flat play-throughs for Malen. Doekhi was on guard both times, though Bellingham could have done better with the passes.

Haberer and Knoche saw runs stopped in the 45th. Jaeckel went for a long vertical aimed at Behrens at 45+1. Guerreiro, Can, and Brandt smothered the FCU striker. A quaintly hilarious scene at 45+1 saw Guerreiro intentionally bounce a throw-in off Adeyemi's back. The nice little design from deep in Terzic's playbook enabled Malen to get another effort off. Knoche had to clear away for a corner. Bellingham, Hummels, and Brandt all met with blocks during a last-second flurry at 45+3.

Half-time xG:

xG Dortmund--1.94, xG Union--0.16

This one was practically begging for a "lid".

Match Flow: 46th to 61st minute

Here we have the phase of the game during which Dortmund arguably should have killed the game off. It's not entirely prudent to levy heavy criticism on Terzic's crew in this instance as they were trying. The BVB trainer also made the right call in keeping the existing tactics in place and only employ like-for-like substitutions. The Westphalian hosts remained ever present in the duels and won most all of the second balls. Union's eventual equalizer would come against the run-of-play.

Without changes we continued. Both Guerreiro and Brandt were a tad sloppy on the first BVB build after the restart. Becker and Behrens had a chance to work forward. Behrens tried to reach the onrushing Gießelmann in the 46th, but popped the service wide. Gießelmann ended up being the last man on a meeker cycle from Guerreiro, Can, and Ryerson in the 47th. A slow-roll FCU build in the 48th failed when Guerreiro put the brakes on Juranovic. Dortmund were back working magic at the other end of the pitch within a minute.

A lovely flick-on from Haller to Brandt in the 49th almost fizzled out when Brandt's own feet couldn't catch up to the ideas in his head. Not exactly the best day for the new calendar year's star performer. Guerreiro nevertheless rushed in to keep the play alive and Bellingham danced past Khedira with some sublime leg work after a tap back. Bellingham's cross matched his his superb dribble. Unfortunately, Haller and Adeyemi couldn't make the most of it in the box.

Union's next sortie in the 50th wasn't anywhere near as elegant. One could sense the difference in quality as Becker, Khedira, and Thørsby circled around clumsily. Gießelmann at least worked in an okay cross from the left. Can still cleared without too much difficulty. Khedira then smacked Brandt in the stomach on an awkward duel for the second-rank ball. After a brief treatment break, Dortmund took the 51st-minute free-kick back. Süle sent a whoosh through the crowd with a poor back pass for Kobel.

Kobel somehow escaped the danger posed by the direct press. Süle would then turn the ball over to Khedira, who sent a harmless chip past all of his teammates. Kobel had to scamper around again in the 52nd. This time Guerreiro hung him out to dry. The Swiss net-minder eventually got the ball out via Can. Bellingham, in some space, was hauled down by Knoche. A fancy dead-ball design in the 53rd featured a step-over from Brandt and a whip-in from Guerreiro. Target-man Süle lost the aerial duel to Knoche.

Khedira cleared Guerreiro's second effort after the ball circulated outside the area through Bellingham and Malen. The hosts keep possession and were back with another vertical in Ryerson's direction in the 54th. Another flagrant elbow from Behrens left the former Union man with a bleeding upper lip. This time Schlager had no choice but to book Behrens. The 55th-minute free-kick featured another interesting design. It could have worked had Adeyemi not given the ball away.

Frustration boiled over for Becker in the 56th. The Union striker bolted down the right, hassled by Adeyemi. Becker had to hold off his marker with a slap to the face. Schlager whistled it down and Becker was lucky not to see double yellows (like Ramy Bensebaini a couple weeks back) for both committing a foul and blasting the ball away in anger. Schlager settled on the single yellow. Cautious stuff from Dortmund through the 56th and 57th. Süle sat on the ball for a while. Hummels and Ryerson were similarly gun-shy on the next build.

Adeyemi and Guerreiro also seemed to be running low on ideas on broken cycles in the 58th. Hummels ultimately opted for a vertical over everyone. Thørsby and Behrens tried something unique in the 59th, but their centralized give-and-go failed when Haberer was ruled offside. As the hour mark approached, broadcast cameras caught Jamie Leweling and Paul Seguin preparing to check in on the sidelines. Play still continued whilst Thørsby and Guerreiro respectively led counters that got stuck in the 60th.

Adeyemi also ran a brief counter. The equalizer came after Khedira emerged from the series of midfield turnovers with the ball. The FCU captain tapped a Thørsby recovery ball over to Knoche. The veteran defender belted a piercing diagonal from well behind the half-way line in Behrens' direction. Union's recently re-signed striker easily beat Süle (who strangely didn't jump) in an aerial duel. Behrens headed over to Becker and made a run into the box. Süle - now switched off - didn't bother to follow Behrens at all.

1-1.

Game on.

Match Flow: 61st to 71st minute

As it turned out, Behrens was one of the players whose number was up. Leweling entered for Behrens on a straight swap whilst Seguin relieved Thørsby. The celebration and double substitution ate up the 62nd. Dortmund's response was more than acceptable. A sleek spread build in the 63rd put Ryerson through. The Norwegian's cross barely missed Haller. Jaecel had to give up the full body to block Brandt's second effort out for a corner. A quick short take saw Süle head a Brandt cross over at the beginning of the 64th.

A quick roll-out counter by the FCU ended with Seguin driving a shot wide. A bit of nerviness returned to the BVB build up play. Guerreiro, Haller, and Adeyemi didn't have the confidence to cycle up far in the 65th. Knoche and colleagues closed ranks easily enough on Bellingham and Brandt in the 66th. Brandt, Haller, and Adeyemi all found themselves dispossessed on broken plays in the same minute. A turnover from Brandt in the 67th gave Leweling a chance to run on the counter. The former Fürth man proved too slow. Hummels slide-tackled away Leweling's pass for Becker.

Bellingham and Malen nibbled around the edge of the area without finding a way through in the 68th. Can and Brandt couldn't do much either. Leweling got another chance at a counter run. Can tracked back to take care of what was again too slow a run this time. Jamie Bynoe-Gittens checked in for Adeyemi in the 69th. Dortmund's other young Englishman couldn't find the precision pass in his first involvement on the rush. Yet again, Leweling tried to counter. Yet again, Can closed him down at the beginning of the 70th.

An incident in the 71st could have turned the game on its head. After the Dortmund press beat Union all the way back to their keeper off a Juranovic throw, Rønnow surprised everyone with a long-launch back for Juranovic. The FCU January addition located Becker. Hummels missed his challenge. Guerreiro secured his place as the "hero of the day" with a life saving tackle. The Portuguese international executed quite possibly the best defensive tackle of the Bundesliga season. Monster stuff. This writer honestly hasn't seen much better in all his decades of coverage.

Wow.

Match Flow: 71st to 79th minute

Guerreiro's inch-perfect cruncher got the BVB back in gear. Such a play most definitely deserved a game-winning goal. It would come in a somewhat roundabout way; after the soon-to-be subbed on Youssoufa Moukoko first made a rookie error, then learned from it. First it would again be Guerrero's turn to punch through again off a BVB bow-arc in the 72nd. He would end up losing the ball this time, but Seguin totally miffed up the counter by taking too long to figure out what he wanted to do with the ball.

Guerreiro hit Ryerson with a switch in the 73rd and his defensive fullback partner dug out a corner. Brandt whipped in a useful quick take. Haller could only head an effort off Jaeckel's shoulder. Moukoko entered alongside skipper Marco Reus for Malen and Haller in the 74th. Straight like-for-likes from Terzic. Fischer burned up the rest of the minute with his own straight-arrow swap. Sven Michel came on for Becker. Some careful possession builds from Dortmund in the 75th and 76th.

Süle, Ryerson, Brandt and Guerreiro fell prey to solid defending from Jaeckel, Michel, and Knoche. A series of giveaways in the midfield in the 77th gave us some semi-hypnotic see-saw action. Eventually, Brandt spotted Reus sprinting towards the baseline. Moukoko had initiated the sequence, but didn't follow Reus on the run. The result was that Reus' intended cutback for Moukoko went to no one. Moukoko was about two meters back from where he needed to be.

The young German phenom would get it right two minutes later. After a haphazard FCU build in the 78th ended with Leweling losing out to Bellingham, the BVB Englishmen gave the ball straight back to Leweling on a very poor individual carry choice. Leweling truly didn't help his cause for either club or country out with a horribly tame effort that Kobel saw all the way. The go-ahead goal then came on the subsequent BVB charge. Moukoko again initiated the play.

This time Moukoko followed Reus' lead. Reus actually ended up losing out to Seguin, but Moukoko had the FCU defender's touch followed tightly. Moukoko got around the onrushing Rønnow with an amazing intuitive first touch. With all the calmness and class of a seasoned veteran, the 18-year-old finished dryly into the empty net. Some way to commemorate being the youngest ever player to reach 50 Bundesliga appearances. Simply amazing what this kid can do on his best days. 

Take a bow, son.

And smile more while you're at it.

Match Flow: 79th minute to full-time

That was pretty much all she wrote for Union in the packed hostile territory of Signal Iduna. To their credit, die Eisernen did endeavor to move forward diligently. A legitimate scoring chance was nonetheless not to come. Bynoe-Gitten proved to be the big beneficiary from a rare late tactical switch from Union trainer Fischer. Fischer went for it with Jordan and Milos Pantovic on for Haberer and Knoche in the 84th. Bynoe-Gittens nearly scored twice in normal time and two more times in injury time against this:

Lineup—Union Berlin—85th (3-4-3)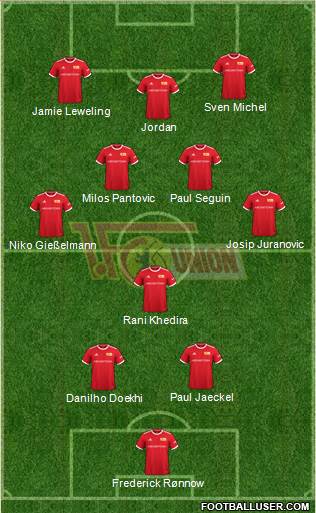 This draw up basically exists jut for fun. It's interesting to see Union line up differently for a change. Fischer has been prepping his troops for a special late-match-push constellation that he opted to try out here. We'll probably see it again before the season is out. Although it didn't work out this time, the notion of packing the midfield behind an established false-nine is always a solid idea. Perhaps Union will furnish us with some late drama using it down the road.

To bookend with full-time xG:

Full-time xG:

xG Dortmund--2.92, xG Union--0.33

One can bring through the problems with Süle, Kobel, Hummels, Bellingham, and Brandt if one wishes. The fact remains that this was, all in all, a fairly dominant performance. Dortmund fans can - for once - relish in a result that speaks volumes about what their team has to offer in this year's title race. Confident and fit young guns such as Adeyemi, Moukoko, and Bynoe-Gittens. An influential captain set to sign on for another year. The reigning Bundesliga player-of-the-month, back delivering great performances from his natural position.

No, it's not easy to swallow a Champions' League elimination, another Bayern humiliation, and the loss of the Pokal dream all in such a short span. BVB enthusiasts may nevertheless take solace in their title hopes this year. Those are very much alive. Consider where they were at this point in the "Hin-Runde". Nowhere near this. Union toppled them 2-0 in the reverse fixture. At the turn of the calendar year, all of us expected Dortmund (as per usual) to spend Easter on the cross.

Instead, they are miraculously (if not subjectively) alive.

Go figure.

Thanks so much for reading! You can catch the release of all Peter's columns on twitter, @ViceytheSS.

Twitter DMs are open for football conversations, corrections, and (if you truly insist) general abuse. 

All columns debut on Bulinews before appearing on Peter's website as the season progresses.



Related stories