Streich on mental task of facing Bayern again:
"Important not to spend three quarters of the day on social media."
By Peter Weis @PeterVicey
At a Thursday presser, SC Freiburg trainer Christian Streich provided squad updates and spoke on the highly challenging task of potentially beating German giants FC Bayern München twice in a row.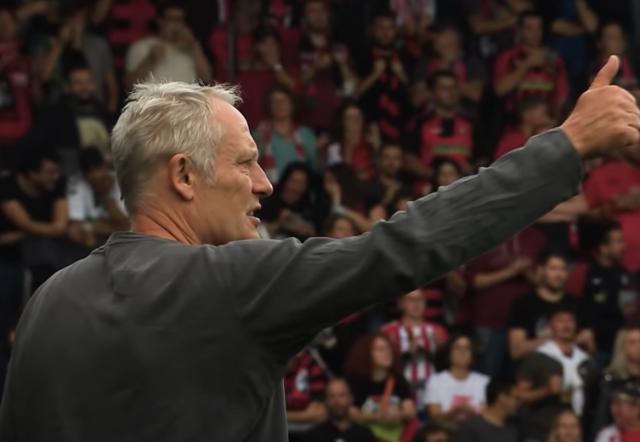 After Tuesday's sensational upset victory in the DFB Pokal quarterfinals, SC Freiburg have the dubious honor of facing German record champions FC Bayern München once again in a 15:30 league kickoff. Streich's Breisgauer were able to succeed tactically against Bayern in a uniquely deep-seated 4-2-4 Streich had specifically designed for the match. Freiburg covered the width of Bayern's game and were excellent at disrupting Joshua Kimmich's attempt to act as a midfield flight conductor.


Streich gave strong indications that he was prepared to stick with the system.

"It's important to remember what worked for us in Munich," the SCF gaffer commented at a Thursday presser, "Bayern loses sometimes, but it was just one game. Beating the best team in Germany twice constitutes is the greatest challenge ever. That's why we're eager as hell to play the game, but are keeping a clear head about it."

Streich opted to give his professionals two full days off after the Pokal victory. Rest and recuperation were, in Streich's words, both earned and absolutely necessary. In another indication that he wouldn't be planning any major changes, the coach spoke on the level of exhaustion he expected to see from his team after Saturday's match.

"Every player should remain focused over the next two days," Streich said on Thursday, "Keep your head clear, surround yourself with your closest confidants, get some rest, eat well and sleep, because the guys will be completely finished both mentally and physically on Saturday after the next 95 minutes, and I mean that in a positive way."

Streich noted that the chances of recently injured defenders Philipp Lienhart and Lukas Kübler returning in time for Saturday's fixture stood "at about 50 percent". With such odds, it seems likely that Manuel Gulde will once again start in the back-four. Moreover, sixes Nicolas Höfler and Maximilian Eggestein will probably continue to hang back close to the defensive line.


Streich expressed the hope that his lads had used their break well; resting and reflecting rather than "basking in the euphoria" of the recent win. For the coach, "too much euphoria" counts as the biggest danger against Bayern. Streich noted that euphoria "can be both too little and too much" when squaring off against the FCB.

"I assume that we'll be prepared for some of Tuchel's moves," he noted, "If you ever win against Bayern and nobody expects it, it's important not to spend three quarters of the on social media warming oneself with all the great stuff written there."



More about the match
More about the teams