Terzic and Kehl register specific refereeing complaints after draw
By Peter Weis @PeterVicey
BVB trainer Edin Terzic and club sporting director Sebastian Kehl naturally had to get their criticisms of referee Sascha Stegemann in following last night's 1-1 draw with VfL Bochum at the Vonovia Ruhrstadion.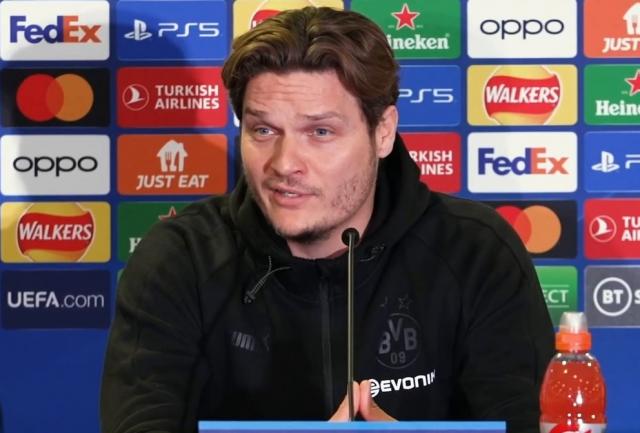 Photo: Borussia Dortmund/OneFootball

Three controversial scenes in last night's 2022/23 German Bundesliga curtain-raiser will almost certainly serve as persistent talking points after the current weekend is out. Borussia Dortmund were only able to manage a 1-1 draw away at their regional rivals VfL Bochum, effectively handing FC Bayern München a chance to reclaim top spot in the table with a win over Hertha on Sunday. The result may have ended differently had Sascha Stegemann's refereeing team handled three situations differently.


In a one-vs-one duel in the Dortmund penalty area twelve seconds before Bochum's opening goal in the 5th, replays clearly showed VfL striker Philipp Hofmann pushing down Emré Can. Later, in the 65th, it looked as if there were clear calls for a penalty when Danilo Soares took out Karim Adeyemi in the box. There were also appeals for a handball penalty in the 90th, just prior to Mats Hummels' disallowed offside goal, when VfL defender Erhan Masovic blocked a shot with his arm in an unnatural position.

Terzic was ultimately booked by for dissent Stegemann after the final case. The BVB trainer vented his frustration in his post match interviews with German broadcaster DAZN, American broadcast outlet ESPN, and in the mixed zone. The 40-year-old head-coach mostly remained calm; at least more so than club sporting director Sebastian Kehl.

"There were at least three key scenes that, from our point of view, just went very unfortunate for us today," Terzic said, "I've apologized for my tone and my emotions. I play the role of a ref everyday in training and I know how hard it is when the ball is moving fast and guys are going 35 mph. I simply ask that you do all you can to reverse bad calls and that didn't happen today. They have the tools to look from another perspective."

VfL captain Anthony Losilla conceded that that the scene with Adeyemi and Soares "absolutely" could have been ruled a penalty in his own post-match interview. BVB sporting director Kehl, like his head-coach, griped that VAR should have been utilized in at least one of the cases.

"With the resources we have at our disposal these days, not to look at this situation when the German championship is on the line," Kehl said. "I think is absolutely negligent, I think is cowardly and completely wrong. We are incredibly incensed by this. The referee cost us two points."


"The ref decided the game," Kehl continued, "Matters weren't handled by the book. We've been critical of ourselves in the past this season, but today it just wasn't right with the refereeing. Today, they were wrong."

"There's just so much at stake," Terzic concluded, "This [title-race] is a once-in-a-lifetime opportunity for me. To get so close to the trophy and to have to deal with decisions like this. I simply asked the ref to use the tools at his disposal to look at things from another perspective."



More about the match
More about the teams