Christian Pulisic was inspired by football parents
Borussia Dortmund starlet Christian Pulisic reveals that his parents, who are both former footballers, have played a big role in his development.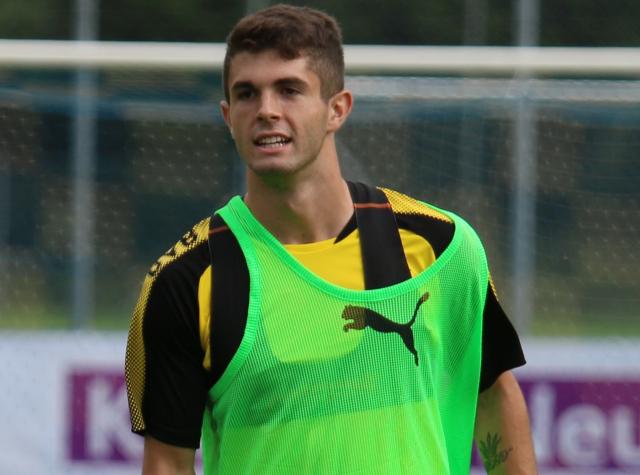 | | |
| --- | --- |
| Christian Pulisic. | Photo: Reto Stauffer, Wikimedia Commons, CC BY-SA 4.0 |
19-year-old Christian Pulisic is well on his way to becoming a big name in football, and despite his age, he is already being hailed as the greatest American to ever play the sport. He made the move to Dortmund in February 2015 and has since then moved up the ranks at the club, defying every expectation along the way.

In a recent interview, the player names his parents as the biggest influences on his career. Mark and Kelley Pulisic met at George Mason University where they both played college football - or soccer depending on where you're from. His father went on to play indoor football at a professional level and has since moved on to coaching.

"My dad has been the biggest influence for me soccer-wise. I've learned so much from him. He was even my coach growing up." Pulisic told Bundesliga.de and went on:

"My mom also played the game so she also knows. She tries to be more on my support side instead of the soccer side, but she definitely knows the game as well. It's been really helpful having them. They've learned me a lot."

With such a rich history of football in the family, it makes sense that the midfielder has become a household name amongst football fans around the world. Even though Pulisic's career is still in the early stages, he has managed to accomplish an impressive amount in a short span of time.

With a long career ahead, it seems plausible that he could become one of the best players in the world and pave the way for young Americans who dream of becoming footballers.

At the age of 17 years and 212 days, he became the youngest non-German to ever score a Bundesliga goal in a 3-0 win against Hamburger SV. After becoming a Dortmund regular, he went on to debut for the US national team and has since then racked up 21 appearances, scoring 9 goals along the way.

The World Cup qualifiers ultimately ended in failure for the nation, but on a personal level, it could be considered a success for the youngster as he ended the campaign as top scorer with five goals. This led to Pulisic being named U.S. Soccer Male Player of the Year, making him the youngest player to ever win the title.