Talent from Japan has been present in the Bundesliga for more then 4 decades. This season is no different with 6 players from Japan featuring in Germany's top flight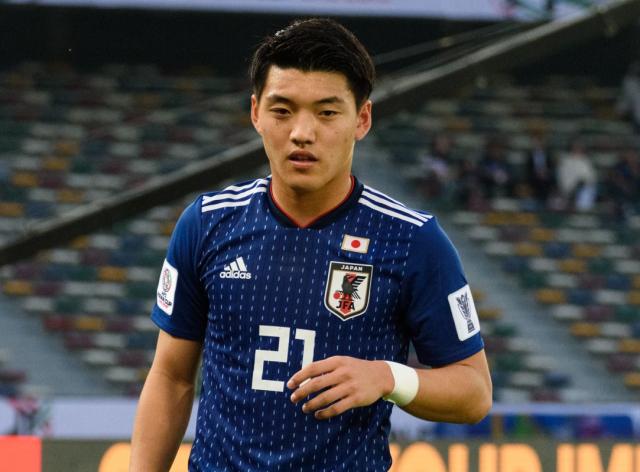 | | |
| --- | --- |
| Ritsu Doan is the latest Japanese talent looking to make a name for himself in the Bundesliga | Photo: El Loko Foto, CC BY-SA 4.0 |
Since Yasuhiko Okudera made his Köln debut on October 5th, 1977, Japanese talent has been a fixture in Germany's top flight. From Shinji Kagawa dazzling under Jürgen Kloop, to Frankfurt captain Makoto Hasebe who now has over 315 Bundesliga appearances, The Land of The Rising Sun continues to leave an impression on Germany's top flight.


This season looks no different, with 6 Japanese talents across 5 Bundesliga clubs. To get to know each of these immensely talented Asian stars, we analyze each player, looking at their strengths & weaknesses at their respective Bundesliga club.

Daichi Kamada (Eintracht Frankfurt - CAM - 24 years old)

Recalled from loan from Belgian outfit Sint-Truidense last summer, Daichi Kamada produced an up and down debut season.

With 6 goals and 2 assists in 10 Europa League Fixtures, Kamada finished the tournament as Frankfurt's top scorer, as well as third on the overall charts. Kamada produced Inspiring displays throughout Frankfurt's run to the last 16, including a second half substitute appearance away to Arsenal where his two goals turned the 1:0 first half deficit in The Eagles favor. In the Europa League Kamada consistently showed why Frankfurt were willing to part with €1.60m to acquire his talents from J league side Sagan Tosu in 2017.

In the Bundesliga, things were not as smooth sailing for Kamada, with only 2 goals in 28 appearances. Although Kamada brought a lot more attributes to Frankfurt's side regardless of his final product, Adi Hütter and the Frankfurt fans would have been hoping for more having regularly seen his MOTM performances in midweek European fixtures.


As a player, Kamada is a very creative and technical attacking midfielder, best when operating in a free role that allows him to drift around the pitch and find possession in dangerous pockets. Kamada has a tight control and touch that allows him to operate in tight spaces, creating goal scoring opportunities from the midfield or behind the striker. This trait has been on show this season, with Kamada starting the season brightly with 1 goal and 3 assists in his opening 5 Bundesliga fixtures.

Promising signs are there that Kamada's end product has greatly improved this season, and if he can continue in this same vein, Adi Hütter has one of Japan's most promising attacking midfielders at his disposal this season. Kamada already proved his value to Hütter last season, with the Japanese international the 4th most used Frankfurt player in the Bundesliga. Now it is about turning the talent into more concrete output that can help Frankfurt return to Europe in 2021.

Makoto Hasebe (Eintracht Frankfurt - CDM/CB - 36 years old)

By far the most experienced player to make this list, Hasebe is in his 14th season in the German top flight, a career that has seen him make over 315 appearances across 3 clubs, and most notably win the Bundesliga with Wolfsburg in the 08/09 season. Now at 36, Hasebe shows no signs of slowing down, having featured in every minute of the current Bundesliga season in Adi Hütter's backline.

Calm in possession, and with a defensive awareness that comes with well over a centuries worth of top flight experience, Hasebe remains crucial in Frankfurt's backline. Particularly in possession, Hasebe allows Hütter to build out of the back, with the 114 time Japanese international shuttling between the central part of a back 3, and the deepest midfield pivot.

Out of possession, Hasebe can be caught out, with age starting to catch up with Frankfurt's captain, as well as never being the fastest player throughout his career. In order to combat this, Hütter deploys a 3-5-2 formation that suits Hasebe well because it provides a lot of protection defensively and doesn't require the centerhalf to be forced into sprint duels against quicker strikers often. Even when situations like this could come about, Hasebe will often be able to nullify the danger before it presents itself, with his astute reading of the game.

In the twilight of his career, Makoto Hasebe shows no signs of slowing down, and remains a key clog in Hütters side fighting for European football. Along with countryman Daichi Kamada, Hasebe will be an important player this season, with his footballing ability and leadership being key in a Frankfurt side that is beginning to look like a cohesive unit after the many departures last summer.

Yuya Osaka (Werder Bremen - CF - 30 Years Old)

Yuya Osaka has become a familiar presence in the Bundesliga, with more than 160 appearances across 7 seasons in the German topflight. Now in his third season in the green strip of Werder Bremen, Osaka will be looking to help the 4 time Bundesliga Champions to a mid table finish, far removed from the relegation scrap of the 19/20 season.

Although the entire Bremen side shoulders the blame for what was a disastrous last season, Osaka on a personal level achieved his most lucrative goal scoring season, netting 8 times in 28 matches. Since arriving in Germany, Osaka has never been able to carry over his tremendous goalscoring form for Kashima Antlers, where he scored 65 goals and assisted 32 in 191 games. At Köln and Bremen, the Japanese international has managed just 33 goals and 25 assists in 181 appearances.

Whilst his goalscoring feats in the J League have not carried over into the Bundesliga, Osaka still provided an important role to the Bundesliga managers he has had. Osaka's workrate and flexibility make him a useful fixture in any manager's side, particularly in a side faced with a relegation battle. Across last season, Osaka was deployed all across Bremen's frontline, as well as at attacking midfield. This season, Osaka has already been used in two of those positions, popping up at right midfield as well as center forward.

Regardless of how one interprets Osaka's mediocre goalscoring output in his 7 year Bundesliga career, one can not argue that Osaka offers a relegation threatened side with many of the skills needed to aid the fight for safety. 100% effort, a team minded approach, and flexibility are just a few of the tools that Osaka brings to the table. On top of this, the 8 goals and 2 assists he put up last season should not go overlooked, with Osaka ending the season as the joint top scorer for Werder. If he can continue to bring these attributes as well as edge towards double digits in the goals department, Kohfeldt has a real value in his Japanese forward.

Wataru Endo (VFB Stuttgart - CDM - 27 Years Old)

One of the key figures in Stuttgart's promotion campaign last season, 27 year old Wataru Endo has carried over that form into the topflight this season, featuring in every minute so far of Stuttgart's 20/21 Bundesliga season. A combative box to box midfielder, Endo is an important figure for Stuttgart against the ball, with his ceaseless work rate allowing him to close down passing channels and never allow the opposition to breath.

Endo convays a similar safety into Stuttgart's game when in possession, often opting for simple passes that keep possession ticking over. With 0.6 dispossessions per game, and an 83% pass percentage, Endo allows Stuttgart's more creative midfielders to work their magic, with the knowledge that Endo will be there as a safety net if things go wrong.

At 1,78M, Endo is on the smaller side for a lone defensive midfielder, however his average of 3.8 aerials won this season is the best of any midfielder in the Bundesliga. This displays the tenacity and awareness in Endo's game. Although smaller than many of the opposition players he is going up against, Endo still comes out on top due to better positional awareness and determination.

On first glance Endo looks like just another Bundesliga defensive midfielder, with little attacking output and extremely safe in possession. However, Endo allows Pellegrino Matarazzo's attacking talent to strive, in the knowledge that their Japanese defensive midfielder will be there to mop anything up at the back and control the pace of the game in possession.

Keita Endo (Union Berlin - LW - 22 Years Old)

The first of two new Japanese players to sign for a Bundesliga club in the off-season, Keita Endo's (no relation to Wataru) move to Union Berlin is one that will promise excitement in the Capital. Endo made his name last season in the J league, playing in 33 games of Yokohama Marinos title winning season. With speed and elegance on the ball, Endo will offer Die Eiserne with another attacking threat that is duly needed now that Sebastian Andersson has departed for FC Köln.

Although with a technique and ability on the ball reminiscent of some of Bundelsiga's best wingers, Endo is not a prolific goal scorer, with just 7 goals in his 33 games for Yokohama Marinos. Endo is one of the rawest talents to feature in this list, and still has a long way to go to develop into the potential player he promises to be. Union Berlin knows they have a talented player on their hands, but one who will need time to integrate and develop into what is an organized and well-structured Union Berlin side.

With just 28 minutes across the opening 5 Bundesliga games, it would be easy to ring alarm bells regarding the Japanese wingers' ability to handle the step up in level. However, Endo isn't the first bright talent to need time to adjust to the Bundesliga's demands, and come the end of the season, there may be a few bigger clubs with the Japanese youth international on their radar.

Ritsu Doan (Arminia Bielefeld - RW - 22 Years Old)

Ritsu Doan raised a couple eyebrows last summer, when PSV parted ways with €7.50m to bring the young Japanese talent in from FC Groningen. 1 Year on from his move to the 24 time Dutch Champions, manager Roger Schmidt (formerly of Bayer Leverkusen) has decided to send Doan out on loan to the Arminia Bielefeld to gain more first team minutes.

Doan's loan move is one that should benefit all parties, with Bielefeld offering a platform for Doan to improve and earn playing time at a competitive level, and the Japanese talent hopefully reciprocating the favor by showcasing his talent on the pitch. The early signs have been promising, with Doan starting all 5 of Bielefeld's first fixtures back in the topflight, as well as scoring and assisting in his last two games for Die Arminen.

Doan like Keita Endo is a fast energetic winger, full of trickery and tight control. Doan thrives in his ability to change direction at lightning quick pace, dropping a shoulder and speeding off past defenders in a manner that is almost impossible to stop. Doan has shown this attribute of his in abundance this season, with his 2.6 successful dribbles per 90 the 5th best of any player in the Bundesliga after the first 5 matchdays.

Final product is once more an issue that pops up in this young Japanese wingers game. In over 1,000 minutes in the Eredivisie last season, Doan produced just 2 goals and 1 assist. If Doan is unable to pair his technical qualities with a final goal or assist, Bielefeld will have a real issue on their hands. Currently sitting in 14th place with just 4 goals after 5 matchdays, last season's 2nd Bundesliga Champions will need Doan to produce on the scoresheet to help ease the burden on striker Fabian Klos. Well taken strikes like the one against Bayern last Saturday will need to become more ordinary if Doan is to develop into the player PSV envisioned, and in doing so enable Bielefeld to remain in the top flight at the end of the season.

If you enjoyed this analysis, follow Adam Khan on Twitter for more articles of a similar nature.











Related stories