Americans in the Bundesliga:
Twelve actors covered in final report
By Peter Weis @PeterVicey
It's the final edition of "Americans in the Bundesliga"!

Our last installment of this column contains four graded sections (Justin Che, John Anthony Brooks, Timothy Tillman, and trainer Pellegrino Matarazzo) assessing work from the final Bundesliga matchday.

In an expanded introductory section, we'll discuss a bit why this year proved something of a disappointment for those of us scouting US talent on the Bundesliga beat.

In some additional sections following the four graded ones, we'll then have some words on Tyler Adams, Chris Richards, George Bello, Ricardo Pepi, Gio Reyna, Joe Scally, and Kevin Paredes.

This morning's big news (the fact that striker Malik Tillman has switched over to the USA) is also given some treatment below.

There's indeed quite a lot to unpack in our concluding report!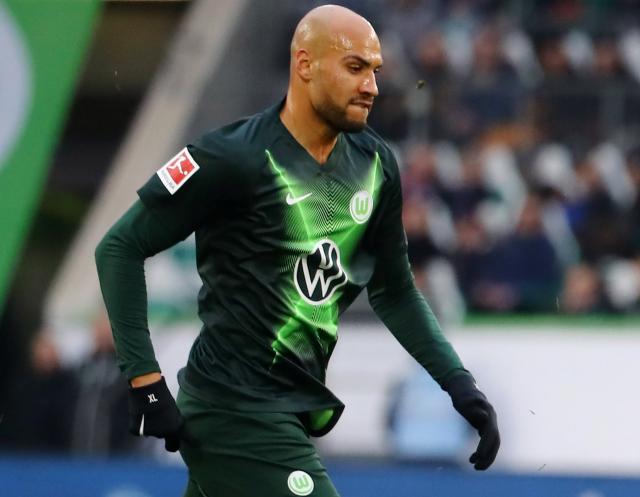 | | |
| --- | --- |
| John Anthony Brooks. | Photo: GEPA Pictures/Sven Sonntag |
The final installment of our column tracking the fortunes of US actors in Germany's top footballing flight must first admit that this has not been the greatest year for our subjects. A season that started off with such promise concluded with just two Americans (and only one USMNT player) in the starting XI amongst all the 18 Bundesliga clubs.


Much has gone awry. From the multiple gut-wrenching injuries that derailed Gio Reyna's season to inopportune injury spells that left Tyler Adams and Chris Richards slip out of their starting roles to the unfortunate circumstances that left Jesse Marsch dismissed as RB Leipzig's trainer. One can go on and on.

Joe Scally's loss of a starting position. Ricardo Pepi's stumbling start in the Bundesliga. George Bello's errors contributing to his team's relegation. Trainer Pellegrino Matarazzo's flirtation with disaster. Overall, we've covered far more negative news this year than positive. So much disappointment in these pages.

Despite the fact that this season did not prove the one during which a cadre of American footballers found a foothold in the German game, there exist plenty of reasons to maintain an optimistic attitude heading into the next one. Eight players, while not receiving a graded section for their non-activity in the final round, still get an assessment section in our final report.

Pellegrino Matarazzo, VfB Stuttgart (Trainer)

Matches = 1, Result = W

Grade = A

We've got all things "Stuttgarter Sensation" already covered in the tactics column. This column perhaps accords us a good opportunity to reflect upon how close the Bundesliga came to becoming a zero-American-trainer league next year. New chief boss Alexander Wehrle actually planned intense discussions with both the VfB's current head and sporting director Sven Mislintat immediately after the season. If things had gone differently on Saturday, both Matarazzo and Mislintat would have likely been out the door irrespective of what happened in the promotion-relegation playoffs.


There's no denying the fact that the risk-laden strategy undertaken by the pair this year did not work. Wehrle essentially stuck with both of them until the end of the campaign as he hadn't been in office long enough to come up with any alternatives. We got an apt reminder of just how much one late goal matters in the infinitely broader context of a club's general direction this weekend. That's how incredibly thin (not to mention sometimes unbearably dramatic) the margins for error in football can be. Frankfurt's razor-thin Champions' League qualification is another good example.

As a direct result of what transpired a few days ago, Wehrle has nothing but praise for the man known about the organization as "Rhino". The new front-office head calls him "diligent and calm". A centimeter difference from captain Wataru Endo in his late effort on Saturday and it would have been a different story. We'd be discussing how Adi Hütter, Markus Weinzierl, Florian Kohfeldt, Sebastian Hoeneß AND Pellegrino Matarazzo all vacated their posts in a record set of resignations/dismissals after the Bundesliga's final matchday.

That's football. Long may it reign.

John Anthony Brooks, VfL Wolfsburg

Minutes played = 90/90, Positions played = CB

Grade = B+

Some deeply moving scenes on Saturday afternoon at the Volkswagen Arena as "Jay" lined up for his final match in VfL colors. Brooks' club organized a nice send-off for him after five seasons in the green of the of the "company team". Berlin's gentle giant emerged from the tunnel with two youth mascots in tow. Prior to kickoff, he received a commemorative poster and a standing ovation from the sell out crowd. It shall take some time to adjust to the notion of him donning a different kit.

A fairly decent farewell match for the 29-year-old. Brooks remains in the best form of his career.Much like last week, it appeared as if Brooks operated under some specific instructional parameters regarding his presumptive replacement Mickey van de Ven. The young Dutch prospect again got the nod at left back and seemed to handle most of the back builds with a conferred authority. In his final days, Florian Kohfeldt basically running the same tactical schematic that pseudo worked for him over the last three rounds. Van de Ven assumed extra authority in the last two.

A low tech count (46 recorded) for our subject in the second successive week. There were early some marking mistakes in the 3rd, 9th, 10th, and 13th as     Brooks struggled to get his slants sorted out. It wasn't a strong start by any stretch of the imagination. The direct mark on Josip Stanisic's opening goal in the 17th was awful. Brooks was very luck to see Jamal Musiala's tally in the 24th disallowed as was totally out of sync with his defending there. Further errors on the guard came in the 39th, 40th, 42nd, 61st, and 79th.

Apart from these dips, Brooks mostly had his game well handled. There are some excellent wins on display in the 6th, 31st, 46th, 62nd, 66th, 75th, and 77th. One can watch him stand tall against Robert Lewandowski in the 27th, 52nd, and 71st. His best aerial work came in the 14th and 38th. Instances of on-point defending cane be found in the 25th, 30th, 37th, 63rd, 72nd, and 83rd. The Berliner got a shot on target with his head in the 14th. He nearly got a second on goal in the 88th. Passing on attack initiations (28th, 35th, 45th, 48th, 53rd, 55th, 65th) was consistently above average.

A miscellaneous minor errors (36th, 56th, 73rd) to report on during the day. Brooks wrapped up his final match on "B-Level" thanks to some of these imperfections. One should still emphasize that this American's next club team shall be very lucky to have him. The unequivocal endorsement given to him throughout this season remains worth repeating as well. USMNT head-coach Gregg Berhalter should absolutely include the Berliner in his World Cup plans if the Berliner can keep up his current form. America needs him.

Justin Che, TSG 1899 Hoffenheim

Minutes played = 26/90, Positions played = RWB

Grade = C-

We ordinarily wouldn't go this route. Though Che racked up a relevant total of 33 recored touches in 27 minutes of relief against Gladbach on Saturday, this German American entered proceedings with his team trailing 1-4. The outcome of the match had long since been decided. Accordingly, what action Che saw wasn't strictly speaking relevant.

Matters nevertheless threatened to get thin in our weekly column. Had we not included Che, the piece would have only featured two graded player sections. The teenage talent also counts as a player many of us have looked forward to seeing in extended action for a long time. Giving him a more detailed look certainly proved worth it.

Interesting tactical assignment for this subject on this day. We've been predicting that Sebastian Hoeneß would be fired immediately after the season for weeks here at Bulinews. As a means of emphasizing this blatantly obvious forthcoming development, we drew up the now former TSG trainer's final set of garbled tactics up in the final edition of the tactics bulletin.

Here's how Che factored in following a triple substitution in the 64th which saw him, Sebastian Rudy, and (no joke) 35-year-old Nick Proschwitz come on for Robert Skov, Diadie Samassekou, and Jacob Bruun Larsen. Looks like the FC Dallas academy man might get some future looks farther upfield than one might expect.

Lineup—TSG Hoffenheim—65th minute (5-1-4)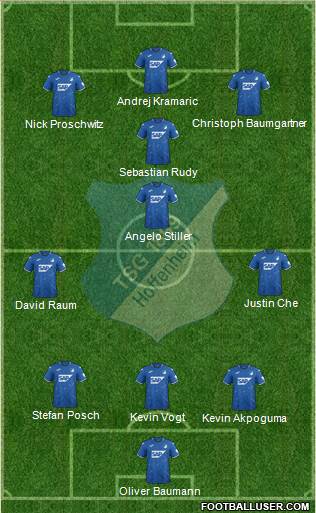 Things got off to a disastrous start for Che. Manu Kouadio Koné swept past him in the 67th. Thanks to the fact that the Texan didn't have his head in the game yet, he got totally caught out on Gladbach's 5th goal. The  opponents took a quick free kick. Che didn't make it back in time to mark Jonas Hofmann. He got humiliatingly toasted.

It took some time for him to settle down. TSG keeper Oliver Baumann was left to shake his head when Che (and others on the team) totally miffed their marks in the 72nd, 74th, and 76th. Our subject here eventually supplied us with some better play. He hit a lovely one-touch chip-cross into the box in the 79th. Less than a minute later, he put in some fine work on a give-and-go and struck his own effort into the side netting.

One can find a couple series of nifty touches in the 82nd and 83rd. Passing (four strays) needed to be much better. The most egregious instances of poor decision making on the ball came in the 75th and 84th. Che did pull off a nice vertical in the 89th. In his very first graded section of this column, we'll mark him as just below average.

Timothy Tillman, SpVgg Greuther Fürth

Minutes played = 85/90, Positions played = LM

Grade = D+

One final look at the elder Tillman brother before he sinks off this columnist's beat for the foreseeable future. It's been an odd year for the Nürnberg native. Displacing fellow German-American Julian Green for a starting place in the Fürth XI technically counts as a professional success. Of course, what screen time he did get on more high profile radars won't help him further his career much.

Timothy had the misfortune of playing for one of the top flight's most historically bad teams. This writer had the misfortune of having to watch this junk week in and week out. Phrew. Thank goodness this particular scout obligation is over. With no amount of sadness, let's examine Stefan Leitl's tactics for the last tim.

Lineup—Greuther Fürth—Match 34 (5-3-2)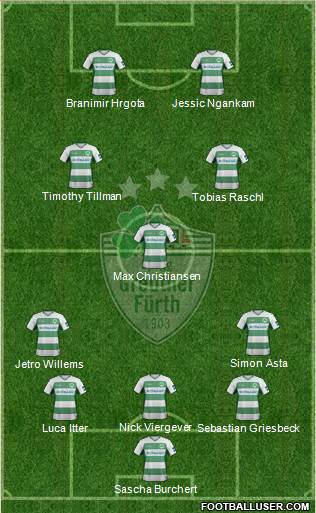 No real drastic changes radioed in from COVID quarantine by Stefan Leitl in his farewell match. Paul Seguin, Gideon Jung, Jamie Leweling, and eventually Green himself all entered on a series of like-for-likes. The newly committed Tillman looked less than committed on much of his cycle work. Offensive movement in the 13th, 17th, 21st, 47th, 66th, and 85th proved especially poor.

One was actually tempted to give this actor failing marks this week, given the amount of times he lost the ball. The list of examples stands intolerably long. Tillman turned it over in the 19th (twice), 23rd, 27th (again, twice), 45+2, 58th, 60th, and 86th (once more, twice). More defensive errors came in the  9th, 14th, 45+1, 47th, 55th, and 84th.

It wasn't all bad. Although the German American sent a rather high number of passes stray on the day (seven by the writer's count), he did get the SpVgg attack going with decent touches, through-balls, pick-ups and hold-ups in the 4th, 24th, 26th, 31st, 42nd, 45+3, 51st, 52nd, 61st, 78th, and 82nd. Direct duel wins in the 5th, 34th, 80th, and 83rd help pull his grade up a bit.

One very sharp corner service in the 65th was essentially good enough to offset several other fair-to-middling set-piece strikes in the 23rd, 63rd, and 79th. One can't fail Tillman for his final appearance in the top flight after all. The columnist nevertheless remains wholly grateful that the Fürth scouting project is at last over and done with.

Malik Tillman, FC Bayern München

From one Tillman brother to the other, it proved quite the shock to wake up to news this morning that US Soccer managed to flip Malik over to their side. That bombshell was most unexpected. It hasn't even been two months since the 19-year-old reaffirmed his allegiance to the DFB. Such a development serves to underscore that, when it comes to kids, one never truly knows. The recruitment arms of these programs can often flip young minds on a dime.

It actually happens all the time. We witnessed it just last year when Jamal Musiala made a totally unexpected roll over from England to Germany. Those wondering why we insist on covering American heritage players in this space will understand that (apart from reasons related to sentimentality), there's also the possibility of flips. American footballing enthusiasts interested to know a little about their new player can check out our scout from round 18.

The younger Tillman brother has as ways to go when it comes to many aspects of his game. He very much remains a work-in-progress, in part because his exceptionally shy nature sometimes leaves him less than lethal in front of goal. That doesn't mean that the USSF hasn't scored a major coup. As Julian Nagelsmann himself put it, this German American's raw talent should have him netting tallies off the Bayern bench very soon.

Congratulations on your new international, America!

Tyler Adams, RasenBallSport Leipzig

There was actually some early season concern for the RB New Yorker when we got underway this year. Something seemed off about Adams' game right from the onset. Some of it had to do with the fact that former Leipzig trainer Jesse Marsch didn't pick out a coherent role for him. The player himself seemed to also exhibit a regression in terms of overall maturity in his general posture and body language.

A subjective opinion to be sure, but one that nonetheless gnawed at this writer as something that needed to be said. USMNT trainer Gregg Berhalter's decision to anoint Adams his skipper in October might have constituted a targeted attempt to draw out some important qualities in the ten 22-year-old. Total conjecture there. In the event that there's some truth it in, it worked.

Adams turned in some monumentally good performances after he received the USMNT captain's armband. Even as he slipped out of the XI under new RB head-coach Domenico Tedesco, there were cases when he demonstrated flashes of his full potential. US fans shouldn't be too concerned about the fact that Konrad Laimer ultimately took Adams' starting role. The Austrian looks to be on the move this summer. Tyler will get his spot back.

With superb field vision, a demonstrated talent for technique when it comes to ball-shielding, and a truly special ability to cover ground in a box-to-box fashion, Adams should be a regular force in the US national squad for a decade or more provided he remains healthy. There's a lot to look forward to here. A great choice by Berhalter to lead his team. We're all hoping he stays in German football for many years to come.

Joe Scally, Borussia Mönchengladbach

Another player for whom there was some early season concern. The CFG New Yorker got thrust into the limelight rather early. There always existed some worry that he'd get knocked back to the bench and fade from sight. That's precisely what happened. Not exactly a catastrophe for a 19-year-old, but still an unwelcome setback. The Long Island native really had too much asked of him tactically this year.

It would have been better if he could have played more regularly at a set position. There's good news in this regard with trainer Adi Hütter bowing out and a big summer sell off set to clear a path in front of this subject. We should see him more regularly featured next season. A lot shall be asked of him once again. Hopefully, he'll deliver.

Ricardo Pepi, FC Augsburg

We expected too much too soon. That's all there is too it. No surprise to see the German media eat him up early in a feeding frenzy. So it goes in a country mildly obsessed with the post-war benefactor nation. Few in the Bundesrepublik tire of news from our transatlantic "Big Brother". In any event, Pepi may know the German word for "goal", but he still hasn't scored one. It would have really been helpful for him to get of the mark this season.

What things shall look like next year at Augsburg remain anyone's guess. The Texan will have to fight hard for a starting spot in training camp. The current depth chart doesn't work in his favor as stands and there might be more signings. It's fair too early to declare that this phenom is in for a quite stay in Bavarian Swabia. It still looks as if it might take some time well into next season before he gets established.

Kevin Paredes, VfL Wolfsburg

Speaking of a player confronting depth-chart problems, one wonders how the former D.C. United man will factor in on a team going through it's own transition. Florian Kohfeldt was in the process of clearing a path for the 19-year-old. The most likely scenario would have seen Mickey van de Ven slide into central defense; possibly in a back-three with Sebastian Bornauw and Maxence Lacroix. The left wingback role would then belong to the Virginian.

This could still happen. We shall see. Die Wölfe are a strange team with a talent-laden roster that may head in any number of possible directions. The club's search for a head-coach won't be easy. All potential candidates know that sporting CEO Jörg Schmadtke gets set to leave, meaning that they'll be deprived of a trustworthy administrative ally in the front office within six months if not sooner. Plenty of respectable nominees will turn the job down.

George Bello, DSC Arminia Bielefeld

It's unfortunately down to the second division with this pacey and creative player who can really put on a show. Bello's last memory of playing in the German footballing Oberhaus will regrettably be an own-goal scored late in his side's final chance to avoid relegation. Ouch. One really feels for the Georgian. He made a bold move coming to Germany and certainly deserved better than the years of obscurity that await him with this club.

Bielefeld probably aren't headed back up anytime soon, although much remains possible amid a weak 2. Bundesliga field next year. If this player can lock down the starting left-back spot and start turning some heads, a top-tier side might be interested in him as soon as January. One hopes for such an outcome. For the time being, his World Cup prospects don't look terribly bright.

Chris Richards, TSG 1899 Hoffenheim

The late season injury that kept the Alabama native out of the Kraichgauer squad for the last four matches of the season might have been the best thing that ever happened to this budding young talent. He's on his way back to the German giants now and has a good chance of competing for a starting slot. Richards openly stated that he felt a special kinship to the TSG after back-to-back loan spells.

Luckily for the 22-year-old, he gets a chance to leave all of that behind. Sinsheim never was the proper stage for him. With his characteristic coolness on the ball and top-notch talent for reading the play, he should be bombing up and down the Bayern right flank. The columnist shall even go out on a long and slender limb and say that he will be doing so next season. A hunch, but an informed one.

Giovanni Reyna, Borussia Dortmund

Well. What can we really say here? The player we all fully expected to have a breakthrough campaign succumbed to injury after heartbreaking injury. Gio fans not acquainted with the Bundesliga beat can count themselves lucky that they missed out on this season. Extraordinarily painful to watch Reyna leave the pitch in tears on two separate occasions late in the campaign.

The eminently likable young man must put this total washout of a year behind him. Everyone gets a new chance in less than three months time. Let it all go, Gio. Accept that it happened without dwelling. Just move on. Injuries cannot be controlled. Maybe talk to Anthony Modeste about how turnarounds can come even after the darkest of times. The light always beckons.

Thanks so much for reading!

You can occasionally catch Peter on twitter, @ViceytheSS.

Twitter DMs are open for football conversations, corrections, and (if you truly insist) general abuse. 

All columns debut on Bulinews before appearing on Peter's website later in the week.



Related stories