Bundesliga Fan Scene:
Four of nine fixtures sell out in final week
By Peter Vice @ViceytheSS
Fabulous scenes across the Bundsrepublik on the final weekend of the 2021/22 German Bundesliga campaign!

The remaining nine top tier locales all bid farewell to their teams with gorgeous choreo, emotional tributes, and indomitable spirit.

We're very pleased to pull all of the best of it together in the final edition of our Bulinews Fan feature!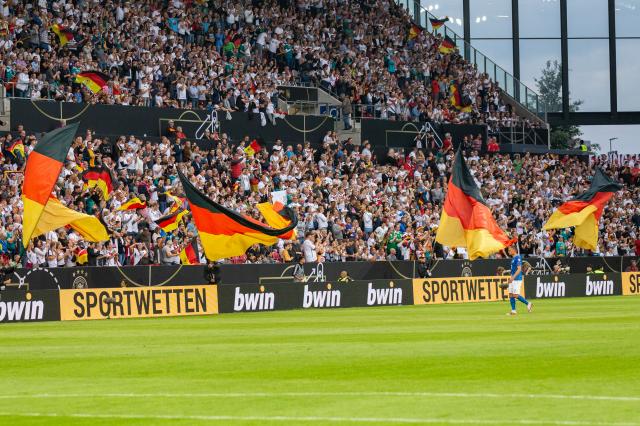 Photo: Steffen Prößdorf, CC BY-SA 4.0

The supporters were out in full force for the 2021/22 German Bundesliga's thrilling conclusion. Four of the nine fixtures (Wolfsburg, Leverkusen, Mainz and Union Berlin) ended up selling out. Dortmund, Stuttgart, Augsburg and Leverkusen topped 90 percent. Only relegated Bielefeld fell into 80-percent territory.


Attendance figures, of course, don't tell much of a story when it comes to what really transpired inside the stadium. That's what this Bulinews feature is for! We're overjoyed to furnish one last look inside all nine hosting venues in the final installment of our weekend fans column!


---


Hertha BSC (at) Borussia Dortmund 

Attendance = 80,500 (98.9%) 

A few seats short of a sell-out over at Signal Iduna in the game that saved VfB Stuttgart's relegation bacon. A shame to think that an additional 865 in-house patrons could have been on hand to witness the pre-match choreos for club legends Marcel Schmelzer and Michael Zorc.



Zwei schöne Aktionen auf der #Südtribüne für zwei große Borussen. #BVB #BVBBSC #Zorc #Schmelzer pic.twitter.com/AFYQAIKhfN

— schwatzgelb.de (@schwatzgelbde) May 14, 2022


All the departing players from Axel Witsel to Roman Bürki got the full floral assortments.


---


Bayern München (at) VfL Wolfsburg 

Attendance = 30,000 (sold out)

A rare sell out at the Volkswagen Arena for the season finale. Great atmosphere from the often unappreciated VfL ultras. A very nice farewell for the eternally under-appreciated John Anthony Brooks. 


Danke, Jungs! 🙏🐺#VfLWolfsburg pic.twitter.com/scO9KmFQYk

— VfL Wolfsburg (@VfL_Wolfsburg) May 14, 2022


No flowers or collage posters for head-coach Florian Kohfeldt, unfortunately. Just a pink slip on Sunday morning.

That's the business! Never assume, Flori.

One never knows when they'll take away the parking pass and change the locks.


Danke für euren Support! 💚#VfLWolfsburg pic.twitter.com/NQglkFhiZo

— VfL Wolfsburg (@VfL_Wolfsburg) May 14, 2022
---


SC Freiburg (at) Bayer 04 Leverkusen

Attendance = 30,210 (sold out)

Along with Michael Zorc, we sent two legendary German footballing personalities into retirement on Saturday. Our beloved "Tante Käthe" is headed for the rocking chair.

Best wishes for a life of breezy beach reading to World Cup Winner and former German national team head-coach Rudi Völler!

Astounding choreo from the B04 ultras, packing in all the best quotes from "Herr Scheiß-Käse" over the years after they unveiled two full Kurve banners.


"Es gibt nur ein Rudi Völler!" 🥰

Hier gibt's noch mal die Choreo von Samstag! 😍

🔙 #B04SCF | #Werkself | #Völler pic.twitter.com/dNmbZtXEK8

— Bayer 04 Leverkusen (@bayer04fussball) May 16, 2022


Tributes for the departing Julian Baumgartlinger were also top notch.


🖤❤️ Danke, Baumi! 👏

🔙 #B04SCF | #Baumgartlinger | #Bayer04 pic.twitter.com/mkXfXXk7fl

— Bayer 04 Leverkusen (@bayer04fussball) May 15, 2022


Nothing beats German footballing ultras. Period.


---


VfL Bochum (at) 1. FC Union Berlin

Attendance = 22,012 (sold out)

Fifth place in the table for the great Nina Hagen "cult club". Welcome to the Europa League, Eisernen! As promised by the club, the party spilled out of the stadium and onto the streets.


Rani Khedira, FEIERGOTT 🥳 pic.twitter.com/2b38XWDhLC

— 1. FC Union Berlin (@fcunion) May 14, 2022


Why, oh, why did Grischa Prömel decide to go back to Sinsheim?  They don't party like this down that way.


Was. Ein. Abschied. 🤳 #einmalunionerimmerunioner pic.twitter.com/7sSNfKqJ4y

— 1. FC Union Berlin (@fcunion) May 14, 2022
---


TSG 1899 Hoffenheim (at) Borussia Mönchengladbach

Attendance = 50,395 (93.2%)

A surprisingly good turnout at Borussia Park for a surprise 6-1 home victory for the Fohlenelf. The atmosphere proved a little tepid. Not a great send-off for Matthias Ginter after the German national team defender got in some hot water with club management over recent comments.

It was okay. More of a day for subdued exits in West Prussia. Tough last two years for BMG fans. At least they turned out with flags in force.


🖤🤍💚 𝐃𝐀𝐍𝐊𝐄, 𝐅𝐀𝐍𝐒! 🖤🤍💚#FohlenFamilie pic.twitter.com/HN6qA13yTF

— Borussia (@borussia) May 14, 2022
---


FC Köln (at) VfB Stuttgart

Attendance = 58,453 (96.6%)

Despite the fact that the club claimed they had a full house, the gate attendance figures suggested otherwise. Oh well. Whoever remained in the parking lot missed out the greatest footballing party German football had seen in three years.


VEREIN FÜR BEGEISTERUNG 😎#VfB pic.twitter.com/R4pE2tMnh7

— VfB Stuttgart (@VfB) May 14, 2022


Scenes almost too beautiful to describe. 


‼️‼️ UN-FASS-BAR ‼️‼️
Passiert das gerade wirklich????

🤍❤️🤍 FÜR IMMER VfB! 🤍❤️🤍#VfB | #VfBKOE 2:1 pic.twitter.com/ygZAcRx0fn

— VfB Stuttgart (@VfB) May 14, 2022


Did it really happen? Was it all a dream?

Nope. This was all real.


WIR BLEIBEN DRIN!!KLASSENERHALT!!
JAAAAAAAAAAAA!!!#VfB | #VfBKOE ⚽️📺➡️ https://t.co/iuJfvA2Nmp pic.twitter.com/K9x3Wn0iAb

— VfB Stuttgart (@VfB) May 14, 2022
---


Eintracht Frankfurt (at) 1. FSV Mainz 05

Planned capacity = 33,305 (sold out)

Sometimes the columnist forgets the new upped capacity at the MEWE Arena. The locals, on the other hand, didn't forget to show up. The Nullfünfter also didn't forget to give every last one of their departing players.

The scenes for Karlsruhe's Daniel Brosinski were by far the best.


Ciao, Nummer 18! 🥺👋#dankebrosi pic.twitter.com/S2IZMndxZD

— 1. FSV Mainz 05 (@1FSVMainz05) May 14, 2022
---


SpVgg Greuther Fürth (at) FC Augsburg

Planned capacity = 27,907 (91.%)

By German footballing fan standards, there wasn't much special going on at the WWK on Saturday. Naturally, that doesn't mean the atmosphere wasn't fantastic. The Kurve did a great job of keeping up the chants throughout. It merely counted as par for the course.

The FCA T-Shirt commemorating 11 years of top flight German football kind of stole the show.


Auf ins 12. Jahr Bundesliga! 😍 #Level11Completed #EnterLevel12 pic.twitter.com/p9CzXHLEUH

— FC Augsburg (@FCAugsburg) May 14, 2022


This Bavarian Swabian club remains treasured Bundesliga story.


#Level11Completed HOLT EUCH UNSER SHIRT ZUM KLASSENERHALT #EnterLevel12

— FC Augsburg (@FCAugsburg) May 14, 2022


Whoever came up with this is just plain damned awesome.


𝐔𝐍𝐀𝐁𝐒𝐓𝐄𝐈𝐆𝐁𝐀𝐑! 😜 #Level11Completed #EnterLevel12 pic.twitter.com/1C5GcTZC5m

— FC Augsburg (@FCAugsburg) May 14, 2022
---


RB Leipzig (at) Arminia Bielefeld

Planned capacity = 22,719 (83.2%)

Even though there might not have been many other options available in Bielefeld on a Saturday afternoon, many of the locals couldn't bare to watch the inevitable relegation. DSC supporters have seen enough of them. Six relegations in the last 25 years to be precise.

It came to a respectable end at least.


Liebe 🖤🤍💙 #immerdabei pic.twitter.com/qeBtu99Bor

— DSC Arminia Bielefeld (@arminia) May 15, 2022
---
Thanks so much for reading!
You can occasionally catch Peter on twitter, @ViceytheSS.
Twitter DMs are open for football conversations, corrections, and (if you truly insist) general abuse. 
All columns debut on Bulinews before appearing on Peter's website later in the week.
Related stories