Americans in the Bundesliga:
Adams and Scally face time out of their XIs
By Peter Weis @PeterVicey
Round Two of the 2021/22 German Bundesliga saw some interesting results. Many teams riding high after the first round find themselves suddenly humbled from week two losses while others clawed their way back into the light.

Naturally, football fans wouldn't have it any other way. Some US internationals earning their living in Germany's top footballing flight might nevertheless prefer not to be knocked sideways in a topsy-turvy divsion.

In this week's installment, we'll take a look at the varying form and fortunes of the same seven actors factoring into round one.

As always, a look back provides valuable insight for the weekend ahead.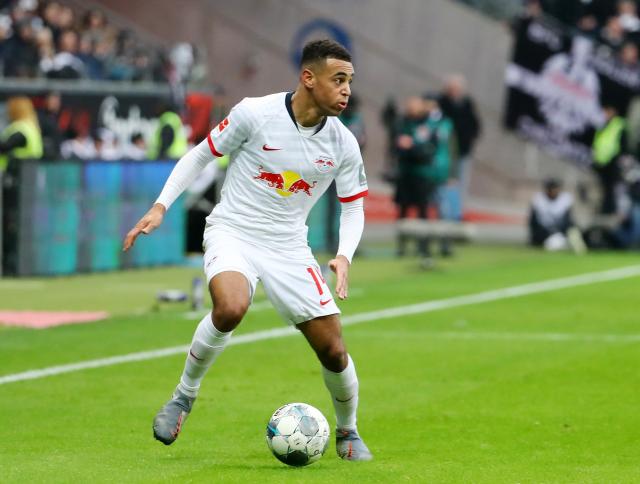 | | |
| --- | --- |
| Tyler Adams. | Photo: GEPA Pictures/Roger Petzsche |
We once again have seven graded sections in our second installment of the 2020/21 Bundesliga's "Americans" scouting column. In terms of the eagerly anticipated head-coaching battle between Jesse Marsch of RB Leipzig and Pellegrino Matarazzo of VfB Stuttgart, the two US trainers are scored equally. This is despite the fact that RB cruised to a 4-0 victory. On a basic tactical level, the two men essentially equaled one another in the Bundesliga's historic first ever meeting between American gaffers.


Concerning the five players who logged significant pitch time this past weekend, the news could stand to be better. Julian Green of Greuther Fürth and Giovanni Reyna of Dortmund maintain "B-level" thanks in large part to some hard hustle. To say that either player truly turned in a great performance would nevertheless be wholly inaccurate. Both players took on a disproportionate amount of work for their respective squads, yet often looked unpolished in execution.

John Anthony Brooks of VfL Wolfsburg returned home to Berlin to face his boyhood club at the Olympiastadion. While not ineffective by any means, a pair of reckless challenges brings him down to "C-level". Beneath Brooks we have two players who may be in store for some time on the bench. Tyler Adams of RB Leipzig continues to have issues making an impact within his coach's constellation.

All across Germany, there exists an outpouring of empathy for Joe Scally. The 18-year-old Gladbach professional received a rather rude smack in the mouth in just his second German football fixture. The young tyro looked totally unfit to hold his own during the 0-4 Leverkusen debacle and may need some time to regroup and adjust.

Julian Green, SpVgg Greuther Fürth

Minutes played = 90/90, Positions played = LW, AM

Grade = B+ 

A critically panned match gained some slight endearment on the re-watch. The Bavarian put in some fine work slanted left in head-coach Stefan Leitl's 4-3-1-2 diamond. Green did some decent work getting possession relays going within the constellation, though both he and strikers ahead of him truly lacked finishing skill.


Lineup—Greuther Fürth—Match Two (4-3-1-2)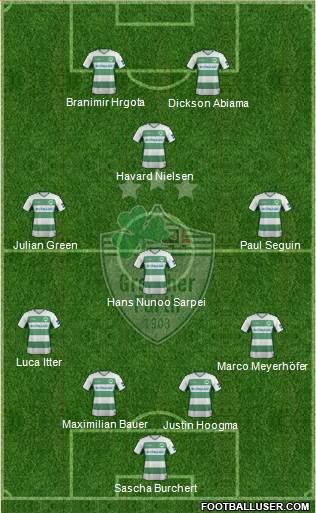 It had some potential to it. The hosting Franconians even played reasonably well in the opening ten minutes. One can watch Green play a part in scoring chances in the 2nd, 5th, and 6th. The American also put himself in a good receiving position in the 15th with Branimir Hrgota unable to reach him. As the game settled into a bit of a midfield slog, Green still did well winning challenges in the 21st and 25th. There was also a nice carry in the 26th.

Plenty of backwards bend outs and lateral stalling took place within the Fürth ranks over the course of the first half's duration. Green did well passing-wise during this spell. The writer only recorded one wayward. Green got Abiama unlocked with a good vertical in the 33rd. He won a good ball in the lead up to another Fürth scoring chance at 45+1.

The American got the first of his own four shots at goal (none on target unfortunately) seconds after the restart. Abiama should have again done better with a sharp Green cross in the 48th. At least the sequence led to the handball penalty, converted by Hrgota to draw the Franconian hosts level with Bielefeld 1-1.

Green displayed some admirable fight as Fürth pressed for the winner down the stretch. The American pushed up into a four-attacker-set once Max Christiansen relieved Hans Nunoo Sarpei in the 71st. He earned his side a corner in the 80th and got off two more modest efforts between the 83rd and 85th. Another wild effort on target in injury time wasn't pretty, but two cutting passes that Hrgota could have finished were.

It should again be emphasized that Fürth-Bielefeld did not at all qualify as a Bundesliga game of football. Green's work unequivocally rendered him the best Kleeblatt player on the pitch. In the context of the weekend's unequivocally worst offering, however, that doesn't mean as much as one might hope.

Giovanni Reyna, Borussia Dortmund

Minutes played = 69/90, Positions played = LW, RW, ATTM

Grade = B

Gio's performance against Freiburg easy received as much attention as the Zapruder Film in this week's extended tactical review section. Juxtaposing the published text with the notes, there exists very little that hasn't already received coverage. Some of the solid defensive pressing/duel wins (13th, 26th, 36th, 38th, 48th, 53rd) got omitted. Apart from that, virtually every instance of the American's involvement in attacking plays is cataloged. The chronicler counts 61 forward-touches and 52 forward-passes.

Saturday proved one of those instances in which quite a deal was asked of the youngster. The BVB back-four--excepting Manuel Akanj--had an absolute nightmare day. Furthermore, strikers Erling Haaland and Donyell Malen truly let the team down with many poor touches and finishes. The average-to-subpar grades doled out to both Reyna and fellow teenager Jude Bellingham by most German publications would have been much higher had the team won.

Results frequently skew marks unfairly. This column accords Gio an above average score based mostly on persistent hustle and grit. Mistakes occurred. Additionally, Reyna cut-in central far too often. This American's day also left a lot to be desired creatively speaking. In light of how much of the burden for driving the attack was placed squarely on the teenager's, however, there exists little choice but to cut him some slack. Neither he nor Bellingham should regularly be placed in such situations.

Any sort of tangible signs of a form slide are not apparent. The writer recorded an astounding seven assisted shots on the day. Had Reyna's teammates finished just one or two of them off, Reyna would have found himself in team-of-the-week discussions. Set-Piece delivery (particularly on corners) remains strong. A performance on a similar level against Hoffenheim on Friday night will result in better overall marks from the punditry if the team emerges victorious.

Jesse Marsch, RasenBallSport Leipzig (Trainer)

Matches = 1, Result = W

Grade = B-

The Bundesliga's second-ever American head-coach maintained a subdued mien on the sidelines even as his side ultimately ran up the score against Stuttgart en route to a 4-0 romp. The Wisconsin native appeared lost in deep thought throughout, ostensibly pre-occupied with how the many high-caliber pieces of the Leipzig puzzle might best fit together. Comparing the scoreline with the xG suggests that the result was a tad inflated, yet very much deserved.

Lineup—RB Leipzig—Match Two (4-2-3-1)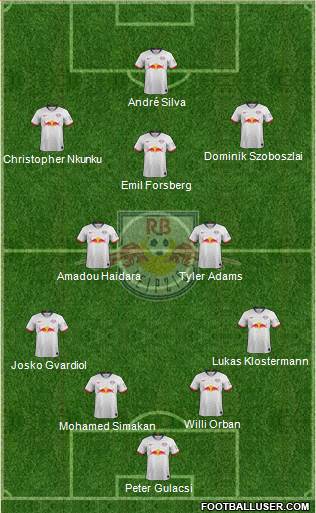 The previous 4-2-4 settles into a more clearly delineated 4-2-3-1. The sixes occupy a more advanced position and Emil Forsberg's more closely resembles that of a natural ten. Marsch clearly put it the right kind of work with the team over the course of the short week. He got his actors into more stable positions and emphasized the need for more sprints out of the back. Mohamed Simakan and Josko Gvardiol did the best job in answering this call.

We talked about how well Marsch's set-pieces were set-up last week. One didn't observe any equally impressive designs this time, but that hardly mattered as Dominik Szoboszlai converted one in a stunning fashion. Marsch deserves some credit for selecting the right taker and assigning him extra reps in training. The right amount of self-coaching also seemed evident in the team's handling of most dead-ball situations.

The manner in which the XI itself is set-up remains a work in progress. Pairing Tyler Adams with Amadou Haidara actually constituted a rather curious move that didn't abet midfield traffic control at all. In some respects, it seems Marsch fumbles a bit for solutions on that axis. Naturally, one doesn't wish to dock the American trainer too much for that considering how much uncertainty the Marcel Sabitzer situation lends him there.

Something to keep an eye on in the coming weeks concerns a potential benching of Adams. Marsch's upcoming opponents--Wolfsburg and Bayern--boast strong midfield tandems. The weekend adversaries present a very difficult challenge in the form of Maximilian Arnold and Xaver Schlager. Marsch's theoretical best counter to this looks to be Kevein Kampl and Konrad Laimer.

It shall prove interesting to see if the new trainer possesses the courage to sit one of his preferred actors when the situational circumstances call for it. After Wolfsburg and Bayern, the German Red Bulls face a resurgent Köln before a relatively easy four-round stretch affords Marsch the chance to undertake more experiments.

Pellegrino Matarazzo, VfB Stuttgart (Trainer)

Matches = 1, Result = L

Grade = B-

The Bundesliga's historic first-ever duel between American trainers ended in a lopsided victory for Leipzig. In terms of the tactics put forth by the two head-coaches, however, one might as well call it a draw. It's very hard to fault Matarazzo for essentially the exact same XI that won the previous two competitive fixtures by a combined 11-1 scoreline. Sensible tactics were also inherent once the basic positional assignments crystallized.

Lineup—VfB Stuttgart—Match Two (3-4-3)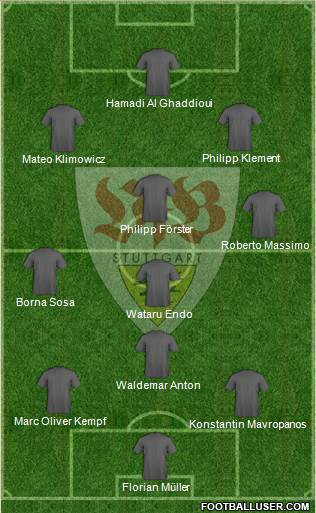 With Atakan Karazor unable to give it a go, Wataru Endo settled into a more stationary role ahead of the pivoted defensive line. Borna Sosa and Roberto Massimo pulled apart to establish the familiar "split-stagger". Philipp Förster and Philipp Klement shared short-striker duties on the rush and the team did get some chances off both flanks. An over timid posture in the early-going didn't seem to be a tactical problem in nature.

Hamadi Al Ghaddioui's miss in the 33rd cost the team dearly. Up until that point, Sosa and Massimo were holding their own on their respective wings. After a shaky start, Endo had his bearings and the squad began to look cogent playing out of the back. The initial Szoboszlai tally lifted the confidence of the Saxon hosts and reduced miscommunications in Leipzig's short passing game. Matters had hitherto been more even.

The total defensive meltdown seconds after the restart highlighted the need for a potentially radical systemic shift. Matarazzo likely needs to consider reverting to a back-four. The dire need for a right fullback became evident in that case. This poses a problem for the VfB trainer as he really doesn't have a good candidate on his roster. Matarazzo now faces even bigger problems at the striker position.

Grading may be a tad intentionally lenient in this case as this particular American trainer entered this particular fixture with an understandable and well-intentioned plan. The New Jersey native certainly has his work cut out for him against Freiburg on Saturday. We could easily see five to six personnel changes under an entirely new system. Whether it proves brilliant or inadequate, Matarazzo shall find himself under closer scrutiny.

Tyler Adams, RasenBallSport Leipzig

Minutes played = 90/90, Positions played = CM

Grade = C-

One could be forgiven for thinking that the RB New Yorker was one of the five Leipzig players subbed off after an anonymous final half hour. The chronicler himself only recorded two touches in the last 30 minutes. As noted above, the Adams-Haidara midfield partnership retained a consistently awkward feel to it. Neither player seemed to comprehend their roles in third axis cycle triangles. This American primarily provided lay-offs for Mohamed Simakan with 30 of his recorded 48 passes going rearward.

Adams' most notable forward involvement came in the 19th. Stuttgart defender Marc Oliver Kempf ultimately ended up blocking a worthy selected shot. He also involved himself favorably in advancers in the 23rd, 25th, and 27th. After a bad foul at the half-hour mark, he hit a pair of unbecoming stray passes in the 32nd and 34th. Occasionally, this American's general demeanor can really grate. He often reacts in a temperamental fashion when not receiving a ball he called for. This happened in the 40th and again in the 44th.

With some of his irritable crankiness on display, it came as something of a relief to see him less involved over the course of the second. After making a nice move on a forward sequence in the 48th, there were more poor touches in the 52nd, 54th, and 59th. Mark positioning on a 74th minute foul was particularly bad. While sufficient positives keep Adams above "D-level", it remains the contention of this column that Marsch should probably sit this American in subsequent rounds. Present form seems as sketchy as his current role within the team.

John Anthony Brooks, VfL Wolfsburg

Minutes played = 90/90, Positions played = CB

Grade = C

Some good work from the Berliner got overshadowed by his involvement in the awarded penalty that initially put Brooks' former club Hertha ahead on Saturday. The VAR-awarded spot kick in the 58th counted as a subject call. Brooks made a wild sweep challenge for the ball that seemed reckless, but the all-too-easy manner in which Dodi Lukebakio went to ground calls into question how hard the contact ultimately was. Brooks' clip of Davie Selke in the 11th looked far more malicious.

Maxence Lacroix proved the better half of the central defensive tandem on this specific day. The Frenchman had to bail the American out in the 3rd, 24th, 37th, and 53rd. Brooks still stood tall on his own wins in the 4th and 44th. By the writer's count, only two of the J.A.'s 54 forward passes failed to connect. Despite some suspect mark posts, Brooks did a serviceable enough job getting the offense rolling on the back-builds and was involved in the sequence that led to Ridle Baku's equalizer.

The rather weak Hertha attack failed to test Brooks adequately, with the American really only engaged in seven direct defensive duels. He also got a relatively small number of touches (74) in on the day. This constituted a fairly paltry total for a center halve who ordinarily breaks the century mark. A straight average grade seems fair. The two poor challenges get counterbalanced by otherwise favorable play.

Joe Scally, Borussia Mönchengladbach

Minutes played = 90/90, Positions played = LB, RB

Grade = F

A very rough outing for the CFG New Yorker, who saw most of the fading admiration he received in the country's press completely eradicated quicker than Moussa Diaby scorched past him in the lead-up to Leverkusen's second goal. After lauding this American as one of the Bundesliga's budding breakout stars in week one, the general consensus regarding Scally in German footballing circles holds that Max Eberl must immediately seek a fullback with more experienced credentials posthaste. Our subject here appears nowhere near ready for prime-time.

Going through Scally's now notoriously bad performance with a fine-toothed comb did yield some positives. One was almost tempted to say that there enough in there to keep him just above failing marks. Some decent play observers might have missed included an incisive diagonal in the 5th and a good cross pick-out in the 69th. The 18-year-old's play did improve somewhat when Adi Hütter moved him over to the right-hand side for the second half. Regrettably, he did get beat again on the final two Leverkusen goals. Three of the four tallies came off his side.

Some duel wins during the second padded Scally's stats. Closer scrutiny of them nevertheless reveals that he only executed stellar tackles when opponents ran at a laissez faire pace and undertook handling experiments. Some hard running can't offset the two terrible shots on target (11th, 33rd) and the utterly deflated body language on display when he failed to play the ball in the 35th and 38th. One certainly feels for the youngster. No appraiser can honestly say that they would have reacted differently in such a situation, even with the added benefits of age, wisdom, and maturity.

We might see Scally in action again this weekend versus Union Berlin. Stefan Lainer's injury leaves Hütter in need of a right-back. The teenager will also encounter considerably less pressure against Urs Fischer's 3-5-2 double stack. On the other hand, Ramy Bensebaini or Luca Netz could play on the right. Louis Jordan Beyer--a proven defensive all-rounder who the club tellingly opted to keep this week--seems the most likely choice to take this American's slot.

Thanks so much for reading! You can occasionally catch Peter goofing off while watching the lower German football divisions on twitter, @ViceytheSS.

Twitter DMs are open for football conversations, corrections, and (if you truly insist) general abuse. 

All columns debut on Bulinews before appearing on Peter's website later in the week.



Related stories